Looking for individually wrapped snacks for school, parties, sports games and more? Here are some healthy options from a Registered Dietitian.

Hi friends!
I'm wrapping up my snack series with a post specifically dedicated to individually wrapped snacks. I shared several in my Healthy Amazon Snacks post but wanted to share some available from other stores as well. Single-serving snacks come in handy if you need to provide snacks for a whole classroom at school, for a sports team or party snacks, if you're not allowed to send reusable containers and more.
We've all seen the individual packages of cookies, chips and pretzels (which have their place) but I wanted to go beyond that and give you some healthy everyday options for both adults and kids. These items would also be great in lunch boxes. If you need more lunch box ideas, check out this resource: A Month of Easy Packed Lunches For Kids.
If you're looking for more snack ideas, check out:
Beyond those, here are some individually wrapped food ideas:
Good individually wrapped snacks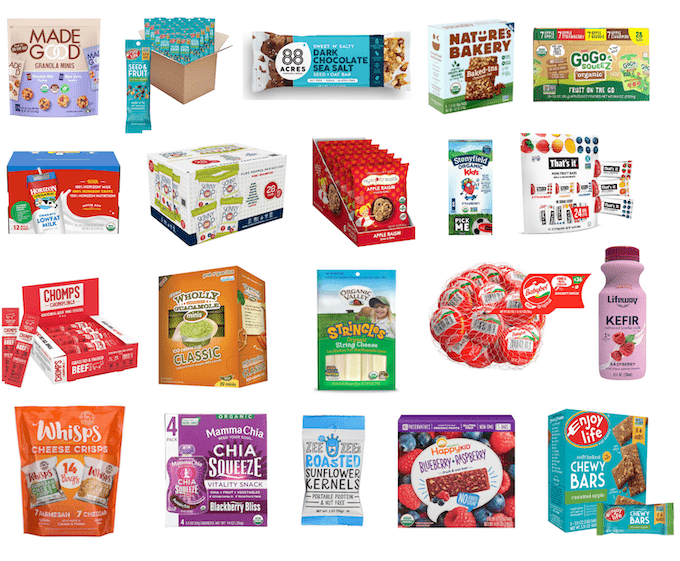 Healthy Individually Wrapped Snacks For School
Here are some of my favorite individually wrapped snacks for school that are nut-free: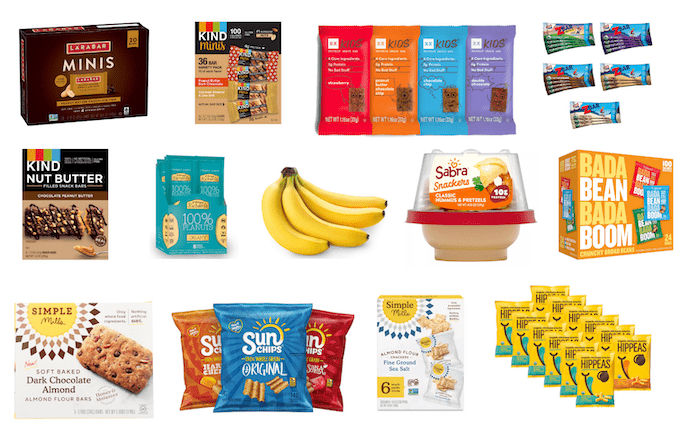 School snacks that are not nut-free or may be processed in a facility with nuts:
Larabar Minis
Kind Bar Minis
RX Bar kids
Clif Nut Butter Bars
Single-serve nut butter packets + apple/banana
Sabra hummus with pretzels
Simple Mills soft baked bars
Some chips/crackers I've seen in single-serving packs:
Sun chips
Hippeas
Skinny pop
Whisps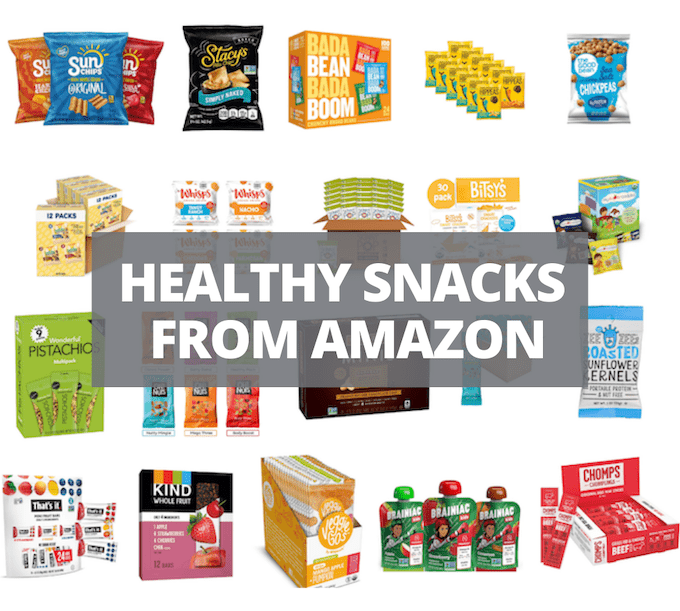 For more online options, see the post below:
I rounded up a bunch of individually wrapped snacks you can order from Amazon: Healthy Amazon Snacks.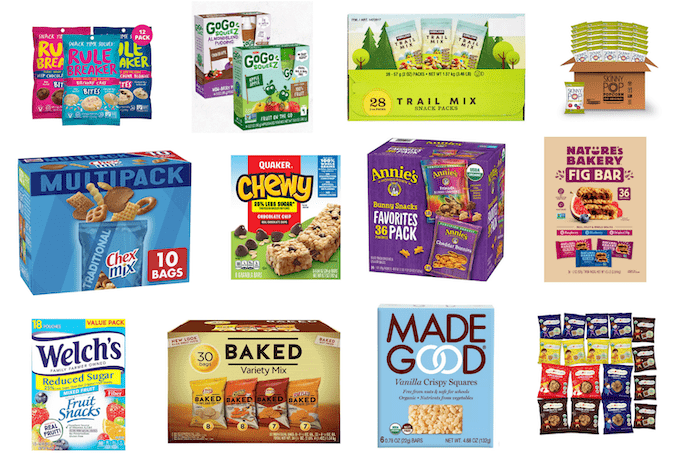 Individually Wrapped Snacks for Party
Need ideas for individually wrapped party snacks (individually wrapped snacks birthday treats)? Look for single-serving bags of things like:
Gogosqueez fruit sauce/pudding
Kirkland Trail mix
Baked Lays Potato Chips
Skinny Pop Popcorn
Nature's Bakery
Chex Mix
Popcorners
Quaker Reduced Sugar granola bars
Welch's Reduced Sugar Fruit Snacks
Annie's Bunnies
My Superfoods Super Cookies
Healthy Individually Wrapped Snacks Costco
Here are some of my favorite Costco snacks that can be found in small bags:
Skinny Pop – nut-free
That's It Fruit Bar Minis – nut-free
Made Good Granola Minis – nut-free
Country Archer Mini Beef Sticks – nut-free
Gogo Squeeze or fruit cups – nut-free
Trail Mix packets
Clif Kid Z Bars
Clif Nut Butter Bars
Kind Minis
Larabars
Kirkland Cheese Fruit & Nut Packs
Cheese Sticks
Babybel cheese
Kirkland Hard-Boiled Eggs
Wholly Guacamole or Made Good Foods Guacamole Minis
Kirkland hummus singles/ Sabra singles with pretzels
Whisps Cheese Crisps
Sun Chips
For a full list of Costco snacks I like, see this post: Healthy Snacks At Costco For The Whole Family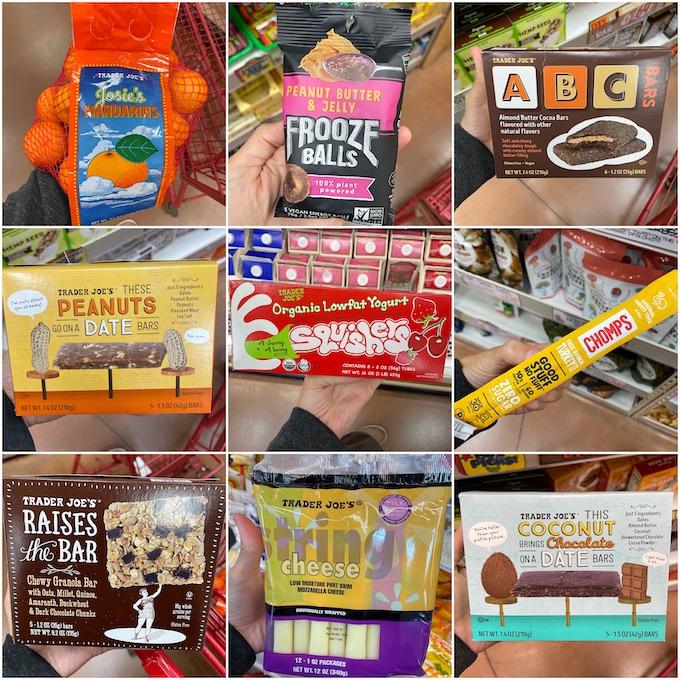 Healthy Trader Joe's Individually Wrapped Snacks
Trader Joe's has a lot of granola bars that are great options:
Trader Joe's Raises The Bar
Trader Joe's These Peanuts Went On A Date Bars
Trader Joe's ABC Bars
Trader Joe's Organic Hemp Seed Bars
Trader Joe's Organic Chia Bars
Trader Joe's This Coconut Brings Chocolate on a Date Bars
Trader Joe's Mixed Berry Granola Bites
Peanut Butter and Jelly Frooze Balls
Trader Joe's Apple Carrot Fruit Sauce Crushers
Trader Joe's Squishers Yogurt Tubes
Chomps Meat Sticks
For a full list of my favorite Trader Joe's Snacks see this post: 35+ Best Trader Joe's Snacks

Healthy Individually Wrapped Snacks Walmart
Need single-serving snacks from Walmart? Try these:
Stonyfield Organic Kids yogurt cups
Breakstone's Cottage Doubles
Frigo Combo Pack – Colby Jack cheese & turkey sticks
Chobani drinkable yogurt
Horizon Organic shelf-stable milk
Great Value cheese sticks
GogoSqueez Morning Smoothies
Great Value Bursting Berry fruit pouches
Freshness Guaranteed Mild Guacamole (great with plantain chips!)
Wymans Just Fruit & Greek Yogurt Bites
Mamma Chia Squeeze
Great Value Unsweetened Applesauce
Great Value Diced Fruit in 100% juice
Nature's Bakery Baked-Ins
Belvita Soft Baked Cookies (a little higher in added sugar but also have some protein and fiber)
Peanut Butter Chocolate Chip Date & Nut Bars (very similar to Larabars)
Happykid Bars
KIND Dark Chocolate Chunk Bars
KIND Nut Butter Filled Snack Bars
KIND Peanut Butter Breakfast Bars
Kashi Chocolate Almond Sea Salt Bars
Larabar Minis
Simple Mills Dark Chocolate Almond Soft Baked Bars
RX Kids Bars
Chex Mix Multipack
Here's a full list of the Best Healthy Walmart Snacks.
Best Individually Wrapped Snacks for Adults
Most of my snack posts are focused on kids because I have 3 of them and I feel like I'm constantly feeding them snacks. But adults need snacks too. A few of my favorite single servings snacks:
Larabars
String cheese + That's It Fruit Bar
Kind Nut Butter Bars
Skinny Pop + Kirkland Hard-Boiled Eggs
Tuna Pouches + Simple Mills crackers
Fruit with single-serve nut butter
Get any new ideas? Pin this post for later!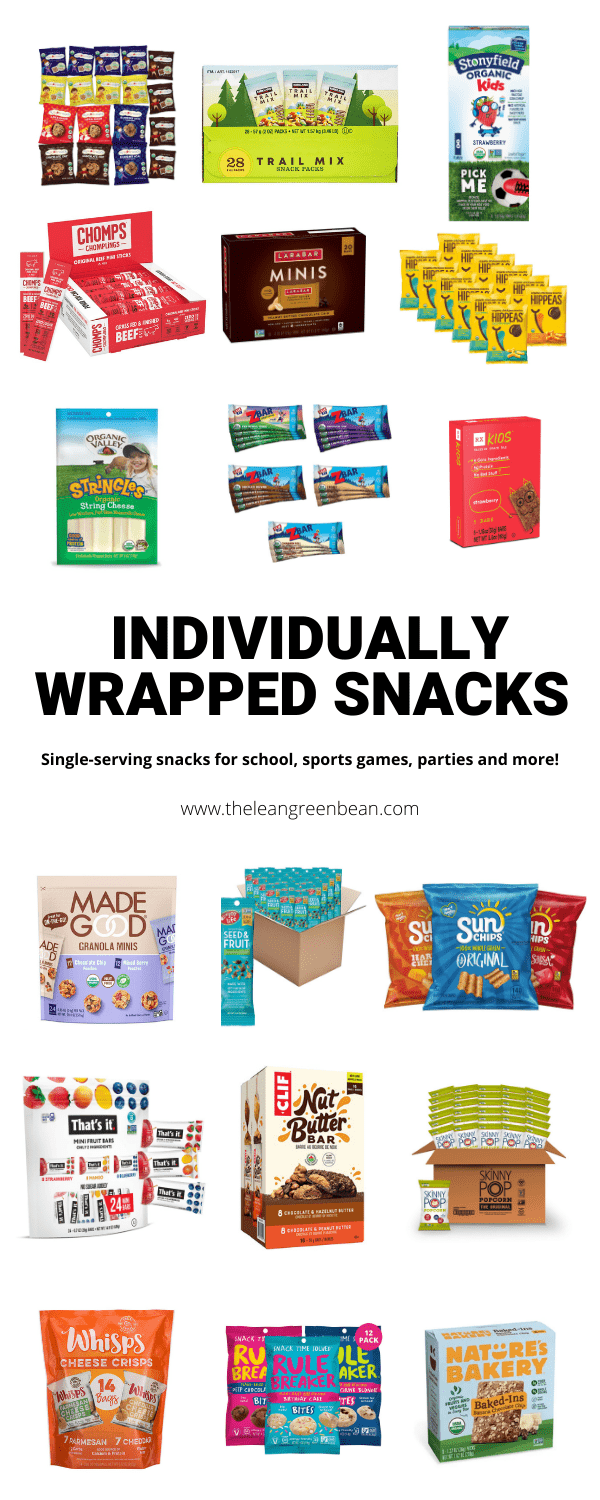 Enjoy!
–Lindsay–