Hi Friends!
I'm back after a great weekend with my parents. I don't have much time today because classes start up again and I'm devoting all my energy today to making sure I get from class to class to work on time!
But I wanted to share the recipe for that little teaser of a picture I put in my last post! Since my parent's visit coincided with Father's Day, I decided to make my dad one of his favorite desserts. You might remember when I stocked up on rhubarb a few weeks ago in preparation. I've been making this dessert for my dad for years. It's something that most people think ewwwww when they first hear it, but if you give it a try I promise you'll be delightfully surprised at how good it is!
So here's what you do:
Rhubarb Custard Bars
Cook Time: 1 hour
Keywords: bake dessert cream cheese rhubarb bars
Ingredients (9×13 pan)
Crust
1 1/2 cups all-purpose flour
1/2 cup sugar
8 tablespoons chilled butter, cut into small pieces
Filling
1/3 cup all-purpose flour
1 cup sugar
1 1/2 cups skim milk
3 large eggs
5 cups (1/2-inch) sliced fresh or frozen (unthawed) rhubarb
Topping
1/2 cup sugar
8 oz reduced fat cream cheese
1/2 teaspoon vanilla extract
1 cup frozen fat-free whipped topping, thawed
Instructions
1. Preheat oven to 350 degrees.
2. Combine 1-1/2 cups flour, 1/2 cup sugar, and salt in a bowl. Cut in butter with a pastry blender or 2 knives.. Press mixture into a 13 x 9-inch baking dish coated with cooking spray. Bake at 350 degrees for 15 minutes or until crust is golden brown.
3. Meanwhile, combine 1/3 cup flour and 1 cup sugar in a large bowl; add milk and eggs, stirring with a whisk until well blended. Stir in rhubarb. Pour rhubarb mixture over crust. Bake at 350 degrees for 40-50 minutes or until set. Cool to room temperature.
4. Place 1/2 cup sugar, cream cheese, and vanilla in a bowl; beat with a mixer at medium speed until smooth. Fold in whipped topping and spread evenly over baked custard. Cover and chill at least 1 hour. Serve cold.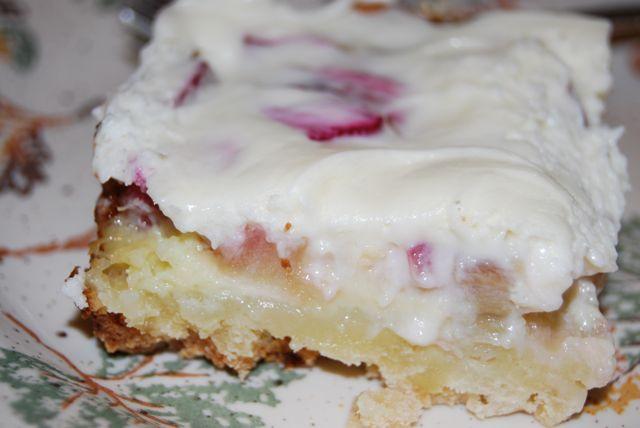 Sorry for the bad photo, I was more focused on gobbling it up!
Enjoy!
–Lindsay–
LEARN HOW FOOD AFFECTS YOUR BODY.
Get my free Table Talk email series where I share bite-sized nutrition information about carbs, protein, and fat, plus bonus information about snacks and sugar!