This slow cooker flank steak is flavored with ginger and garlic and packed with protein and vegetables. The best part is you don't need to sear the meat beforehand! Just slice everything up, cover with sauce and let it cook!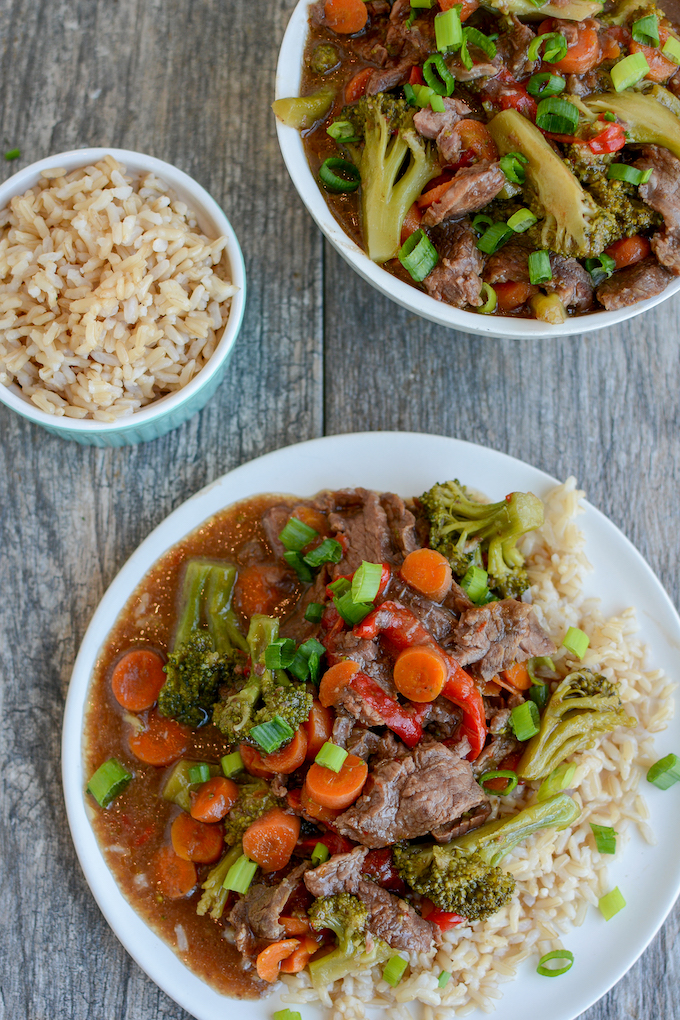 *Thanks to the Ohio Beef Council for sponsoring this post*
Hi friends!
I'm excited to share this crockpot flank steak recipe with you guys. You may remember I'm partnering with the Ohio Beef Council this year and in my last post, I shared these Tater Tot Waffles that many of you have tried and loved!
Today I'm sharing a slow cooker recipe because who doesn't need a new recipe in their repertoire?
Crock Pot Flank Steak
When I asked my Instagram followers what kind of recipe they wanted to see, a lot of people asked for a beef and broccoli-type recipe. But the biggest request was that they didn't want to have to sear the meat ahead of time. They wanted something they could just dump into the crockpot and set without worrying about dirtying another pan.
Flank Steak Recipes Slow Cooker
I took that request to heart and decided to go with this flank steak recipe in the slow cooker. It's such a great source of protein and I love how tender it gets in the crockpot. I also knew I wanted to add a bunch of vegetables so really all you have to do is add rice and boom! You've got a complete dinner ready and waiting when you got home.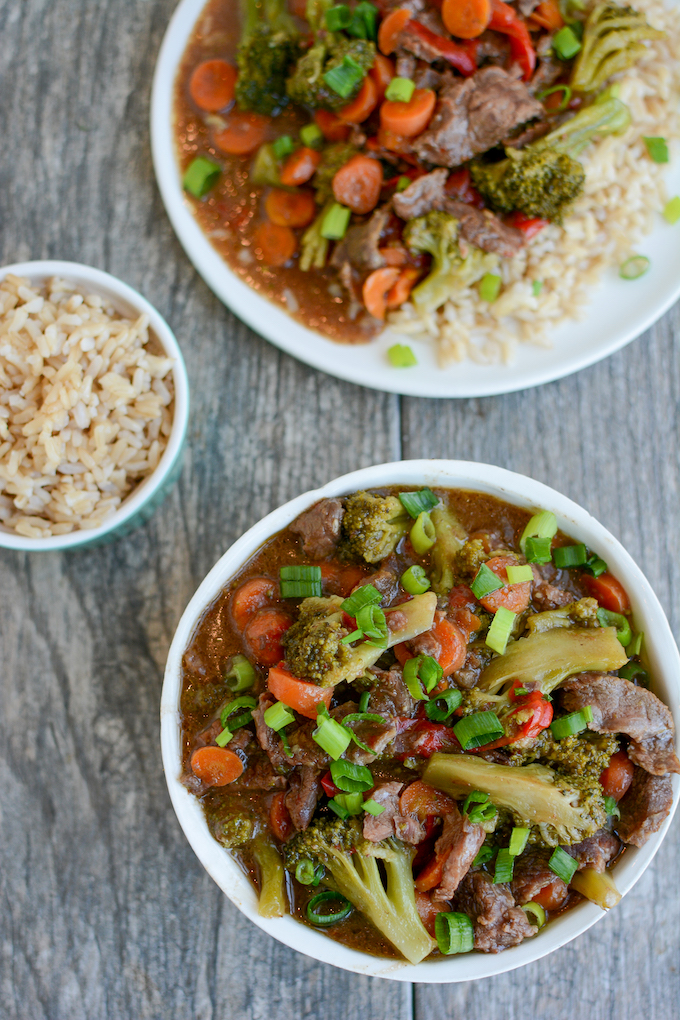 How To Cook Flank Steak in the Crockpot
Let's talk about how to make this recipe. As I said, it just requires a little slicing and chopping, and then you dump everything in. One important thing to note is that for tender beef, you want to be sure to cut against the grain. Luckily with flank steak, it's easy to see the long lines running across the meat so you just want to make sure you cut across those and not with them.
Another tip is to throw your flank steak in the freezer for an hour or so before slicing. This allows you to cut it thinly, at a slight angle, more easily than if it's just straight out of the fridge. You'll easily be able to get the perfect strips to add to the slow cooker.
We toss the strips in cornstarch to help thicken the sauce a little as it cooks. And remember that the sauce will continue to thicken as it cools.
Flank Steak in the Air Fryer
While this recipe is all about the slow cooker, I also wanted to mention that cooking flank steak in the air fryer is another super easy way to cook it! Here are a few recipes if you want to try it that way:
Or try my Air Fryer Steak Bites!
But for today we're all about the crockpot so let's get to the recipe:
Crockpot Flank Steak Recipe
Print
Slow Cooker Ginger Garlic Flank Steak
This slow cooker ginger garlic flank steak is packed with protein and vegetables. The best part is you don't need to sear the meat beforehand! Just slice everything up, cover with sauce and let it cook!
1.5

–

2

# flank steak

1/4 cup

cornstarch

2 cups

thinly sliced carrots

1

thinly sliced bell pepper

3

–

4

cloves garlic, minced

1 Tbsp

freshly grated ginger

1

–

2

Tbsp hot sauce

1/4 cup

brown sugar

3/4 cup

beef broth

1/4 cup

tamari or soy sauce

1

package frozen broccoli, steamed

green onions
Instructions
Thinly slice flank steak into strips (be sure to slice against the grain).

Place steak strips in a large bowl. Add cornstarch and toss to coat.

Add thinly sliced carrots and bell peppers to the crockpot and add the steak.

In a bowl, combine beef broth, garlic, ginger, brown sugar, tamari and hot sauce and stir to combine.

Pour the sauce into the crockpot and stir to coat.

Cook on low for 6 hours. 

Prior to serving, stir in a bag of cooked, steamed broccoli. 

Taste and adjust seasonings. You can add salt, add more hot sauce or even sprinkle with garlic powder for a stronger garlic flavor.

Serve over rice and top with green onions.
Notes
You can sub chicken broth for beef broth.
You can sub soy sauce for tamari
If you want to use fresh broccoli, just throw it in for the last hour or so of cooking!
Doesn't it look just delicious?! I love how many veggies are packed in there and I love that there's not dirtying another pan by having to sear beforehand. The brown sugar adds sweetness to this but then you can mix in as much hot sauce as you want to give it that sweet and spicy combination flavor!
If you're looking for more slow cooker recipes you can see all of my crockpot recipes here! And if you're a beef-lover, Ohio Beef Council has tons of great beef recipes on their site.
Flank Steak Slow Cooker Recipe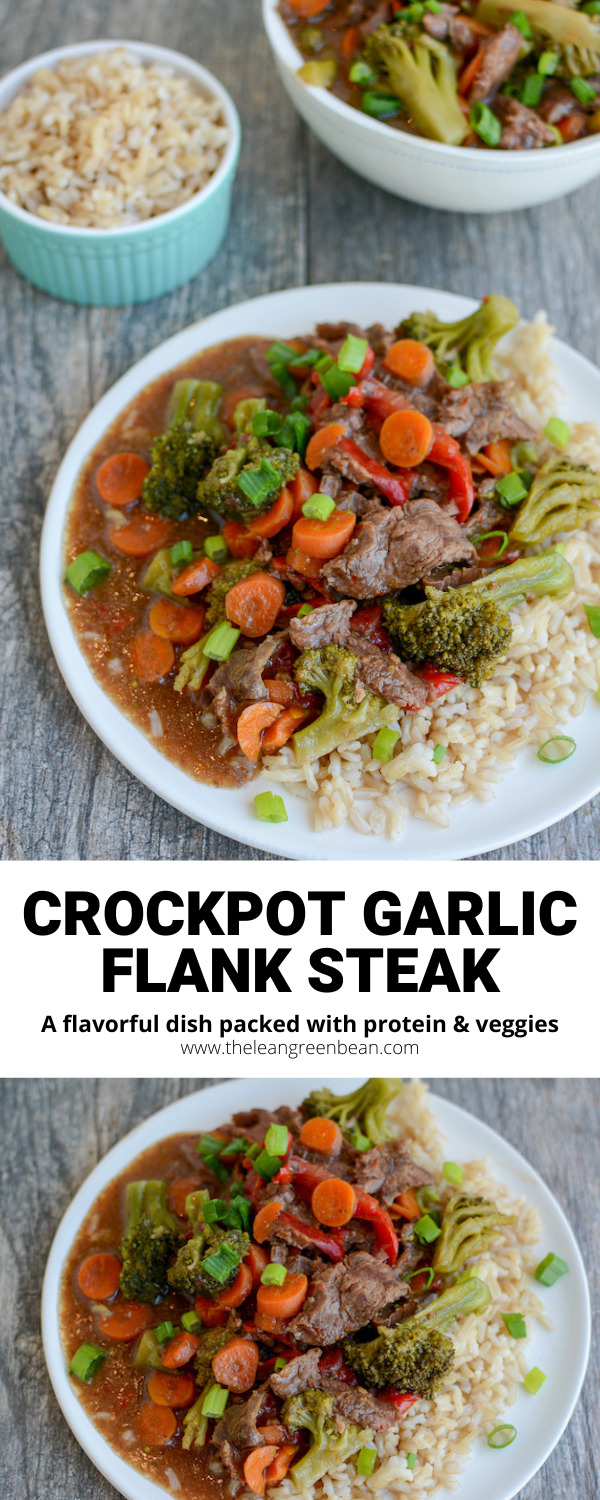 I hope you guys enjoy this recipe! Be sure to let me know if you try it!
Enjoy!
–Lindsay–
LEARN HOW FOOD AFFECTS YOUR BODY.
Get my free Table Talk email series where I share bite-sized nutrition information about carbs, protein, and fat, plus bonus information about snacks and sugar!