This Steak Cobb Salad Recipe is packed with protein and nutrients, easy to assemble and makes a great lunch or dinner option as the weather gets warmer.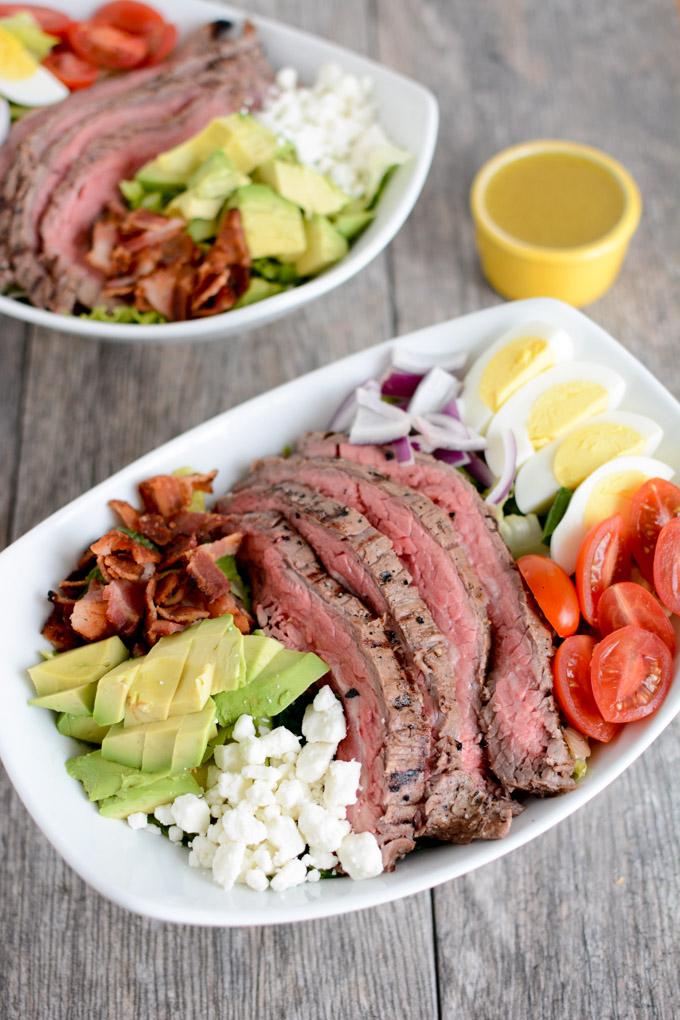 Thanks to the Ohio Beef Council for sponsoring this post. 
Hi Friends!
We're doing something a little different today- we're chatting about a beef recipe thanks to my friends over at the Ohio Beef Council! If you're a long-time reader, you know that I'm not a huge red meat eater, but that it's hubby's fav. Squish is also quickly becoming quite fond of steak and hamburgers so I figured it was about time I share some of the beef recipes I've been making!
First let's chat a little bit about beef nutrition:
Research shows that including lean beef daily as part of a healthy diet can help lower cholesterol levels.
The dietary guidelines recommend adults eat 5.5 ounces of protein foods per day.
Beef is a great source of essential nutrients like iron. To get the amount of iron found in just 3 ounces of beef, you'd have to eat 8 ounces of chicken.
And for those of you who live in Ohio, did you know that there are  17,000 beef farming families here who are committed to providing excellent care of their animals, protecting the environment for future generations and to producing safe, healthy beef? You can learn more about the families and their farming practices on the OBC website.
Steak Cobb Salad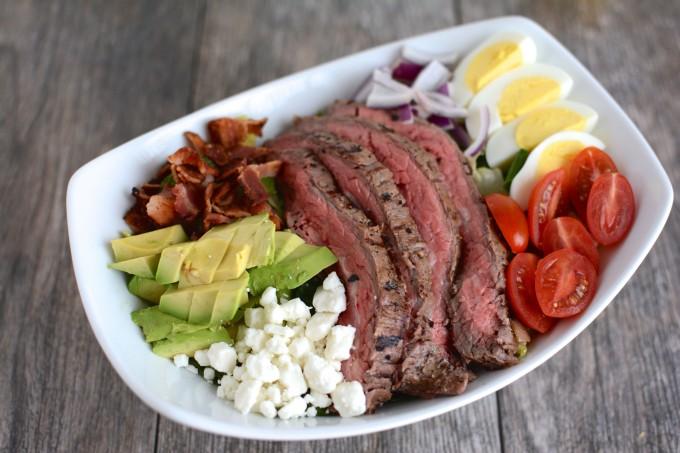 You guys know that hubby is the salad lover out of the two of us. While he would happily eat a bowl of lettuce with some dressing alongside a meal, sometimes it's fun to "beef up" the salad (see what I did there?!) and turn it into a full meal.
This is a bit of a non-traditional cobb salad. I used crumbled feta instead of blue cheese and added a honey mustard dressing…but the flavors all work well together and it's both light and hearty….perfect for lunch or dinner as the weather starts to warm up!
Here's how you make it:
Print
Steak Cobb Salad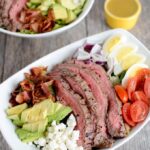 This Steak Cobb Salad Recipe is packed with protein and nutrients, easy to assemble and makes a great lunch or dinner option as the weather gets warmer.
Scale
Ingredients
1

–

1.5

pound flank steak

1/2 cup

olive oil

3

cloves garlic, minced

1 tsp

salt

1 tsp

black pepper

1/2 cup

chopped onion

1/3 cup

red or white wine vinegar

2 Tbsp

honey

4

hard boiled eggs, halved or quartered

4

–

6

strips of bacon, cooked and crumbled

1/2 cup

crumbled feta cheese

1 cup

cherry tomatoes, halved

1/2 cup

red onion, chopped

8 cup

s chopped romaine lettuce or mixed greens

2

medium avocados, sliced or chopped
Instructions
Combine first 8 ingredients in a ziploc bag and let marinate at least 4 hours or overnight.
Remove steak and grill to desired doneness.
Let rest and slice into strips.
Put 2 cups of lettuce in each bowl. Top each with bacon, feta, tomatoes, onion, egg, avocado and steak, arranging as desired.
Serve with your favorite dressing.
I snapchatted a few shots of this salad while I was shooting it and a few local friends asked if I could deliver! Potential business idea?!
Like I mentioned, I used a basic honey mustard dressing made by combining mustard, honey, oil and a little vinegar. But feel free to use whatever type of dressing you prefer!

This salad is protein-packed and absolutely delicious. As an RD I'm always preaching the importance of protein at every meal and snack and  that's why I love the National Beef Council's 30-Day Protein Challenge! They're encouraging people to make simple changes over the course of a month to make sure they're getting 25-30 grams of protein at breakfast, lunch and dinner.  If you struggle with getting enough protein throughout the day, sign up for the challenge to get daily motivation and help form healthy habits!
For more information on beef, as well as tons of great recipes, follow the Ohio Beef Council on Twitter, Facebook & Instagram!
Enjoy!
–Lindsay–