Hi friends!
This post has been about 2 years coming and I FINALLY got around to putting it together for you! I get asked all the time what I buy at Costco so I wanted to share all our favorites. We're lucky enough to have a Costco right down the road so we go every weekend! There's also a lot of great options at Costco that we don't necessarily buy, so I tried to share some of those too! Plus, some non-food items we've purchased there that you might not know were available. Also note we don't buy a ton of stuff from the frozen and refrigerated section so I'm sure there are some good pre-packaged options not included in this post simply because I haven't tried them.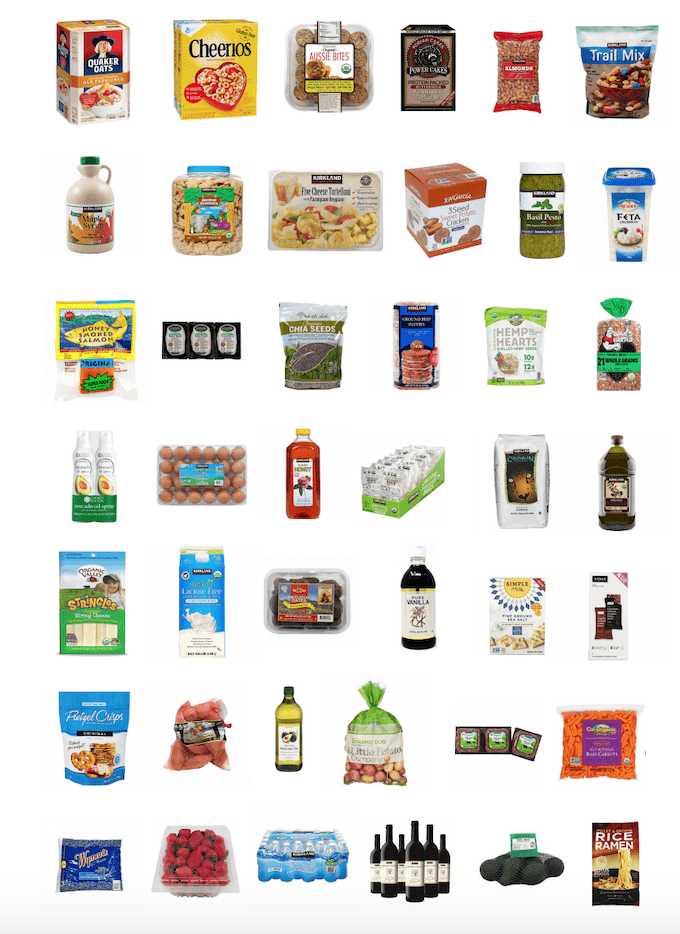 Here are the food items we buy regularly:
Fresh fruit (mostly berries, peaches, pears, other depending on season)
Baby carrots
Avocados
Dates
Little Potato Company potatoes
Sweet potatoes
Organic eggs
Organic hard boiled eggs
Organic 2% milk
Coffee
Organic Valley String Cheese
Aussie Bites
Wine (hubby buys Kirkland Sonoma County Old Vine Zin 2016 by the case)
Dave's Killer Bread
Cheerios
Quaker Oats
Manitoba Harvest Hemp Hearts
Chia seeds
Almonds
Vanilla extract
Avocado oil
Spray avocado oil
Olive oil
Kirkland brand maple syrup
Honey
Rx Bars
Kodiak Cakes pancake/waffle mix
Bottled water
RW Garcia Sweet Potato Crackers
Kirkland Brand animal crackers
Kirkland Organic Ground beef
Honey Smoked Fish Co Smoked Salmon
Tortellini
Feta
Kirkland Brand pesto
Frozen wild blueberries
Frozen Beef Burgers
Plainville Organic turkey deli meat
Trailmix
Pretzel chips
Simple Mills Almond Crackers
Lotus Foods Brown Rice Ramen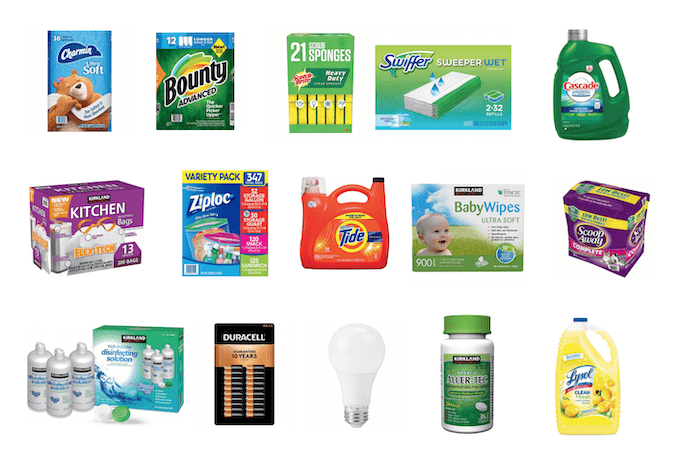 Non-food items we buy as needed:
Baby wipes
Laundry detergent
Dish detergent
Swiffer wipes
Lysol
Trash bags
Paper towels
Contact solution
Allergy medicine (Allertec and Flonase)
Lightbulbs
Batteries
Ziplocs
Sponges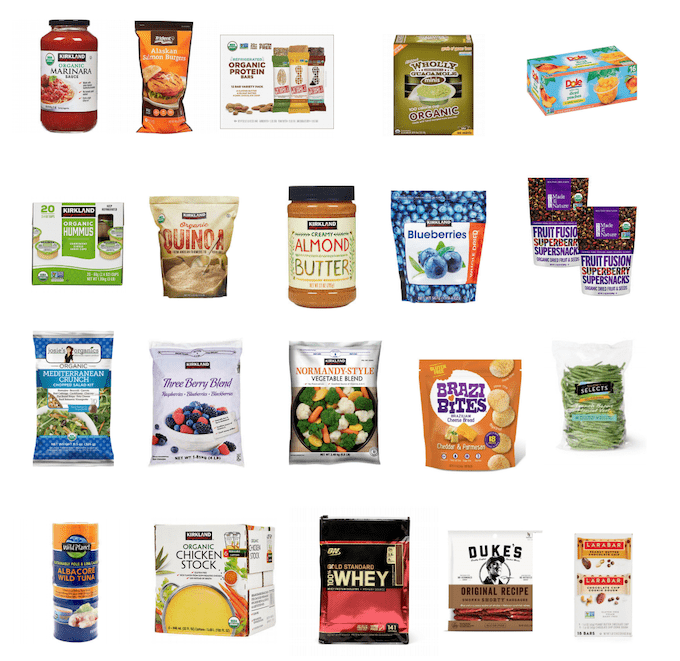 Other food options I like. We don't buy all of these but do buy some occasionally:
Hummus
Guacamole
Perfect bars
Trident Salmon burgers
Kirkland brand marinara sauce (Rao's is also good)
Fruit in 100% juice
Dried Fruit
Almond butter
Quinoa
Made in Nature figgy pops/snacks
Chopped salad kits or leaf lettuce
Any of the frozen fruit and veggies
Any of the fresh fruit and veggies
Canned tuna and salmon
Chicken broth/stock/bone broth
Brazi Bites
Jerky
Larabars
Nuts and nut/seed mixes
Protein powder/Creatine (if that's your thing- my husband buys them)
Not pictured
Rotisserie chicken
Steak
Frozen fish/shrimp
Wild Brine Sauerkraut
Amylu Kale & Mozz Chicken Burgers
Coconut Oil
Almond Flour
Gluten-free Flour Mix
Canned beans
Cholula/Tabasco
Avocado Mayo
Balsamic Vinegar
Banza chickpea pasta
Skinnypop popcorn
Baby formula
Greenridge farm refrigerated beef sticks
Don Lee Farms Grilled Chicken Patties (frozen)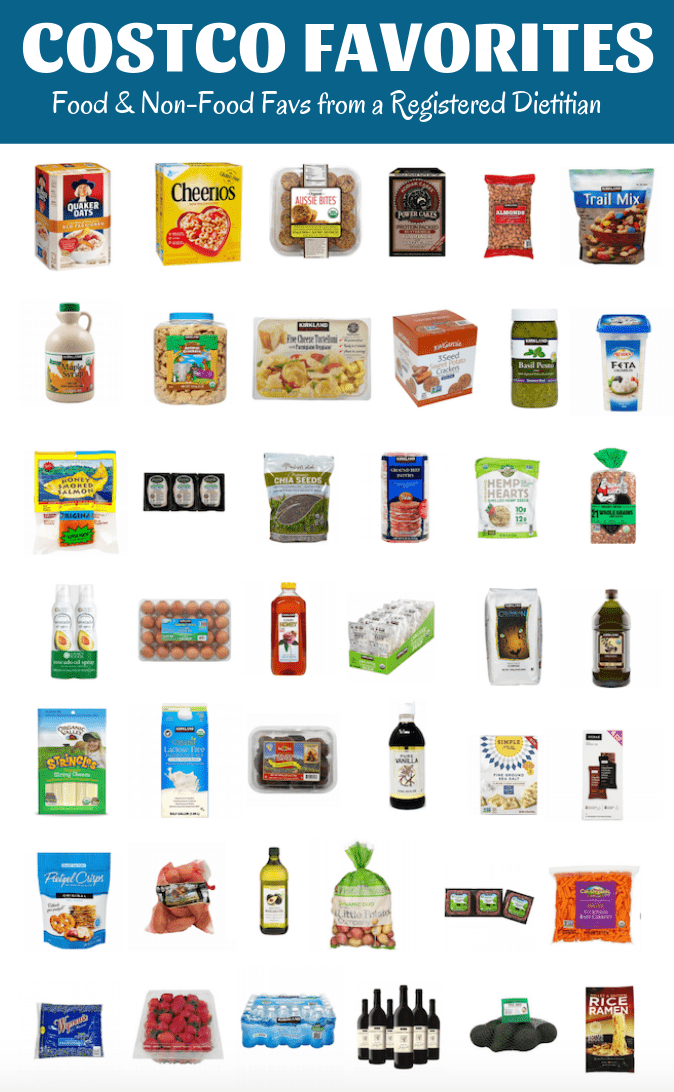 Like I mentioned, we buy A LOT of stuff at Costco. I tried to remember some of the things we've purchased over the years so if you're looking for some of these things, you might want to consider Costco as an option!
Eyeglasses
Novaform Mattress (we haven't actually bought this yet but it's on our to do list)
Patio furniture
We've gotten our flu shots there
Water bottles
Pots and pans
Printer
Printer ink
TV
Dexcom transmitters (for husband's glucose monitor)
LG Soundbar
External hard drive
Tires
Dog bed
Paper/plastic party supplies
My husband buys pretty much all his clothes there and we also get the kids some stuff
Books
Furniture (our under-tv console, ladder bookshelves…)
American flag
Lawn and leaf bags
Stamps
Fertilizer
Garden hose
Giant poof (bean bag)
Photo prints/canvases
Patio lights
Ladder
Pressure washer
Hope that helps! Would love to hear some of your Costco favs!
Enjoy!
–Lindsay–
LEARN HOW FOOD AFFECTS YOUR BODY.
Get my free Table Talk email series where I share bite-sized nutrition information about carbs, protein, and fat, plus bonus information about snacks and sugar!