These Homemade Soft Pretzels can be made into the traditional shape or cut into bites for a perfect game day or party appetizer!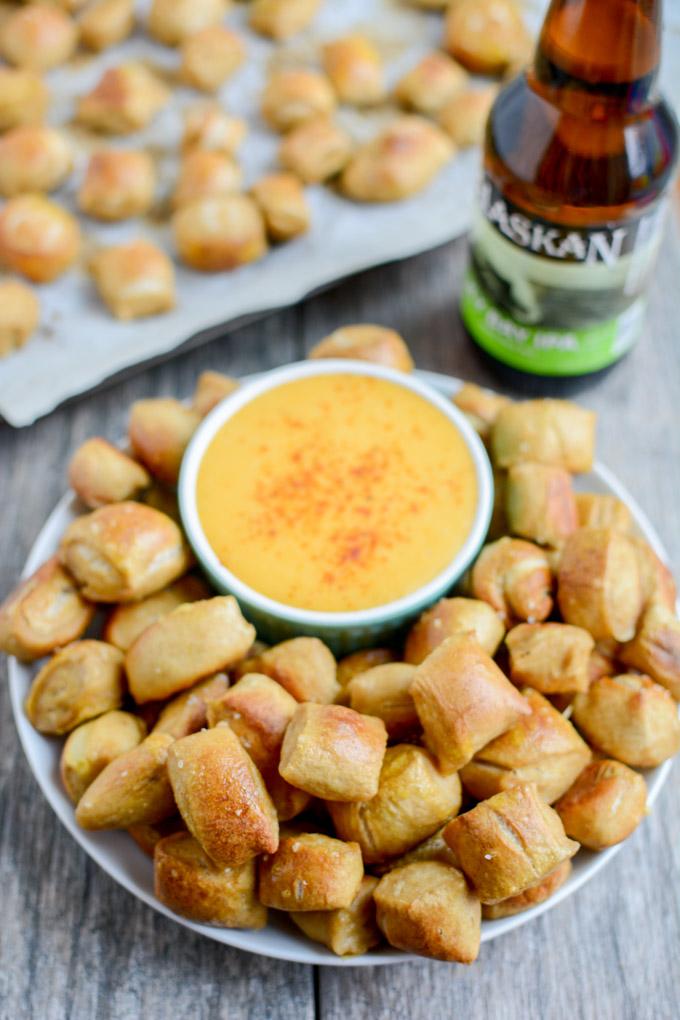 *Originally published in 2013. Updated 2023*
Hi Friends!
This recipe for homemade soft pretzels has been a favorite of ours since way back in 2013. I tend to make them a few times a year and now I've taught my kids how to make them as well.
They're perfect for tailgating, parties, etc! They're also mildly addicting so be prepared.
When I make them, I use either all-purpose flour, or half bread flour/half all-purpose flour. I've tried using some white whole wheat flour but don't like them as much.
---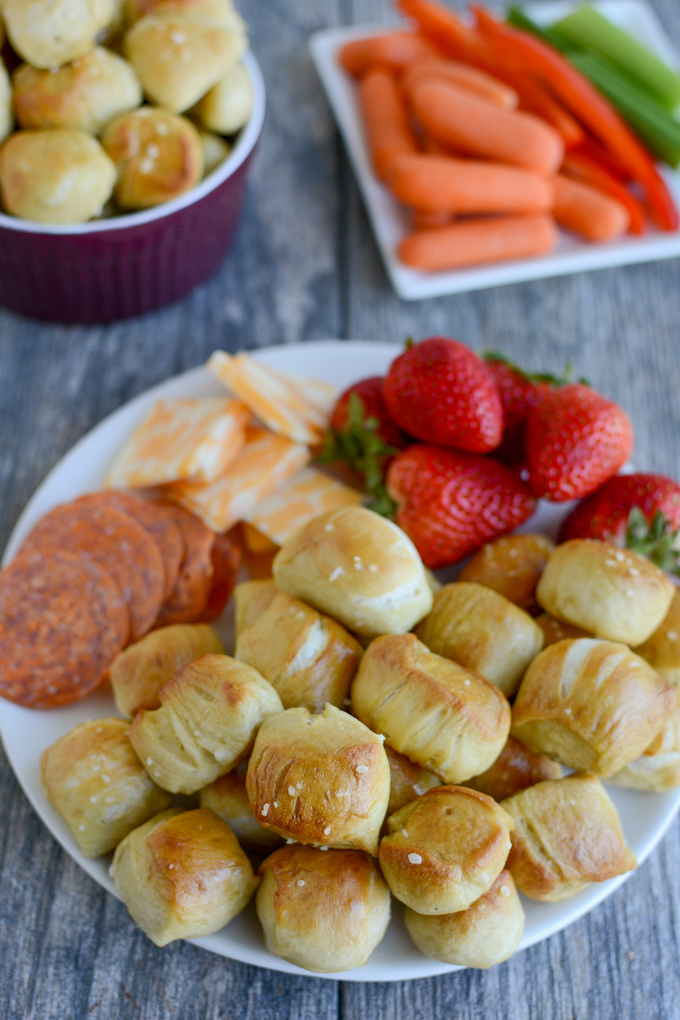 Soft Pretzel Recipe Ingredients
You don't really need any fancy ingredients to make these! Just gather up:
Water
Sugar
Salt
Active dry yeast
Flour
Butter
Baking Soda
Egg
How To Make Easy Homemade Soft Pretzels
To make these pretzels, just follow a few simple steps:
Activate the yeast by mixing it with sugar and warm water and letting it sit.
Add salt, flour and melted butter until a dough forms.
Let the dough rest.
Divide the dough and roll into long ropes. Then shape into pretzels or cut into pretzel bites.
Boil the pretzels in a mix of baking soda and water.
Brush with an egg wash and bake in the oven.
---
Here's what you need:
Print
Homemade Soft Pretzel Recipe
These Homemade Soft Pretzels can be made into the traditional shape or cut into bites for a perfect game day or party appetizer!
1½ cups

warm (

110

to

115

degrees F) water

2 tsp

sugar

1 teaspoons

kosher salt

2¾ tsp

active dry yeast

22 ounces

flour, approximately 4½ cups*

2 Tbsp

unsalted butter, melted

10 cups

water

⅔ cup

baking soda

1

large egg yolk beaten with 1 tablespoon water
Instructions
Combine the water, sugar and salt in the bowl of a stand mixer and sprinkle the yeast on top. Allow to sit for 5 minutes or until the mixture begins to foam.
Add the flour and butter knead using the dough hook for about 5 minutes.
Remove the dough from the bowl, clean the bowl and then oil it well with vegetable oil. Return the dough to the bowl, cover with plastic wrap and sit in a warm place for approximately 50 minutes or until the dough has doubled in size.
Preheat the oven to 425 degrees F.
Bring the 10 cups of water and the baking soda to a boil in a large pan.
Divide into 8 equal pieces. Roll out each piece of dough into a long rope. Form into pretzels or cut into bite-sized pieces for a pretzel bites.
Drop pretzels into the boiling water, a few at a time, for 30 seconds. Remove them from the water using a large flat spatula or a slotted spoon.
Plan on a baking sheet, brush the top of each pretzel with the beaten egg yolk and water mixture and sprinkle with salt or cinnamon & sugar if desired.
Bake 12 minutes.
Notes
I use either all All Purpose flour or half AP/half bread flour.
---
Best Homemade Soft Pretzel FAQs
Why do you boil soft pretzels before baking?
Boiling them before baking helps give them their golden brown color when you bake them and also helps make them nice and chewy while keeping the insides light and soft.
Can I use baking powder instead of baking soda for soft pretzels?
No. The baking soda bath is a crucial step. Substituting baking powder will not give you the same results.
What makes a soft pretzel taste like a pretzel?
It's the baking soda bath! This helps form a soft crust/exterior instead of them getting hard and crunchy when they bake in the often. The baking soda bath before hand keeps them soft and deliciously chewy.
Can you freeze homemade soft pretzels?
Yes. Let them cool completely, then wrap in saran wrap and place in a Ziploc bag. When you're ready to eat them, let them defrost on the counter.
Can I freeze raw pretzel dough?
Yes! Just like you can freeze pizza dough before baking, you can do the same with pretzels. When you're ready to use the dough, just thaw it out, divide and roll or cut into shapes and then do the baking soda bath and bake in the oven.
How do I store homemade soft pretzels?
If your house is anything like mine, you won't have any left to store! But if you do, store in an airtight container for up to 3 days.
How to make a pretzel shape?
Here's a simple video on how to shape pretzels but remember, you can make them any shape you want! Or just cut them into bite-sized pieces like we do.
---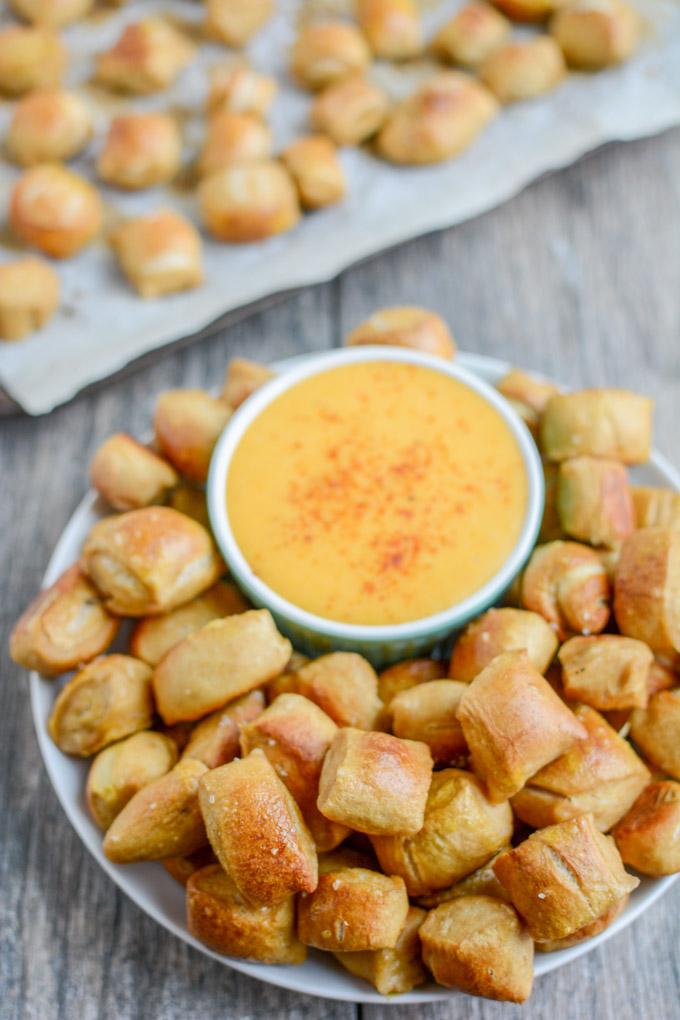 Bavarian Pretzel Recipe // German Pretzel Recipe
Bavarian and German pretzels are similar but a bit more traditional than this version. They may be darker brown, a bit denser and use lye for the bath instead of baking soda. Here are a few recipes to try:

Let's chat:

Have you ever made your own pretzels?!
Enjoy!
–Lindsay–
LEARN HOW FOOD AFFECTS YOUR BODY.
Get my free Table Talk email series where I share bite-sized nutrition information about carbs, protein, and fat, plus bonus information about snacks and sugar!