Looking for the best healthy store-bought tortillas? Here are some of my top picks as a Registered Dietitian and some things to keep in mind when choosing a brand for your family.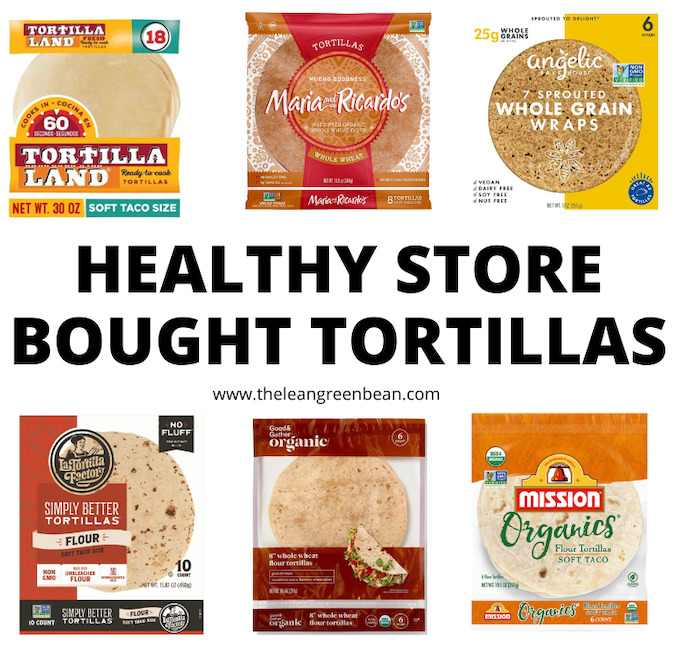 Hi friends!
We're continuing our best store-bought options series. So far we've covered:
Tortillas have been highly requested for this series and honestly, I've been putting it off for a while because for me it's a little bit trickier than other foods I've done. A lot of people look at the ingredient list for store-bought tortillas and don't like what they see.
In my opinion, the easiest way to get tortillas made with just a few simple ingredients is to make them yourself. You really only need 4 ingredients to make flour tortillas- flour, water, salt and a fat source. In most tortillas, this comes from either shortening or oil. They're actually super easy to make and if you're willing to try, definitely try my Homemade Whole Wheat Tortillas. (Or even my homemade corn tortillas)
But I understand that not everyone has the time or inclination to make tortillas at home so here are some things to consider.
Best Healthy Store-Bought Tortillas
When it comes to choosing store-bought tortillas, there are a few things to keep in mind when looking at the nutrition label:
Sodium content
Tortillas are a store-bought item that can add a sneakily high amount of sodium to a meal if you're not paying attention. Most nutrition label info is for one tortilla so if you're eating multiple tortillas, or a larger burrito or fajita-sized tortilla, that's something to be aware of.
In addition, most taco nights also include things like store-bought taco seasoning or enchilada sauce which can be high in sodium, so definitely keep that in mind.
Portion size
Tortillas come in a wide variety of sizes, usually 6-12 inches in diameter.
The nutritional value varies by brand. Some offer a few grams of protein or fiber depending on the ingredients. Others don't offer much beyond some calories, carbohydrates and high sodium content.
I tend to encourage people to choose whole wheat varieties over white if they can find them. There are also tons of varieties out there that offer extra protein, lower carbs, or are made with alternative flours to make them gluten-free if you're looking for one that follows your specific dietary guidelines.
Type of oil
Tortillas are made with a wide variety of fat sources, typically shortening or oil. Soybean, cottonseed and palm oil seem to be the most popular, which may impact your choices. For example, some people may be avoiding palm oil for ethical/environmental reasons. Others may be avoiding soybean oil and want to choose palm oil or avocado oil etc.
Are flour tortillas healthy?
So are tortillas healthy? While I wouldn't consider white flour tortillas a nutritional powerhouse, I think they're fine for consumption in moderation.
Most white tortillas are basically made with white flour (enriched bleached flour), water and shortening. Plus small amounts of salt, sugar, baking soda and thickeners like guar gum, plus preservatives like mono and diglycerides to prevent sticking and other additives to help make them more shelf stable
Enriched means some vitamins added back in -so that's words like niacin, iron, thiamine, riboflavin, and folic acid. So while the ingredient list may have a lot of long words, many of them are just vitamins and minerals being added back in after they're removed from the flour during processing.
Best Healthy Flour Tortillas
So which brands are best? This is a hard question to answer because it depends a lot on what you're looking for in a tortilla. In this post, I am just covering typical flour tortillas for the most part. If you're looking for the best high-protein or low-carb tortillas, you'll have to do more research and make your choices based on the ingredients used.
Also remember that there are a LOT of tortilla brands out there. Some very by region, some are available online so it's hard to give a comprehensive review of which are best.
For the purpose of this post, I tried to focus on brands that were available in-store near me. Here are some brands that I found readily available at stores near me. Some of these are a little higher in sodium than I'd like but remember that you can also control what you put in the tortillas. For example, if you're making tacos, learn how to make a basic taco seasoning mix and keep it in your pantry to cut down on the salt compared to store-bought versions.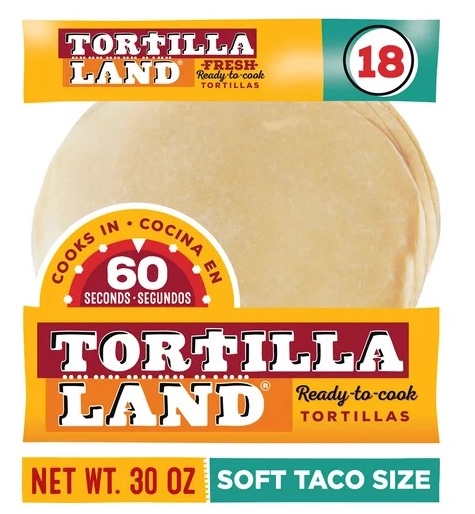 Tortillaland (uncooked tortillas)
If you're looking for a super simple ingredient list without actually making tortillas yourself, this is the answer. They offer uncooked tortillas that simply need to be cooked in a skillet for 60 seconds before eating.
Selling them uncooked allows them to be made without preservatives and just 5 simple ingredients- flour, water, canola oil, salt and sugar.
Near me, these are sold at Costco and in all the regular grocery stores.
Tortillas Fresca is another very similar brand of uncooked tortillas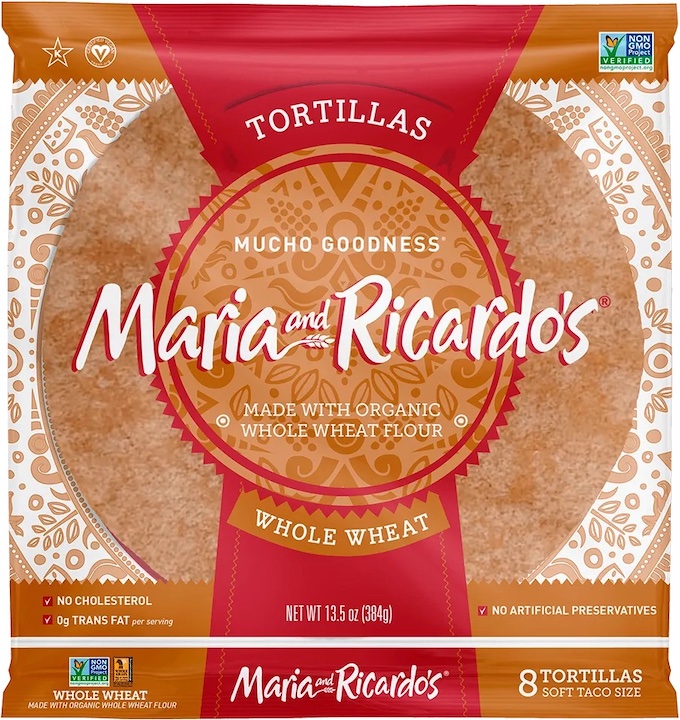 They offer a wide array of tortillas from flour and corn to gluten-free and almond-based. I like that they have a whole wheat version because that can be tough to find. Their flour tortillas are made with sunflower oil and have about 300 mg of sodium which is on the higher end for a taco-sized tortilla.
They also have a whole wheat plus version made with avocado oil, gluten-free versions made with quinoa flour and a few almond flour options.
Near me, these are found at Fresh Thyme and Whole Foods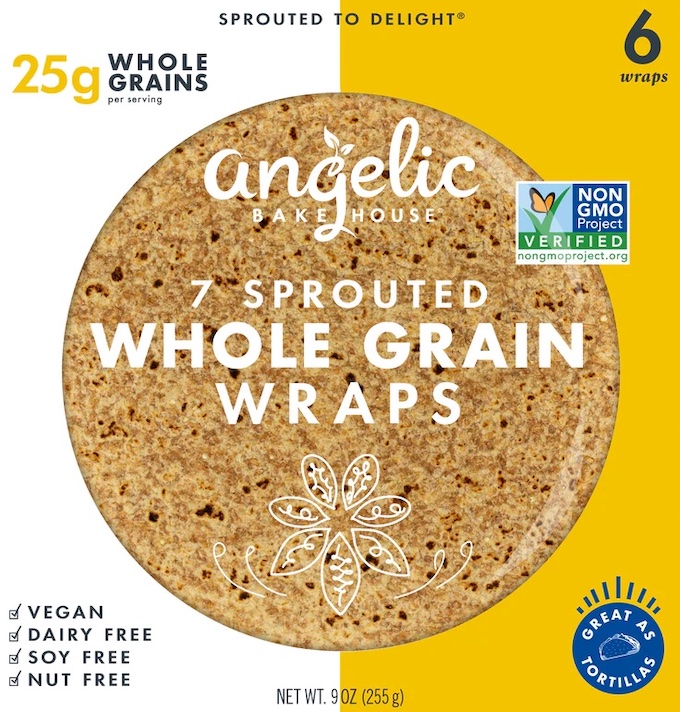 Angelic Bakehouse Sprouted Whole Grain Wraps
Not all kids will like these but they can be a great option for adults. These are sprouted whole-grain wraps made with sunflower oil. They offer 5g protein, 4g fiber and 250mg sodium. They also have a low-sodium option.
Near me these are sold at Fresh Thyme and Giant Eagle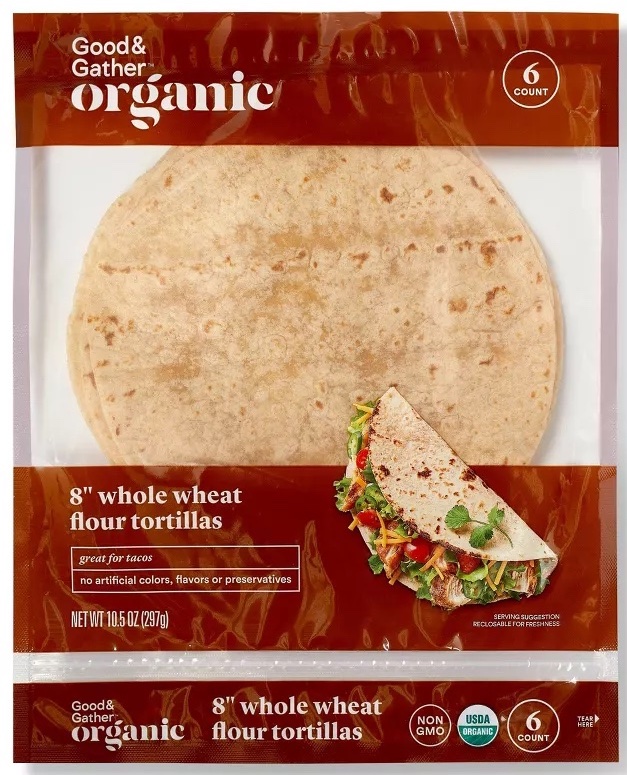 Good and Gather Whole Wheat Tortillas
This brand, sold at Target has a fairly simple ingredient list and offers a whole wheat version. They are a bit higher in sodium – 390mg per 8-inch tortilla so keep that in mind.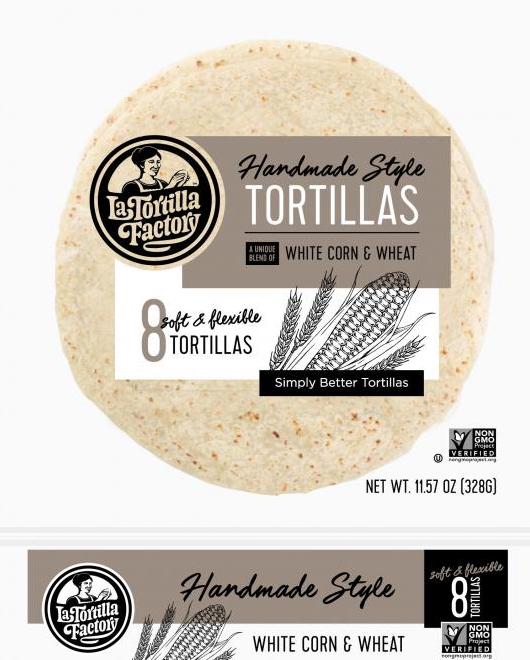 La Tortilla Factory Handmade Style Tortillas
Their Handmade Style Tortillas are a blend of white corn and wheat and made with no oil
You could also check out their Simply Better line which is made with palm fruit oil.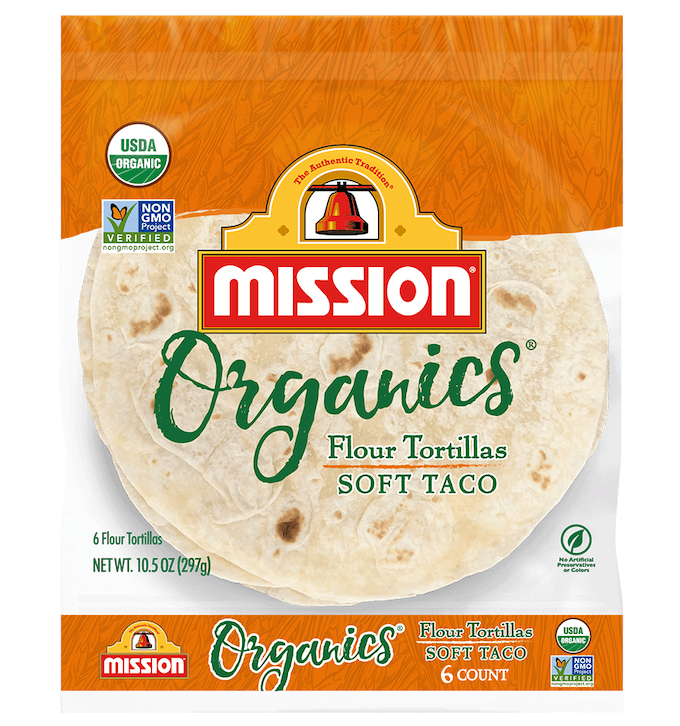 Mission Organic Flour Tortillas
This brand has a lot of varieties that are not high on my list but if I were picking one, I would choose their organic flour tortillas. Made with sunflower oil.
Remember that you can freeze tortillas. So if you find a brand you like, maybe online or at a store you don't go to often, you can stock up and freeze some for later.
---
Are corn tortillas healthy?
The ingredients in corn tortillas are fairly simple – usually just corn/masa and water plus a little bit of a thickener like guar gum. They also tend to be much lower in sodium than the flour varieties.
They also tend to be gluten-free. If GMO's are a concern for you, you can look for brands made with non-GMO corn. If you're looking for fewer preservatives, hard shell corn tortillas tend to be made with just corn and oil or look for soft corn tortillas with a simple ingredient list. So as you can see, there are many factors to consider.
Corn tortillas are also typically a little less sturdy. They don't always roll as well as flour tortillas. Some brands are now making blended tortillas that have ingredient lists similar to corn tortillas with some wheat gluten added in and a little more salt. Just keep in mind that adding the wheat gluten means these are not gluten-free if that's a concern for you.
---
Best Corn Tortillas
For a lot of people, corn tortillas come down to taste. They're one of those things you have to try for yourself and figure out which has the flavor you love. For me, if I'm buying them I usually buy La Banderita Yellow Corn Tortillas at my normal grocery store.
I will tell you though that in my research, El Milagro consistently tops a lot of lists for best taste. They are made with no preservatives and are not available near me but you can buy them on Amazon.
Trader Joe's also has corn tortillas made with just white corn, water and lime.
---
Best Gluten-free Tortillas
There are way too many gluten-free varieties out there now to cover in this post. They need their own post! But I will tell you that two brands I've tried are Siete Foods and Maria Ricardo's. Some of the better-tasting gluten-free varieties are more expensive so I often choose corn tortillas instead.
Trader Joe's also has almond flour tortillas with a simple ingredient list: Almond flour, tapioca starch, water, apple cider vinegar, natural flavor, salt and xanthan gum.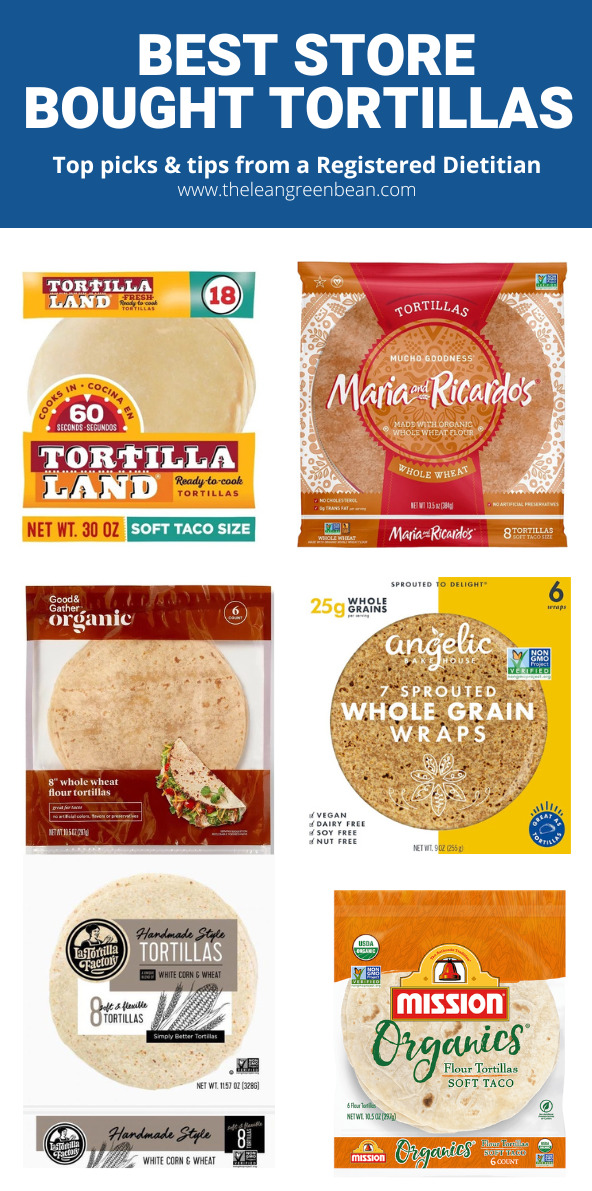 That's all I've got for you today! Do you have a favorite tortilla brand? Leave it in the comments!
–Lindsay–
LEARN HOW FOOD AFFECTS YOUR BODY.
Get my free Table Talk email series where I share bite-sized nutrition information about carbs, protein, and fat, plus bonus information about snacks and sugar!