This list of healthy packaged snacks for kids (and adults too!) is meant to provide inspiration for busy parents who are looking for some new ideas. Homemade snacks are great but there are also some good prepackaged store-bought options available!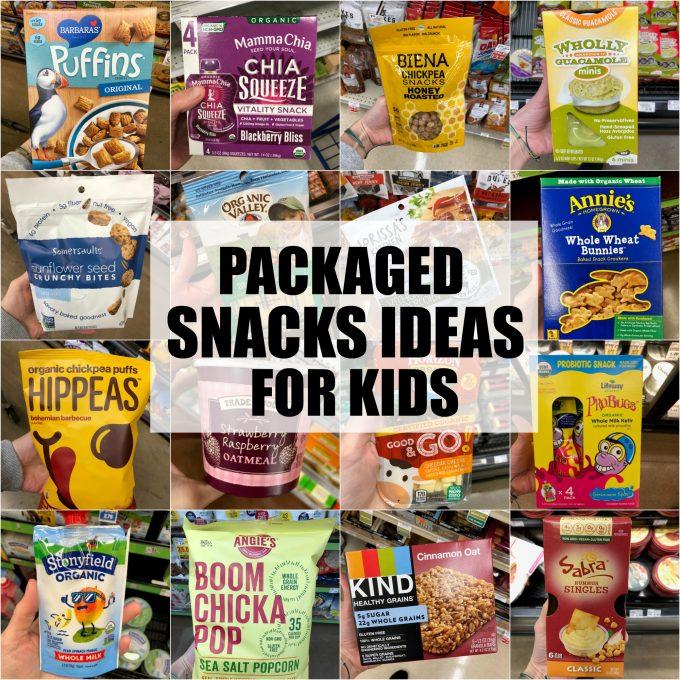 *Originally published March 2018. Updated February 2021*
Hi Friends!
You guys know I'm a huge fan of making homemade snacks for my kiddos, but there are definitely times when store-bought, prepackaged options are both handy and necessary. We all know there are times when we need some individually wrapped snacks.
I also recognize that not everyone enjoys or has time to make homemade snacks and I've had lots of requests for my thoughts on healthy packaged snack options and what healthy school snacks to buy. So, I visited Meijer, Kroger, Giant Eagle, Costco, Fresh Thyme, Trader Joe's & Whole Foods to round up some ideas for you.
Note if you're looking for store-specific snacks, I have you covered:
Need more snack ideas?
Granola Bars & Cereals
If you're looking specifically for granola bars or cereals, I have separate posts just for those: Healthy Store-Bought Granola Bars for Kids and Lower Sugar Cereals for Kids.
And remember that all of these snacks would be great for lunches as well. I have a guide: A Month of Easy Packed Lunch Ideas for Kids if you need more lunch box ideas!
A few notes:
This is not a sponsored post. None of these companies asked to be included or even knew I was putting this post together.
While I originally intended this round-up to be geared towards kids, there are a lot of things adults could enjoy as well.
We have not tried all of these. I repeat – I have not personally tried all of these, nor have my kids. I have no idea if my kids like them all and have no doubt there are some they would not eat.
I firmly believe everyone is entitled to their opinions about what makes a healthy snack. The products I've chosen are ones that I think are good choices both as a Registered Dietitian and as a mom of three young kids. I have no doubt there are people (even other dietitians) who will disagree with products on this list. That's fine!
I'm not saying these are things you have to feed your kids. I'm not even saying these are the only healthy packaged snack options. I know there are tons more out there and I will continue to add to this post as I come across more! I'm simply sharing these ideas to inspire you and hopefully help you find a few new options for you to try with your kiddos.
Healthy Snacks For Kids To Buy
When I'm looking at packaged snacks, I try to find options that have at least a few grams of protein and fiber, and I try to choose options that are low in added sugar. I don't have a set-in-stone rule, but generally, if there are at least 3 grams of protein and/or fiber and less than 5-6 grams of sugar (although some are higher due to natural sugars in fruit, milk, etc), I'm pretty happy.
I tried to link to the specific product I showed in the pictures so you can click the link and see the nutritional info. I took pictures of all the labels but they got blurry and hard to read when I tried to include them in the collages. If you visit my Instagram profile, I have most of these (and the labels) saved to my highlights so you can click through them there too.
So here are some ideas for you:
Healthy Packaged Snacks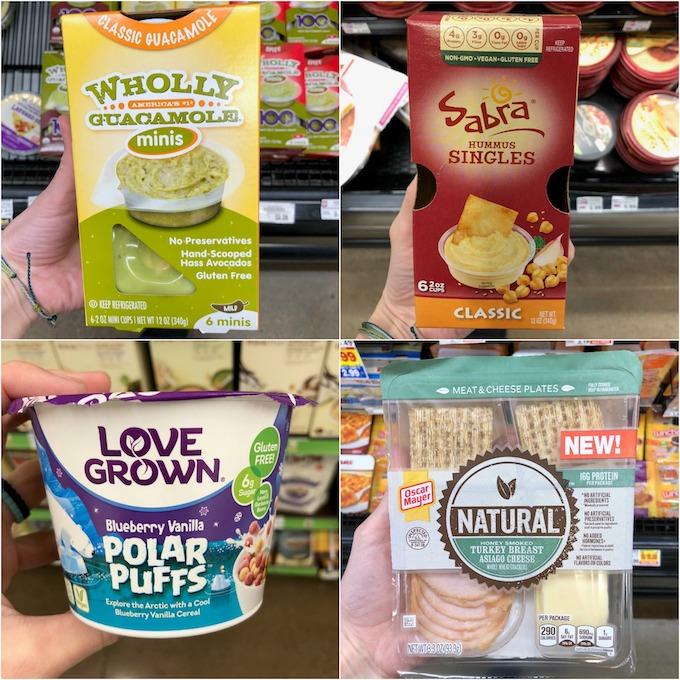 Wholly Guacamole Minis – serve it with chips, crackers or veggies
Sabra Hummus Singles – perfect for dipping mini carrots, snap peas, red peppers strips or crackers!
Love Grown Foods Polar Puffs – bean-based cereals. Buy a big box to portion yourself or snag the cups. My kids also like the Fruity Sea Stars.
Lunchables – lots of different brands have something like this available. Remember that you could also easily make a week's worth of these yourself by buying a box of Triscuits, a block of cheese and your favorite low-sodium turkey!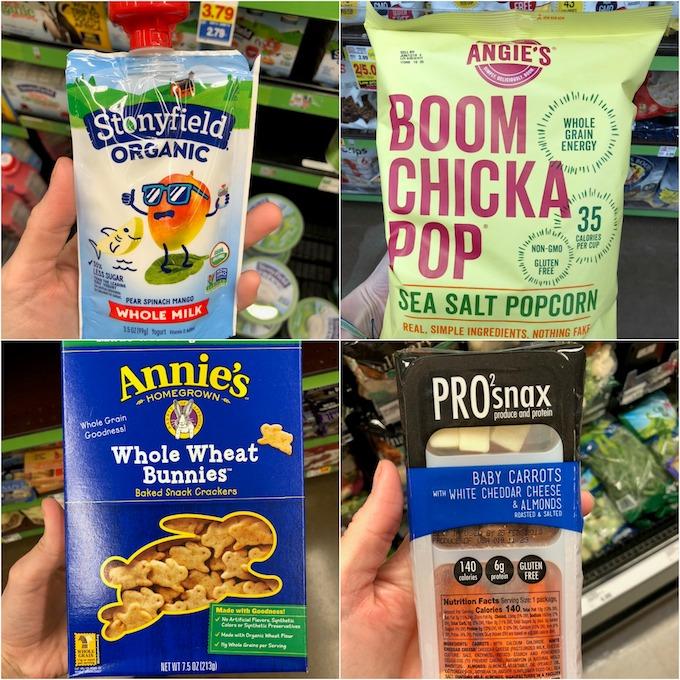 Stonyfield Organic Whole Milk Pouches – love that these are whole milk and have some veggies. There's also a Berry Beet flavor. They also have whole milk smoothies which are a bit high in sugar for me but great for an occasional quick, on the go protein option.
Angie's Boom Chicka Pop – The sea salt flavor has no sugar. Just popcorn, oil and salt…and each serving has 3g protein, 4g fiber and it's a whole grain! Buy a big bag and portion into small bags for snacks on the go.
Annie's Whole Wheat Bunnies – love that they're whole wheat and baked!
Fruit/veg, nut & cheese packs – Available in a lot of combos from different companies like Sargento, Horizon Organic etc. Again, you could easily make several of these yourself fairly quickly at home with a bag of nuts, a blog of cheese and a bag of baby carrots.
Skinny Pop Popcorn Cakes

– Fun to eat, a good whole grain option. (not pictured)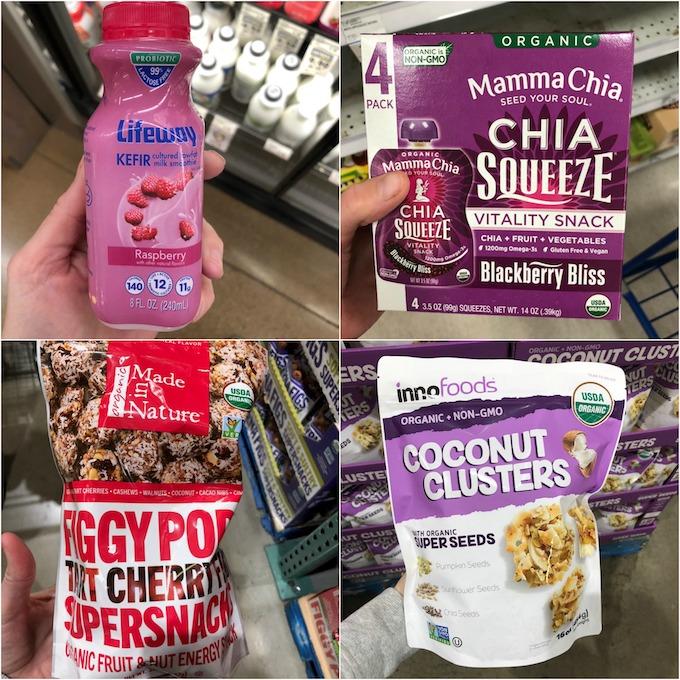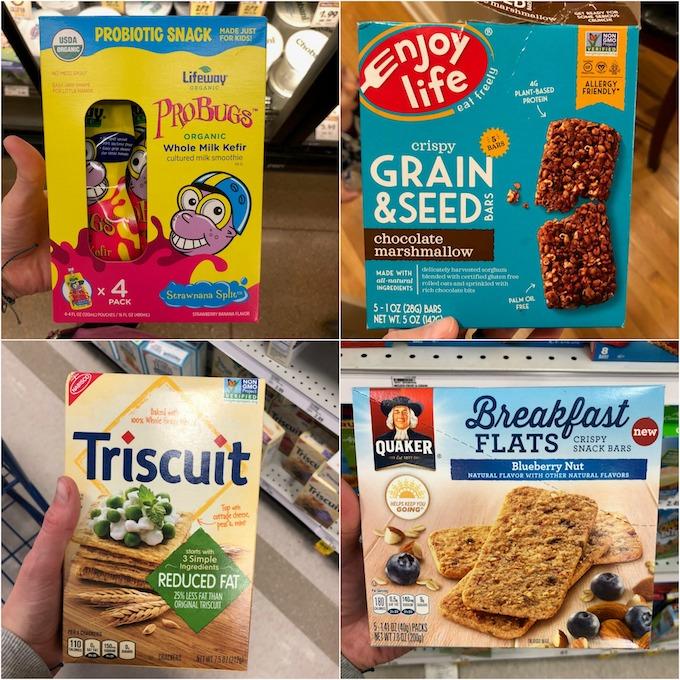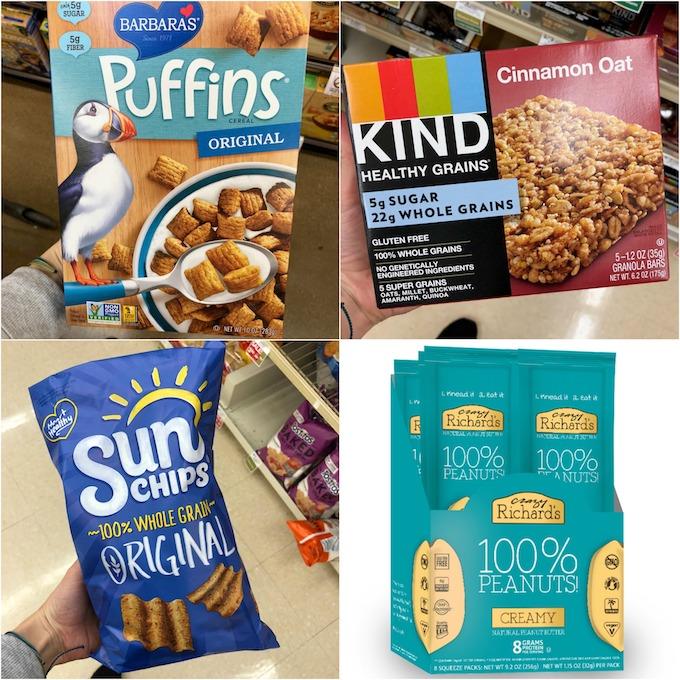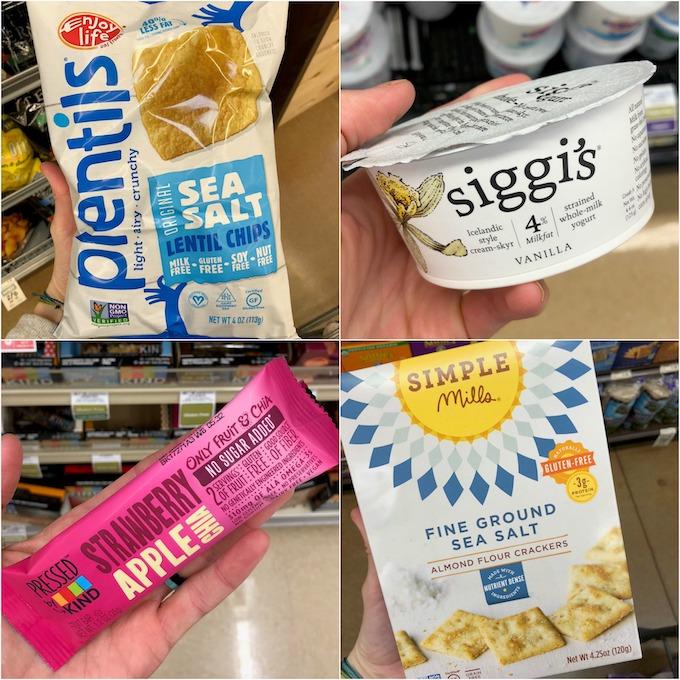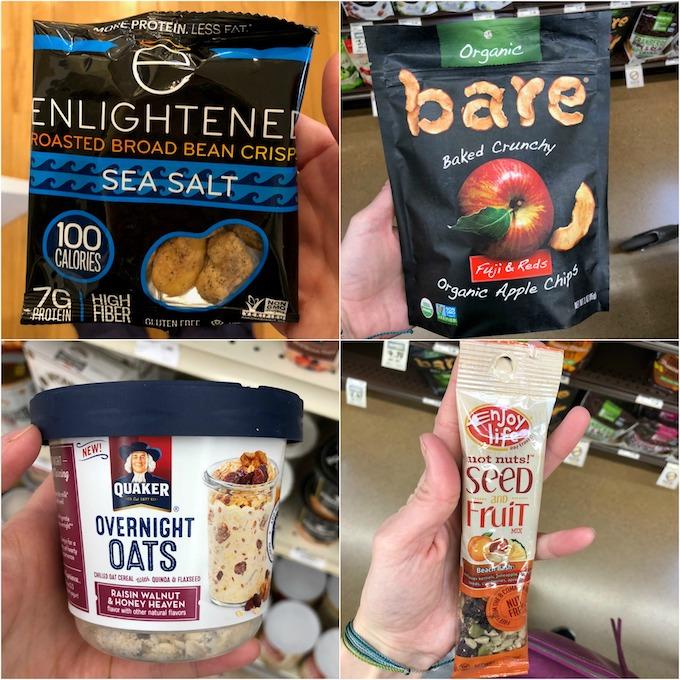 Bada Bean, Bada Boom – Great source of protein & fiber. I love mixing the cinnamon and the sea salt ones. (New packaging than the photo above. Formerly called Enlightened Broad Bean Crisps)
Bare Apple Chips – Just apples. Super crunchy. Great for dipping in PB.
Quaker Overnight Oats – A bit high in added sugar for me, but I like the concept. You could easily prep 5-6 of something similar with oats, nuts and dried fruit in mason jars and just add your milk or yogurt the night before you want to eat!
Enjoy Life Seed & Fruit Packs – Nut-free trail mix option.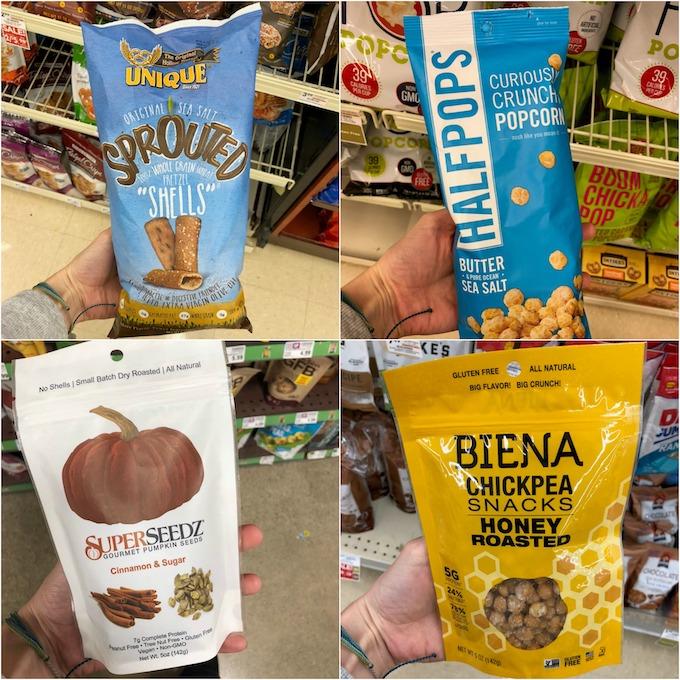 Unique Sprouted Pretzel Shells – A fun way to change things up! They also make Pretzel Splits
Half Pops – A crunchier way to eat popcorn. Better for older kids and adults.
Cinnamon & Sugar SuperSeedz – Eat them plain or add to homemade trail mix. Other flavor options available! Nut-free!
Biena Chickpea Snacks – Another nut-free option for protein and fiber. Good by themselves or in a mix. Multiple flavor options.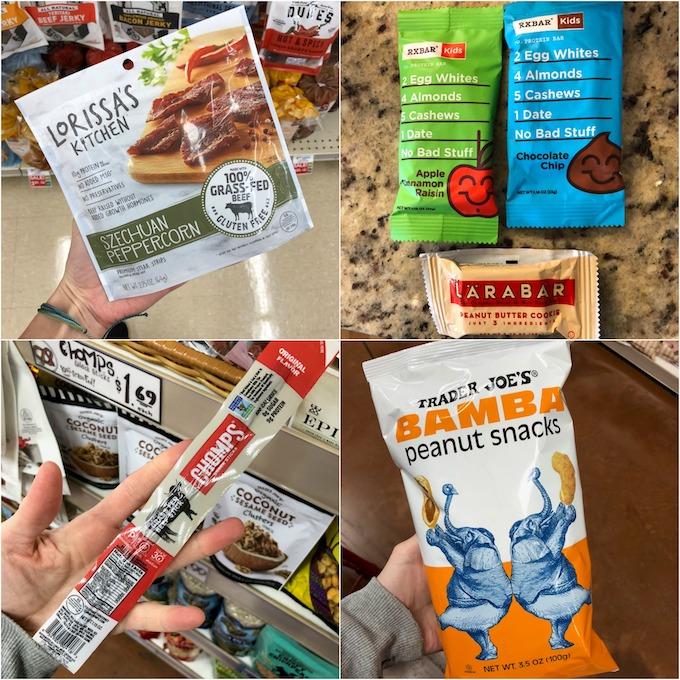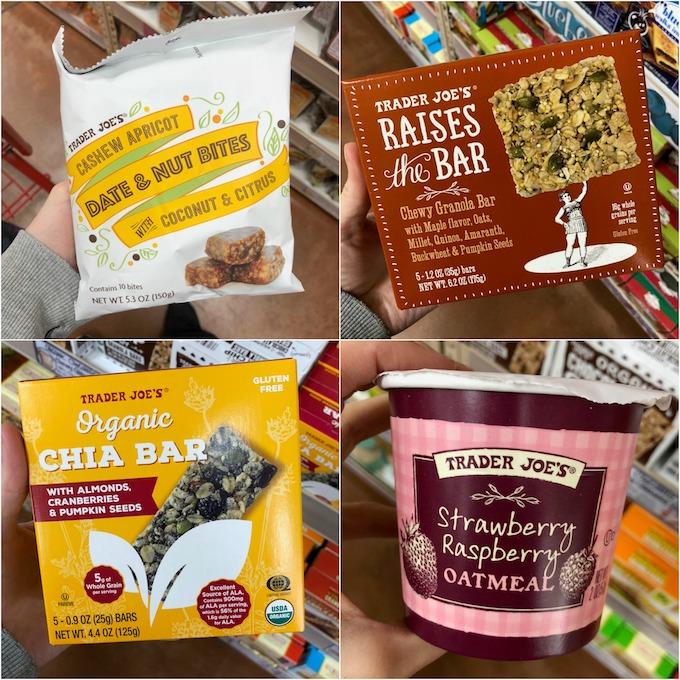 The 4 snacks below are specific to Trader Joe's. Want more Trader Joe's? Here are the Best Trader Joe's Snacks.
Cashew Apricot Date & Nut Bites
Granola Bars – 3g protein, 3g fiber, 6g sugar
Chia Bars – 3g protein, 3g fiber, 4g sugar
Oatmeal Cups – Only ingredients are oats, brown sugar, freeze-dried fruit and cinnamon. 9g protein, 6g fiber and 5g sugar.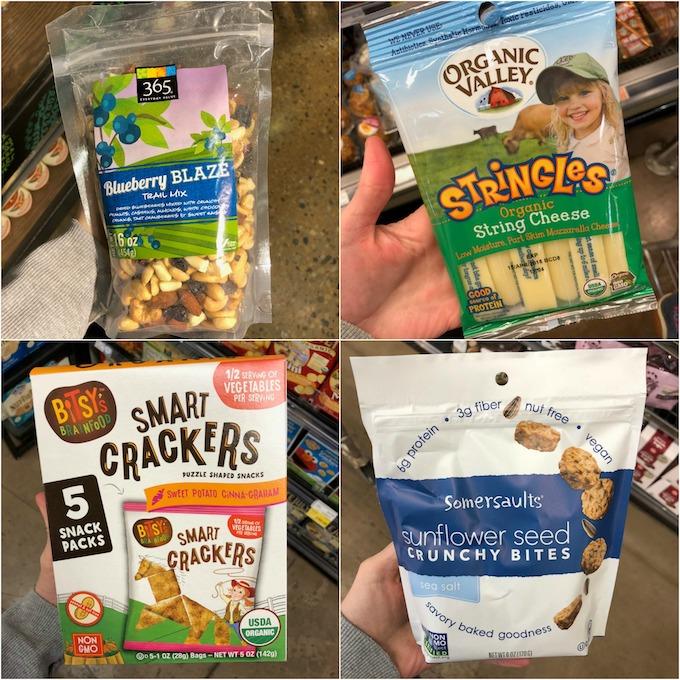 Trail Mix – I look for a good mix of nuts, seeds & dried fruit.
Organic Valley Stringles – I pair these with some crackers or fruit usually
Bitsy's Smart Crackers – Nut-free and baked into shapes you can play with! Lots of flavors.
Somersaults – Nut-free with lots of protein and fiber.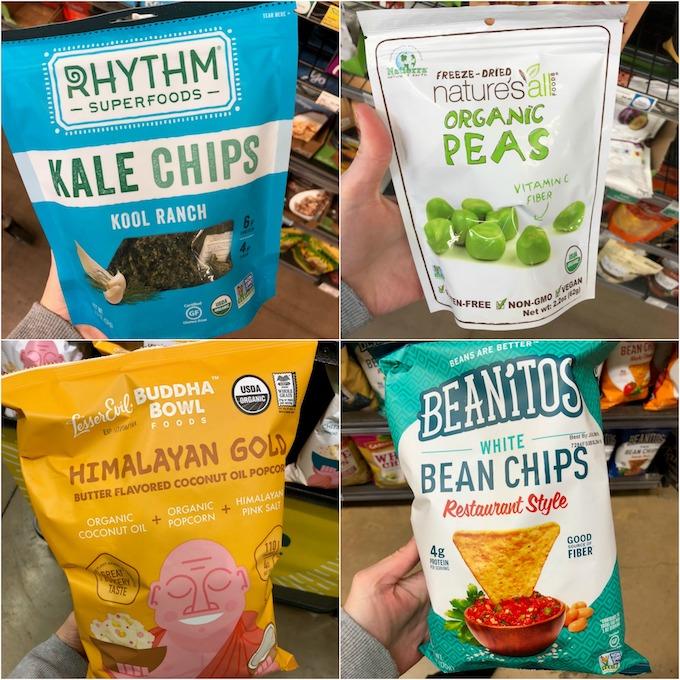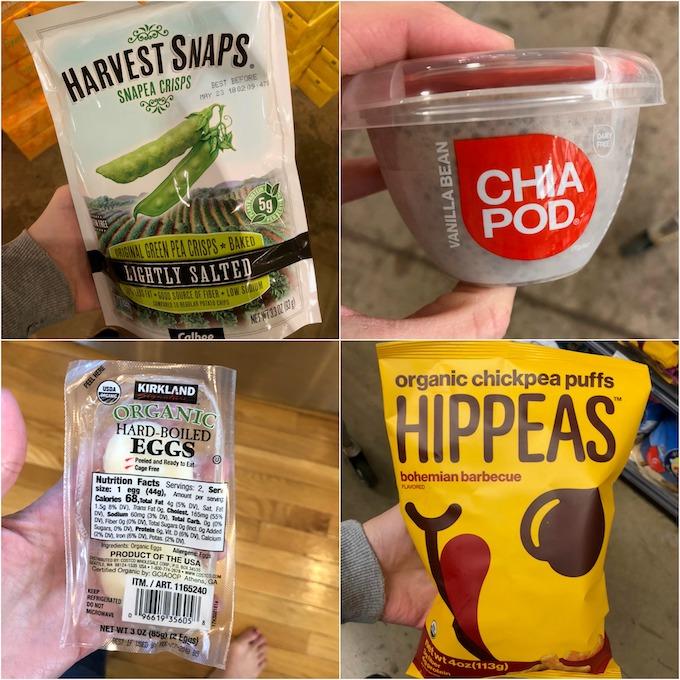 Harvest Snaps Snapea Crisps – Another good protein source!
Chia Pod – Dairy-free with protein and fiber. Available in different flavors.
Hard-Boiled Eggs – Lots of companies make them. Pair with a healthy carb!
Hippeas – kinda like an amped-up cheese puff! Lots of fun flavors.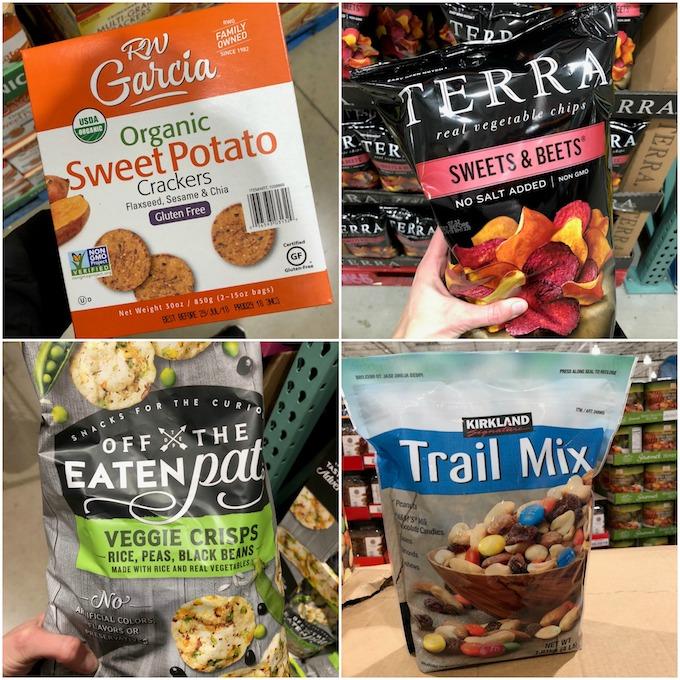 ---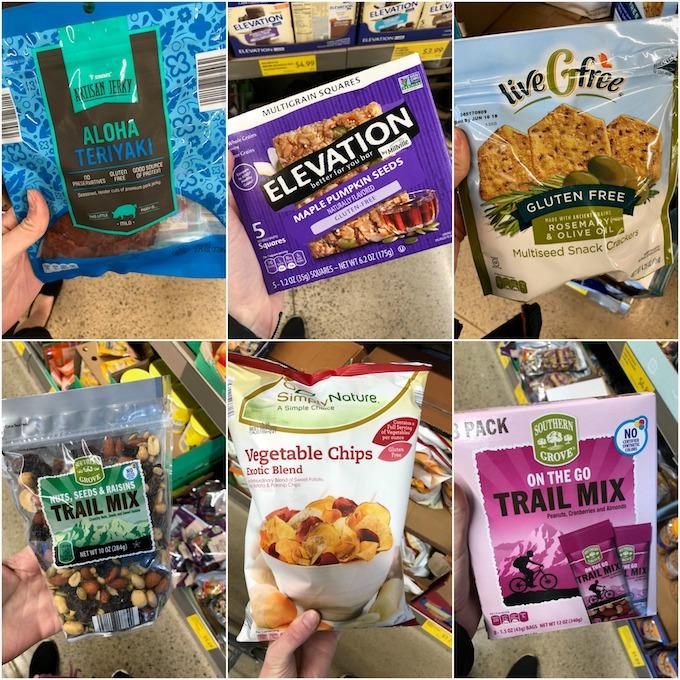 Above are a few I found specifically at Aldi.
A few more ideas:
Remember:
If you're looking specifically for granola bars or cereals, I have separate posts just for those: Healthy Store-Bought Granola Bars for Kids and Lower Sugar Cereals for Kids.
That's it for now! I'll keep adding as I find more! If you liked this post, be sure to share and pin it for later!
Healthy Packaged Snacks For Kids

Let's chat:
What's your favorite healthy packaged snack for kids? Leave a comment so I can check it out!
Enjoy!
–Lindsay–
LEARN HOW FOOD AFFECTS YOUR BODY.
Get my free Table Talk email series where I share bite-sized nutrition information about carbs, protein, and fat, plus bonus information about snacks and sugar!