These easy homemade whole wheat pancakes will quickly become your go-to pancake recipe. Perfect for breakfast and freezer-friendly!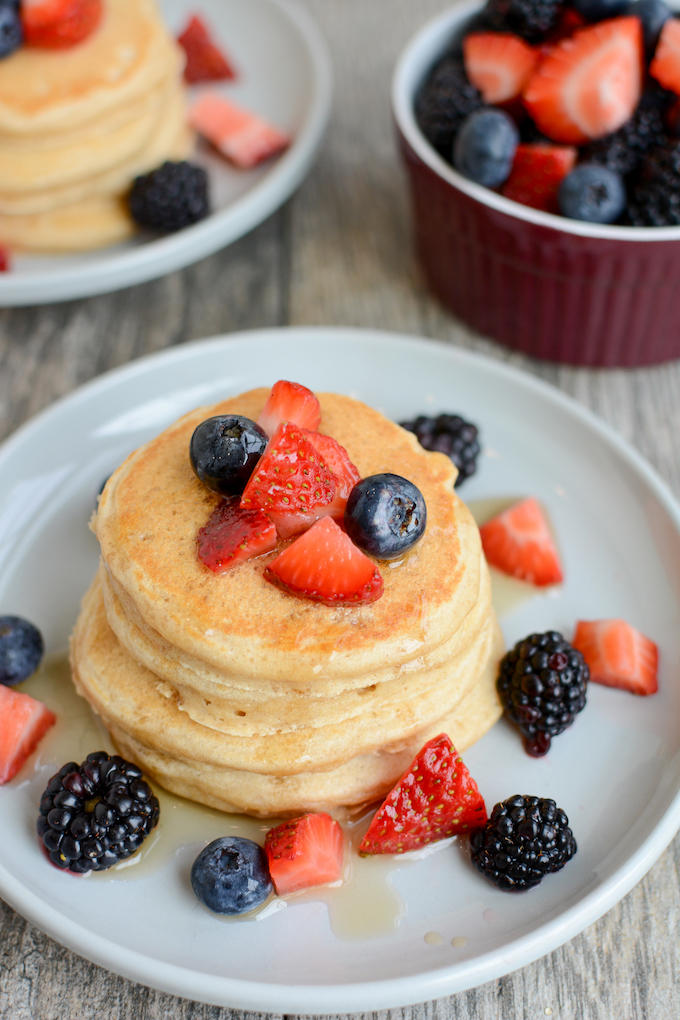 Hi friends!
It's been a while since I shared a pancake recipe and this is one I'm really excited to share. For a while now we've been using Kodiak Cakes pancake mix and it's been great. My kids like it. I can get it at Costco for a reasonable price.
Recently, however, our Costco was out of the mix so I challenged myself to create a simple, homemade pancake recipe that all my kids would eat. Easier said than done of course, but I finally nailed it.
Whole Wheat Pancake Recipe
Pancakes are pretty simple by nature but it's all about getting the right combination of the simple ingredients so you end up with something that tastes good and that you also feel good about serving. You probably have all the ingredients you need on hand already:
White whole wheat flour – this is my preferred flour for most things. It's whole grain but lighter than regular whole wheat flour.
Baking soda
Baking powder
Cinnamon
Sugar – just a tablespoon for a bit of sweetness
Egg
Butter – a few tablespoons of melted butter add richness and flavor
Vanilla – a key ingredient. Don't leave it out and don't skimp!
Buttermilk – make your own by just adding a splash of vinegar to regular milk
You also have the option to add extra protein. I use Promix Unflavored Whey Isolate (referral link). It's just powdered whey protein, no other ingredients or sweeteners and it mixes so well into pancakes, smoothies etc. I just add a couple of scoops to bump up the protein by a couple of grams, nothing major. You can leave it out or add some hemp seeds instead!
---
Want to see how easy this recipe is? Watch my 4 year old make these whole wheat pancakes!
PS. Did you know we have an entire separate website called Let The Kids Cook full of quick and easy recipes kids can make all by themselves?! Check it out! We show you how to make Oven Baked Bacon and Scrambled Eggs which would go great with these pancakes.
---
Just combine all the dry ingredients in a bowl, add the wet ingredients, then whisk until smooth and cook on a griddle!
---
Here's the recipe:
Print
Whole Wheat Pancakes
These easy homemade whole wheat pancakes will quickly become your go-to pancake recipe. Perfect for breakfast and freezer-friendly!
2 cups

white whole wheat flour

2 tsp

baking powder

1/2 tsp

baking soda

1 Tablespoon

sugar
pinch of salt

1.75 cups

buttermilk

3 Tablespoons

melted butter

1

egg

1 tsp

vanilla extract
optional – 2 scoops protein (approx 1/2 cup)*
Instructions
In a bowl combine flour, baking powder, baking soda, sugar, salt, and protein if using.
Add buttermilk, melted butter, egg and vanilla and whisk until smooth.
Pour onto a buttered griddle and cook over medium heat.
Notes
Make your own buttermilk by adding a splash of vinegar to regular milk.
I use unflavored whey protein isolate with no added sugar/stevia/etc
Whole Wheat Pancake Recipe FAQs
Are these whole wheat buttermilk pancakes?
Yes because this recipe calls for buttermilk! Why do we use buttermilk in this recipe? The buttermilk activates the baking soda and helps make the pancakes nice and fluffy! If you don't have buttermilk or the vinegar or lemon juice to make your own you can use plain kefir, or try sour cream or yogurt thinned slightly with a little water or milk.
Can you freeze pancakes?
Yes! To freeze, let the pancakes cool completely, then freeze flat on a baking sheet or plate for a couple of hours. Then transfer to a freezer safe bag. To reheat, transfer to the fridge overnight or microwave straight from frozen.
Are these healthy whole wheat pancakes?
Yes! This recipe is made with white whole wheat flour which adds some fiber and milk and egg which adds protein. You can also add additional protein to this recipe with protein powder or hemp seeds. It's also low in added sugar.
Can I make this a whole wheat pancake mix?
You could easily portion the dry ingredients of this recipe into a large mason jar ahead of time. It would be perfect to give as a gift! Just attach a tag that says "When ready to make, pour into a bowl and add 1.75 cups buttermilk, 3 Tbsp melted butter, 1 tsp vanilla and an egg! Whisk and cook on a griddle."
---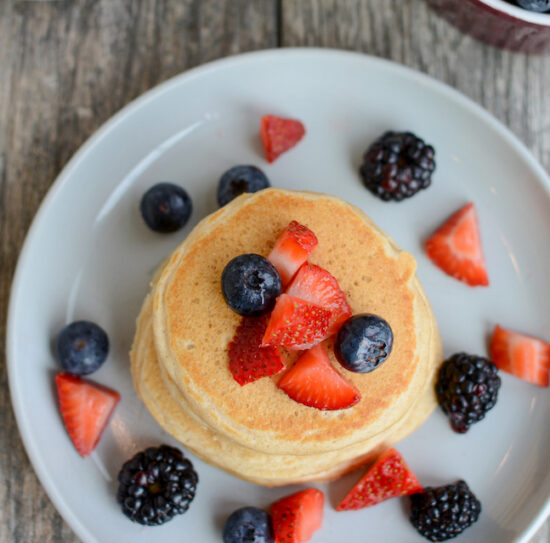 Whole Wheat Pancake Variations
Whole wheat pancakes banana
If you're a banana-lover, this is a great recipe to add bananas to. You can mash up some ripe bananas and mix them right into the batter or add sliced bananas to the tops of the pancake once you pour them onto the griddle. My favorite is actually adding sliced bananas as well as a sprinkle of granola to make banana crunch pancakes!
Whole wheat blueberry pancakes
This recipe would be great for adding fresh blueberries! Stock up on fresh blueberries during the summer when they're on sale and freeze them. Then just add a scoop to your pancake batter when making them!
Whole wheat pumpkin pancakes
To add a Fall spin to this recipe, add 1/2 cup pumpkin and some cinnamon.
---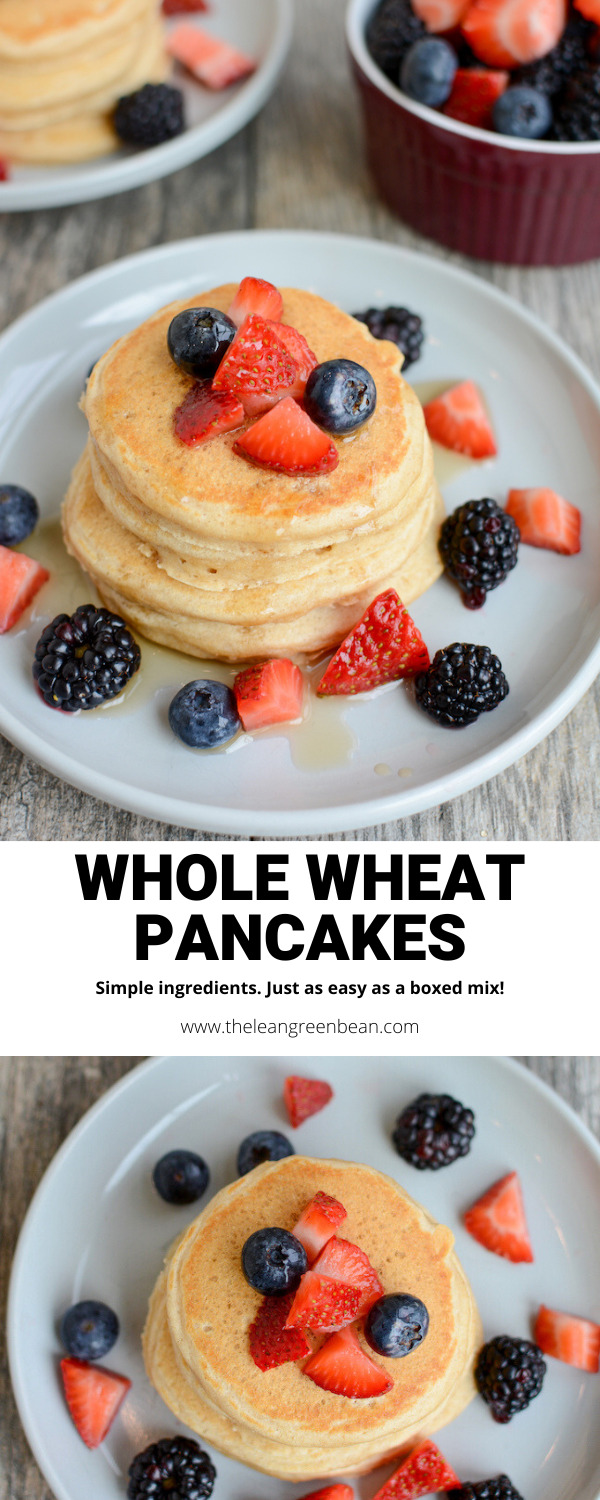 Enjoy!
–Lindsay–
LEARN HOW FOOD AFFECTS YOUR BODY.
Get my free Table Talk email series where I share bite-sized nutrition information about carbs, protein, and fat, plus bonus information about snacks and sugar!