This Crunchy Kale Salad with Couscous is perfect for food prep. Throw it together on Sunday and enjoy for a quick, healthy lunch or dinner all week long.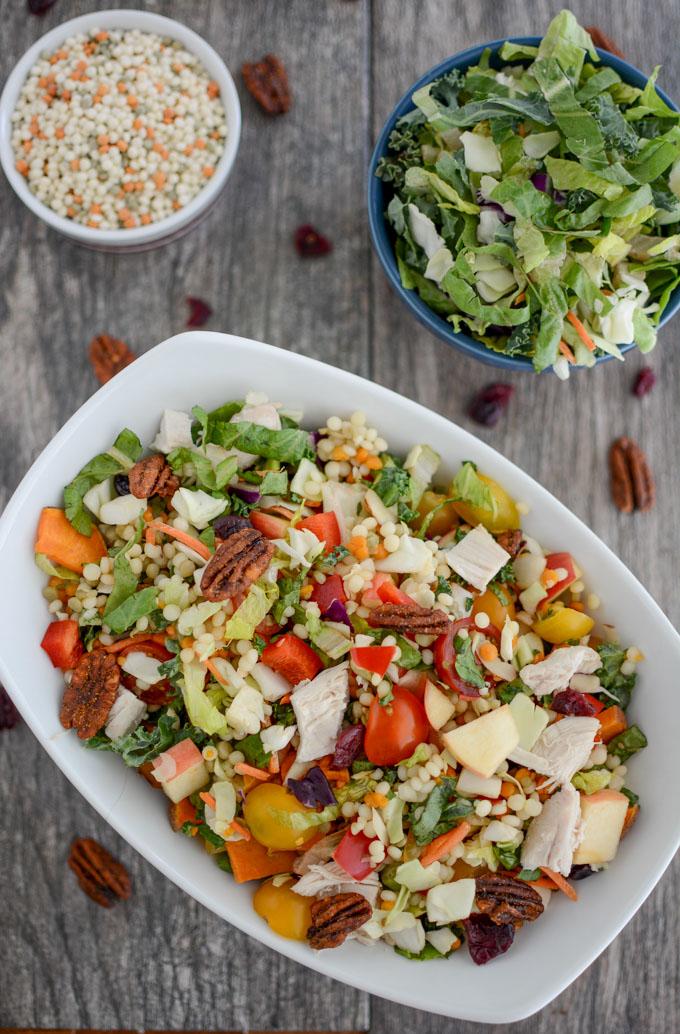 Hi friends!
I whipped up this Crunchy Kale Salad with Couscous this weekend after eating something similar at one of our favorite restaurants. You guys know that I'm typically more of a fan of prepping food components and putting them together each day to make quick meals. But this week I wanted to change things up. I'm still trying to play catchup after being sick and we have a couple of busy days so I decided to just make myself a couple of meals ahead of time that I can just pull out and eat quickly without doing any work during the week.
To make my life even easier, I started with a bagged salad kit – a mix of kale, romaine and cabbage because I liked how everything was pre-washed and chopped. However, next time I'll likely just prep my own kale and mix it with a bag of broccoli slaw or coleslaw because I didn't even use the dressing and some of the toppings included in the salad kit.
Crunchy Kale Salad with Couscous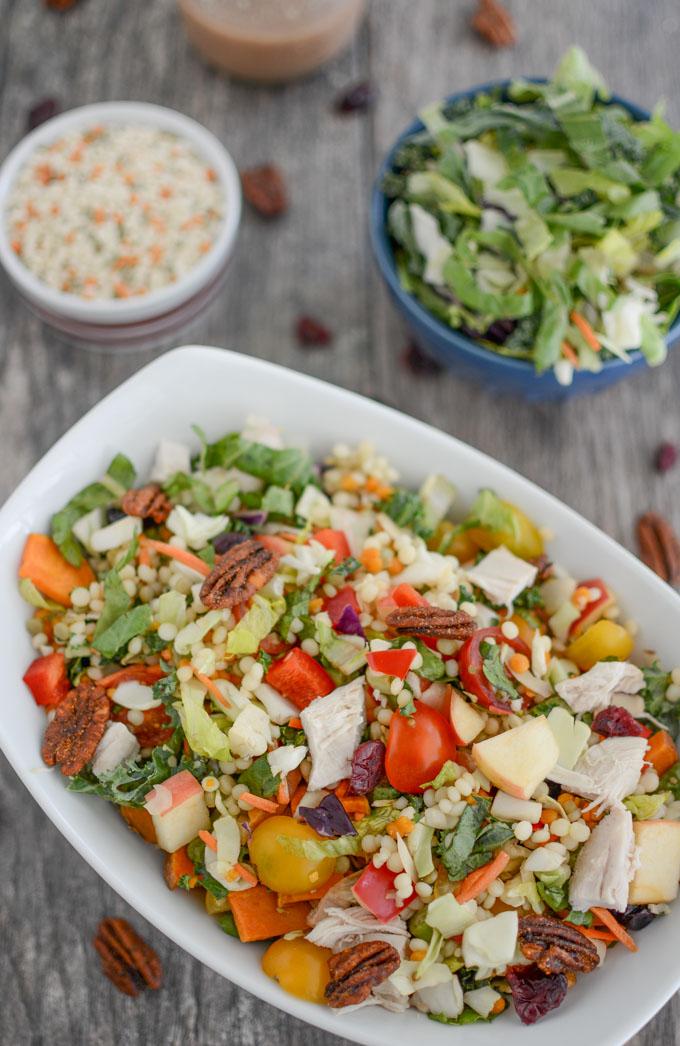 This is a flexible salad so you can really customize it to your liking. Here are a few choices:
Star with a base – Aim for a mix of kale and something crunchy like cabbage, broccoli slaw and/or romaine
Choose a grain – I used tri-colored couscous. You could also use something like farro.
Pick a protein – I used chicken that I cooked in the Instant Pot. Grilled chicken or steak would also be good, as well as chicken sausage
Add more veggies – peppers, roasted sweet potatoes and tomatoes are what I had on hand but carrots, onions etc would work too
Top it off – I added Craisins and apple for a little sweetness and some candied pecans for crunch. Sliced almonds would also be good.
To tie everything together, I whipped a Maple Mustard Vinaigrette but you could use whatever homemade or store-bought dressing you like best.
Here's the recipe:
Print
Crunchy Kale Salad with Couscous
This Crunchy Kale Salad with Couscous is perfect for food prep. Throw it together on Sunday and top with your favorite protein for a quick, healthy lunch or dinner during the week.
Author: Lindsay
Prep Time:

20 min

Total Time:

20 minutes

Yield:

serves 4
8–10 cups kale mix (chopped kale mixed with broccoli slaw/cabbage/romaine etc)
1 cup uncooked tri-color couscous (or other grain of choice)
2 cups diced sweet potato
1 red bell pepper, diced
1 pint cherry tomatoes, halved
1 pound cooked chicken (or other protein like steak, chicken sausage, etc)
1 large apple, diced
optional: Craisins or dried cherries, pecans or almonds
1/4 cup dijon mustard
1/4 cup red wine vinegar
2 Tbsp maple syrup
2–4 Tbsp avocado oil
Instructions
Cook couscous according to package directions and let cool.
Roast sweet potatoes and let cool.
Combine all salad ingredients in a large bowl and mix until well combined.
In a mason jar combine mustard, vinegar, syrup and 2 Tbsp oil. Shake vigorously until well combined. Taste. Add a pinch of salt or more oil or maple syrup if desired.
If prepping ahead of time, store salad in a ziploc bag with air removed and dressing in a mason jar. Combine when ready to eat.
Notes
The dressing can be doubled if you want more!
So there you have it. Perfect for quick and easy lunches and dinners during a busy week and easy to customize so you don't get bored.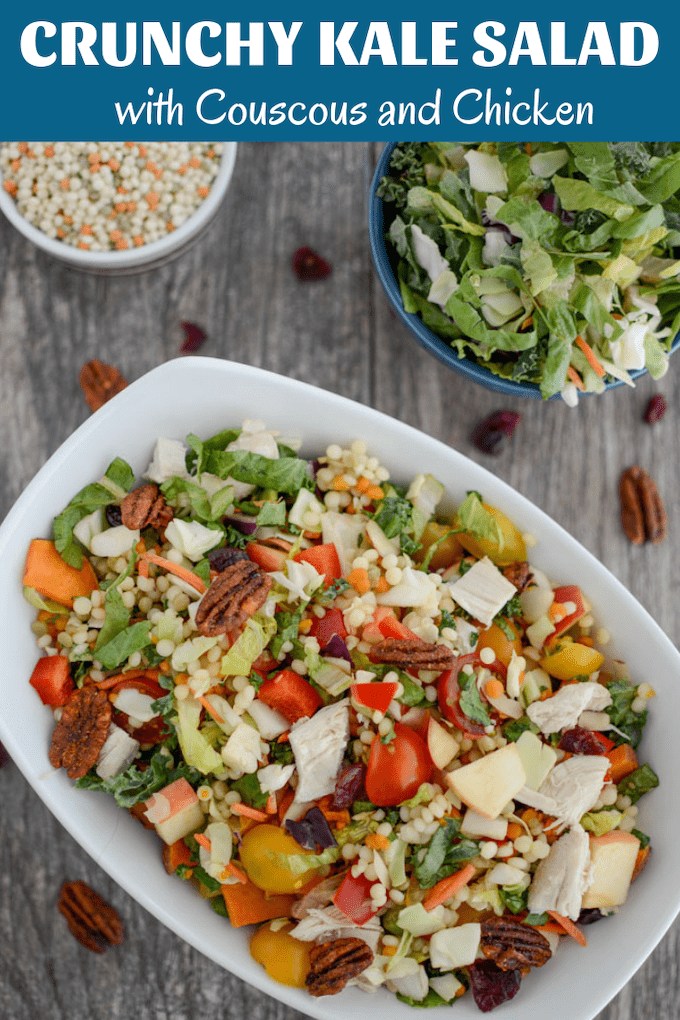 Enjoy!
–Lindsay–
LEARN HOW FOOD AFFECTS YOUR BODY.
Get my free Table Talk email series where I share bite-sized nutrition information about carbs, protein, and fat, plus bonus information about snacks and sugar!