After three kids, here are my all-time favorite gifts for Babies, Toddlers and Moms! These are my most used items for everyday life and would make great choices for gifts, baby registries and more.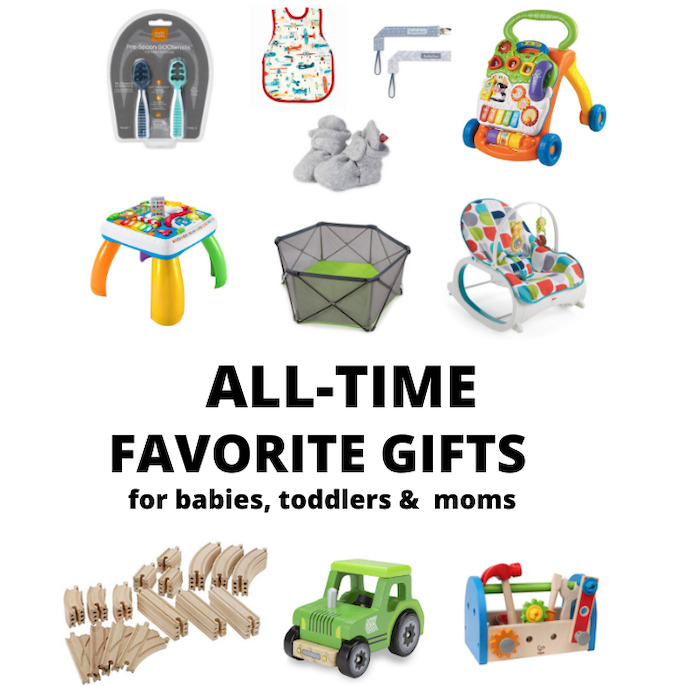 Hi friends!
I wanted to share my all-time favorite gifts with you guys. In case you missed any my previous gift guides, you can check them out below:
---
*Originally posted 11/2019. Updated 11/2023.*
Some of you have asked what my absolute favorites are. I tried to make my previous guides very robust with lots of options at different price points but if I was really going to boil it down to my very favorite things, I could pretty easily pick my top 10 favorites in a few categories.
So, I rounded up my favorites for baby's first year, the toddler years (mostly ages 2-4) and my current mama favs that I use almost daily. So here are my all-time favorite gifts for babies, toddlers and moms.
Some of the links below are affiliate links from Amazon and other places. That means that if you purchase through them, I earn a small amount at no additional cost to you! Thanks for supporting The Lean Green Bean.
---
All-Time Favorite Gifts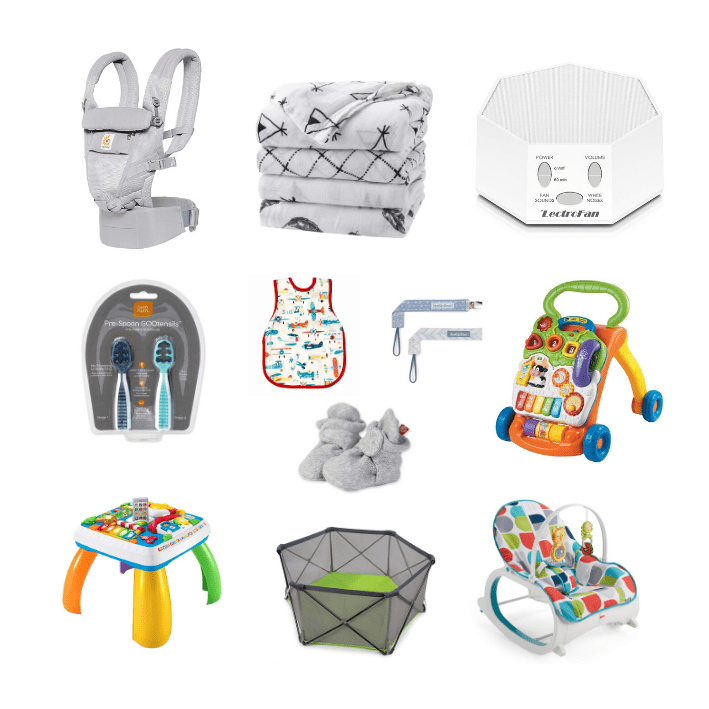 All-time favorite newborn items
Check out my Baby's First Year Gift Guide here.
---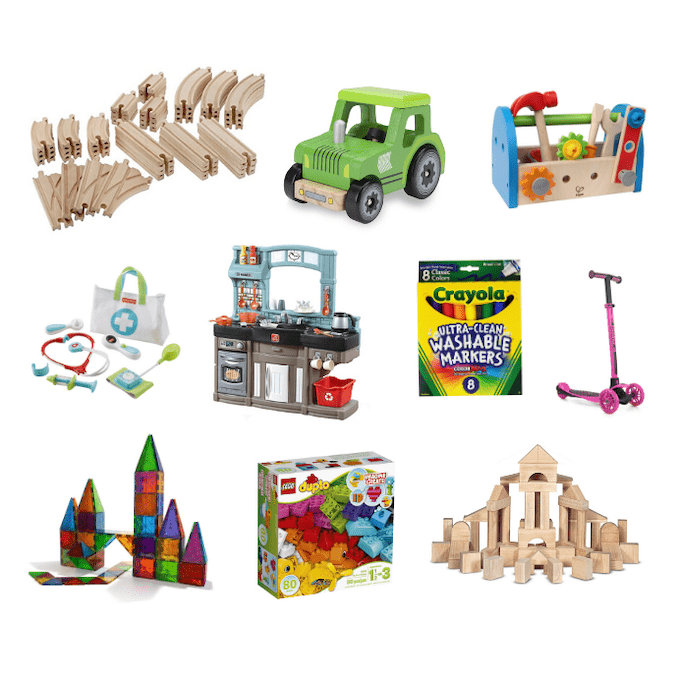 All-time favorite toddler gifts
Wooden train tracks – My oldest was non-stop trains from ages 1-3. Most of the brands work together so snag them on sale and build your collection.
Anything that encourages open-ended play and has more than one use: trucks/cars +babies/stuffed animals – great for any age. They don't have to be fancy…the simpler the better so they can use their imagination
Play tools and doctor kit and vet set – our three most used "pretend" sets
Play kitchen – all my kids have loved this from age 1 and it's still being use by my 9 year old
Duplos – skip the mega blocks big builders and just get Duplos. Big enough for 1-year-olds and my kids used them until they were 4 or 5 before switching to smaller sets.
Nugget – Great pretty much as soon as they start crawling but I'd say 2.5 or so is about the time mine started using on their own without needing parent help to set it up and move it around. Big hit from ages 3-6 and still being used by my older kids as well to make forts, cars and more.
Magnatiles and/or wooden blocks – Blocks are great for any age. Magnatiles are one of my favorite gifts for 2nd birthday because my kids started using them independently around 2.5. My 9 year old still builds castles etc for his army men with them. Get the 100 pack. Several of them. Just trust me
Scooter – Tricycles are great but if you only want to buy one, I'd go with a scooter for ages 2+. My daughter mastered it around 2.5 and with practice probably could have been good at it even younger.
Ultimate fort builder – easy to snap together but if you want to build some of the designs they suggest, you have to position the connectors a certain way so ages 3-4 might be a better age to start if no older siblings
Art supplies/playdough/water table/sensory bins – check this post for a list of our most used supplies
Find all my favorite Toddler Gift Ideas here.
---
All-time favorite gifts for kids ages 4-7
If your kids are no longer toddlers, I have lots of toy ideas for kids ages 4-7 here:
---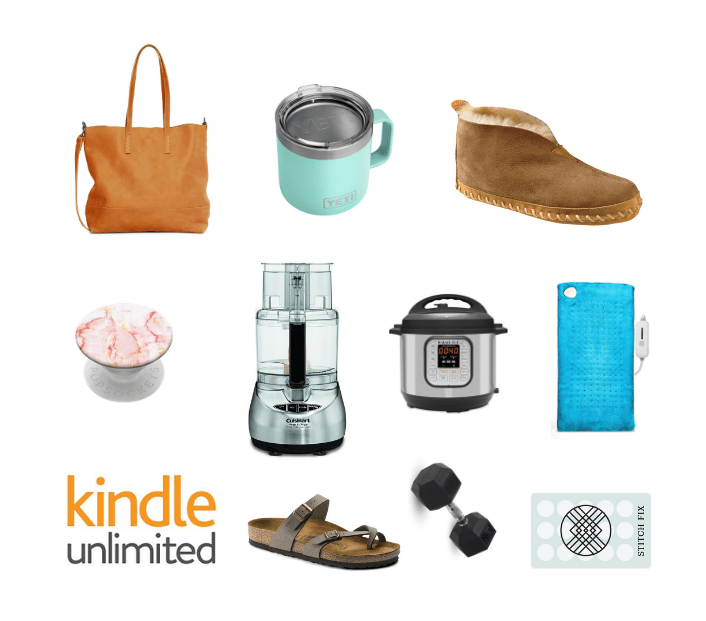 Mom Favs
Able purse – Hands down my favorite crossbody purse. I have 3 of various sizes and love them all.
Yeti Coffee Mug – To keep your coffee hot and also minimize spills and potential burns from little hands that are grabbing for your mug.
Stitch Fix – Since going shopping is hard! I also love my Lululemon Dance Studio Pants.
Slippers – On my feet every day for fall, winter and spring.
Pop Socket– A must-have for your phone.
Audible or Kindle Unlimited membership- When I have the time and energy to read for fun, this comes in handy for access to a lot of books and Audible makes it easy to listen to books while doing other things.
Food processor – Instant Pot – Air Fryer – Nutribullet : My four most used kitchen appliances.
Heating Pad – For all your mom aches and pains and also to make your bed warm and cozy.
Birkenstock Mayari – My go-to shoe all summer long. Stylish, comfortable and long lasting.
Dumbbells – You can get a great workout, even in your living room, with a good pair of dumbbells.
Shark Hair Dryer – Saves so much time drying my hair
Airpods – Cannot live without them!
Find all my favorite Gift Ideas For Busy Moms here.
---
So there you go! I'm sure I forgot something but this should get you started!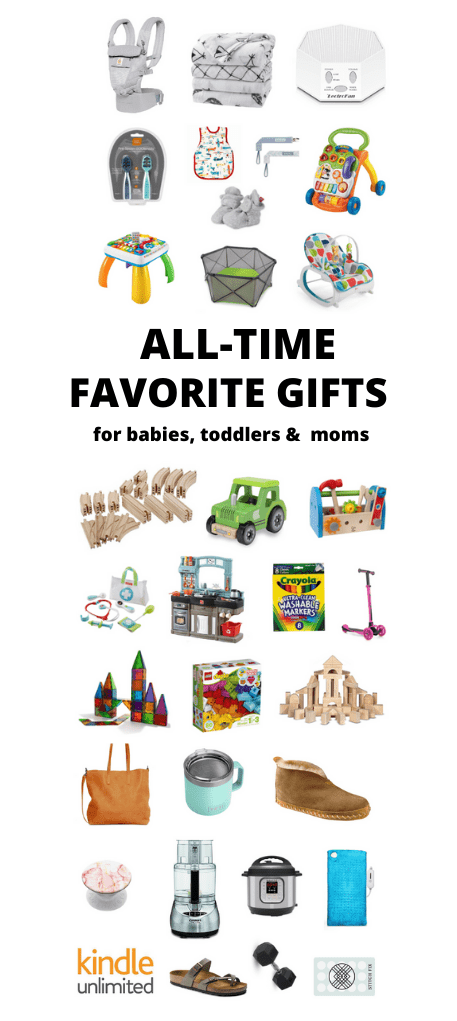 Enjoy!
–Lindsay–
LEARN HOW FOOD AFFECTS YOUR BODY.
Get my free Table Talk email series where I share bite-sized nutrition information about carbs, protein, and fat, plus bonus information about snacks and sugar!