Wondering what to put in a salad?
Use this list of things to put in a salad to choose a combination of vegetables, protein and healthy carbs and fats and make a salad you love!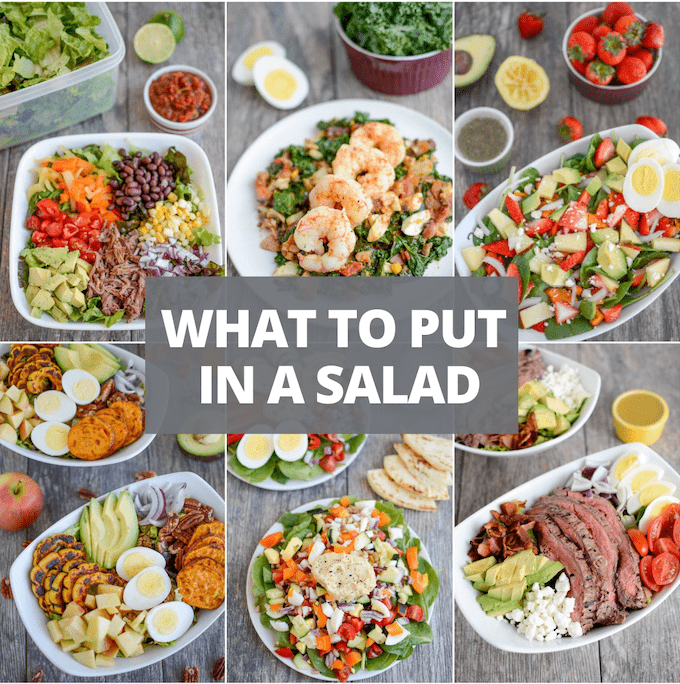 Hi friends!
You've heard over and over again to eat more salad, but where is this magical list of things to put in a salad? I've got it for you! I've already shared The Ultimate List of Salad Topping Ideas. In this post I'm going to break the toppings into categories to teach you how to make a healthy, balanced salad that actually tastes good! A good salad has a variety of different flavors and textures. I always aim to include vegetables, protein and healthy carbs and fat.
What goes in a salad
There's no denying that when most people think salad, they think of leafy greens and vegetables. So let's start there! Salads can be an effective way to increase your veggie intake as long as you put a little time and effort into making them taste good so that you actually want to eat them!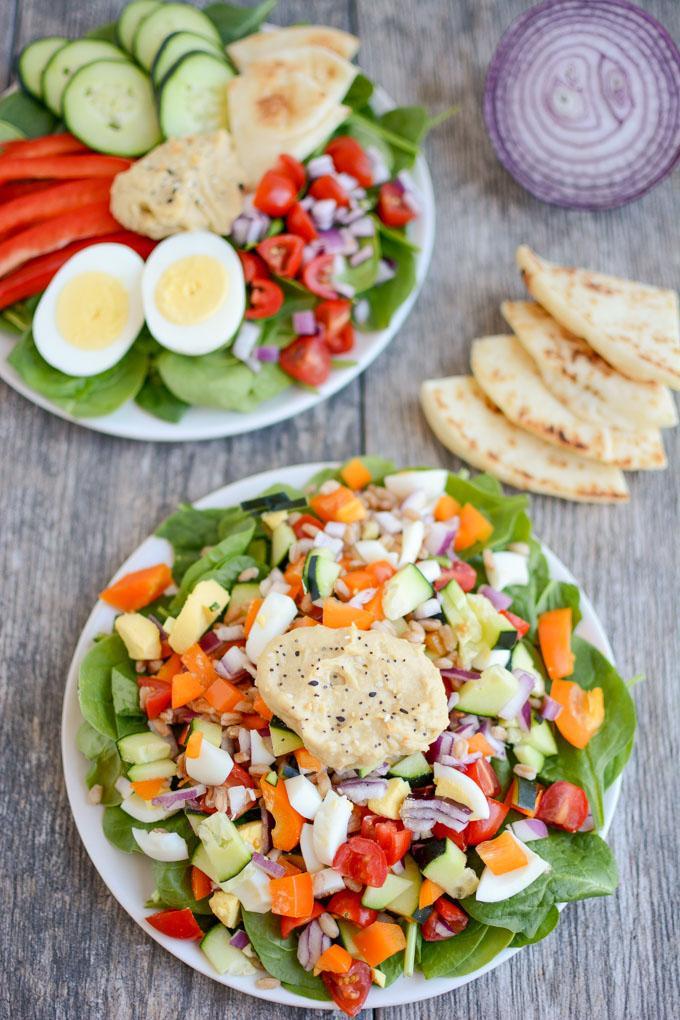 If you're going tradition, you would start with a base of leafy greens:
Lettuce
Spinach
Kale
Mixed greens
Arugula
Mustard greens
Swiss chard
If you don't love leafy greens, but still want a vegetable base, consider coleslaw, broccoli slaw or shredded brussels sprouts!
Salad add-ins
Vegetables to put in a salad
Once you have your base, add even more vegetables. Remember that they can take many different forms. Try adding roasted veggies for sweeter flavor, raw vegetables for crunch and marinated or pickled veggies for flavor.
Some ideas for you
Roasted beets, asparagus or brussels sprouts

Diced or sliced cucumbers, peppers, carrots, broccoli, onion, celery, mushrooms and radishes.
Pickled onions, kimchi or sauerkraut.
Carbohydrates to put in a salad
Once you've covered the vegetables, let's add some carbohydrates to give us energy.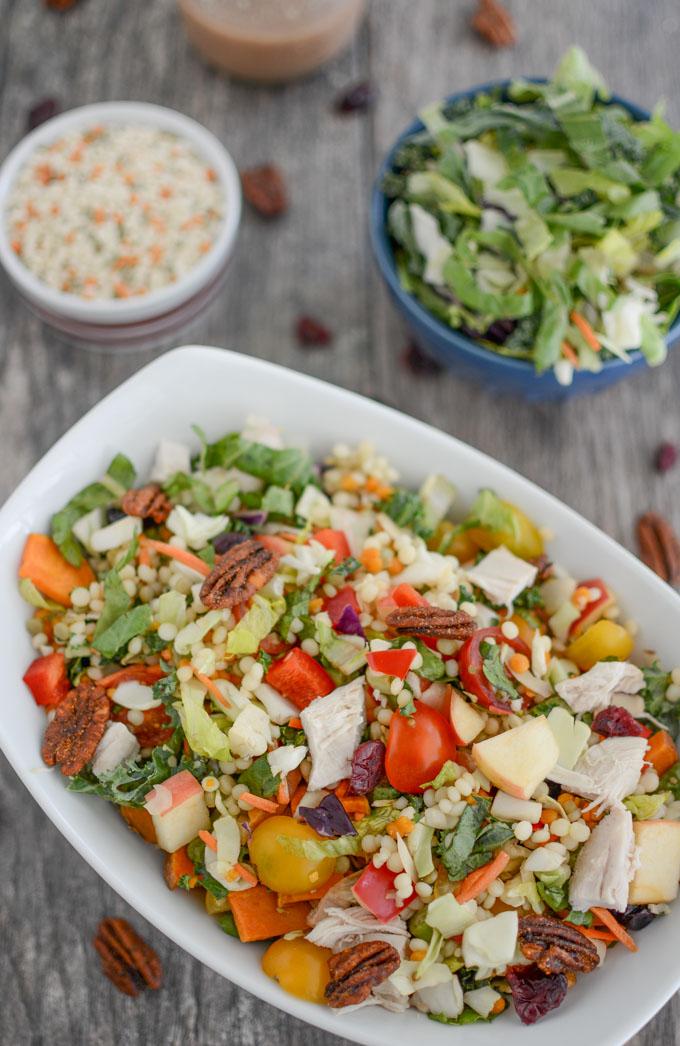 Here are some healthy carbohydrate sources for your salads:
Whole grains like quinoa, barley, couscous, farro and rice.
Starchy vegetables like sweet potatoes, peas and corn.
Vegetarian protein sources like beans (black, great northern, kidney, garbanzo, etc) are an easy way to add both carbohydrates and protein (plus fiber!)
Fruit! Both fresh fruit like berries, mandarin oranges, tomatoes and apples and dried fruit like raisins, dried cranberries and cherries add sweetness.
And don't forget about the crunchy carb toppings – tortilla chips/strips, pita chips, croutons and crispy noodles all add a bit of crunch!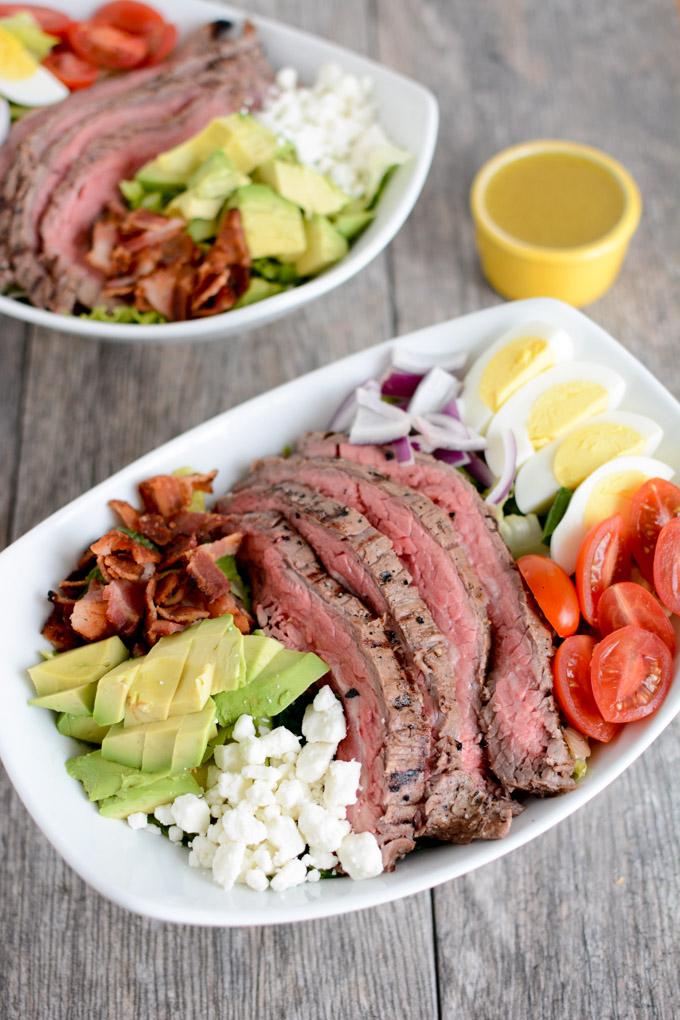 Proteins to put in a salad
To make your salad more filling, always add protein. Some ideas:
Chicken
Steak
Hard-boiled eggs
Tofu
Edamame
Deli meat
Salmon
Tuna
Crab cakes
Shrimp
Cooking or grilling protein ahead of time makes it easy to throw together a salad quickly.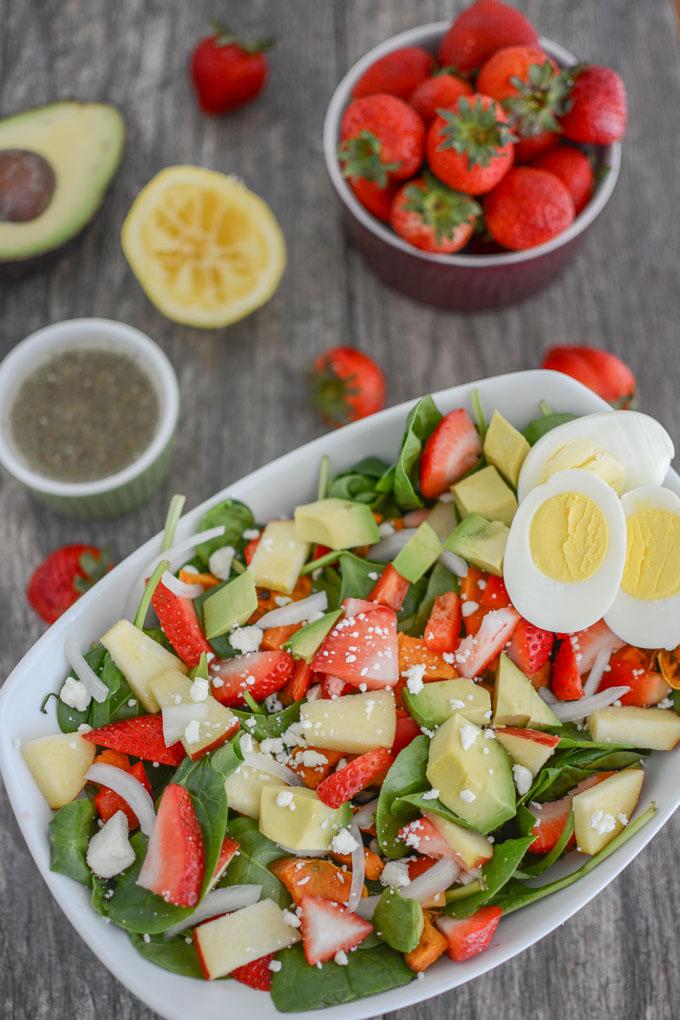 Healthy fats to put in a salad
One of the best ways to add some staying power to your salads AND amp up the flavor is to add some healthy fats!
Olives

Nuts (toasted, sliced, slivered, raw, candied)

Almonds, Pecans, Walnuts, Peanuts, Pine nuts

Seeds

pepitas, sunflower seeds, chia

Avocado/guacamole

Cheese (crumbled, grated, sliced)

Goat cheese, Mozzarella, Parmesan, Feta, Gorgonzola
Homemade Salad Dressing
Salad dressings can also be a great source of healthy fats. Don't forget how easy they are to make at home! My favorite is is a combo of avocado oil, red wine vinegar, dijon mustard and a little honey. Dressings are also a great place to add fresh herbs for maximum flavor!
And if you don't love traditional salad dressings, things like guacamole, salsa mixed with greek yogurt and even hummus are good substitutes.
What's your favorite salad combo? Need more ideas: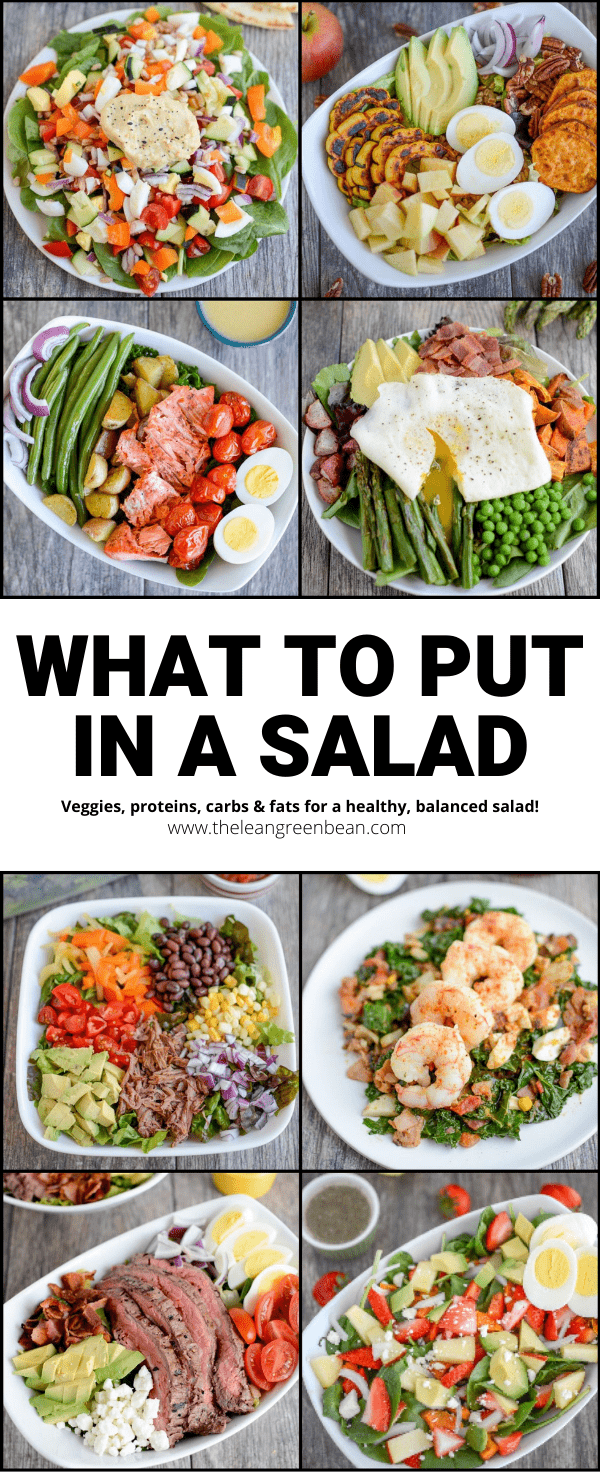 –Lindsay–
LEARN HOW FOOD AFFECTS YOUR BODY.
Get my free Table Talk email series where I share bite-sized nutrition information about carbs, protein, and fat, plus bonus information about snacks and sugar!