The perfect breakfast dish for when you have company. Make it the night before and pop it in the oven in the morning.
Hi Friends!
I've been teasing you with this recipe for a couple of weeks now and it's finally time to share! We had this Breakfast Enchilada Casserole on Christmas morning at my parents' house in NYC. As soon as we ate it, I knew I had to share it with you guys! I didn't get any good pictures the first time around, so I remade it once we got home and invited some friends over to enjoy it with hubby and I after Crossfit last weekend.
I also attempted to take some better pictures…and let me just say, it's hard to make enchiladas look pretty!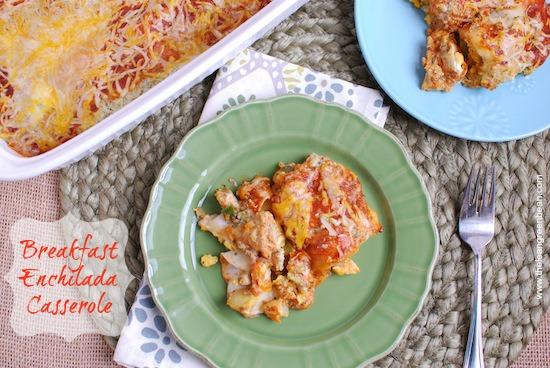 Anyways, despite its shortcomings in the looks department, it tastes delicious! My mom originally found the recipe in Fine Cooking (see the original recipe here). It was nice because you can make it ahead of time so we assembled it Christmas eve, and then in the morning we just topped with sauce and cheese and baked it while we were opening presents!
We made a few changes so here's the recipe we used:

Breakfast Enchilada Casserole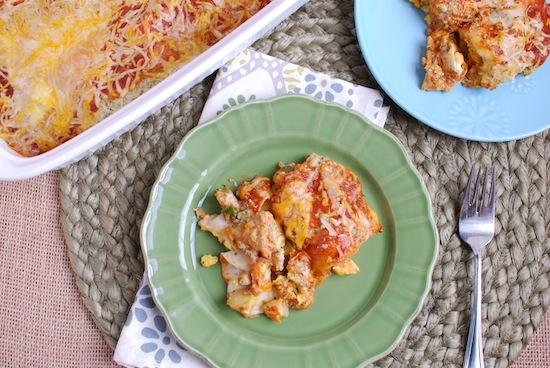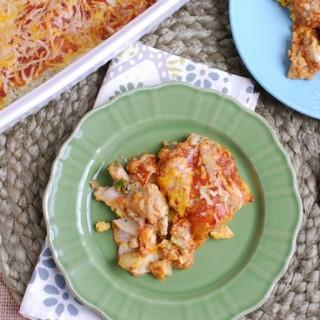 The perfect dish for when you have company. Make it the night before and pop it in the oven in the morning.
Ingredients
11/2

cups salsa verde (store bought or homemade)

1

cup half & half or 2% milk

1

cup red potatoes, diced fairly small

4

chicken sausages, chopped

1

red pepper, diced

1/2

cup onion, diced

1 4-oz.

can diced green chiles, drained (optional)

6

large eggs

8

small tortillas (flour or corn)

3/4

c shredded Mexican cheese (divided)

1/2

cup enchilada sauce
Instructions
Make the salsa verde (if not using store bought), combine with milk and set aside.
Saute peppers and onions over medium heat until softened.
Boil diced potatoes for 4-6 minutes or until fork tender. Drain and add to pepper & onion mixture along with the green chilis & sauage.
Crack the eggs into a bowl and whisk to combine. Pour into pan with onion mixture and scramble.
Stir in 1/4 c cheese.
Spoon egg mixture into tortillas, roll and place seam side down in a greased 9x13 pan.
Cover with plastic wrap and refrigerate overnight (if desired). In the morning, stir sauce mixture and pour over tortillas.
Top with enchilada sauce and remaining cheese.
Cover with foil and bake at 350 degrees for 30-40 min.
This is the perfect breakfast for when you have company in town, especially since you can make it ahead of time!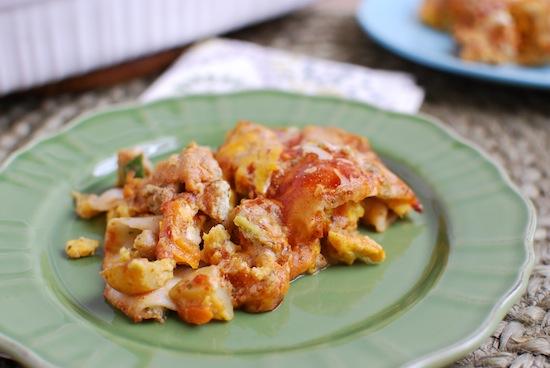 I  used my own recipe to make homemade salsa verde, which is pretty spice, and used hot enchilada sauce so these had a nice kick! The first time, we used corn tortillas. They were a bit crumbly and hard to roll up (even after warming them up), but we just scooped some of the extra filling on top after they were in the pan to help hold the tortillas down. The second time we used flour tortillas. Both tasted great. We filled about 6 tortillas side by side down the length of a 9×13 pan and then put 2 more perpendicular to them at one edge to help fill up the pan.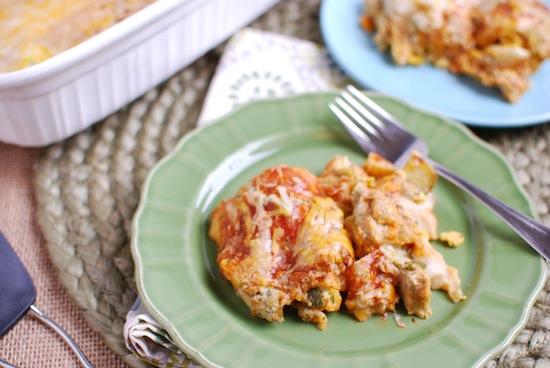 Sound good? Don't forget to PIN IT to one of your recipe boards so you don't forget about it!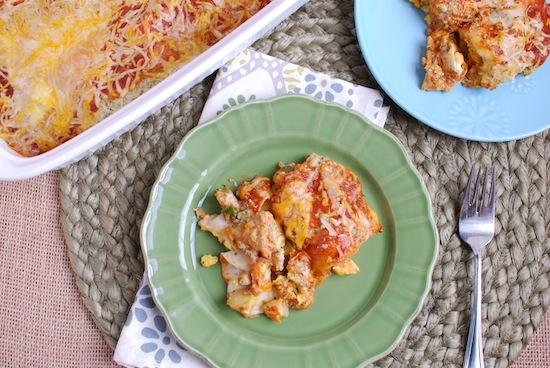 Enjoy!
–Lindsay–