These high fiber Zucchini Oat Bars are naturally sweetened with dates. Top them with peanut butter for a quick, kid-friendly breakfast or snack!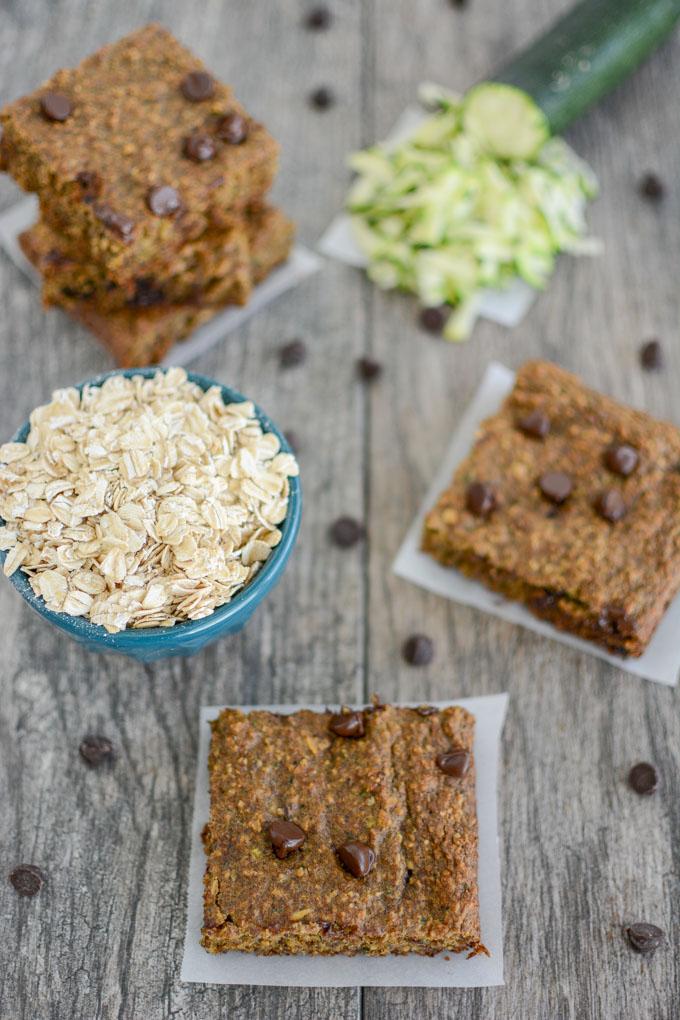 Hi friends!
Allow me to introduce you to this Zucchini Oat Bars. They're my new favorite snack. Last weekend I found myself with a plethora of zucchini that needed to be used up so I decided to do some experimenting. I've been wanting to make a baked good using dates for a while now. I use dates often in things like energy balls, but I haven't ever used them in baking. Since I had my sights set on a higher fiber bar, it seemed like the perfect time to use them.
The combination of oats, dates and ground flaxseed give these Zucchini Oat Bars a good amount of fiber per serving. Plus I packed a whole cup of zucchini in there so they'll be perfect for summer when gardens and farmers markets are overflowing with zucchini.
Zucchini Oat Bars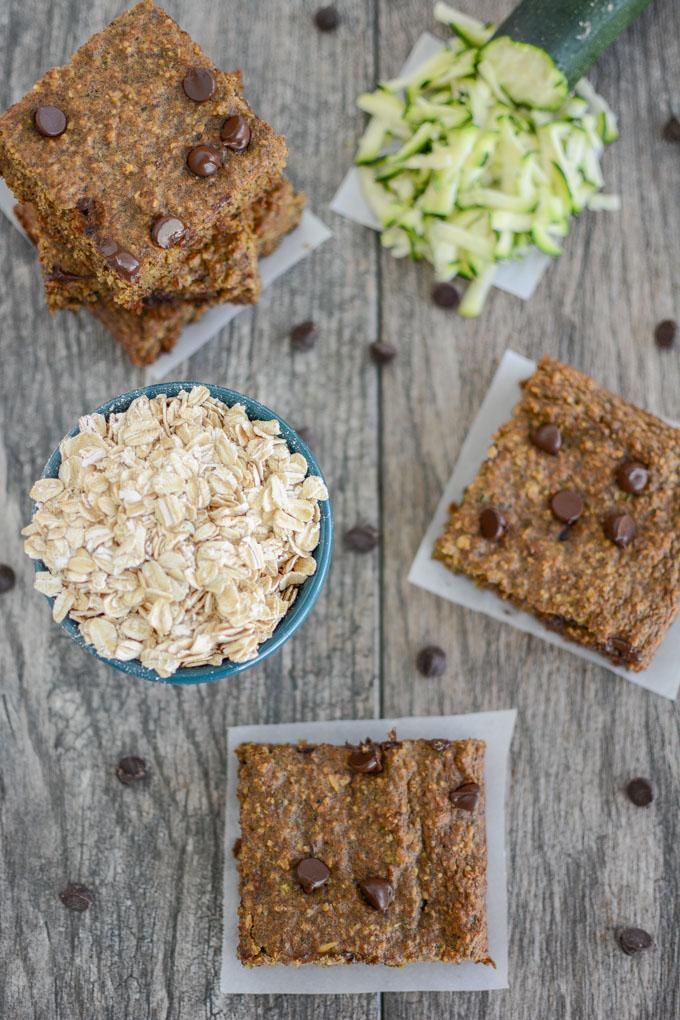 Let me just say right off the bat that these bars are not overly sweet. In fact they're not all that sweet at all so if you're looking for something more dessert-like, you're gonna want to add some sugar or maple syrup to this recipe. However, since they're naturally sweetened, with just a few chocolate chips, I'm happy to serve them to my kids for breakfast or at snack time.
They're fairly low in fat, so you could add a smear of peanut butter to the top, or even mix some peanut butter into the batter for a dose of added fats. And these bars are moist…so definitely store them in the fridge so they don't get moldy.
Here's how you make them:
Print
Zucchini Oat Bars
These high fiber Zucchini Oat Bars are naturally sweetened with dates. Top them with peanut butter for a quick, kid-friendly breakfast or snack!
1.5 cups rolled oats
3/4 cup medjool dates (pitted and roughly chopped – approx 5–7 dates)
2 eggs
1 cup shredded zucchini (excess water removed)
1/4 cup oil (i use avocado oil)
1/4 cup ground flaxseed
1/4 cup applesauce
1 tsp vanilla extract
1 tsp cinnamon
1 tsp baking soda
1/2 cup chocolate chips (or more if desired)
Instructions
Place the oats and dates in a food processor and process until well chopped.
Add remaining ingredients (except chocolate chips or other mix-ins) and process until smooth.
Add chocolate chips (or other mix-ins) and pulse a few times to mix.
Pour into 9×9 pan lined with parchment paper and bake at 375 for 20-25 minutes.
Let cool at least 15 min in the pan before cutting. Store in the fridge.
Notes
You could sub raisins, craisins, dried blueberries, shredded coconut etc for the chocolate chips if you want.
You could also mix in some peanut butter or hemp seeds to add some healthy fats.
If your dates are not super soft and squishy, soak them in hot water for 10 min before using.
I'm just so in love with these guys. And the food processor helps chop up the shredded zucchini even further so my kids pretty much just focus on the fact that they're eating something with a few chocolate chips in it and they're happy.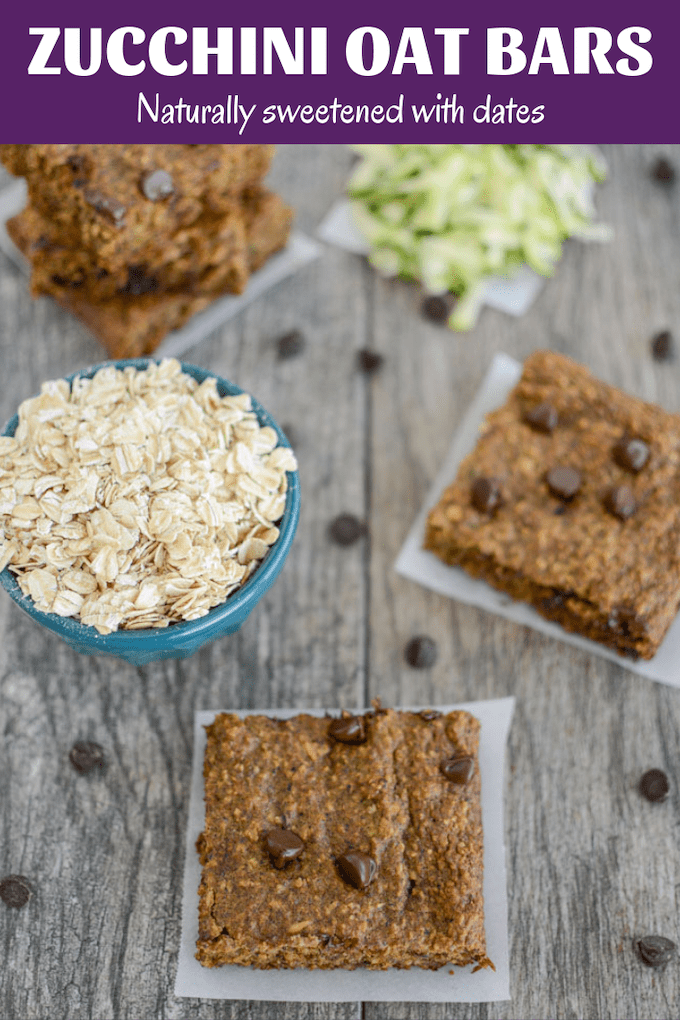 Be sure to pin this recipe to save it for summer! And let me know if you try it!
Enjoy!
–Lindsay–
LEARN HOW FOOD AFFECTS YOUR BODY.
Get my free Table Talk email series where I share bite-sized nutrition information about carbs, protein, and fat, plus bonus information about snacks and sugar!