This list of healthy store bought granola bars for kids features top picks for healthy snack bars from a Registered Dietitian. All have seven grams of added sugar or less and include some protein and fiber.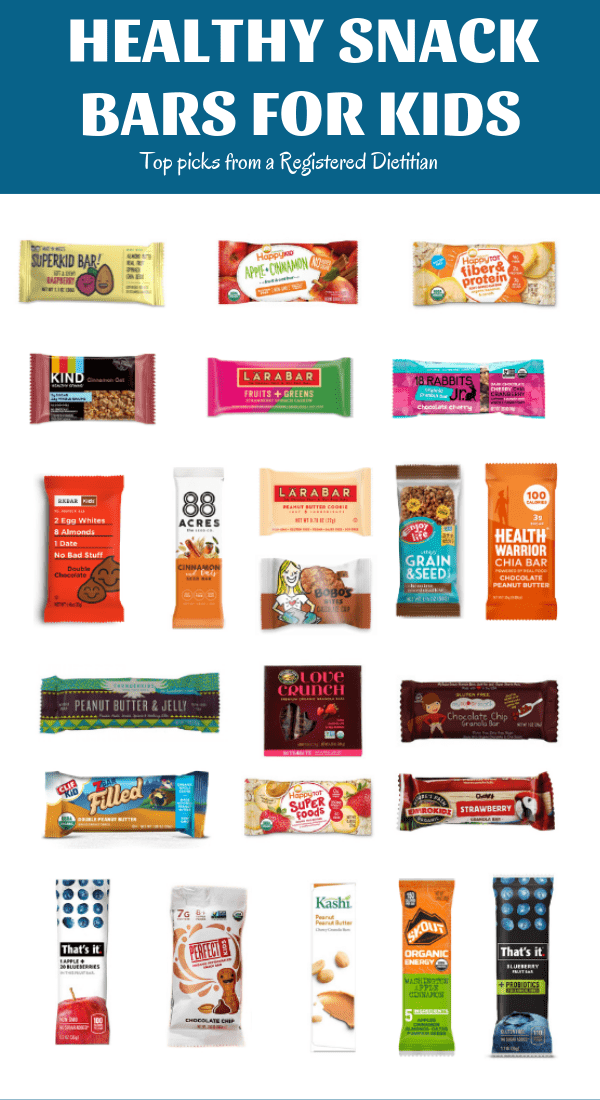 *Originally published April 2019. Updated July 2022*
Hi friends!
This list of healthy store bought granola bars for kids comes highly requested as a lot of people are looking for healthy granola bars for kids and quite honestly has really been a labor of love. I spent hours looking at nutrition labels of various granola and snack bars on the market, analyzing the label, reading the ingredients and researching all the options. And believe me, there are A LOT of bar options out there.
While I typically don't recommend a bar every single day, I recognize that they're convenient and that there are some nutritious options out there that can fit nicely in a child's diet. So I did my research and wanted to help cut through the clutter and give you some good options.
---
Choosing Healthy Granola Bars For Kids
Like anything when it comes to feeding your kids, you are in charge. Do your own research. Read the labels. Check out the ingredients. Then decide what you feel comfortable feeding your kids.
And if you need more store-bought snack ideas, check out:
Snacks from certain stores:
Types of snacks:
These bars would also make great lunch box additions. If you need more packed lunch ideas, check out my guide: A Month of Easy Packed Lunch Ideas For Kids!
---
*This post was updated July 2022. Several of my choices have been discontinued since I originally published this list in 2019 so if you see bars in the pictures that aren't on this list, it's because they're not being made anymore!
---
Here's a quick video to show you a few good options I found recently at my local Meijer & Kroger:
---
Healthy Snack Bars For Kids
Similar to what I discussed in my Lower Sugar Cereals for Kids guide, for posts like this, there has to be a cutoff. Otherwise, the list would be too large and overwhelming. Similarly, this is not an all-inclusive list. There are just too many options out there to cover them all.
So what are the best granola bars for kids? Here are the criteria I used for my list:
Sugar:
7g or less added
Previously, companies didn't have to indicate how much of the sugar on the label was added so it was sometimes hard to tell how much was sugar was naturally occurring from things like fruit versus added sugar. Updated nutrition labels break out the amount of added sugar so that's what I focus on instead of total sugar. In addition, you can look at the order of ingredients in the ingredient list. If sugar is listed before fruit, you can assume that more of the sugar is added.
Fiber and Protein:
At least 2 grams of each for the main list (except the pressed fruit bars)
Note that fiber can come from oats, fruit, nuts/seeds, but in some bars, it is added in the form of inulin, chicory root etc. Similarly, protein can come from whole ingredients or it can be added in the form of whey protein, egg powder, etc.
Best Store Bought Granola Bars
I did my best to choose bars with ingredients I think are wholesome. Is every single ingredient in each bar on this list perfect? No. But overall, I feel like the ingredient lists are good. If you're overly concerned with ingredients, you may be better off making your own bars at home!
Many of the bars on the list come in multiple flavors. For this list, I've picked one flavor of each. Remember that sometimes other flavors might have differences in ingredients, amount of sugar, etc. You can compare nutrition labels and ingredients between flavors on the websites,
Healthy Granola Bars For Kids
If you like a brand or bar that's not on my list, it might be because it has more than 7g added sugar per serving. Those bars are fine to eat, I would just recommend treating them a little more like sweet treat due to the amount of added sugar.
---
Here are a few where the ingredients are fine for the most part but I don't really feel like they're worth eating. They're quite low in calories and don't really offer anything in the way of fiber or protein so they won't be very satisfying or have a lot of staying power unless paired with another protein source:
KIND Kids Chewy Peanut Butter Chocolate Chip

Annie's Chewy Peanut Butter Chocolate Chip

Cascadian Farms Kids Chewy Oatmeal Raisin
---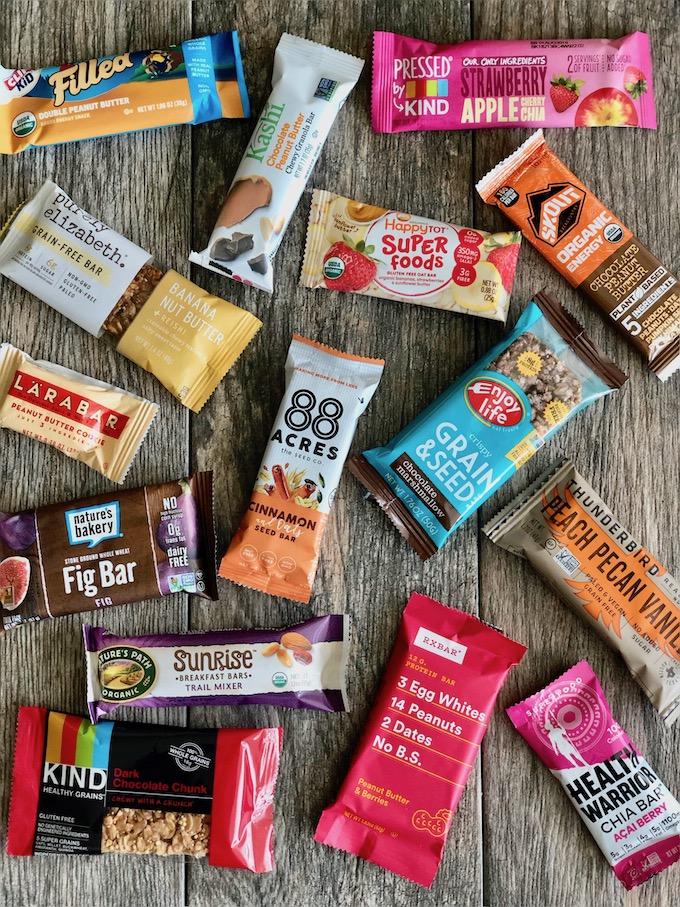 If you're looking for more snack ideas, be sure to check out my 60+ HealthyPackaged Snacks for Kids!
I think that's it! Remember this isn't an all-inclusive list and it's just based on my opinion. You do you! Make choices you're happy with feeding your family and let others do the same 🙂
Enjoy!
–Lindsay–