Here are 25 After Work Snacks for those nights when you get home starving because you haven't eaten since lunch but it's not time for dinner.
Hi Friends!
Let's talk about some healthy snack ideas today. I've always been a big snacker. I can't make it through an afternoon without one. Hubby doesn't snack at work, but it's pretty much the first thing he does when he comes through the door in the evening.
Since we eat dinner pretty late around here (8 or 9pm), he needs something to give him an energy boost to play with Squish, workout, etc.
Lately he's been falling into a bad habit of eating nothing but handfuls of nuts when he gets home. Nuts are a great snack option, however, 2 cups of nuts per day is not.
When I told him he needed to cut back, he complained that he didn't know what else to snack on.
I've written several snack posts lately to help with ideas:

So, a couple of weekends ago I started brainstorming healthy snack ideas and took it upon myself to make sure we had lots of them on hand for him to munch on!
A few notes about snacks:
Don't go overboard. It's supposed to be a snack (a mini-meal), not a full-sized meal.
Choose real food whenever possible – homemade options are great!
Always include protein. Pair a few things from the list below together to make sure you're always getting a balanced snack!
The first weekend, here's what I rounded up to have on hand for hubby's snacks:
After Work Snacks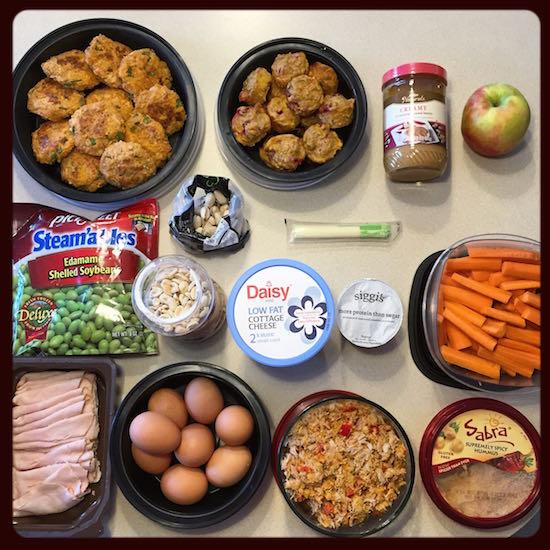 Tuna Quinoa Cakes – You can also make these with salmon, or probably even chicken if you used a food processor to chop it up. I often make a double batch because they're a great post-workout snack!
Sweet Potato Bites – Experiment with mix-ins to find your favorite!
Fruit + nut butter – Hubby likes apples but you could also try dates, bananas etc.

Edamame

– A great vegetarian source of protein. Buy it frozen and pre-shelled so all you have to do is heat it up!
Nuts + seeds (or trailmix) – Grab a small handful of nuts – almonds, walnuts, pecans, cashews, etc or seeds – pumpkin, sunflower etc….or make a batch of homemade trailmix if you like variety- a mix of nuts and seeds with other add-ins like dried fruit, roasted chickpeas, cereal. Or try this Roasted Chickpea Snack Mix.
Cottage cheese – Mix with fruit to add sweetness or pair with tomato slices and black pepper-like hubby does.
Yogurt – Look for lower sugar options (like Siggi's) or choose a Greek variety for extra protein. Try making a parfait – plain yogurt mixed or layered with a little granola or fruit for sweetness.
Cheese – Stick to just an ounce or two – eat it sliced with crackers or try string cheese for a grab-and-go option.
Veggies + hummus – I always try to have carrots and broccoli cut up to dip in hummus. Don't like hummus? Try a different dip- maybe greek yogurt ranch or one made with black beans.
Tuna salad – We love tuna salad on crackers, chips or cucumber slices for an easy snack. Don't like tuna? Try it with salmon or chicken! Try my Curried Tuna Salad.

Hard boiled eggs

– Eat them plain, turn them into deviled eggs or add some hot sauce for a kick.
Sliced meat – Buy deli-style – (look for low-sodium) or make a Crockpot Rotisserie-Style Chicken to have extra meat on hand. Make half a sandwich and add avocado for some healthy fats.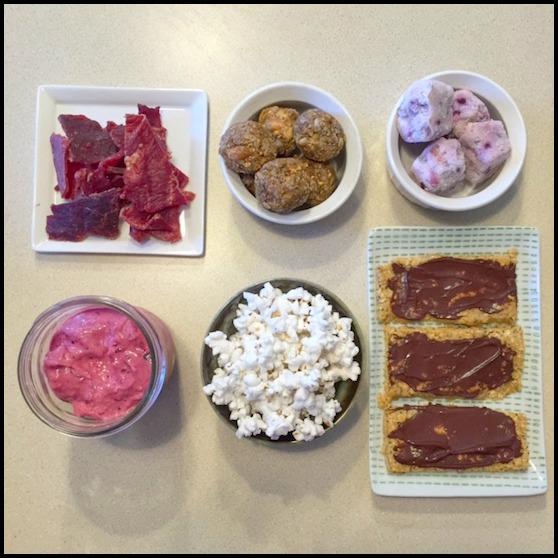 The next weekend I kept brainstorming and stocked up on a few more snack ideas:
Jerky – It's not the best choice for every day since it's often very high in sodium, but it's a good source of protein and good for traveling.
Energy Balls – I love stocking our freezer with these because it's easy to make a huge batch and then have them on hand for a while. Plus you don't have to bake them! There are endless flavor combinations – most start with dates and nuts/seeds and then add additional flavors. Try my Lemon Energy Balls.
Froyo bites – Start with plain yogurt, or a mix of flavored and plain to cut down on the sugar and then mix in your favorite granola, nuts, fruit, etc. Freeze in a pan and cut into bars or spoon into ice cube trays for bite sized snacks.
Smoothie – Make sure to include a protein source like yogurt, protein powder or silken tofu, then add fruit for sweetness and healthy fats like avocado, nuts and seeds, nut butter, etc. Feel free to add some green veggies as well!
Popcorn – Make some Healthy Microwave Popcorn and eat it plain, mix it in trailmix or top with your favorite spices/seasonings.
Protein bars – It's super easy to make a batch of these Homemade No Bake Protein Bars to have on hand during the week.
————
Some other snack ideas:
Sweet Potato Protein Pancakes – Make a batch and add your favorite toppings for a quick snack.
Veggie Chips – Experiment with your favorite veggies like kale, sweet potato, etc.
Homemade Granola Bars – Easier to control the ingredients and make them lower in sugar, higher in protein and fiber than store-bought!
Egg Muffins – Mix eggs and veggies and bake in muffin tins. Grab 1-2 to reheat for a quick snack.
Mini Meatballs – Bake a batch of mini meatballs to keep in the fridge. Dip in guacamole or another quick dipping sauce. These Paleo Turkey Sweet Potato Meatballs are great.
Sweet Potato + Nut Butter – Microwave the sweet potato for a quick snack or bake up several on the weekend and just reheat and eat.
Leftovers – A small serving of dinner leftovers can make a great snack!
Let's chat:
Are you an after-work snacker? What's your go-to snack?
If you liked this post, you'll love my ebook – The Ultimate Guide To Food Prep. It dives into even more detail about how to food prep beyond snacks, troubleshoots common problems and provides tons of tips to make it easier! Click the image below for more details!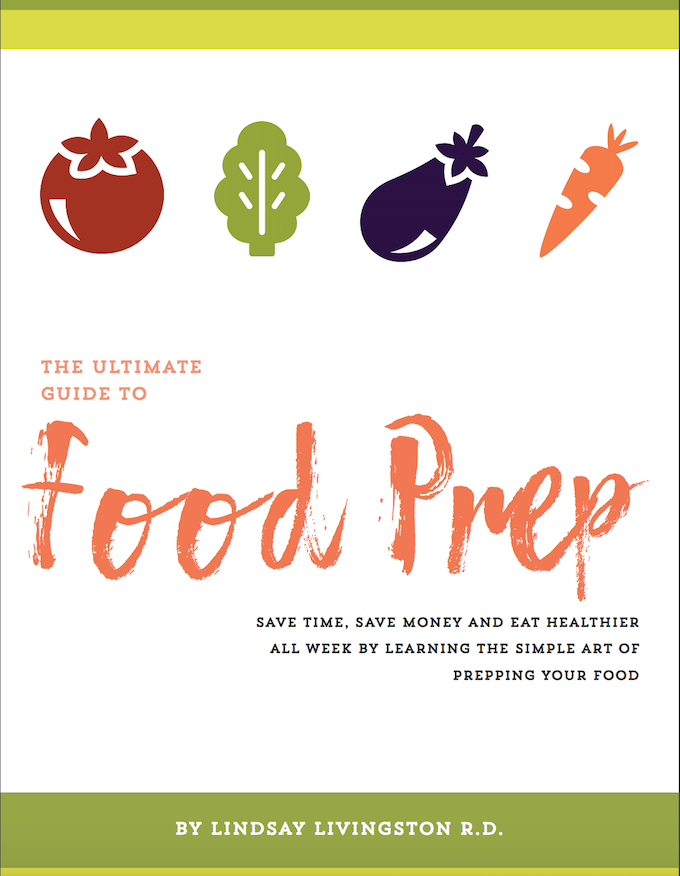 Enjoy!
–Lindsay–
LEARN HOW FOOD AFFECTS YOUR BODY.
Get my free Table Talk email series where I share bite-sized nutrition information about carbs, protein, and fat, plus bonus information about snacks and sugar!