Looking for the best healthy high-protein snacks that kids and adults will love? Here are some of my top picks as a Registered Dietitian for high protein snacks that are low carb, vegan and more.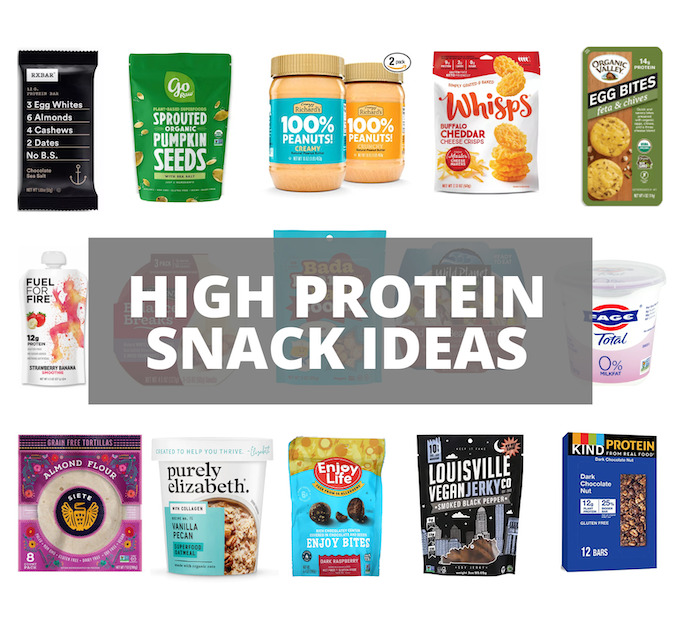 Hi friends! We are continuing our best of store-bought snack series! We've already covered several stores and categories so be sure to check them out if you missed them the first time!
If you're looking for store-specific snacks check out:
For specific categories, check out:
---
Today we're talking about high protein snacks because it's a frequently requested topic! So let's talk a little bit about protein and why I think it's so important as a Registered Dietitian.
FAQs about High Protein Snacks
Why is Protein Important for a snack?
Protein is essential for our body. Proteins are made up of amino acids which our body uses in all sorts of ways! Protein isn't just for building muscles, it's also important in lots of chemical reactions such as digestion and energy production.
What are the benefits of high-protein snacks?
High-protein snacks can help us stay fuller longer. Protein does not cause spikes in blood sugar like carbohydrates can so pairing carbs with protein, fiber and healthy fats is important for maintaining steady blood glucose levels and increasing satiety. High-protein snacks can also be important after a workout to help build muscle and speed up muscle recovery.
Are All High Protein Snacks Healthy?
Unfortunately, not all high-protein snacks are created equal. It's best to check the nutrition label and try to find the simplest ingredients you can. When looking for high-protein snacks I look for those that have a decent amount of protein but are also not too high in added sugar or sodium. Many high-protein snacks contain sugar alcohols as well which can be difficult to digest so be sure to look out for those if that's a concern for you.
Why Eat High Protein Snacks?
Protein is the building block for our muscles and is essential in many bodily functions. Protein also slows digestion which helps reduce blood sugar spikes and keeps us full and satisfied for longer while providing our bodies with the energy we need.
How much protein should a snack have?
Anywhere from 8-16 grams of protein is good for a snack. It doesn't have to be from one food either. Combining foods like peanut butter toast, crackers & hummus, or yogurt & granola, are an easy way to bump up the protein.
What snacks are high in protein?
Snacks that are made with animal products tend to be good sources of protein. This includes things like dairy products, meat, seafood, cheese, eggs. There are also vegan snacks that are high in protein like edamame, nuts, seeds etc. Carbohydrate snacks made with whole grains can also have a decent amount of protein.
---
Now let's get to the snacks! There's no hard and fast rule for what constitutes high protein and as always, people will have differening opinions. But hopefully this list will give you a starting point and some new ideas for high protein snacks to try!
---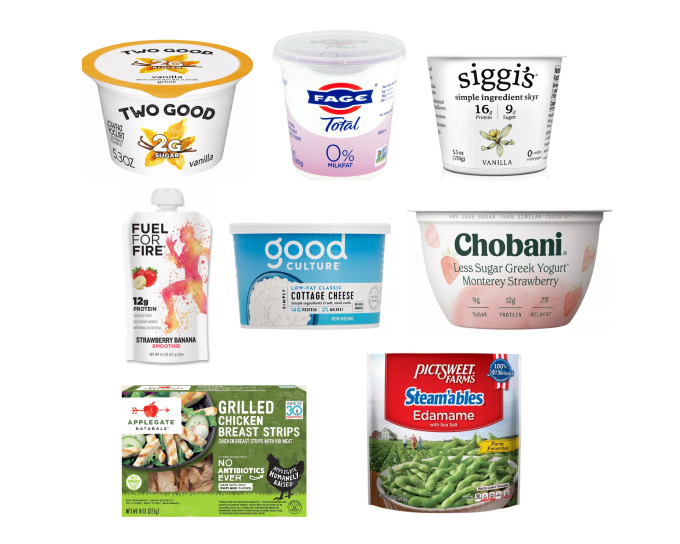 High Protein Low Fat Snacks
Some snacks listed below can fall into multiple categories. For example, some snacks like tuna or deli meat can also be considered high-protein and low-fat snacks but we have them below in the high protein/low carb category because they fit there as well. If you are looking to bump up the fiber pairing these snacks with a complex carbohydrate (granola, whole grain bread, crackers) is a great option too.
So what snacks are high in protein but low in fat?
Here are some ideas:
---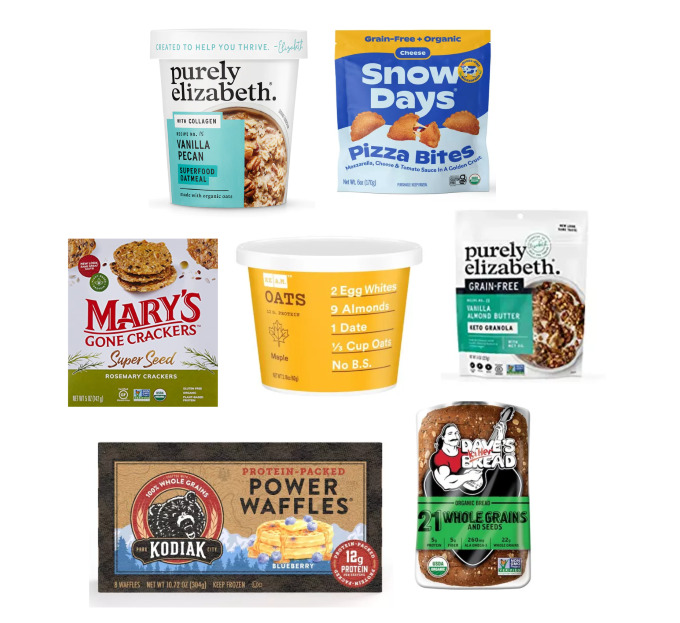 Best High Protein Whole Grains
These high-protein grains are a great way to increase your protein while adding some fiber to your day. Grains have inherently less protein than meat/dairy products, but these options are great sources of protein for this category and are even better when paired with another protein source!
---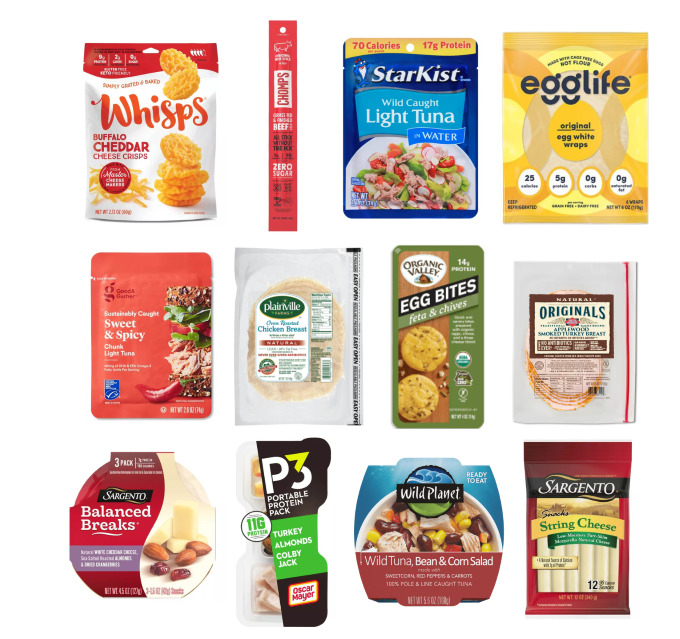 High Protein Low Carb Snacks (10 carbs or less)
If you are looking for a snack that is high in protein but lower in carbs, we've got you covered! Many of these snacks are also great options if you are gluten-free too.
---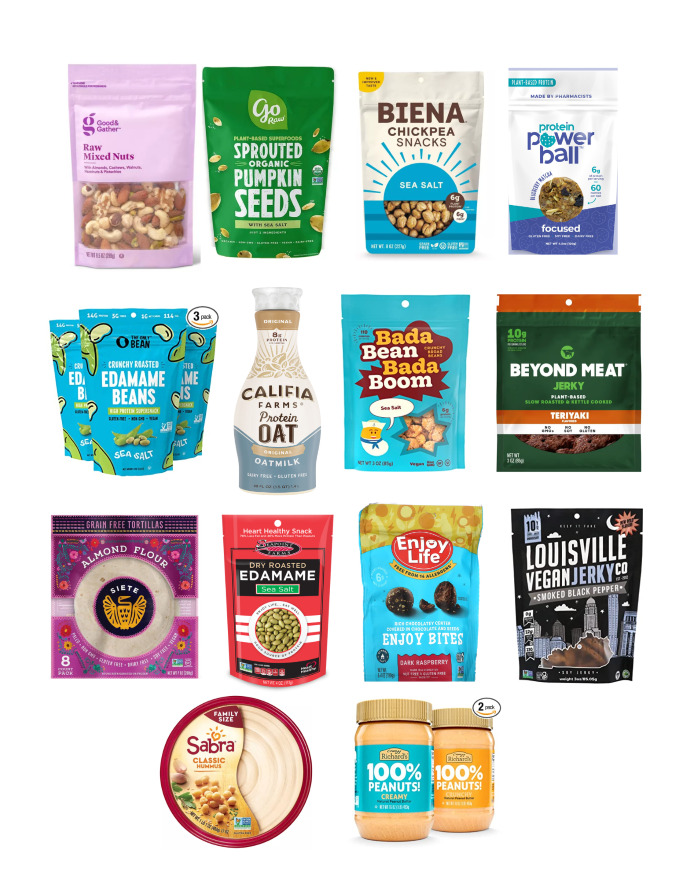 Best High Protein Vegan Snacks
Who says plants can't be high in protein too? These vegan protein snacks are great if you looking to increase your plant-based protein sources. Nuts and Seeds are great sources of vegan protein. We've included a few vegan protein bars in our protein bar section below too!
---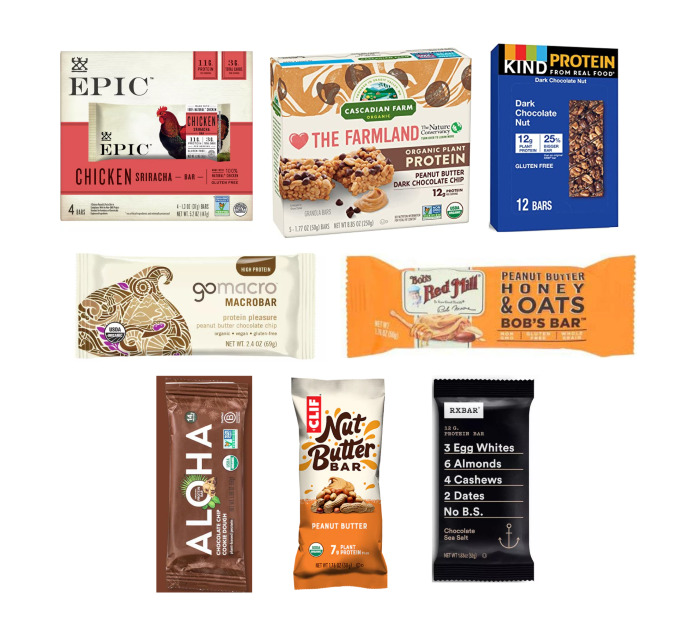 Healthy High Protein Snacks-Protein Bars
It can be hard to find protein bars that are high in protein, low in added sugar, and have simple ingredients. Sometimes you have to weigh the trade-off of getting a little more added sugar with simpler ingredients. We have included a few of our favorite options for you!
---
High Protein Low Calorie
A popular search term in this category is high protein/low calories snacks. I don't count calories or macros so I'm not listing options for this category but I'm sure there are other lists out there.
I do want to encourage you to remember that when calories are removed they are often replaced with artificial ingredients or sweeteners. In my opinion, it is less important to focus on calories and more important to focus on high-protein snacks that are well-balanced. These snacks keep you full and satisfied while giving your body the energy it needs to tackle the day.
---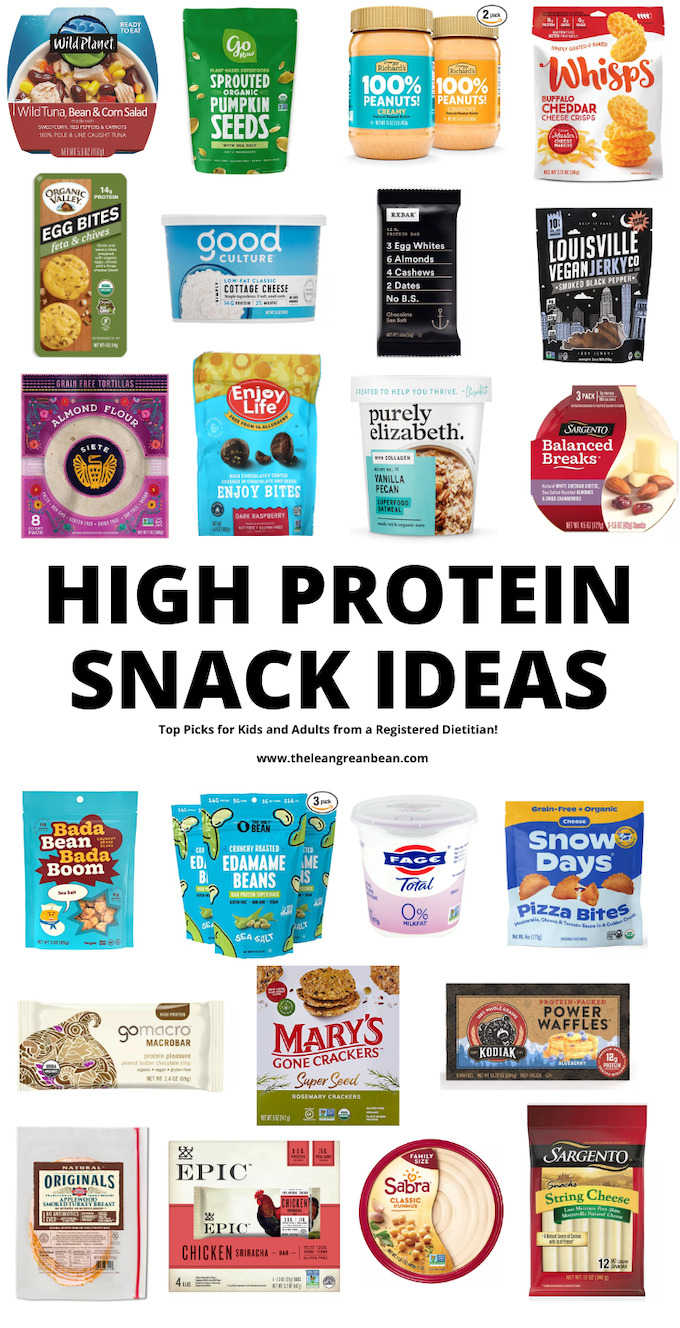 ---
What are you favorite high protein snacks?
LEARN HOW FOOD AFFECTS YOUR BODY.
Get my free Table Talk email series where I share bite-sized nutrition information about carbs, protein, and fat, plus bonus information about snacks and sugar!