Looking for info on teaching kids to cook? I help you troubleshoot common problems and make it easier, more enjoyable and less stressful for you to cook with your kids!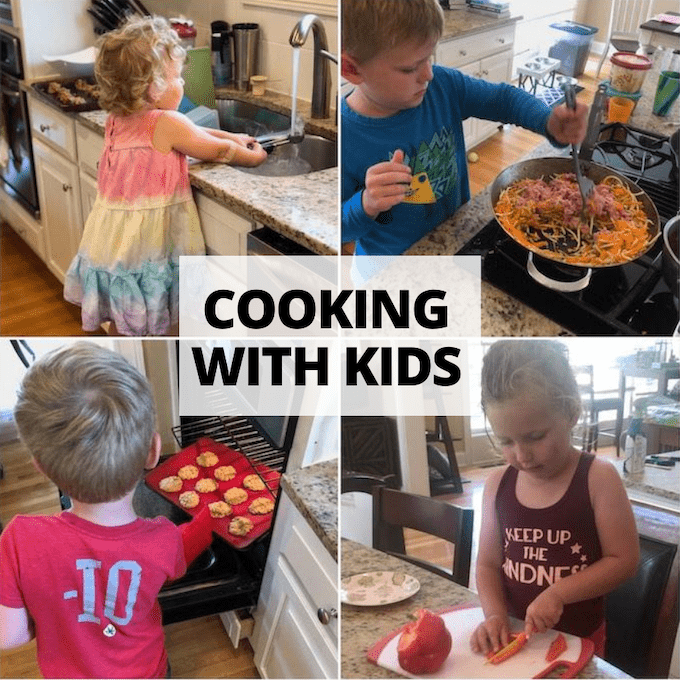 Hi friends!
I've been working hard for a while now to put together this ultimate guide to teaching kids to cook for you guys! If you've been around, you know that one of my favorite things to do with my kids is to spend time in the kitchen!
All three of my kids have been helping me in the kitchen since they were about 16 months old and I get tons of questions about how I make this happen! I know a lot of you wish you could do more with your kids in the kitchen but many of you have share roadblocks and hurdles that are keeping you from doing it!
Teaching Kids To Cook
I'm here to make it easier for you! In this post I will address:
Reducing the mess & increasing your patience

Age-appropriate kitchen tasks
Common concerns like kitchen safety, multiple kids, small kitchen
Easy, forgiving recipes to start with
My favorite kitchen tools for kids

Mess and Anxiety
By far the most common roadblocks I hear from parents are:
Having the kids help means more time and a bigger mess.
Having the kids help is a huge source of anxiety for me.
First of all, let me say that I understand. There's no way around it – cooking with kids is MESSY. And it often results in spilled or wasted ingredients, dirty counters and floors and it definitely adds some time to your cooking/baking sessions.
The good news is, there are some things you can do to help minimize the inevitable mess:
Set up a trash bowl and spoon rest.

This immediately gives the kids somewhere to set their stirring utensils to help keep the counter cleaner and a place to throw peels, veggie scraps, egg shells and more without you running back and forth to the trash can nine million times. In this same vein, give them a "kitchen shirt" or apron to avoid tough stains on nice clothes.

Limit the area.

Get a learning tower or place their stool/chair at one end of the counter and remind them they need to stay put until you're done. Place a high chair mat, an old bed sheet or even a piece of plastic under the chair/counter to catch crumbs. Then just gather it up and take it outside to shake it off when you're done.

Size up

.

If your recipe calls for half a cup, let them fill a one cup measuring halfway instead of a half cup one up to the brim to help minimize spills.
Include them in cleanup.

They need to learn right away that cleaning up is part of cooking. They don't get to just do the fun part and leave the mess to you. And you might be surprised how much they actually enjoy cleaning up! Get a small broom, dustbuster or cordless vacuum that young kids can easily handle for the floor. And get some non toxic spray cleaner and a rag to let them go to town on the counter.
As far as increasing patience and minimizing anxiety goes, I would address them with this three part plan:
Strategy:
Be smart. Don't choose to include your kids for the first time when you're already stressed or crunched for time. You're setting yourself up to fail. Pick an open afternoon or a slow morning.
Be reasonable. Expect some mess. Expect it to take a bit longer. Prepare for a few spills. Then if things go better than expected you'll be pleasantly surprised.
Train for patience. Practice being patient all day every day, with little tasks that are less important or require less patience so that when you need a lot of patience for something like cooking with kids, you've already been working on it.
Time it!

Set a timer to see how long a few of your cleanup sessions actually take. I bet it's less than you realize. Sometimes I think we build up a mess in our heads to epic proportions but i'd venture to guess that almost any mess they make (under supervised conditions) can be cleaned up in under 15 minutes.
Control measures:
Remember that you can control the ingredients you get out and the amounts. If you want them to practice pouring and you need half a cup of milk, pour one cup of milk into a smaller vessel and let them practice pouring instead of giving them the whole carton to potentially spill. Same thing with dry ingredients. Pour 2 cups of flour into a bowl and let them scoop out one cup, instead of scooping directly from the container.
Mantras – Find one & repeat it over and over:
What's the rush?

Intentional and present.

Be in this moment.

Does the mess REALLY matter?

Age-Appropriate Kitchen Tasks
Many parents are willing and ready to bring your kids into the kitchen but don't know where to start. They're not sure how old kids need to be or what they can be doing at what age.
Every kid is different but I think a lot of people are surprised when they see how early I bring my kids into the kitchen. We have a learning tower that I've used with all three kids and they all started helping around 14 months. I've found that from months 14-16 they're really just kinda excited to be there. They like being able to see what's on the counter. They're happy to stir a spoon around a few times or press the button on the food processor.
Usually around 16-18 months is when they really start getting excited to help. I've looked at a lot of "age appropriate kitchen task" lists and quite honestly, I disagree with most of them. I feel like toddlers can do A LOT more than people give them credit for if they're given the opportunity.
Here are some ideas for things kids can do starting as young as 16-18 months:
Pour & Drain

– Measure the ingredients for them and let them help you pour or dump them into the bowl/pan/strainer. You can start by guiding their hand and then move to letting them do it on their own.

Stir & Whisk

– Hand them a spoon or whisk and a bowl of ingredients and let them go to town!

Rip & Mash

– Give them a head of lettuce or stem of kale and show them how to remove the leaves, tear them into little pieces and put them in the salad spinner. They can also mash potatoes, bananas and other soft fruits.

Wash & Spin

– Set them up at the sink and let them rinse of fruits and veggies. Let them rinse greens in the salad spinner and spin them dry and then have them help you portion them into bowls.

Scoop

– Make cookies or muffins and let them help you scoop the batter onto a tray or into muffin tins. Cookie scoops are great for this! You can also have them scoop ground meat to make meatballs.

Retrieve & Store

– Let them help you put away the groceries and put specific items in their place. You can also have them retrieve items from the pantry that you need for a recipe.

Seal & Push

– Let them put the lid on and press the button to turn on the blender or food processor

Other ideas

: let them knead and shape bread or pizza dough, brush things with oil or melted butter, wipe down the counter with a rag, help you thread things onto skewers to make kabobs, etc
As they start to gain confidence and get more comfortable in the kitchen, try these tasks:
Peel

– Give them a vegetable peeler and show them how to peel carrots and potatoes. They can also practice peeling hard boiled eggs.

Chop

– Get a kid-safe knife and let them practice cutting soft vegetables like mushrooms, zucchini, cooked potatoes, peppers and fruits like strawberries and bananas.

Crack

– Let them practice cracking eggs and then washing their hands

Use

– Help them use a hand mixer, lemon squeezer, can opener or box grater

Clean

– Have them sweep or vacuum after cooking, let them wash dishes and load the dishwasher and practice spraying and wiping down the counter
Next steps:
Let them start chopping harder fruits and veggies

Let them stir things in a hot pan on the stove and use a griddle

Practice reading, math, etc when following recipes

Kitchen Safety
I hear from a lot of parents that their own knife skills are not the greatest and they're worried about kids cutting themselves in the kitchen. The best tip I can give you is to improve your own skills. There are tons of basic knife skills videos out there that can help you learn the basics and then just practice, practice, practice! Share the basics with the kids. Get them a safe knife to learn with. Show them where to put their fingers etc. This video may be helpful: Basic Knife Skills.
Another safety worry is eating batter or dough once raw eggs have been added. If this is something you're worried about, try making a pre-egg tasting ritual so they can satisfy their tasting desire or doing some vegan baking with flax eggs.
If you're worried about them touching raw meat, just let them! Watch them carefully, remind them often about the importance of handwashing and set a good example by frequently washing their hands. Maybe you could make up a fun cooking handwash song to get them excited about washing hands. You could also have them wear gloves and take them off immediately after handling the meat. And if they really can't seem to stop putting EVERYTHING in their mouth, then just wait until they're a little older for the raw meat aspect of cooking!
Handling Multiple Kids
If you have two (or more) kids of helping age, it's likely easiest to start with one at a time. Set up a special activity for the other(s) – maybe a new coloring book or playdough. Let them sit at the kitchen counter or table so they don't feel like they're missing out and be sure to let them know when they will get a turn. If they're older, help them put your cooking date on the calendar and let them spend the time planning their own recipe etc.
If you need to entertain a baby who needs to be entertained so an older kiddo can help – set the baby up on the floor – give them pots and pans, Tupperware, silverware etc and let them make a mess and bang away. If they're crawling, buy a popup play yard to keep them in a contained space or put them in a carrier or sling. If you're new to bringing kids into the kitchen, really try to maximize nap time or another time when you have someone else to watch the baby to minimize your stress level and so that the older one can have your full attention.
Limited Kitchen Space
If you don't have much counter space, buy a kid-sized folding table or tray table that you can pull out to extend your counter space. Consider looking at smaller options than the traditional learning tower. There are plenty out there that take up less space and some that fold up! A folding step stool is another option if they're a little older.
Also, think beyond the counter. When my kids were little and couldn't reach high enough to add stuff to the food processor from the learning tower, I would just put the whole food processor on the ground. You could also use the kitchen table!

Beginner Recipes for Kids
For many people, not knowing what recipes to start with is the biggest hurdle. Maybe you're not the best cook to start with or aren't super confident in your skills. Maybe your kids want to make cookies but you're not a baker.
The good news is there are tons of recipes out there that are very forgiving. They'll still turn out great even if measurements aren't exact.
Here are some ideas. Pick one and then head to Google or Pinterest to find a recipe that sounds good to you!
Banana muffins/banana bread

Baked oatmeal

Smoothies

Tacos

Spaghetti/baked ziti

Granola

Baked pancake

Egg cups/ Omelet or Frittata

Salad

Chili

Pancakes

Cookies

Rice Krispy treats

Hummus

Pizza

Roasted vegetables

Scrambled eggs

Stir Fry

Soup

Quesadilla

Oatmeal/overnight oats

Meatballs

Bread

Mac and cheese

Guacamole

Enchiladas
In addition, almost all the veggie-packed baked goods on my blog are very kid-friendly. The recipes are forgiving and it'll be ok if some of the ingredients spill onto the counter or don't make it into the pan.
Here are all of my Kid-Friendly Baking Recipes.

Kitchen Tools for Kids
While it's certainly not necessary to buy all new kitchen equipment when you start cooking with kids, it can be fun! Kids enjoy having their own special stuff. Don't feel like you need to buy it all at once. Most kitchen items are relatively inexpensive and make great additions to birthday presents, stocking stuffers etc!
Here are all of my favorite kitchen tools for kids.
Lack of Interest
If you're excited to get into the kitchen with your kids but you kids are less than enthusiastic, try one of these tips:
Film a fast-motion video – my kids always get a kick out of watching themselves do anything at a super-fast speed

Record them making a cooking show – set up your phone to record and let them go to town pretending their the star of their very own cooking show

Show them videos of other kids cooking – you can find videos of my kids cooking here from a very young age!

Watch cooking shows on TV

Sign them up for a cooking class – in person or online!

Let them choose the recipe and be completely in charge

Let them create their own recipe even if it sounds gross – some kids need to ease into it and get comfortable doing things their own way before they're willing to follow directions and make a real recipe.

The Success is in the Mess
Remember that hands-on experience is the most effective way to teach kids. Just like adults, they get better with practice. Don't let the fear of mess or mistakes cause missed opportunities.
And remember, cooking affords so many opportunities to young kids. Everything from building confidence to practicings math, science and reading to setting them up to succeed independently later in life. So grab your kiddos and head to the kitchen. I can't wait to hear about all of your cooking adventures!
Enjoy!
–Lindsay–
LEARN HOW FOOD AFFECTS YOUR BODY.
Get my free Table Talk email series where I share bite-sized nutrition information about carbs, protein, and fat, plus bonus information about snacks and sugar!