These No-Bake Carrot Cake Cream Cheese Bars are the perfect spring dessert!
Hi Friends!
I've got another wonderful guest post for you guys today. Kylie from Yeah…Imma Eat That is here to share a delicious Easter (or any time really…) dessert recipe with you. I fell in love with Kylie's blog last year. All her recipes make me drool…she's witty and hilarious…and I even got to meet her in person last Fall at FNCE. She's on her way to becoming a Registered Dietitian! If you haven't checked out her blog, go add it to your reader immediately.

I'm thrilled(!!) to be here sharing a post on The Lean Green Bean.  Last October, I got to meet and go to dinner with Lindsay during FNCE.  She's great.  And I've never met her husband, but according to this list of oh-so-true things…I have to believe he's great too.
So Easter is just around the corner.  The only time of year where my fascination for pastel clothing is appropriate.  Dear Mint-colored denim pants, I want to wear you everyday!  But I can't…why isn't denim considered business casual?  If I had a business, wearing colored denim would be encouraged.  The only problem is light colored clothing is so hard to keep clean.  Don't try to eat some juicy raspberries with those pants on…you will lose.
Luckily, there are some foods that are safe to eat in pastel colored pants, like cream cheese frosting.  It's already white…so any stain you get on your pants will be barely noticeable.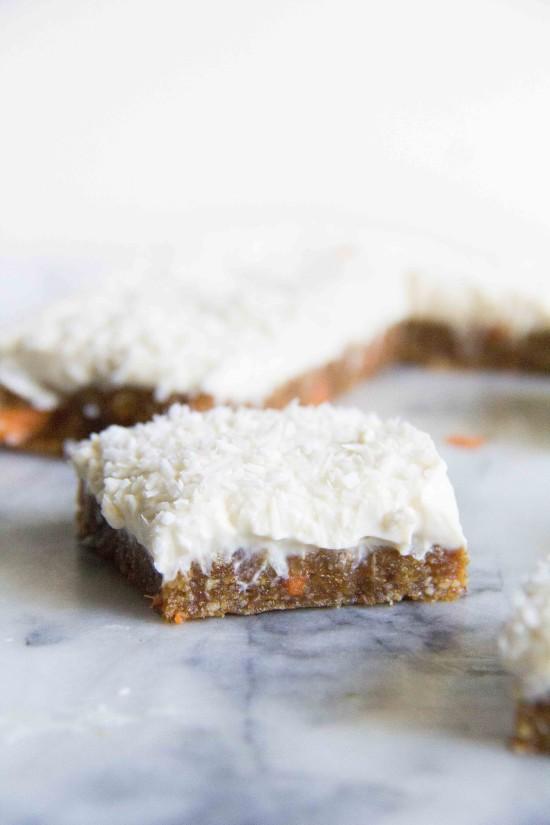 The good thing about being an adult and whatnot is that you get to pick out your own Easter outfit.   I remember an Easter of Easters Past when my mom made me wear this horrible watermelon jumper outfit.  I threw such a fit that I wasn't even allowed to hunt Easter eggs.  Worst.Easter.Ever.  Little did I know that you have to trade being able to pick out your own clothes for being your own Easter Bunny.
So about these carrot cake bars, I'm a hopeless romantic for doughy things.  I've only met one person who doesn't like cookie dough…and then I married that person.  In my husbands' words, "cookie dough is like a cold ball of sand."  I assure you that he has plenty of redeeming qualities.
The point of the cookie dough discussion is that the bottom layer of these bars is doughy and sweet, kinda like cookie dough.  Then you top that doughy layer with a fluffy cream cheese frosting of sorts.  For me, Easter brings up thoughts of carrot cake things and coconut truffles.  So these bars are those things smooshed together.  It's Easter in a bar.  If only they were more pastel-y.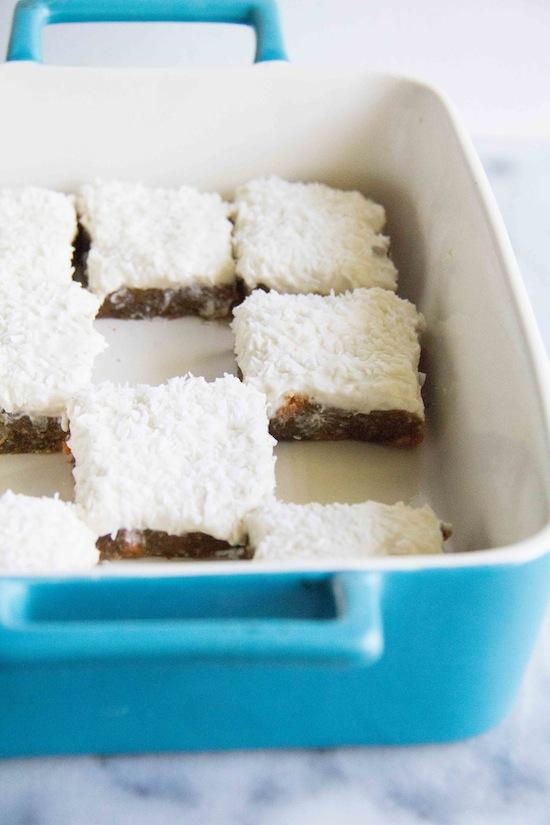 Print
No-Bake Carrot Cake Cream Cheese Bars
These No Bake Carrot Cake Cream Cheese Bars are the perfect spring dessert!
Bottom Layer
½ cup

walnuts

½ cup

almonds

1 cup

dates, pitted (~

20

dates)

¼ teaspoon

sea salt

½ cup

carrots, grated
Frosting
½ cup

2% greek yogurt, plain

2 ounces

cream cheese

2 tablespoons

maple syrup

1 teaspoon

vanilla extract
Topping
2 tablespoons

coconut, shredded & unsweetened (optional)
Instructions
Place walnuts and almonds into a sauté pan over medium-high heat. Constantly stir for ~5 minutes, or until nuts are slightly toasted (be careful not to let them burn).
Into a food processor, add toasted nuts, sea salt and dates. Process until the mixture forms a dough.
Place grated carrots into a couple paper towels and squeeze the excess moisture out of the carrots.
Dump the shredded/squeezed carrots and the dough into a bowl and combine. Press dough into a parchment paper lined 8×8-inch dish.
Now make your frosting. In a bowl, use an electric mixer to combine greek yogurt, cream cheese, maple syrup and vanilla. Mix on high speed until smooth.
Spread frosting over pressed out dough. Sprinkle with coconut. Allow bars to set in the fridge for at least 1 hour before slicing into 9 bars.
Notes
P.S. If you have a coconut hater in your life (like I do), you can just leave the coconut flakes off.
Nutrition
Serving Size:

Makes 9 Bars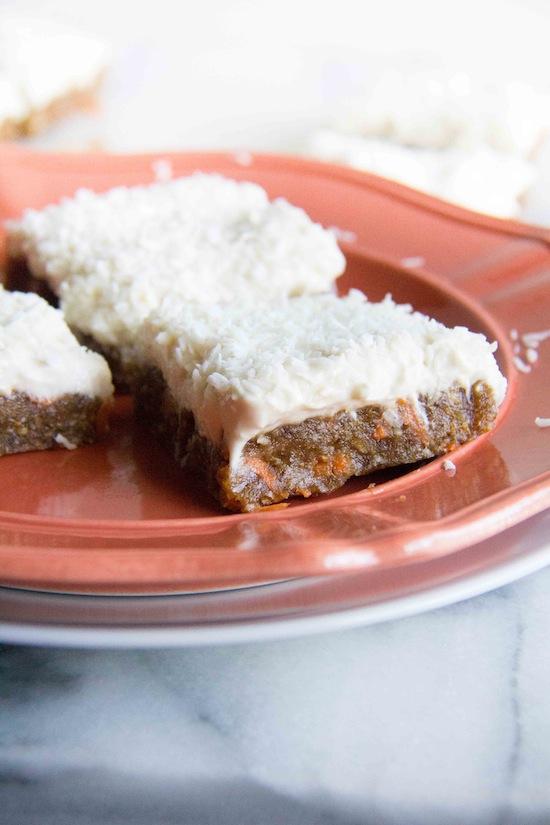 Are you drooling yet? Huge thanks to Kylie for sharing this deliciousness with us today!
Let's Chat:
Coconut- Yay or nay?
Enjoy!
–Lindsay–
LEARN HOW FOOD AFFECTS YOUR BODY.
Get my free Table Talk email series where I share bite-sized nutrition information about carbs, protein, and fat, plus bonus information about snacks and sugar!