Looking for easy red lentil recipes? Here are 15+ to add to your lunch and dinner rotation. Recipes for curry, dahl and soup, plus red lentil muffins, cookies, meatballs, hummus and more!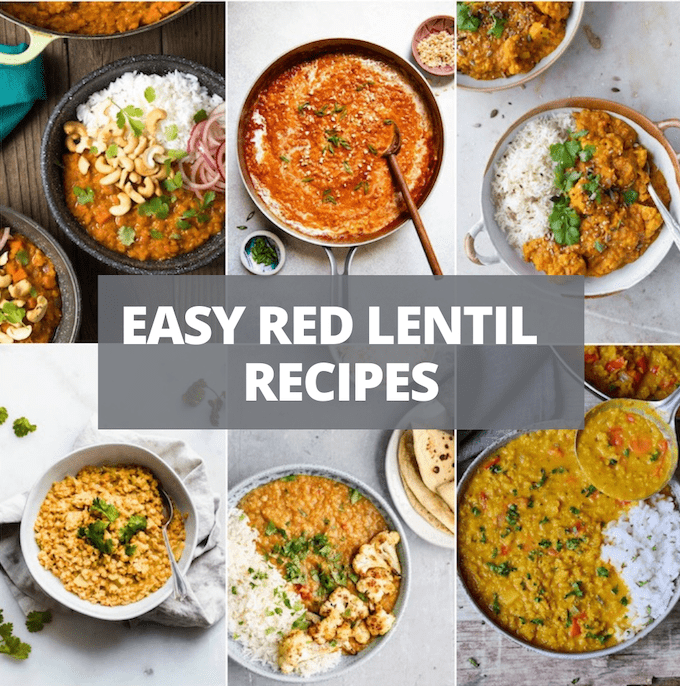 Hi friends!
Recently I shared a recipe for Apple Cinnamon Red Lentil Muffins and it sparked some interest in red lentils! So I thought I would pull together some recipes using red lentils to show you guys just how versatile they are! They are super easy to cook, they cook quickly and then don't have a strong flavor so they easily blend into almost every recipe.
How to cook red lentils
If you've never cooked with red lentils, they're a little different than green/brown lentils. While green lentils hold their shape well, red lentils are smaller and already split. They often lose their shape which makes it easy for them to blend into things like soups and curries to add protein and fiber without being very noticeable.
To cook them, simply place 1 cup lentils in a pot with 3 cups water, bring to a boil, reduce to a simmer, crack the lid and simmer. I cook mine for 5 minutes but you can do anywhere from 5-10. Then drain the excess water. Here's a helpful tutorial from Kitchen Skip for How To Cook Red Lentils. You can also often cook them right in the dish you're making.
Since red lentils cook so quickly, you don't really have to worry about it but if you're using green lentils you can cook a whole bag at once and freeze the extras so they're ready to use. I often freeze in one cup portions to use in my Lentil Banana Muffins or two cup portions to add to soups, casseroles and curries.
Are lentils healthy
Lentils are a nutritional powerhouse. They're full of polyphenols which can have anti-inflammatory properties. They're high in fiber and protein, naturally gluten-free and also contain calcium, iron, potassium and folate.
They do contain some antinutrients which can reduce the absorption of some nutrients but cooking lentils takes care of a lot of these. If you're worried, you can take it one step further by soaking lentils overnight before cooking (and discarding the soaking water) or sprouting lentils before cooking! Learn how to sprout lentils here. But remember that most red lentils are split and won't sprout well. Green lentils will though!
Ready for some easy red lentil recipes?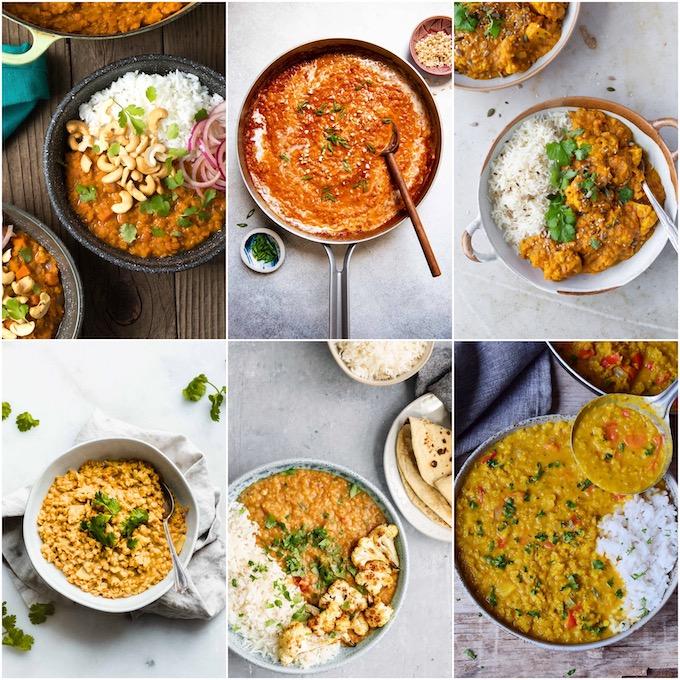 Lentil Recipes Vegan
Among lentil recipes curry and dahl are the post popular, as well as soup! Most of these recipes are already vegan or can easily be made vegan with a simple swap.

Red Lentil Soup Recipes
Red lentils are a great addition to any soup. Cook them right in the pot and add fiber and protein to any dish.

Red Lentil Recipes
If you're ready to think beyond curry, dahl and soup there are tons of other ways you can use red lentils!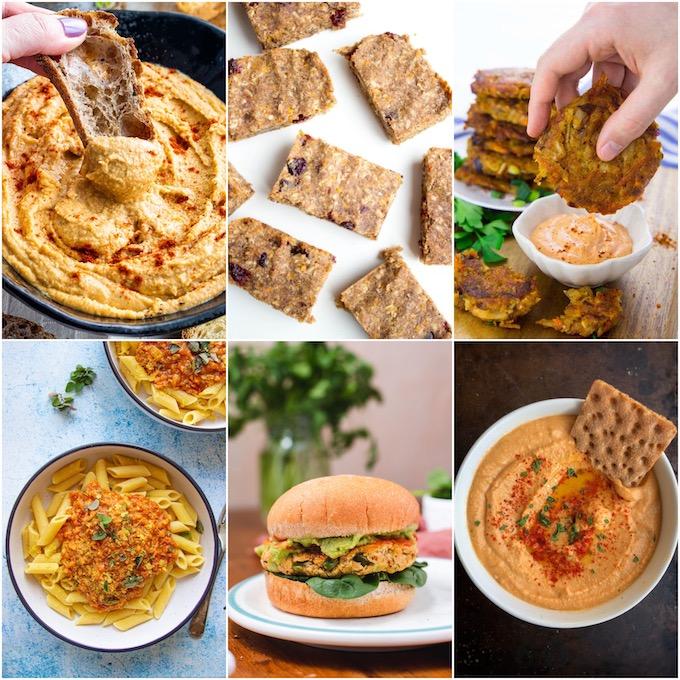 See anything you like? Pin it for later!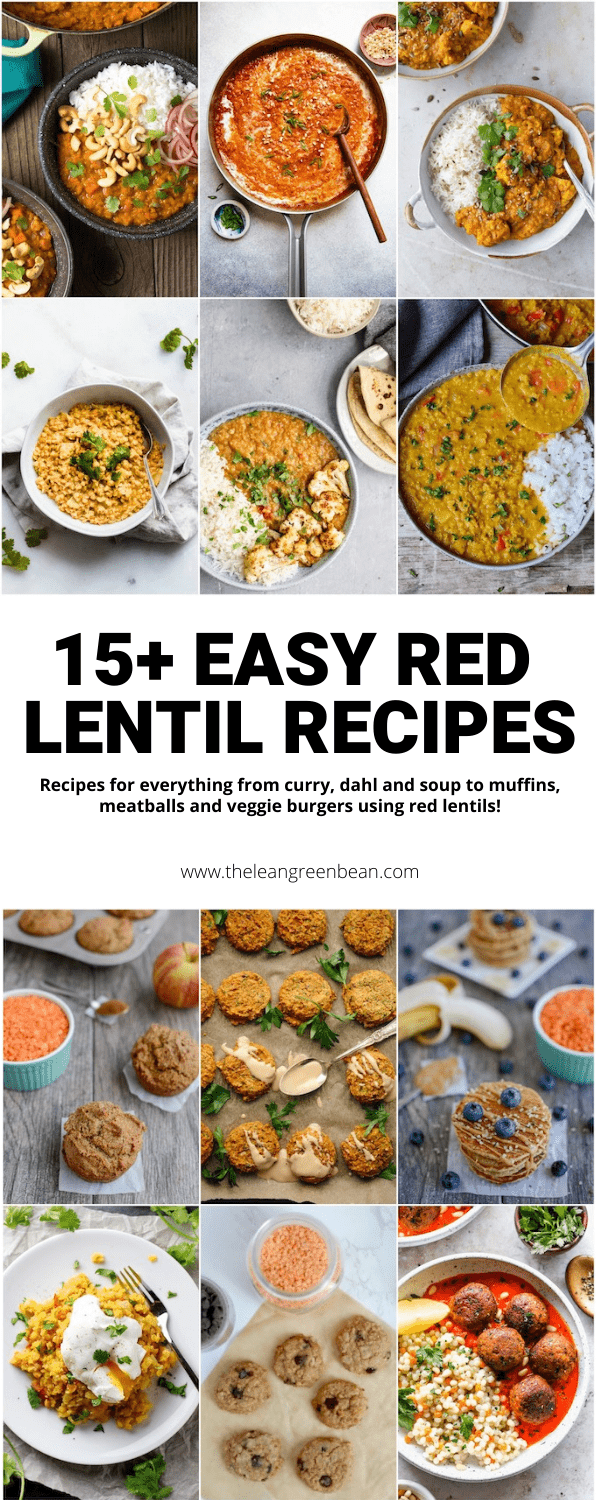 If you're ready to go beyond red lentils, here are 20+ green lentil recipes to try. Some of my favorites are:
Enjoy!
–Lindsay–
LEARN HOW FOOD AFFECTS YOUR BODY.
Get my free Table Talk email series where I share bite-sized nutrition information about carbs, protein, and fat, plus bonus information about snacks and sugar!