Looking for the best frozen waffles to buy at the store? Here are some healthy options from a Registered Dietitian and mom. High protein, vegan and gluten-free options.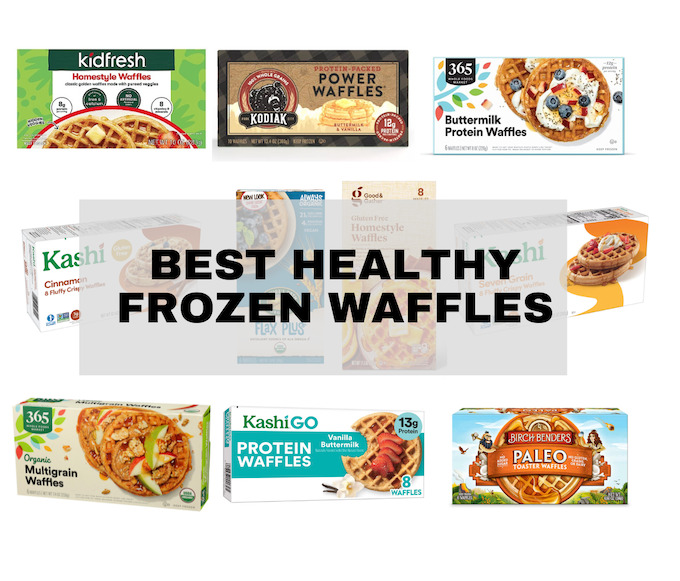 Hi friend!
Today I'm sharing some of the best frozen waffles that you can find at the grocery store. My kids love waffles and while I know I can fairly easily make my own, I almost always have a box in the freezer because sometimes it's just easier 🙂
This is a continuation of our Best of Store-Bought series. If you've missed any previous posts, you can catch-up by clicking the links below:
Snacks from certain stores:
Types of snacks:
---
Best Frozen Waffles
So what did I look for when choosing the best healthy frozen waffles? Here are a few things to consider:
Nutrition: I try to find options that have AT LEAST 2g of both protein and fiber. There are definitely more options out there than are on this list and many of them have just 1g of protein and/or fiber and that's not going to do much to help fill you up.
Added sugar: I tried to find options with no more than 6g of added sugar per serving, although I'd prefer it was even less than that. Especially if you're going to be serving them with more sugar like syrup or jelly.
Sodium: Frozen waffles can also be high in sodium. Check the sodium content for a serving size and aim for under 400mg sodium, closer to 200mg would be better if possible.
Price: Another factor to consider is price. Frozen waffles can be expensive and the number of waffles in a box varies. When comparing prices, be sure to consider whether they come in 6, 8 or 10 waffles per box.
---
Healthy Frozen Waffles FAQ
Can frozen waffles be healthy?
They can! Just like all convenience foods, some options are better than others. Finding a brand you enjoy eating that will also help keep you full and satisfied is most important. I recommend looking for options made with whole grains as they typically have a few grams of fiber to help keep you full.
I also want there to be at least some protein.
Can waffles be a healthy breakfast/ How do you make frozen waffles better?
You can make frozen waffles even heartier with your toppings. Try topping with yogurt, avocado, peanut butter etc to add more protein/fiber/healthy fats.
Or pair with some fresh fruit and a glass of milk or some yogurt for a balanced breakfast full.
Are Kodiak frozen waffles healthy?
Kodiak Cakes is the brand I currently feed my family. I like that they are made with whole grains and also like that they have some added protein. That way, even if my kids eat them plain, they're still getting a decent amount of protein and fiber.
Kodiak also has a great pancake/waffles mix that freezes well so I often use their mix to make my own waffles- I make them with milk and add an egg and then I freeze them once cooled and just pop in the toaster as needed.
Is there gluten in frozen waffles?
Unless the waffles are specifically marked gluten-free, I would assume they contain gluten. Wheat flour is one of the most common main ingredients in waffles.
---
Best Frozen Waffles
So let's talk about some of my favorite frozen waffles. I've divided the waffles into categories for the purpose of this post but remember that you don't have to follow a certain kind of diet just to eat those waffles.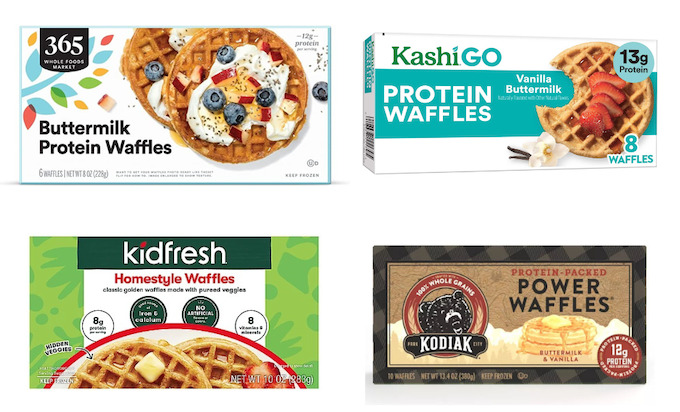 Protein Waffles Frozen
While protein-packed power waffles aren't necessary for toddlers/younger kids with lower protein needs, they can be a great option for older kids and adults who are looking to start their day with a fair amount of protein. Here are some of my favorite higher-protein options:
---

Vegan Frozen Waffles
Like I mentioned above, you don't have to follow a vegan diet to eat these waffles. I personally love Kashi waffles and I'm not vegan. These can also be a good option if you are dairy-free.
---
Gluten-Free Frozen Waffles
A lot of the gluten-free options out there are lacking in protein and fiber. Many varieties I found only had 1g of protein and fiber but here are a couple to try!
---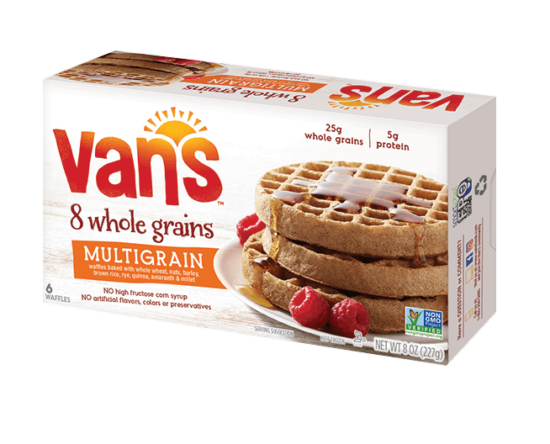 These Vans Multigrain Waffles are another good choice. They just didn't fit into any of the other categories 🙂 They're a little higher in sodium but they do have 4g of protein and fiber and 3g added sugar.
---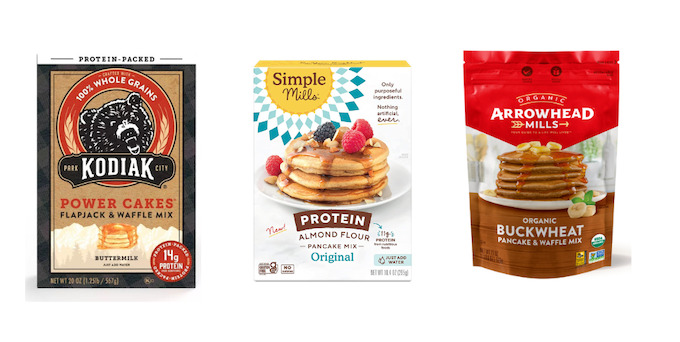 Pancake & Waffle Boxed Mixes
When I have the time on Sundays, I like to prep a double batch of waffles (or pancakes) and freeze them for later in the week. Here are a few mixes I like:
---
Frozen Waffles In Air Fryer
Frozen waffles are most often made in the toaster but here's a push for you to try air fryer frozen waffles! You don't even need to preheat it! Just stick them in, set it at 350F for 3 minutes and then flip them over and cook another 1-2 minutes.
Note that gluten-free waffles in the air fryer often take less time! I'd start with 2 minutes and then another minute once flipped.
---
Best Frozen Waffles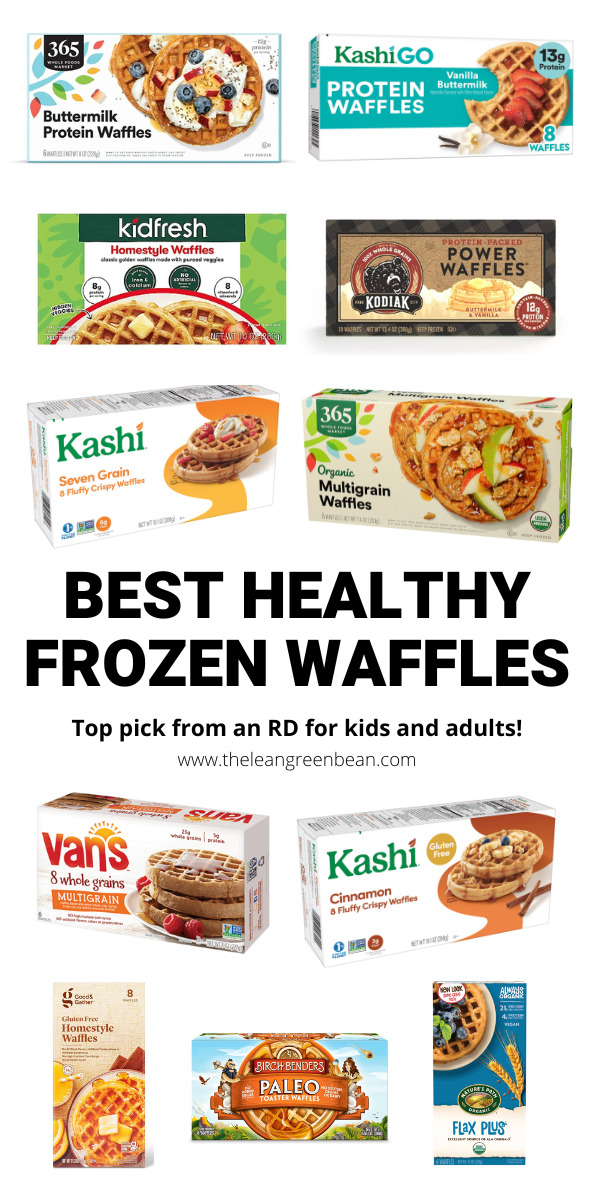 What's your favorite kind of frozen waffles?
Traditional Homemade Waffles
And if you're not in the mood for the pre-made boxed version, here are a couple of homemade waffle recipes we love:
Gluten-Free Original Waffles
For a few non-traditional ideas, try:
Enjoy!
–Lindsay–
LEARN HOW FOOD AFFECTS YOUR BODY.
Get my free Table Talk email series where I share bite-sized nutrition information about carbs, protein, and fat, plus bonus information about snacks and sugar!