Here are 5 of the best low sugar yogurts. These are not sugar-free yogurt options. They all have 7 grams of added sugar or less and no artificial sweeteners!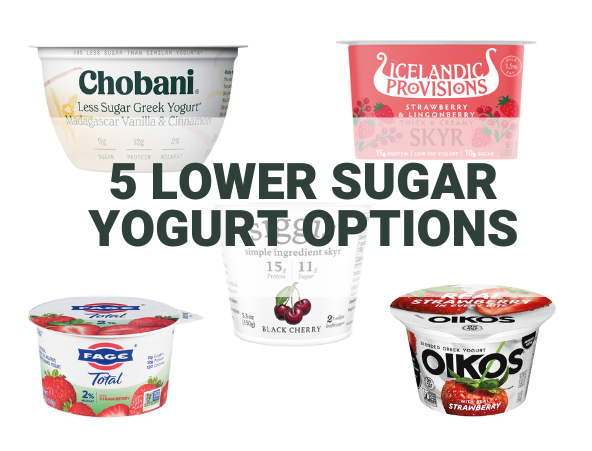 Hi friends!
I have been working on a new snack series! Today we're talking about yogurt. Yogurt is kid-friendly, an easy protein source and can be a great addition to a balanced diet. However, if you're not careful, it can easily fall into the dessert category based on the large amounts of sugar that is often added to it.
If you want more store-bought snack ideas, check out these posts:
Snacks from certain stores:
Types of snacks:
---
Best Low Sugar Yogurt
So what low-sugar yogurts are best? I went to Meijer and Kroger to find some options for you! Here are five options that have 7 grams of added sugar or less. Watch the video for an overview, or scroll down to see the options:
Here are the five options I found: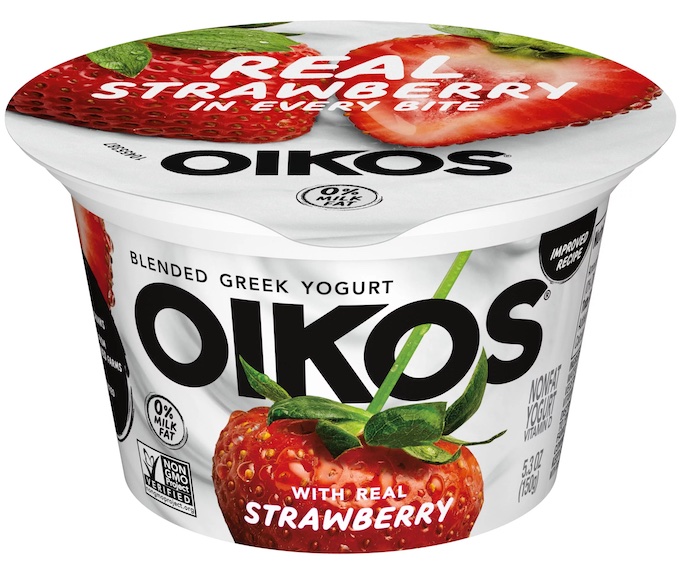 7 grams added sugar
13 grams protein
0 grams fat
Ingredients in the strawberry flavor: cultured non fat milk, strawberries, cane sugar, water, contains less than 1% of: pectin, natural flavors, fruit and vegetable juice concentrate and beta carotene (for color, vitamin D3.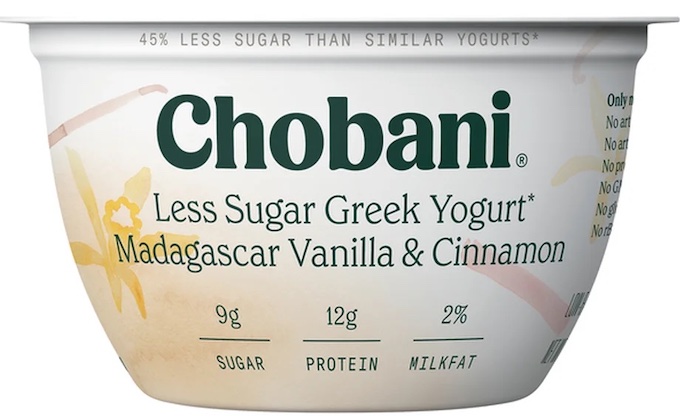 5 grams added sugar
12 grams protein
3 grams fat
Ingredients in Vanilla: Cultured lowfat milk, water, cane sugar, natural flavors, fruit pectin, guar gum, cinnamon, locust bean gum, vanilla extract, lemon juice concentrate.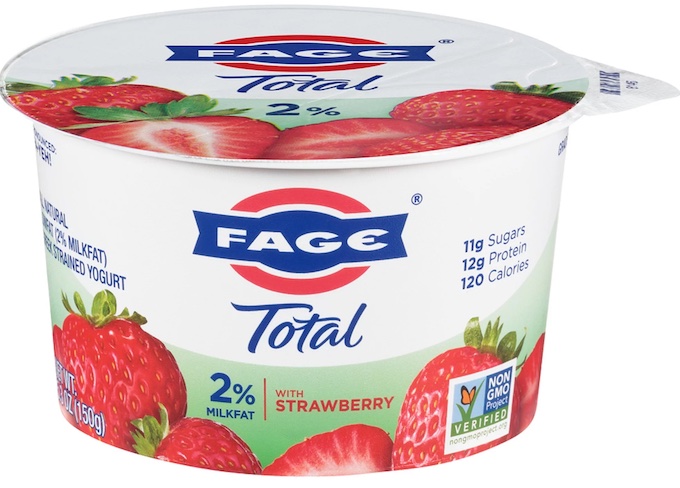 7 grams added sugar
12 grams protein
2.5 grams fat
Ingredients: STRAINED YOGURT: Grade A Pasteurized Skimmed Milk and Cream, Live Active Yogurt Cultures (L. Bulgaricus, S. Thermophilus, L. Acidophilus, Bifidus, L. Casei).
STRAWBERRY FRUIT PREPARATION: Strawberries, Cane Sugar, Water, Corn Starch, Contains 2% or less of: Strawberry Juice Concentrate, Lemon Juice Concentrate, Natural Flavors, Fruit Pectin.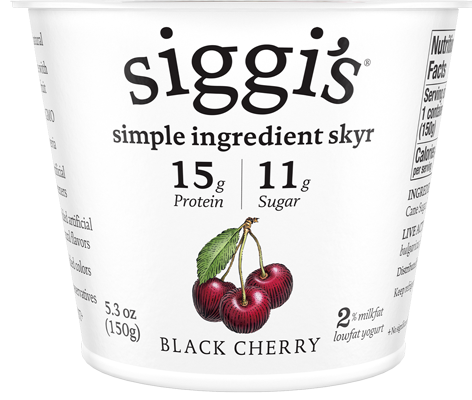 6 grams added sugar
15 grams protein
2.5 grams fat (there's also a whole milk version)
Ingredients in black cherry: Pasteurized Skim Milk, Pasteurized Cream, Cherries, Cane Sugar, Fruit Pectin, Live Active Cultures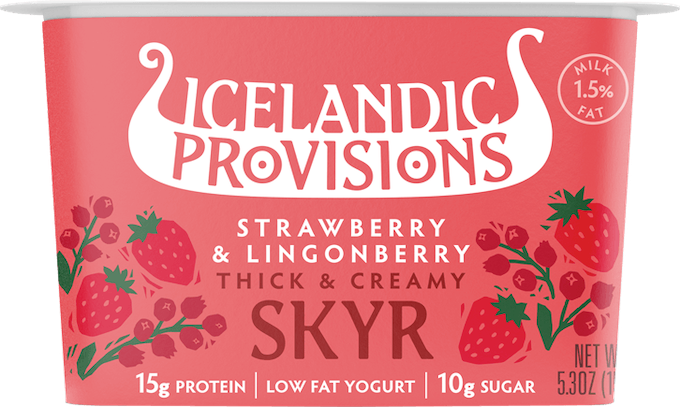 7 grams added sugar
15 grams protein
2 grams fat
Ingredients in strawberry: Skyr (Pasteurized Low-Fat Milk, Live and Active Cultures), Fruit (Strawberries, Lingonberries), Cane Sugar, Natural Flavors, Pectin, Carob Bean Gum, Fruit and Vegetable Juice Concentrate (For Color)
---
Low Sugar Greek Yogurt
What's the difference between greek yogurt and regular yogurt? Greek yogurt is strained after it's fermented to remove the whey and make it thicker. Skyr is similar to Greek yogurt in that it's strained, often longer than Greek yogurt, making it even thicker. Greek yogurt can have fewer carbs and less sugar, while also having more protein than regular yogurt. For all varieties there are whole milk and lower fat options. Skyr is usually made with skim milk and can have even more protein than Greek yogurt.
Kids Taste Test Yogurt with Low Sugar
While low sugar options are great, we still need kids to enjoy them! I did a little taste test with my kids where they tasted the 5 options listed above, plus a higher sugar option and one sweetened with stevia. Watch to see which were their favorites:
---
Best Sugar-Free Yogurt
So what about sugar-free yogurt that use artifical sweeteners and yogurts sweetened with stevia and monkfruit? Personally and as an RD they're not my favorite. Stevia and other sweeteners like it can cause GI distress- gas, bloating etc for some people. Some people also don't like the taste or aftertaste. They're also much much sweeter than regular yogurts and kids can get used to that level of sweetness. Like most things, they're probably fine in moderation but for this post I chose ones sweetened with regular sugar because that's my preference. If you're looking for other options there are definitely some out there!
---
Another option for best low-sugar yogurt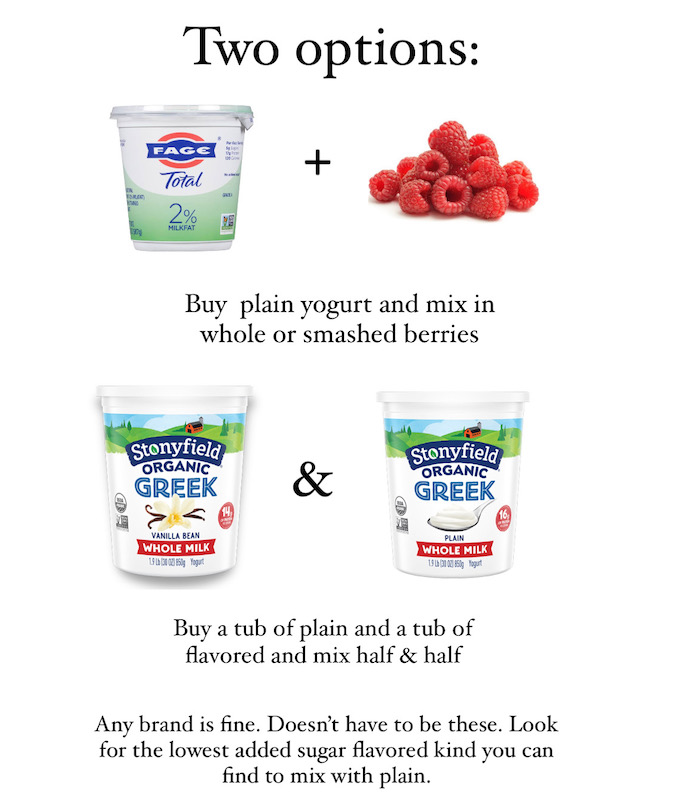 Two other easy ways to reduce the added sugar in yogurt is to choose plain yogurt and mix in smashed fruit or drizzle with a little honey.
Or you can buy a flavored variety that might have a bit more added sugar and mix it half and half with plain yogurt!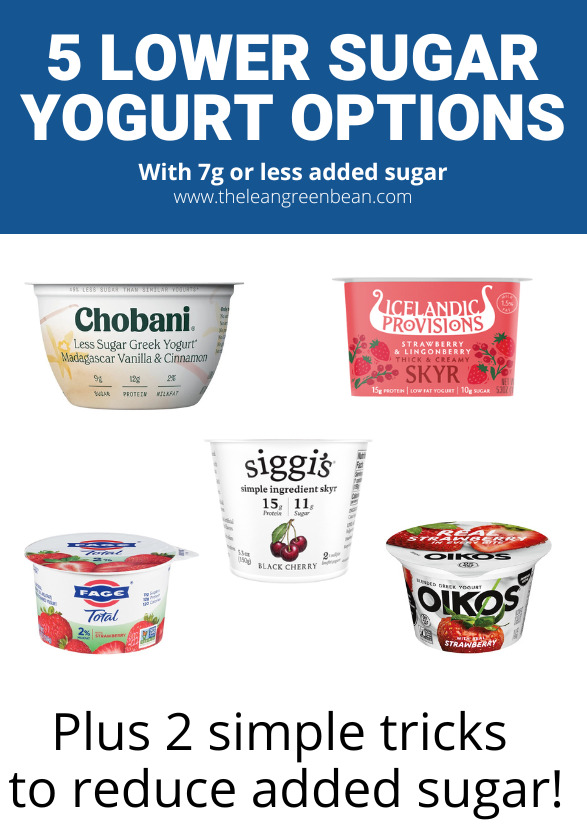 Hope this post was helpful! Want some recipes that use yogurt, both flavored and plain?
–Lindsay–
LEARN HOW FOOD AFFECTS YOUR BODY.
Get my free Table Talk email series where I share bite-sized nutrition information about carbs, protein, and fat, plus bonus information about snacks and sugar!