Looking for the best boxed mac and cheese? Here are some picks for healthy store bought mac and cheese from a Registered Dietitian. Plus a kids taste test!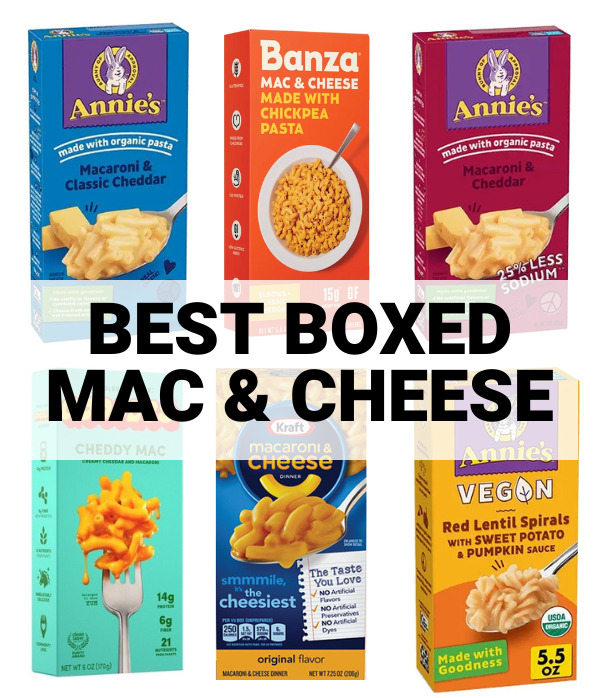 Hi friends!
Today we're continuing our "Best of" series by talking about macaroni and cheese. So far we've covered:
Snacks from certain stores:
Types of snacks:
So be sure to catch up on those posts if you missed them!
---
When it comes to boxed mac and cheese, my biggest concern is sodium. Some brands, especially the deluxe versions, have 1,000+ mg of sodium per serving, which is way more than necessary. While I don't recommend packaged mac and cheese as an everyday food, it's certainly something my kids have for dinner occasionally.
When I'm picking out which brand to buy, I look for the lowest sodium per serving that I can find, and I'd also love for there to be a decent amount of both protein and fiber.
The problem is that some of the brands that are higher in both protein and fiber are not always a hit with my kids.
So after looking at a lot of mac and cheese boxes, I decided to do a taste test with my kids (ages 7, 5 & 3) to see which ones they would actually eat.
---
I chose two classics: Kraft and Annie's Original. I also chose two that were higher in fiber & protein: Banza and Goodle. Then I threw in an Annie's Vegan option and Annie's 25% reduced sodium. Here's the video of their taste test:
---
Best Boxed Mac and Cheese
Let's look at these six options I chose for the taste test in a little more detail. Note- I'm sure there are other great options. I tried to stick to brands that were widely available in the two grocery stores by my house, not specialty stores like Whole Foods, Trader Joe's etc.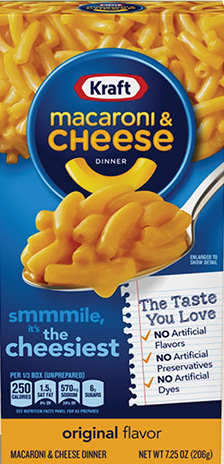 9 grams of protein
2 grams of fiber
560 mg sodium
Kids liked it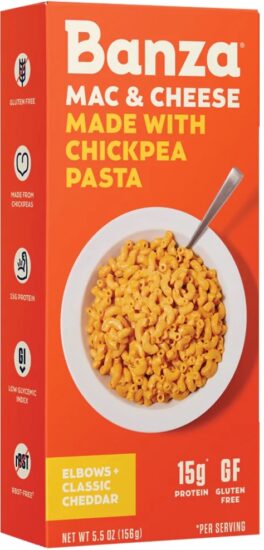 15 grams protein
5 grams fiber
640 mg sodium
Kids didn't like it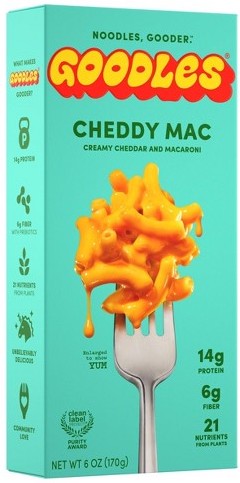 Goodles (found at Target)
14 grams protein
6 grams fiber
590 mg sodium
Kids didn't like it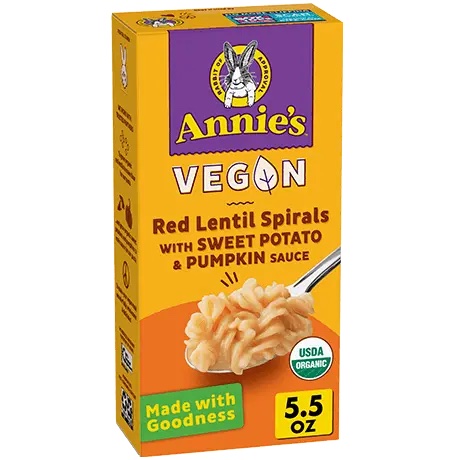 11 grams protein
3 grams fiber
240 mg sodium
Kids didn't like it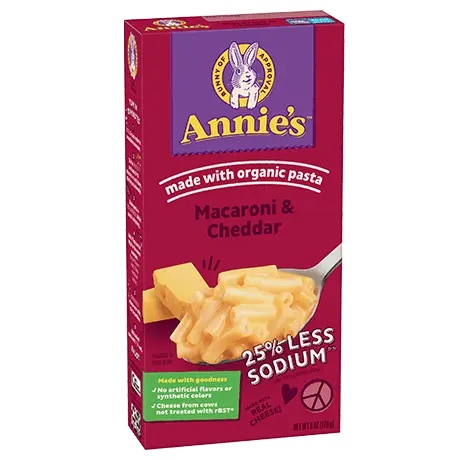 Annie's 25% Less Sodium
10 grams protein
2 grams fiber
400 mg sodium
Kids liked it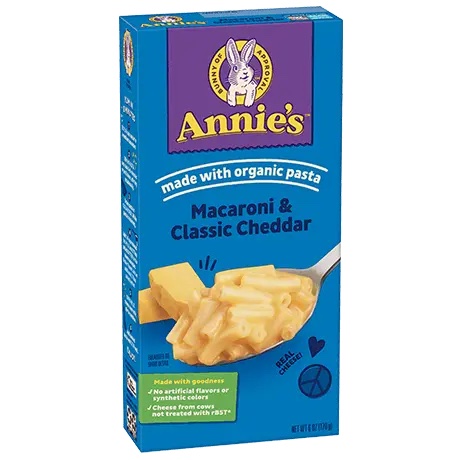 9 grams protein
3 grams fiber
430 mg sodium
Kids liked it
Don't be fooled by the marketing like I was! I thought the Annie's 25% less sodium meant 25% less than their original but it actually says 25% less than the leading brand and it only has 30mg less than the original Annies!
Best Boxed Mac and Cheese
So what's my pick as a Registered Dietitian to feed my kids?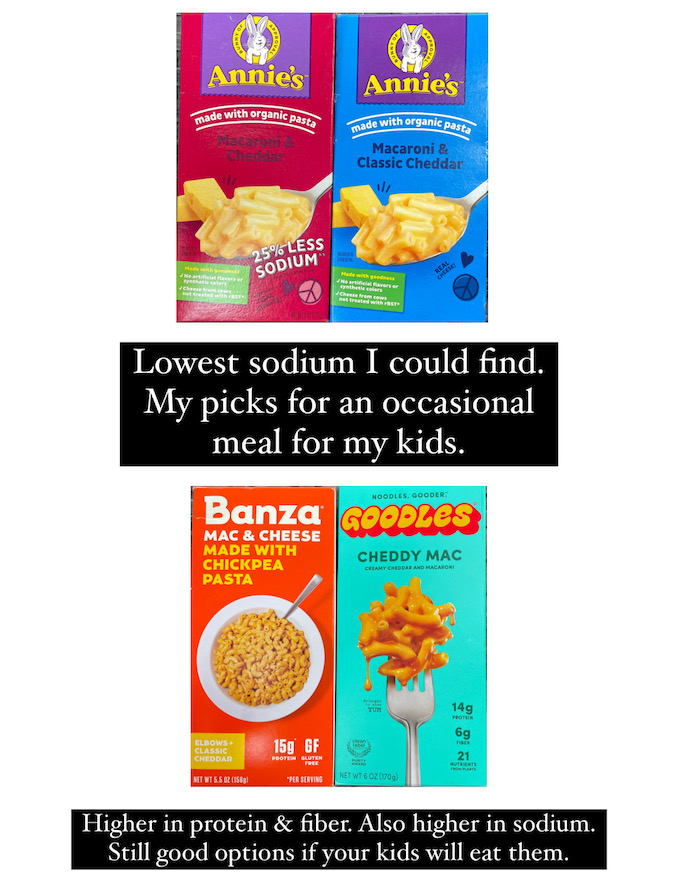 Overall I choose Annie's. Either the 25% less sodium or the original – both have the lowest amount of sodium I found. They also have several organic options that are widely available if that's important to you!
I love that Banza and Goodle are higher in both protein and fiber. Despite them also being higher in sodium, I still think they're good options if your kids will eat them!
How To Make Boxed Mac and Cheese Better
Choose one with 500mg sodium or less per serving
Try not using the whole packet of cheese
Mix in Greek yogurt instead of butter for extra protein
Look for whole wheat, whole grain or alternative noodle options for more fiber
Boxed Mac and Cheese Hacks
To make it creamier, try using Greek yogurt. You can either add it right along with the milk instead of butter, or you can skip the milk and try just adding Greek yogurt. Adding less milk also makes it thicker and creamier.
To turn it into a full meal, try adding leftover cooked chicken or some chicken sausage. You can also add cooked vegetables. One easy hack is to add some frozen peas to the water for the last few minutes of cooking the noodles.
For a different cheese flavor, try using half the packet of cheese and mixing in some shredded cheese of your own.
Try putting your own spin on it! Want pizza mac? Grab some white cheddar boxed mac, put it in a pan, top with a little pizza sauce, pepperoni and shredded mozzarella and broil for a couple minutes.
Add some spices. Try mixing in a little garlic powder or paprika when you add the cheese.
Boxed Mac & Cheese Baked
Want to fool a crowd? Make boxed mac and cheese as directed, add any mix-ins you want, then put it in a baking pan, top with some extra shredded cheese and breadcrumbs and bake at 350 degrees Faherenheit for 10-15 minutes until the cheese on top is melted.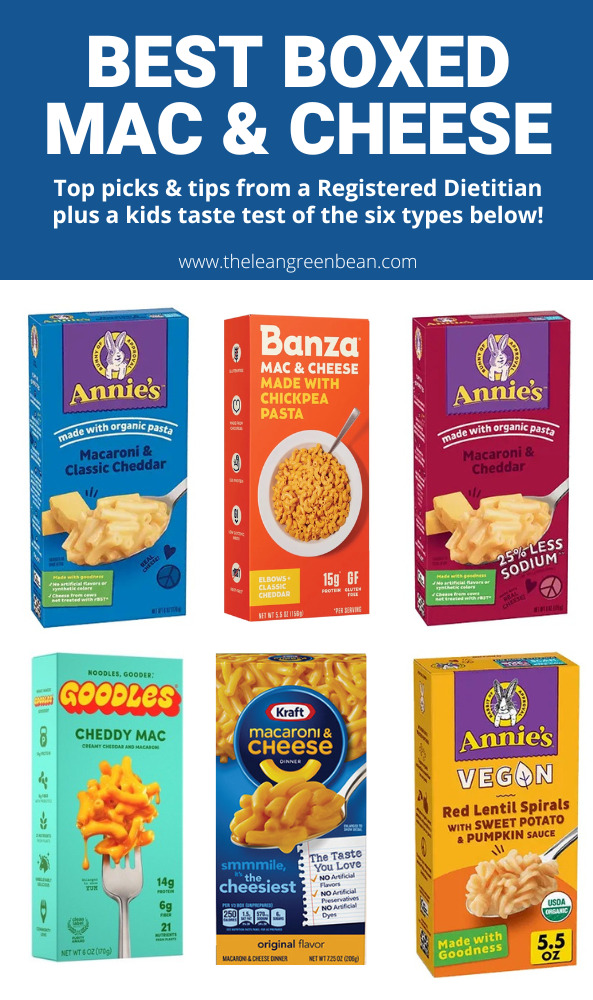 Enjoy!
–Lindsay—
LEARN HOW FOOD AFFECTS YOUR BODY.
Get my free Table Talk email series where I share bite-sized nutrition information about carbs, protein, and fat, plus bonus information about snacks and sugar!