Need some healthy road trip snacks? Or just some on the go snacks? Whether it's vacation, driving to sports practice or a day of running errands, here are some travel snacks you'll love!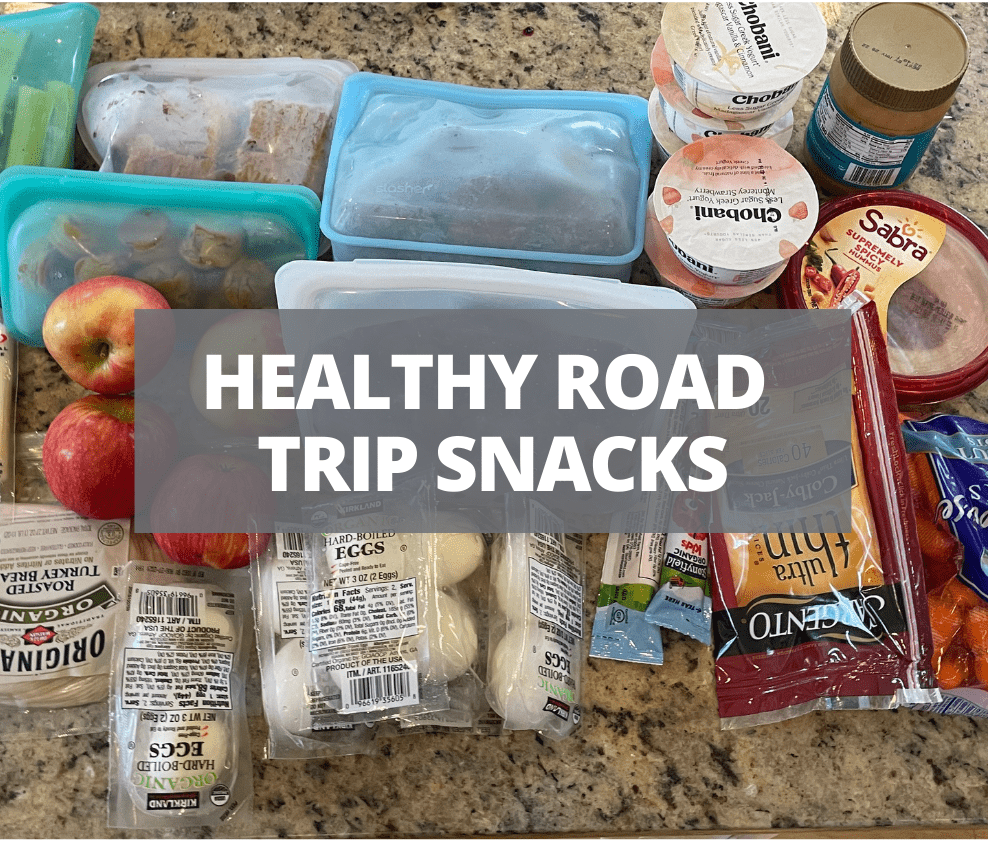 Hi friend!
A couple of years ago I was asked for some ideas about snacks for the car that aren't super messy so I wrote this post on Low Mess Car Snacks for Kids. I'm finding that a few years later, I still heavily rely on car snacks so I'm always thinking about new ideas. In addition, this summer we drove from Ohio to Minnesota with 3 kids 6 and under. Believe me when I say I packed a lot of snacks. I wanted to share some good road trip snacks for kids -both what we packed in our cooler and the non-perishables in case you need more road trip snacks ideas! You could also pack a lot of these for plane snacks!
I've also already written several snack posts that will have more options for healthy on the go snacks. Check out:
So here we go:
Good Road Trip Snacks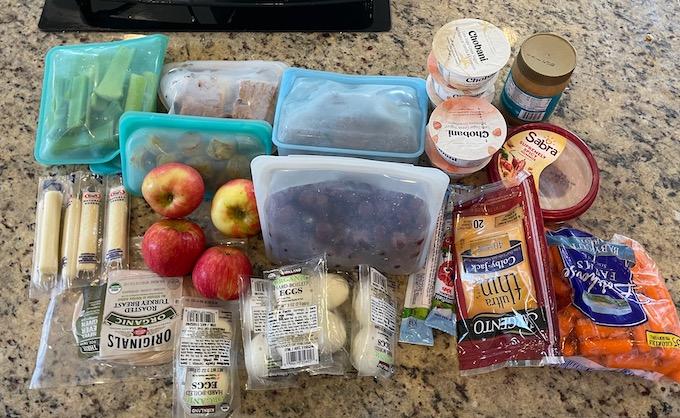 Healthy Road Trip Snacks For The Cooler
Fruit –

grapes- I pulled them all off the stems ahead of time
bananas
apples- leave them whole or slice ahead of time and rubberband together to minimize browning
clementines – you can peel them ahead of time to make it easier
applesauce cups (or pouches for younger kids to minimize mess)

Veggies-

baby carrots
celery sticks – you can even prep ants on a log ahead of time
bell pepper strips
snap peas

String cheese and cheese slices
Hard-boiled eggs – peel them ahead of time
Yogurt- yogurt tubes/pouches are less messy for kids. You can also freeze them ahead of time to minimize mess even more
Hummus
Deli turkey & pepperoni – can be eaten with crackers and used to make a sandwich
Homemade muffins/bars – I have a whole list of Kid-friendly Baking Recipes for bars and muffins packed with veggies and legumes!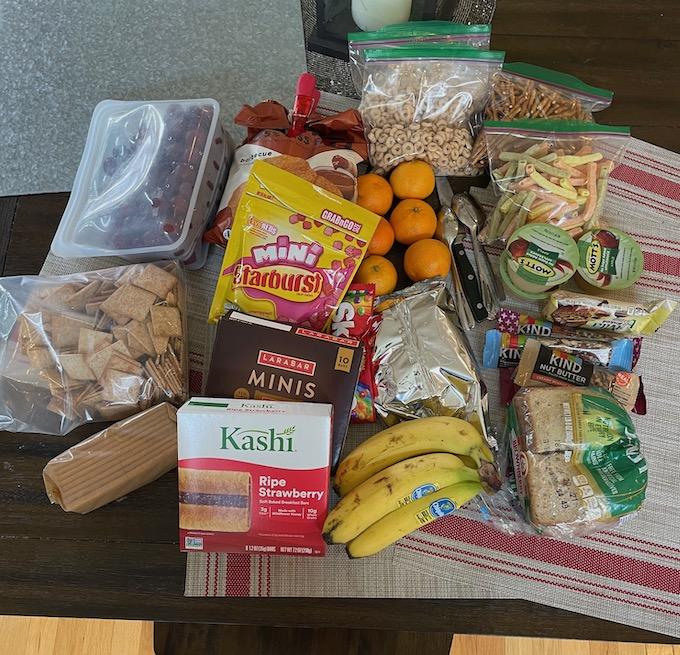 Car Travel Snacks (Non-perishable):
Peanut butter and jelly sandwiches – you can store them in the cooler if you use jelly, or you can skip it, or use honey!
Bread – for turkey and cheese sandwiches
Simple Mills & Wheat Thins crackers
Cheerios cereal – I have a list of Low Sugar Cereals for Kids if Cheerios isn't your favorite
Pretzels
Granola bars – Try one of these Healthy Store-Bought Granola Bars for Kids– our favs are KIND, Larabar and Kashi
Chips
Candy – is it the healthiest? No. Will it sometimes save your sanity as a parent? Yes 🙂
Note that we stopped overnight in a hotel with a fridge and I knew the place we were staying had a fridge so I wasn't worried about packing too much food because I knew we could just eat it throughout the week of vacation.
I've also noticed that sometimes my kids don't eat a ton in the actual car but then they're starving when we get to the hotel so it's nice to have things on hand to give them while we get settled, figure out where we're going to eat dinner etc.
While I recognize that eating in the car is generally not recommended as it can be a choking hazard, I'm also a mom with young kids and know that it sometimes can't be avoided. I found that plastic cups are a great way to pass snacks back to kids because they're easy for them to hold and they fit in car seat cup holders. If your kids are still rear-facing, make sure you can see them while eating either by sitting near them or at least in a mirror.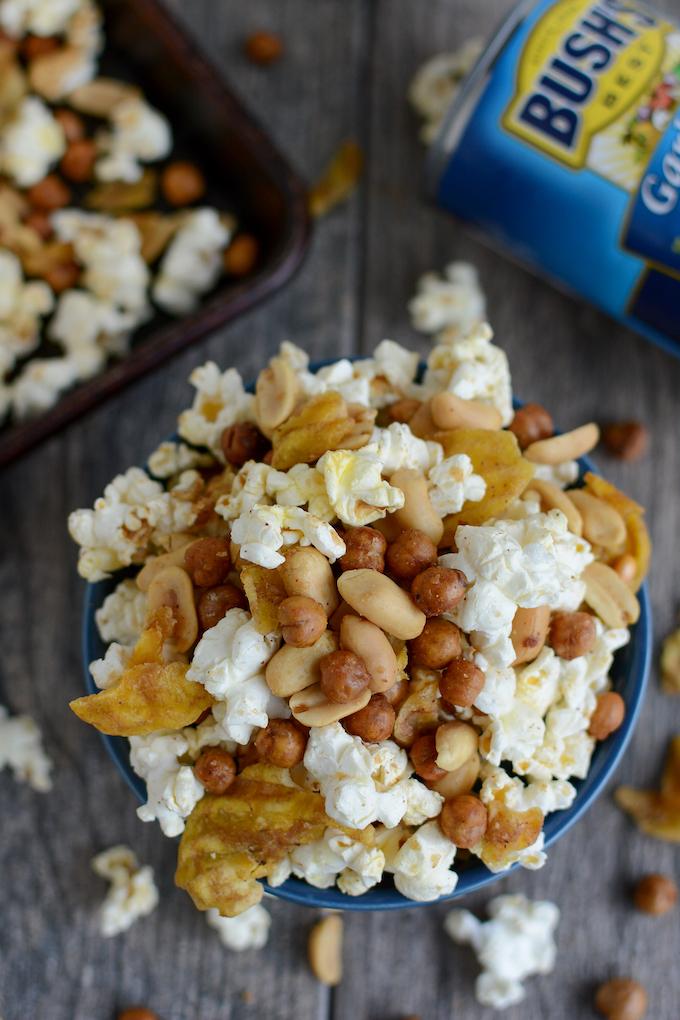 In addition to what's listed above, here are more ideas:
Waffles and pancakes
Popcorn
Dried fruit bars or strips (smaller things like raisins are more likely to be dropped, go for things like mango, pears, dates, apricots,
Chomps meat sticks (aff link)
Nuts
Trailmix
Roasted chickpeas/broad beans/edamame
Homemade energy balls
Tuna pouches with crackers
Sweet potato chips
A reminder that popcorn, whole nuts, roasted chickpeas etc are choking hazards for young kids.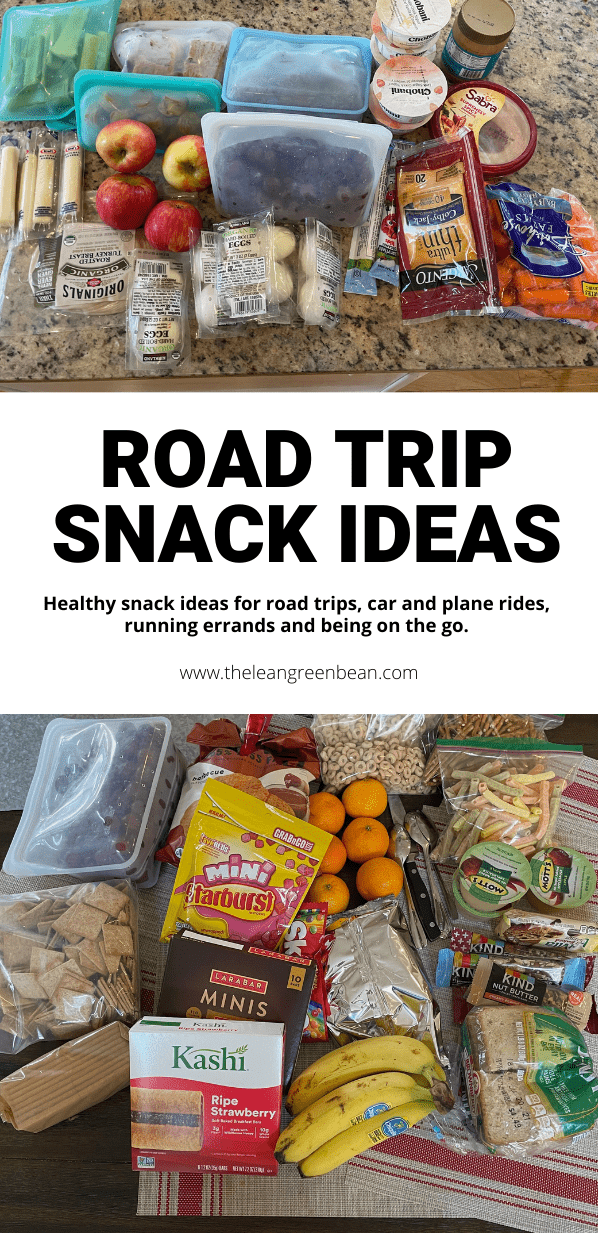 What are your favorite healthy road trip snacks?
Enjoy!
–Lindsay–
LEARN HOW FOOD AFFECTS YOUR BODY.
Get my free Table Talk email series where I share bite-sized nutrition information about carbs, protein, and fat, plus bonus information about snacks and sugar!