These Pumpkin Energy Balls are packed with fiber, protein & healthy fats for energy. Freezer-friendly & the perfect addition to a lunch or afternoon snack.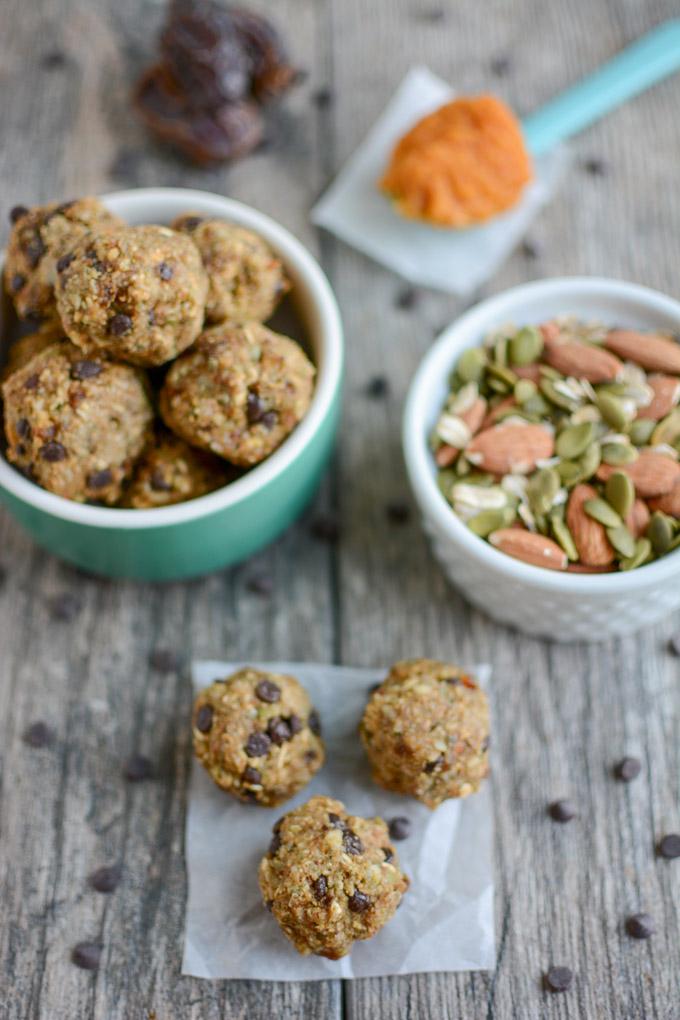 *Originally published 9/2014. Post & photos updated 9/2018*
Hi Friends!
I can't believe it's been almost exactly four years since I first shared these Pumpkin Energy Balls. Over the years these have continued to be one of my go-to fall snacks. I stash them in the freezer so I made triple batches of them before both my babies came and will be doing the same for baby 3 here in a few weeks.
I tweaked the recipe a little bit this week when I made them again to update the photos and I think I like them even better now! They're a simple mix of nuts, seeds, pumpkin, oats, dates and spices which means they're packed with fiber, protein and healthy fats – perfect for adding to lunch boxes, serving for an after-school snack, fueling up for a workout etc.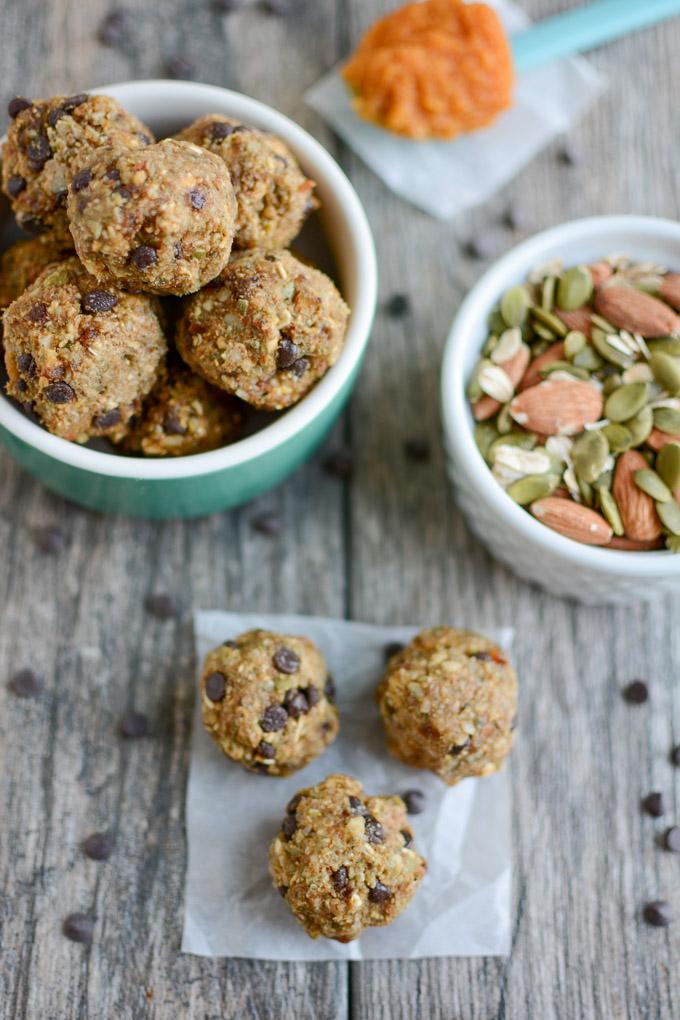 Here's how you make them:
Print
Pumpkin Energy Balls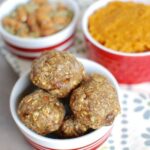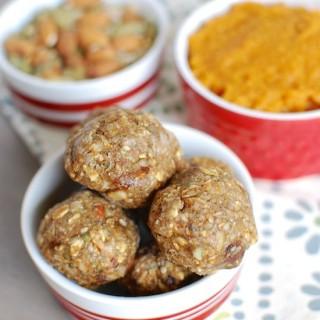 These Pumpkin Energy Balls are packed with fiber, protein and healthy fats for energy. The perfect addition to a quick lunch or to serve for an afternoon snack.
Author:
Yield:

makes 24 balls
Ingredients
3/4 cup pepitas (shelled pumpkin seeds)
3/4 cup almonds
1 cup chopped, pitted dates
1/2 cup rolled oats
1/4 cup hemp hearts (you could sub a few Tbsp chia seeds)
1/2-2/3 cup pumpkin puree
1-2 teaspoon cinnamon
1/2-1 teaspoon ginger
1/2 – 1 teaspoon vanilla
mini chocolate chips, optional
Instructions
Put almonds and pepitas in a food processor and process until well ground. Transfer to a bowl.
Put dates, oats, hemp hearts, cinnamon and ginger in the food processor and process until well chopped.
Add pumpkin and pulse a few times.
Add nut and seed mixture and process until well mixed. You may need to use a spoon to help get everything mixed.
Taste and adjust if needed, adding more pumpkin and/or spices if desired.
Add mini chocolate chips and pulse a few times to mix.
Form into balls and freeze on a baking sheet. Transfer to a bag or storage container and store in the freezer.
Notes
I always start on the low end for the ranges of pumpkin and spices. Once mixed, taste and add more if desired.
Mixture will be slightly sticky when forming into balls. Wet your hands lightly or freeze the mixture for a little bit to help with this if you want.
Here's the original recipe: 1/2 cup pepitas, 1/2 cup sunflower seeds, 1 Tablespoon chia seeds, 1/2 cup almonds, 1/2 cup pumpkin puree, 1 cup chopped & pitted dates, 1/2 cup rolled oats, 1 teaspoon cinnamon, 1/2 teaspoon ginger
I almost always make two batches of this recipe whenever I make them, but I typically make a single batch and then just repeat with another instead of trying to double all the ingredients and make a giant batch all at once because I've found they don't mix together as well.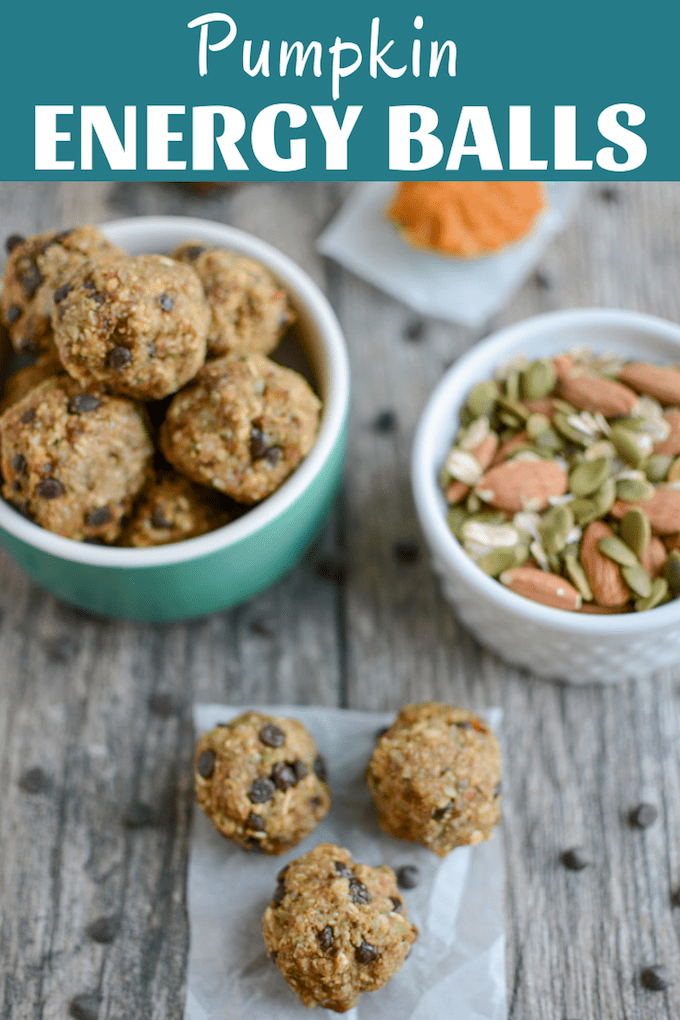 Try these Pumpkin Energy Balls for a quick afternoon snack and stock your freezer to have them on hand for busy days!
Click To Tweet
Let me know if you try them!
Enjoy!
–Lindsay–