A list of Lower Sugar Cereals for Kids if you are looking for some new options for breakfasts or snacks. They all have six grams of added sugar or less and at least two grams of both protein and fiber.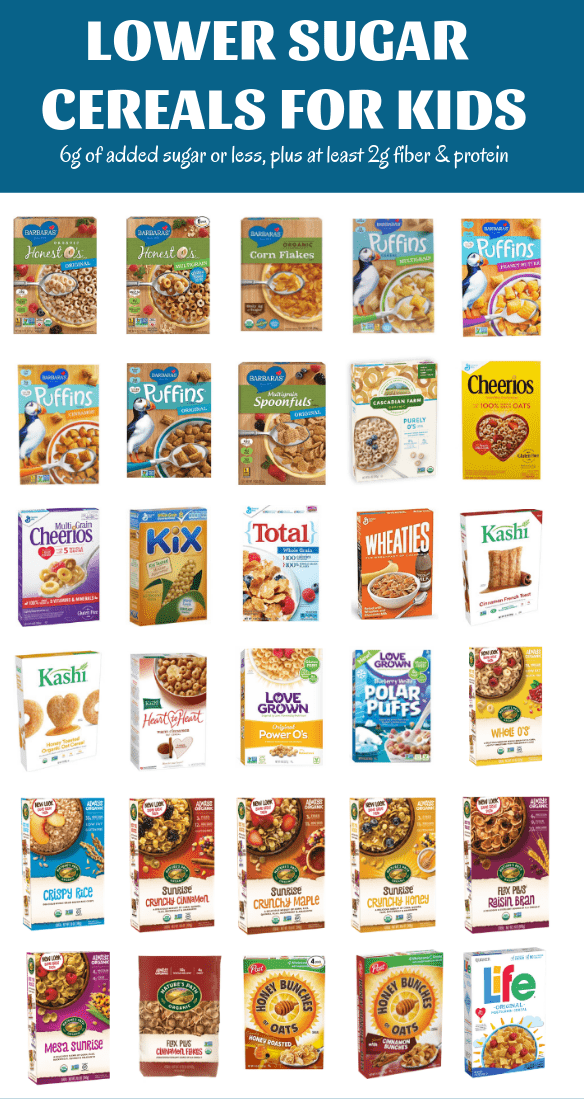 *Originally published April 2019. Updated July 2022*
Some brands have raised added sugar since the original post was published. List is adjusted below*
Hi friends!
The list of Lower Sugar Cereals For Kids is here! I know cereal often gets knocked for not being the most nutritious food to feed your kid, but as someone who very seriously lived off almost nothing but cereal for many years, I will always have a strong love for it.
Plus my kids love it so I guess they take after their mama. While there are definitely some cereal options out there that are, in my opinion, overly sugary and not overly nutritious…there are also some good cereal choices out there.
Several brands make cereal low in sugar and also contain a decent amount of protein and fiber. When paired with some additional protein and fiber, cereal can definitely be part of a healthy meal or snack. I often get asked about the best cereal for toddlers. (Psst…if you're looking for reccs beyond cereal, check out my Healthy Store-Bought Granola Bars for Kids post. And remember cereal can make a great lunch box addition! For more packed lunch ideas, check out my Month of Packed Lunch Ideas For Kids!
And if you need snack ideas check out 60+ Packaged Snacks For Kids or After School Healthy Snacks.)
Healthy Cereals For Kids
Remember that it's often fortified with beneficial things like B vitamins, Iron, Zinc, Calcium and Vitamin D. Iron is especially important for kiddos so cereal can be a good way to add some extra to their diet.

There are lots of whole-grain options available. If the box says whole grain, then at least half the grain ingredients are whole grain. If it says 100% whole grain then all the grain ingredients are whole grain. You can look for the yellow and black whole grain stamp. If it says 100% whole grains, it has at least 16g whole grains which is one serving of whole grains.

Remember that this list can also be helpful to find low-sugar cereal for adults. Nothing says only kids can eat these!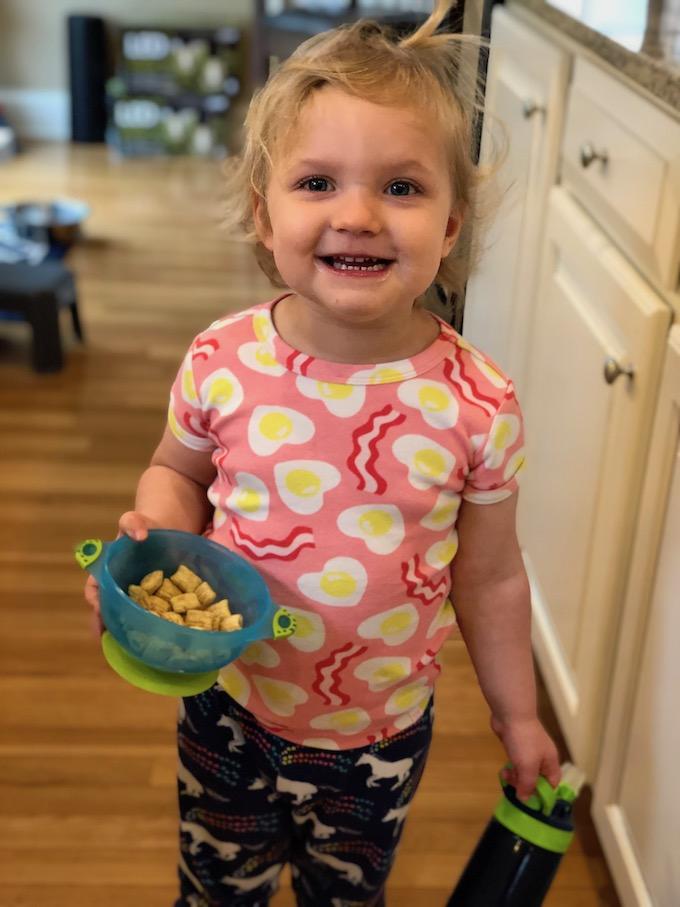 Criteria for Cereal With Low Sugar
Whenever you make a list like this, you have to pick a cut-off. Otherwise, you'll never be able to eliminate anything from your list. So for the purposes of this list, here's what I used for my criteria:
6 grams or less added sugar.
At least 2 grams of both protein and fiber.

I made a secondary/alternates list that goes up to 9 grams of added sugar because there are some options out there that have 5-6 grams fiber/protein etc but a little more added sugar as well…so you'll need to weigh the pros and cons depending on what you're looking for in a cereal.

I tried to pick cereals that are kid-friendly because let's be real…not a lot of kids are going to eat plain bran flakes so I didn't put them on the list even though they are low in sugar.

I didn't include granola. I felt like it deserved its own list that perhaps I'll put together in the future.

I tried to pick cereals that are somewhat commonly found, ie not just stuff that can only be found at Whole Foods, Trader Joe's etc.
Other Notes For Kid Cereals
For this list, I really just focused on the sugar, protein and fiber content.
There are several other factors to consider when it comes to cereal and it would be hard to address them all, so as a responsible consumer, you should do your own research on the following factors if they're important to you because I didn't address them:
Organic/non-organic ingredients

Allergens- some cereals may contain nuts, dairy etc

Artificial colors/sweeteners- some cereals may include these.

Safety – some cereals may be too hard/crunchy for younger toddlers, even when soaked in milk

Serving size – be sure to check it. Comparing a ⅔ cup serving size to 1 cup serving size is not apples to apples

Sodium and calorie content
Here are some lower added sugar cereals and a simple trick for reducing added sugar:
Other Notes:
Look for fiber. If it's low in sugar but also low in fiber, add some fresh fruit, nuts or seeds to boost fiber content. Fiber intake goals: 19 grams per day for 1-3-year-olds, 25 grams per day for 4-8-year-olds, continues to increase for older kids and adults. Cereals like Rice Krispies, Corn Flakes and Crispix fall into this category, with just a few grams of sugar but no fiber either.

If your kids are used to higher sugar cereals, look for similar lower sugar options and start by mixing half and half.

I usually try to pair cereal with a protein source like milk, yogurt, cheese, nuts, etc.

Get out your measuring cups and measure out a serving size of your cereal so you can see what it looks like

Check the box. Things change. Recipes change. The numbers in this post could at some point become inaccurate.
So, are you ready for the list? Here you go! Remember, this is not an all-inclusive list. That would be a huge task to tackle. This is just to give you a starting place and provide some cereals you maybe haven't heard of or tried.
Lower Sugar Cereals For Kids
The following cereals have six grams or less added sugar and at least 2 grams of both protein and fiber (I had to move several options from my original list to the alternate list because they've raised the amount of added sugar since I originally posted this in 2019:
Barbara's Honest O's Original

Barbara's Puffins Original

Barbara's Puffins Cinnamon

Cascadian Farms

Purely O's

General Mills Plain Cheerios

General Mills Kix

General Mills Total

General Mills Wheaties

Kashi Cinnamon Oat Cereal
Love Grown Power O's Original

Love Grown Polar Puffs

Nature's Path Crispy Rice

Nature's Path Whole O's

Nature's Path Flax Plus Cinnamon Flakes

Nature's Path Heritage Flakes

Nature's Path Sunrise Crunchy Cinnamon

Nature's Path Mesa Sunrise
Alternates (9 grams of added sugar or less and at least 2 grams of protein and fiber)
Barbara's Puffins Peanut Butter

Barbara's Puffins Multigrain
Barbara's Multigrain Spoonfuls
General Mills Multigrain Cheerios

Cascadian Farms Raisin Bran

Cascadian Farms Multigrain Squares Cereal

Kashi

Maple Waffle Crisp

Kashi Honey

Toasted Oat

Kellog Raisin Bran

Love Grown Sea Stars

Love Grown Lion Loops or Comet Krispies

Love Grown Power O's chocolate & cinnamon

Nature's Path Envirokidz Peanut Butter Panda Puffs

Nature's Path Sunrise Crunchy Maple
Nature's Path Sunrise Crunchy Honey
Post Honey Bunches of Oats Cinnamon/Honey Roasted
Quaker Life (original)
Quaker Oatmeal Squares – original & cinnamon
---
So there you go! I'd love to hear some of your kiddos favorite lower sugar cereals if they're not on this list!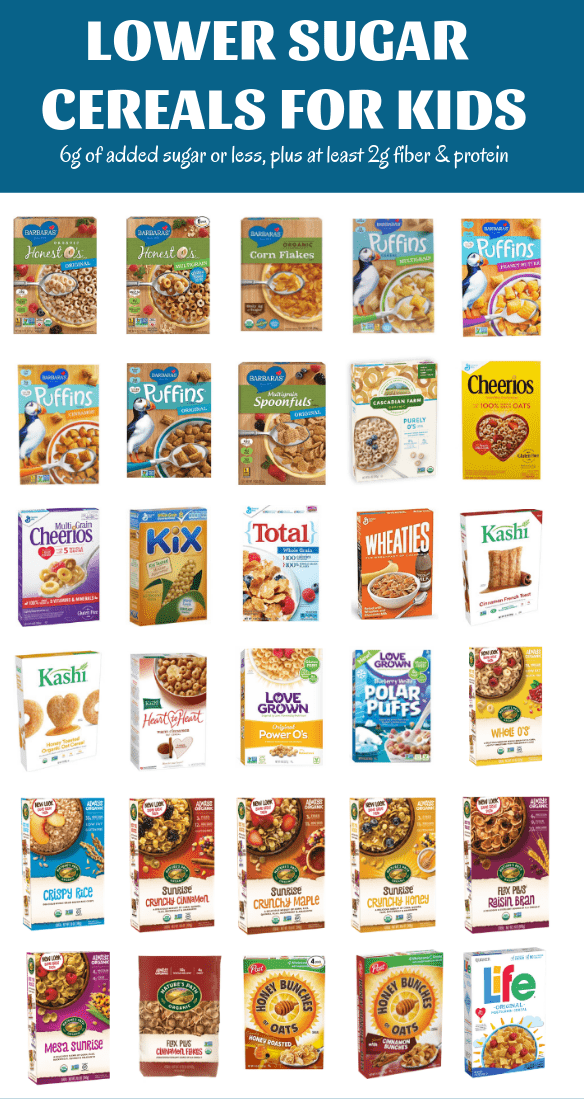 Cereal makes a great snack! Want more snack ideas?
Enjoy!
–Lindsay–
LEARN HOW FOOD AFFECTS YOUR BODY.
Get my free Table Talk email series where I share bite-sized nutrition information about carbs, protein, and fat, plus bonus information about snacks and sugar!