Here are 35+ Indoor Activities for Kids that are perfect for helping preschoolers and kids in elementary school keep their bodies and minds active indoors when it's too hot, cold or rainy to go outside.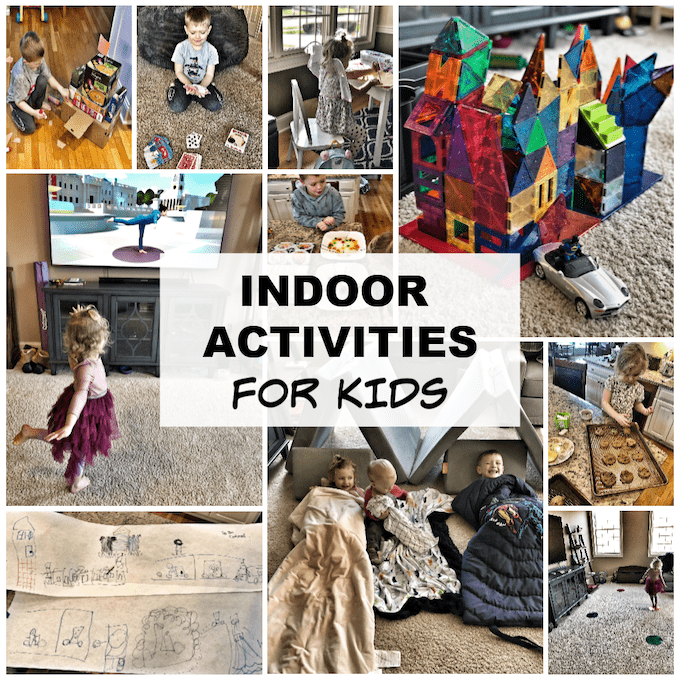 Hi friends!
A few years ago, I shared these Indoor Activities For Toddlers and Cheap Toddler Activities and they were a big hit! Now that my kids are older and in preschool, I've been meaning to compile a list of indoor activities for slightly older kids! Now that many of us will be spending a lot more time at home, it seemed like the perfect time to put it together. So here are some simple ideas to help keep your kids entertained and maybe even give you a little time to yourself! These should be good for preschoolers and younger elementary school-aged kids. And if you need more ideas you can find them in my At-Home Activities for Kids post! (PS- If you have good weather, here are some Scavenger Hunt Ideas For Kids!)
Indoor Activities for Kids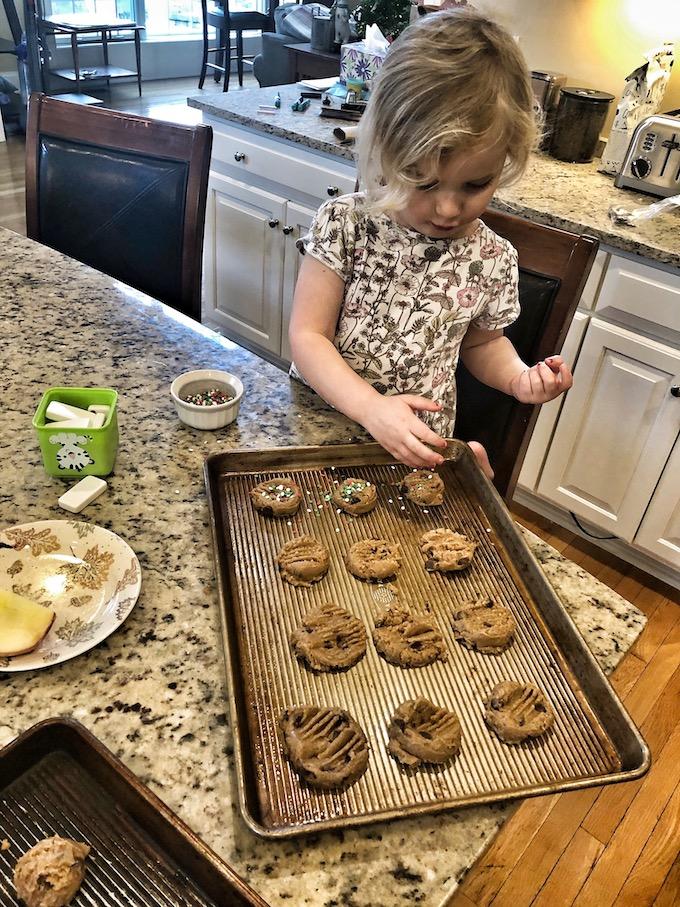 Get Cooking

– Let them help you cook or bake. As they gain the confidence they can do more and more themselves. Check out these Kitchen Tasks for Toddlers.

Dot Simon

– Make a few colored dots and spread them around the room. Make a home base. Call out one color and have the child run to it and then back to base. Next call the first color + another color. The child runs to color 1 and then color 2. Continue adding a color each time until the child can no longer remember the order once they start.

Recycling Robot

– Turn the kids loose on the recycling bin. Give them some tape or help them use a hot glue gun to build a robot or any creation they can imagine!

Make Your Own Puzzles

– Draw a picture, cut it into puzzle piece shapes and mix them up. Let them put it back together.

Build an Obstacle Course

– Make them as hard or easy as you want, get out a timer and let the kids go through as quickly as they can.

Make Your Own Workout

– Let the kids make up their own workout and then do it with them!

Scavenger Hunt

– Tape words, letters, numbers etc around the house and send the kids to look for them. You can write all the words you hide on a piece of paper and give them the list on a clipboard so they can cross them off as they find them. Bonus points if you let them do all or some of the writing. Or take it up a notch and write a bunch of clues so that they have to figure out each clue in order to find where the next one is hidden and leave them a prize at the end.

Guess It Box

– Put 3-4 small objects in a box. Cut a hole and let the child stick their hand in and try to guess the objects just by feel.

Homemade Playdough

– Let them whip up a batch of homemade playdough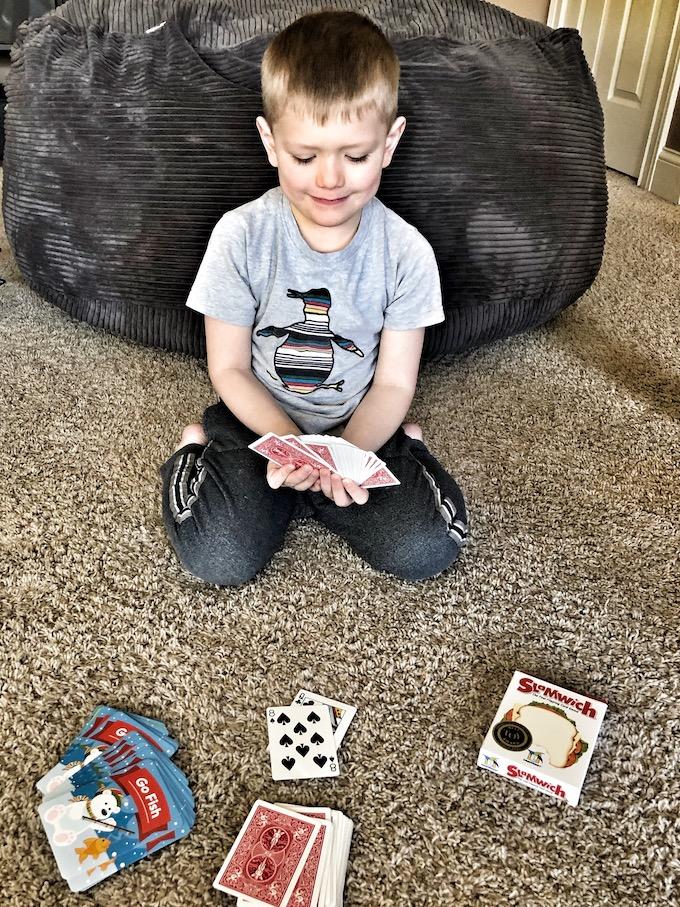 Play Cards

– Teach them games like go fish, crazy eights, rummy, war, solitaire etc

Paper Airplanes or Origami

– Find some instructions online and challenge them to create a paper airplane or an origami animal

Tongs

– Challenge them to do anything with tongs! Cut a slot in a box and let them use tongs to put the magnatiles through the slot, spread pom poms on the floor and have them put them into a cup, etc

Build a City

– Connect multiple kinds of toys -Make structures and roads with magnatiles/blocks, make schools for people, a farm for animals, garages for cars, etc

Take an Adventure

– Use the Nugget or some couch cushions, or even painters tape, on the floor to make a boat or plane or train and go on an adventure

And Scene!

– Make a stage and let them film their own show or movie

Make Your Own Game

– Play some board games for inspiration and then let them create a game of their own, make the rules, design the pieces etc.

Free the Dinosaurs

– Freeze mini dinosaurs in ice cube trays. Let them melt the ice cubes with hot water and a syringe
Toy Wash – Dump some animals or cars in a bin with dish soap and water. Give them a toothbrush and towel and let them go to down. Bonus points if you go rub the toys in some sand or dirt first to make it more fun. Worried about a mess? Let them sit in the bathtub.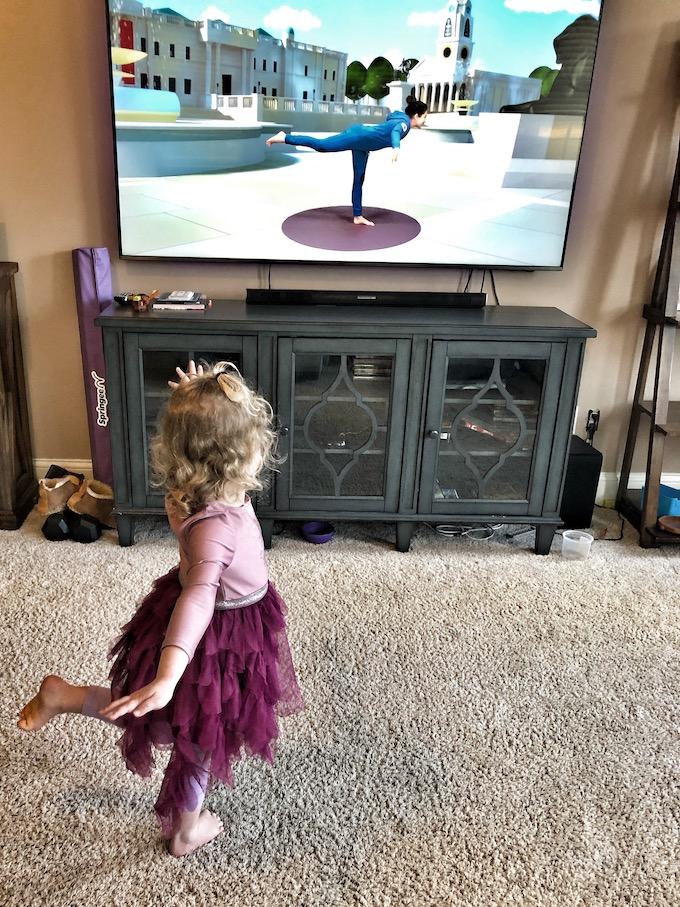 Cosmic Kids Yoga – You can find it on youtube or Amazon Prime for free!

Make A Collage

– Grab some magazines/newspapers/junk mail catalogs/grocery store ads etc and let them make a collage

Make Puppets

– Use old socks or some paper lunch sacks and make puppets!
DIY Things – Give them a theme and let them use stuff around the house to make their own musical instruments, superhero masks, stuffed animals etc!
Find the Treasure – Draw a treasure map for various rooms around the house and see how quickly they can find the treasure.
Bowling – Set up some cans and go bowling with a tennis ball.
Toss It – Set up paper plates or tape circles on the ground and practice tossing a small toy onto certain ones
Play Restaurant – Let them write a menu, write down your order, pretend to (or actually make) the food etc
Build it – Practice fine motor skills by making paperclip chains, building structures with toothpicks and mini marshmallows/grapes etc

Cut it

– Let them practice their scissor skills!

Writing practice

– Give them things to tracing or write, make dot to dots and mazes

Go Camping

– Have an indoor campout with a tent (real if you have one or make a fort with blankets), sleeping bags, a flashlight or lantern etc

Pillow Fight

– No explanation needed.

Painters Tape

– Endless things to do with it! Make shapes and have them do different activities to each shape (ie run to the circle, hop to the triangle, crabwalk to the square), put a couple lines on the floor in a row and have them jump/hop/backwards/run and jump etc from a starting point to see which line they can reach each time….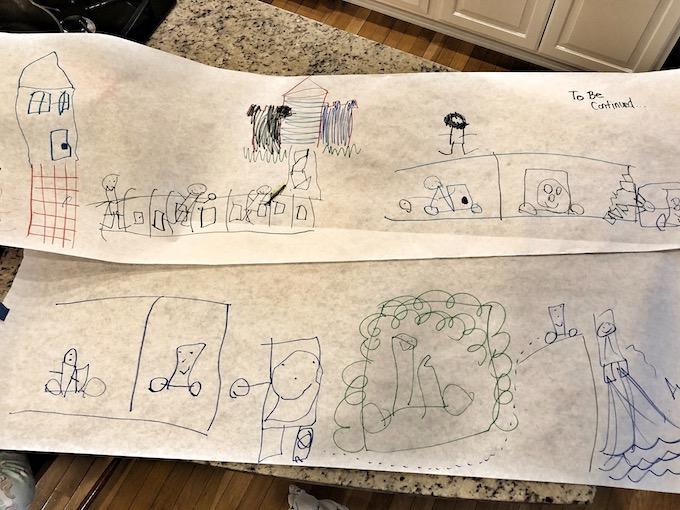 Draw Your Own Story

– Roll out a long piece of paper or staple a few folded pieces of paper together, let them make up their own story and illustrate it! (You can help!)

Hot Balloon

– See how long they can keep the balloon off the ground with their hand, a spatula, a fly swatter etc

Go Skating

– Put some paper plates on the floor (or wear some empty kleenex boxes to skate around the floor.

Match the Paint

– Have some old paint chips lying around? Challenge them to find things in the house that match the colors.

Active Puzzle

– Grab a toddler puzzle with 6-8 pieces and spread them around the room. Have them do a movement from each piece to put it in place. Ie wheelbarrow walk, crab walk, hop on one foot etc.
Science Experiments – a quick google search will give you lots of easy ideas, or this book Awesome Science Experiments for Kids is great (aff link)

Drawing Lessons

– Check out Art Hub for Kids or search for draw with me videos on YouTube
If you're looking for more physical activities, check out my Sensory Diet Ideas for Sensory Seekers post.
If you're looking for a few new toys to purchase like Magnatiles, craft supplies, puzzles and more, I have lots linked in my amazon shop in the KIDS section (all affiliate links).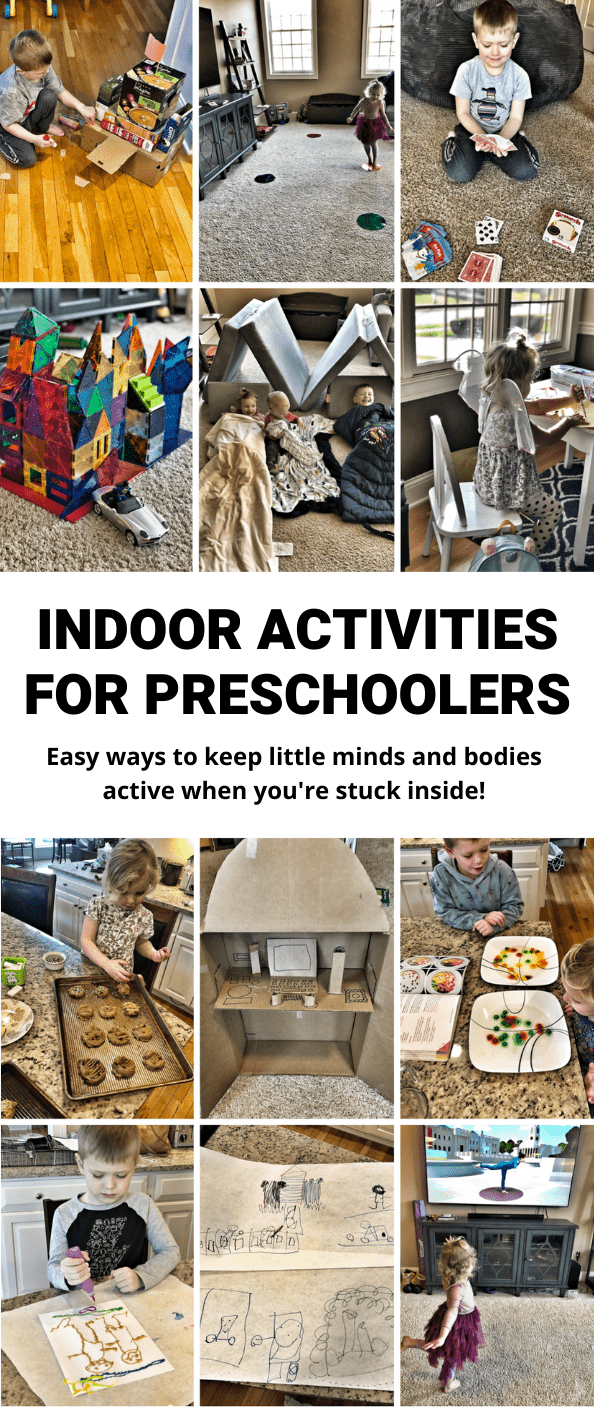 I'll continue to add to this post as new ideas come to me!
Enjoy!
–Lindsay–
LEARN HOW FOOD AFFECTS YOUR BODY.
Get my free Table Talk email series where I share bite-sized nutrition information about carbs, protein, and fat, plus bonus information about snacks and sugar!