These Sweet Potato Egg Wrap Bites make an easy, healthy breakfast, lunch or snack. They're kid-friendly and can be prepped ahead of time so they come together quickly!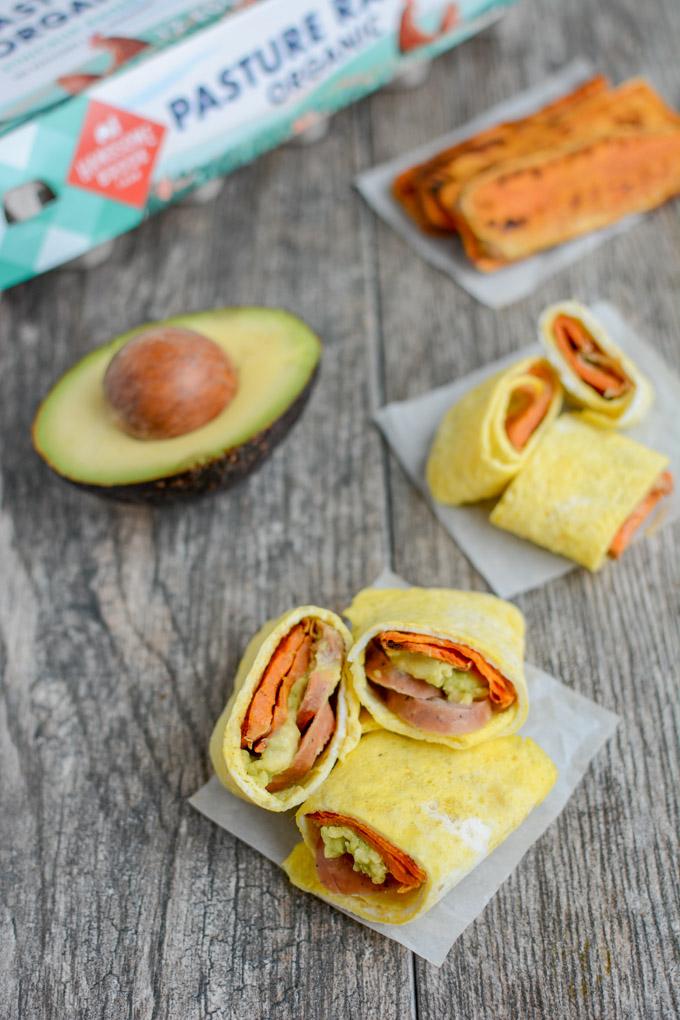 Thanks to Handsome Brook Farm for sponsoring this post!
Hi Friends!
If you've been following along for a while now, you may remember last year when I shared these Easy Egg Wraps on the blog. They quickly became one of my most popular recipes…and for good reason! They're so easy and even now, I still make a batch at least once a week.
Most recently, I made a batch with some pasture raised eggs from Handsome Brook Farm and gave them a kid-friendly twist by making them bite-sized and adding some nutritious fillings, making them a perfect option for a breakfast or packing in a lunch box! These bites are packed with healthy fats and protein and will leave kids (and adults) feeling full and satisfied.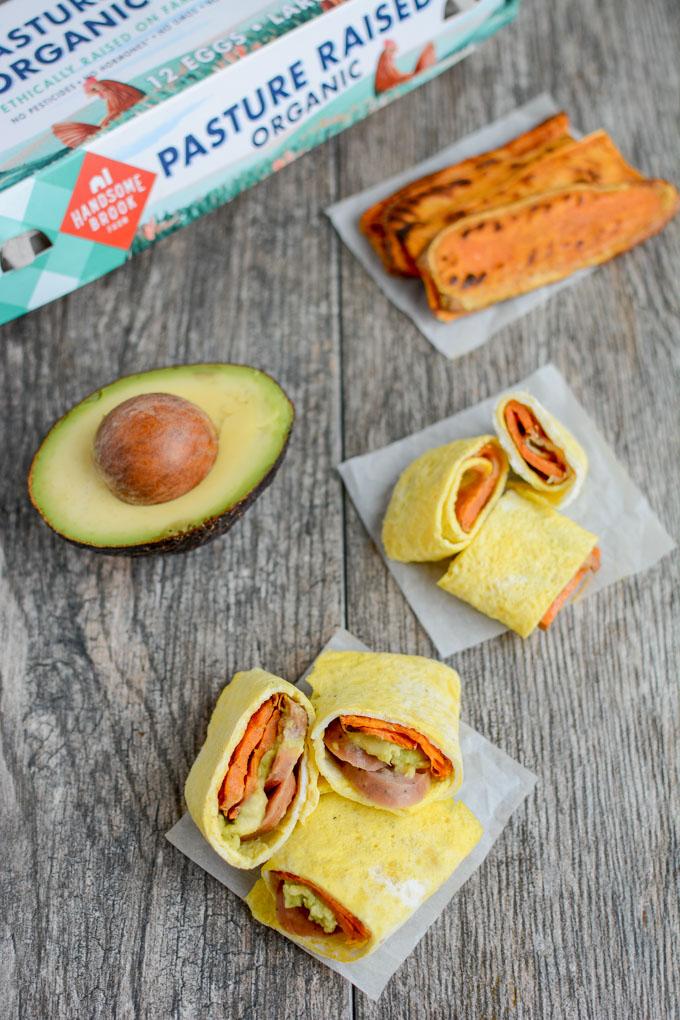 So let's talk about these eggs for a minute, shall we?
Handsome Brook Farm is actually a unique supply network of small organic family farms. All their eggs are American Humane Certified to meet pasture-raised labeling standards.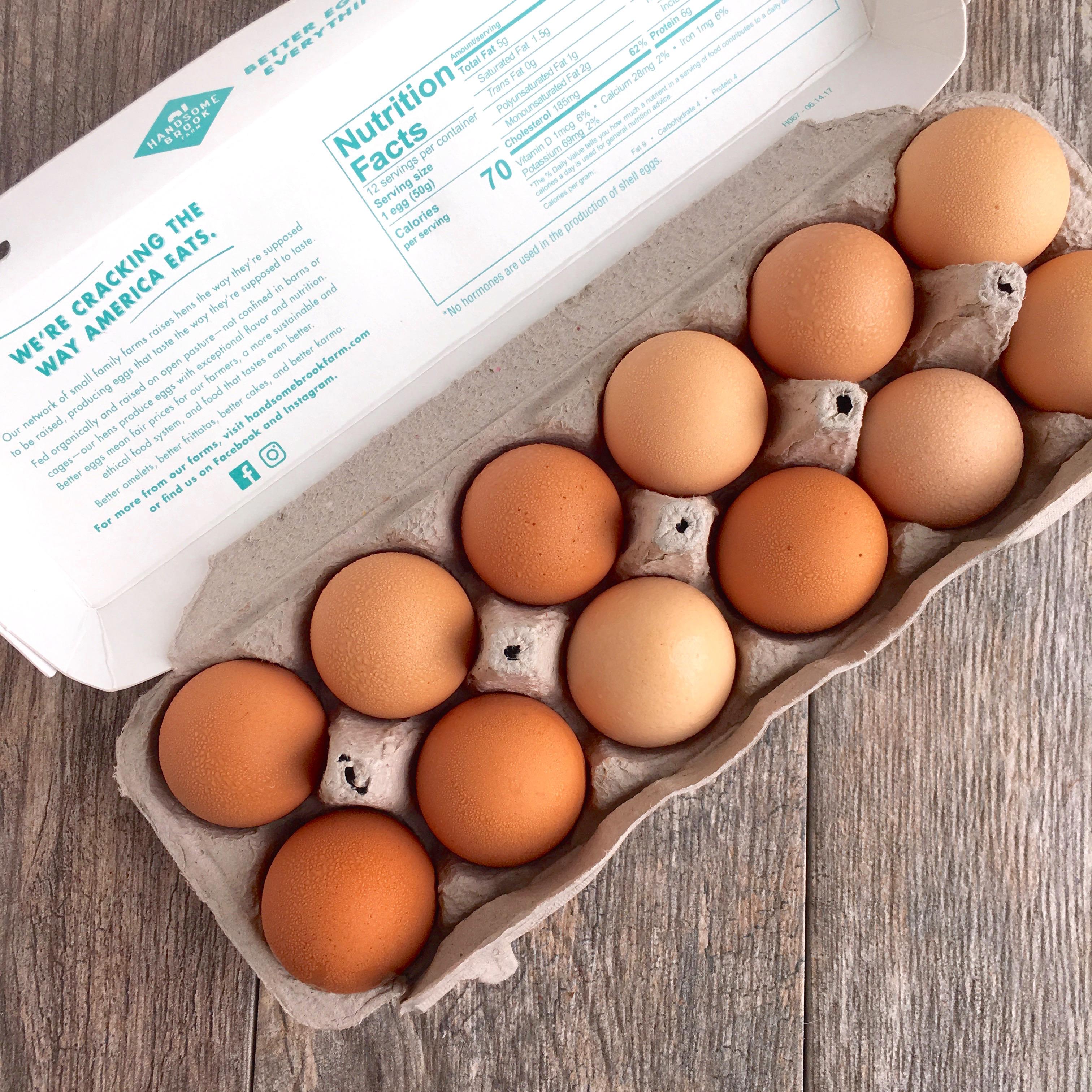 Here's a quick terminology review:
Cage-free eggs are from hens raised in barns with no access to the outdoors, often with several hens per square foot.
Free-range eggs are from hens that live in similar barns, but have limited outdoor access—about 2 sq. ft. per hen (access to grass not guaranteed)
Pasture-raised means that the hens do go outdoors to graze and forage, and American Humane certifies that hens have at least 108.9 sq. ft. per hen of room on rotated pasture each (that's 400 hens to an acre). The hens have plenty of outdoor shade, protection, and water, and protected nests indoors, they are encouraged to spread their wings and wander to their hearts' content.
Organic refers to both the supplemental feed hens receive (regardless of environment) and the land on which they wander (not sprayed with harmful pesticides or herbicides and certified organic).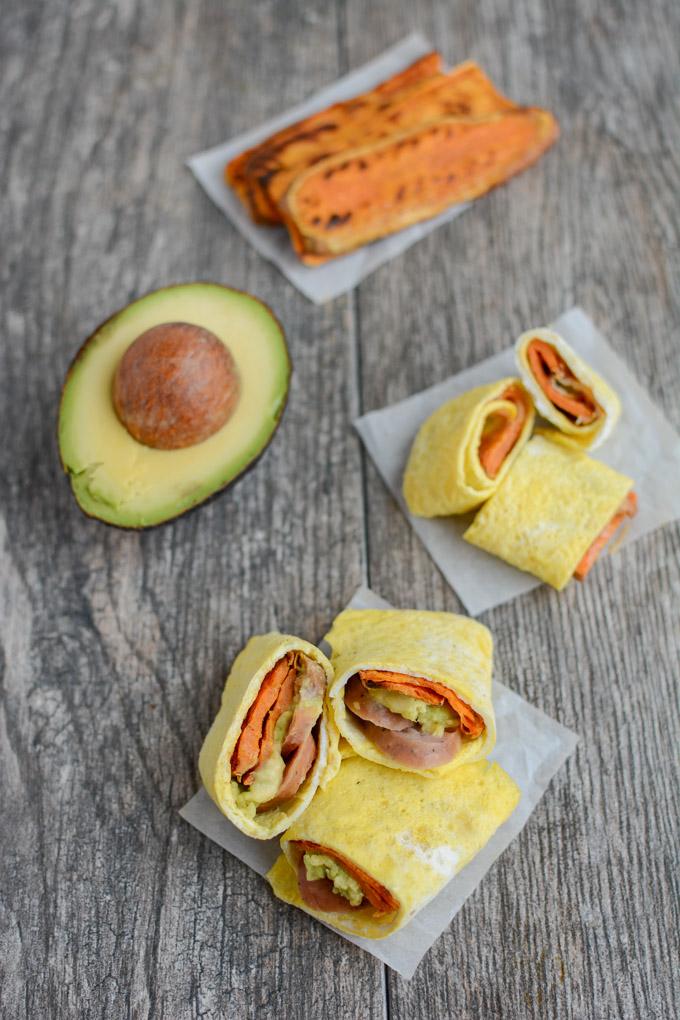 So, these are eggs you can feel good about buying and about eating! And then you can use them to make these delicious bites for a quick breakfast, lunch or snack the whole family will love!
Here's how you do it. So easy and you can make as many or as few as you want!
Print
Sweet Potato Egg Wrap Bites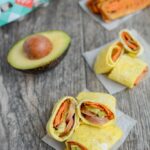 These Sweet Potato Egg Wrap Bites make an easy, healthy breakfast, lunch or snack. They're kid-friendly and can be prepped ahead of time so they come together quickly!
Ingredients
Handsome Brook Farm eggs
sweet potato slices
oil + paprika
mashed avocado or guacamole
chicken sausage (fully cooked)
optional: peanut butter & jelly
Instructions
Crack one egg into a bowl and whisk with fork.
Pour into a hot pan greased with oil or butter and tilt pan to spread egg into a circle.
Let cook for 30 seconds, flip and let cook 30 seconds more.
Repeat until you've made your desired number of wraps.
Place thinly sliced sweet potatoes on a baking sheet. Brush with oil and sprinkle with paprika. Bake at 400 degrees F for 16-18 minutes, flipping once, or until soft but not crispy.
Place two sliced of sweet potato down the middle of an egg wrap. Top with avocado.
Cut horizontally into 4 strips.
Add two slices of chicken sausage to each section on top of the avocado and then roll up.
Alternatively: Place two slices of sweet potato in an egg wrap. Top with peanut butter (and jelly if desired).
Roll up and cut into 4 bite-sized pieces.
Notes
You can make the egg wraps and sweet potato slices ahead of time. You can also make guacamole and slice the chicken sausages ahead of time to make these quick and easy to assemble.
Serve warm or cold.
That's it! Hope you guys enjoy these!

Try these Sweet Potato Egg Wrap Bites for a quick breakfast, lunch or snack for kids or adults!
Click To Tweet
To find Handsome Brook Farm eggs in your area, use their store locator. (They just relaunched their website and the store locator is still updating so be sure to check back next week if you don't find any in your area today!) And be sure to follow them on Twitter, Facebook, Instagram and Pinterest!