Are you looking for healthy fruit snacks or fruit snack alternatives for your kids? Here are some recommendations from a Registered Dietitian and mom of 3.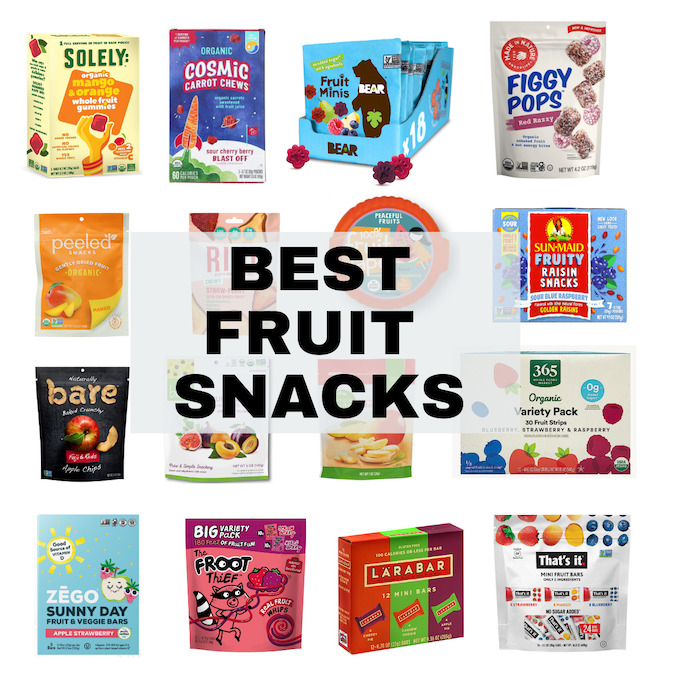 Hi friends!
I've got another highly requested "best of store-bought" post for you today! Today we're talking all things fruit snacks. I'm sharing some of my top choices for fruit snacks and fruit snack alternatives and answering some frequently asked questions.
But first, in case you've missed any of the other posts in this series, you can check them out below:
Snacks from certain stores:
Types of snacks:
Scroll to the bottom for a video of a taste test with my kids and see which fruit snack alternatives were our favorite!
---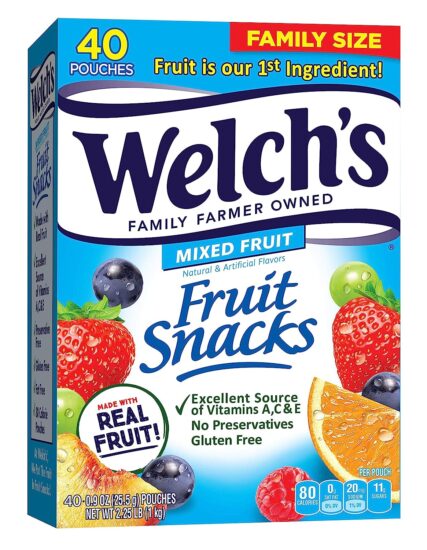 What to look for in fruit snacks
While I don't recommend typical fruit snacks as an everyday food, there's nothing wrong with having them as an occasional treat. Here are a few things to note:
Remember that they are indeed more of a treat than a fruit. In most fruit snacks, the first ingredient is sugar or corn syrup and there are usually 12+ grams of added sugar per serving.
Look for options that have no artificial flavors, synthetic colors or high fructose corn syrup.
If you're looking for an alternative, look for an option with fruit or 100% fruit juice as the first ingredient that contains no or low amounts of added sugar. Fruit snack alternatives can be a healthy snack option that's convenient for on the go, has some vitamins and minerals and even counts towards your daily fruit intake if you choose the right one! Some options also contain a few grams of fiber!
---
Are fruit snacks healthy?
Traditional fruit snack companies are really good at marketing and playing up their strengths but it's important to look at the ingredients and nutrition label. You might find your favorites contain a fair amount of corn syrup and sugar, as well as artificial colors like red40 and blue1.
In addition, some are made with fruit juice concentrate. This is basically like fruit juice with the water removed and is similar to the difference between dried fruit and fresh fruit.
So while it's still fruit, it's a more concentrated version and there will be more of the naturally occurring sugars that are found in fruit. Companies also often add sugar to fruit juice concentrates to make them sweeter. Many people consider fruit juice concentrate another form of added sugar.
See if you can find an option with fruit as the first ingredient and fruit juice concentrate lower on the ingredient list.
Here's an article with more on this topic.
Can fruit snacks be part of a healthy diet? Absolutely. But I recommend treating many of them more like a dessert than a fruit.
---
Best Fruit Snacks Brands
So what are the best fruit snack brands?
Traditional fruit snacks
Many people reach for the following out of the "traditional fruit snack options" because they have some real fruit juice in them.
Annie's Organic Fruit Snacks – These do have some real fruit juice in them and avoid artificial flavors, synthetic colors and high fructose corn syrup. They're also organic and vegan if that's important to you. However, the first 3 ingredients are still sugar and they contain 12g of added sugar.
Black Forest Fruit Snacks – These also contain real fruit juice but the first 2 ingredients are sugar and they have 11g added sugar. But they are organic, have no high fructose corn syrup and don't use synthetic colors.
Yum Earth Fruit Snacks – Again, the first couple of ingredients are sugar, they contain 12g of added sugar but there's no high fructose corn syrup or artificial dyes and they are allergy-friendly, vegan and organic.
---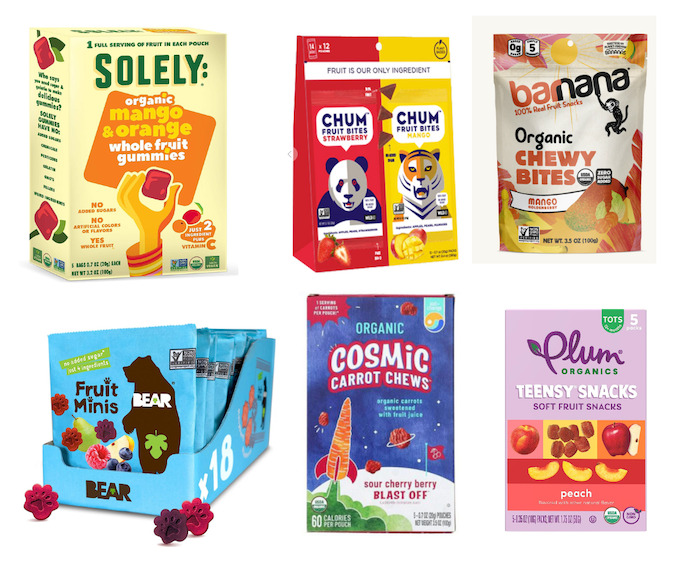 Better fruit snack options
Here are some options to consider that still resemble a fruit snack but have less added sugar:
Solely Organic Whole Fruit Gummies (aff link) – Made with just 3 ingredients: mango, orange extract and Vitamin C. They have no added sugar and contain 1 serving of fruit per bag.
Chum Fruit Bites – No added sugar. Made with just fruit.
Bear Fruit Minis – No added sugar. Made with just fruit and black carrot extract.
Barnana Bites – Chewy banana bites made with just banana and banana powder.
Eat The Change Cosmic Carrot Chews – The first ingredient is carrots. The remaining ingredients are apple juice concentrate, natural flavors and citric acid and they have 2g of added sugar.
Plum Organic Teensy Snacks – The first ingredients are apple puree concentrate and apple juice concentrate. They have 4g of added sugar.
Thrive Market Organic Fruit Circles – Contain no added sugar
---
Healthier Fruit Snack Alternatives
One of the best options to consider as a fruit snack alternative is dried fruit. Dried fruit is real fruit that contains tons of vitamins and minerals like fresh fruit, but the water has been removed making it more shelf stable and great for on-the-go snacks.
It's important to remember that fruit does still contain sugar, though it's naturally occurring. And that dried fruit has the water removed which means the sugar is more concentrated and the portions are smaller.
Also, watch for added sugar. There are plenty of options out there for unsweetened dried fruit but some companies are still adding extra sugar to make it even sweeter.
---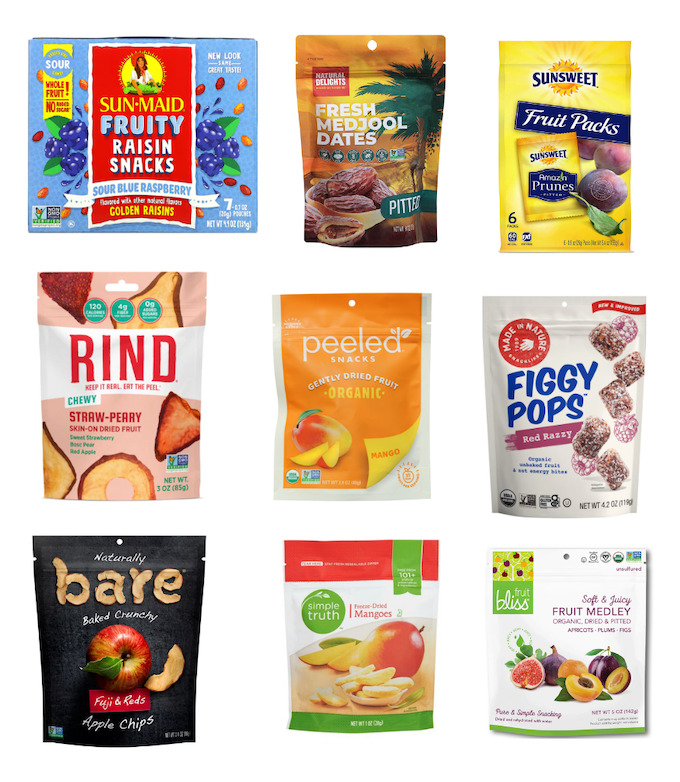 Dried Fruit Snacks and Dried Whole Fruit
Here are some dried fruit snack options:
Raisins – My oldest loves the SunMaid sour raisins that come in a few different flavors.
Dried Blueberries – We get these from Nuts.com to add to trail mix. They have a great selection of dried fruit.
Dates – We love brands like Natural Delights and Joolies. You can cut them into bite-sized pieces.
Prunes – Sunsweet sells ones already diced or you can cut into small bite-sized pieces.
Rind Snacks – Dried fruit with the rinds/peels left on for even more nutrients
Unsweetened dried fruit– we like Peeled and Made in Nature but there are tons of options out there for unsweetened dried mango, pineapple, apples, cherries etc. Made in Nature also makes Figgy Pops with dried fruit, nuts and seeds.
Bare chips – A crunchy option for apple, banana and coconut chips.
Freeze-dried fruit – Available everywhere this can be a great option to add to trail mix, use as a yogurt topping, eat as finger food for toddlers, etc.
Fruit Bliss – Dried fruit that's then steamed in water to rehydrate and make it juicy!
---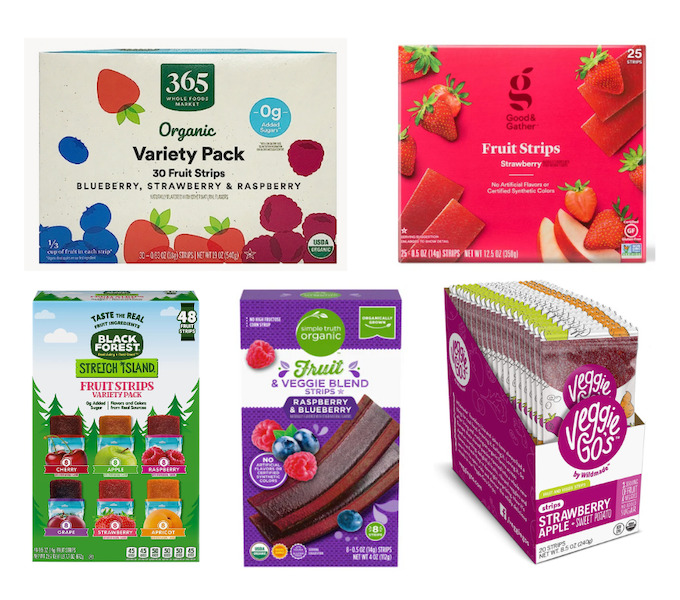 Fruit Strips & Fruit Leather
If you grew up with fruit by the foot and fruit roll-ups, you might like introducing fruit strips or fruit leather to your kids. Here are some options made with just fruit. Some are made with fruit juice concentrate and have a few grams of added sugar but still less than most traditional fruit snacks.
---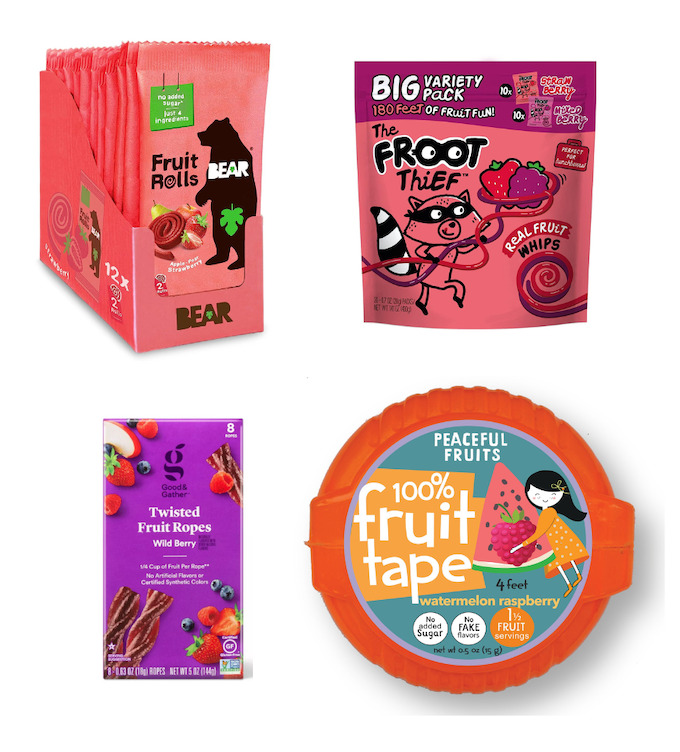 Fruit Rolls and Fruit Ropes
There's just something really fun about being able to unroll your snack! These are some options for fruit rolls and ropes. Most are made with fruit as the first ingredient and no added sugar
---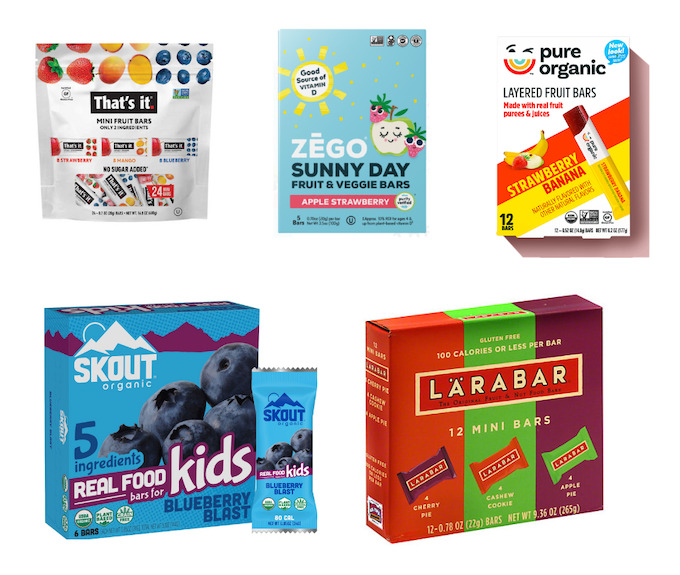 Fruit Bars
These snack bars are fruit-focused and you can cut them into small bite-sized pieces as a fruit snack replacement!
---
I rounded up several of the options mentioned above that I could find local to me and had my older two kids do a little taste test. Watch it here:
I tried them all with them. Some of them we all agreed were not our favorites like the cosmic carrot chews, solely and rind. Their very favorites are just plain dates and raisins. Chase also likes the flavored and sour raisins and the Bear fruit rolls and I really liked the that's it bars. The Stretch Island, Simply Organic and Pure Organic Layered were ok and we can see some kids liking them. Lara bars are also worth a try but we did not like the cherry pie flavor.
---
Fruit Snacks FAQs
Are fruit snacks healthy?
As stated above, traditional fruit snacks should be treated more like desserts. Here are the ingredients in some of the most popular fruit snacks so you can see how the first several ingredients in most of them is various forms of sugar.
Welch's uses fruit puree but also adds red 40 and blue 1 so you have to weigh what's most important to you when choosing your fruit snacks.
Welch's Fruit Snacks
Welch's Mixed Fruit Snack Ingredients: Fruit puree (grape, peach, orange, strawberry and raspberry), corn syrup, sugar, modified corn starch, modified tapioca starch, gelatin, concord grape juice from concentrate, pectin, citric acid (acidulant), lactic acid, natural and artificial flavors, ascorbic acid (vitamin C), alpha tocopherol acetate (vitamin E), vitamin A palmitate, sodium citrate, coconut oil, carnauba wax, annatto (color), turmeric (color), red 40, and blue 1.
Mott's Fruit Snacks
Mott's Fruit Snacks Ingredients: Corn syrup, sugar, modified corn starch, pear juice concentrate, apple juice concentrate, apple juice concentrate, strawberry puree, carrot juice concentrate. Contains 2% or less of: fruit pectin, citric acid, Vitamin C, dextrose, sodium citrate, malic acid, potassium citrate, sunflower oil, vegetable and fruit juice added for color, natural flavor, carnauba wax.
Annie's Fruit Snacks
Annie's Organic Bunny Fruit Snack Ingredients: Organic Rice Syrup, Organic Cane Sugar, Organic Tapioca Syrup Solids, Organic Pear Juice Concentrate, Water, Pectin, Citric Acid, Sodium Citrate, Organic Natural Flavor, Ascorbic Acid (vitamin C), Organic Sunflower Oil, Organic Color (organic black carrot, organic black currant extracts), Organic Carnauba Wax.
Scooby Doo Fruit Snacks
Scooby Doo Fruit Flavored Snack Ingredients: Corn Syrup, Sugar, Modified Corn Starch, Apple Juice Concentrate. Contains 2 % or less of: Citric Acid, Pectin, Sodium Citrate, Malic Acid, Vitamin C (ascorbic acid), Sunflower Oil†, Color (vegetable juice, spirulina extract, fruit juice, annatto extract, turmeric extract), Natural Flavor, Carnauba Wax.
Black Forest Fruit Snacks
Black Forest Organic Fruit Flavored Snacks Berry Medley: Organic Tapioca Syrup, Organic Cane Sugar, Organic Apple Juice Concentrate, Organic Tapioca Starch, Organic Apple Puree, Gelatin, Organic Lemon Juice Concentrate, Ascorbic Acid (Vitamin C), Black Carrot Juice Concentrate (Color), Organic Sunflower Oil*, Sodium Citrate, Natural Flavors, Citric Acid, Organic Carnauba Wax
---
Can you make homemade fruit snacks?
Yes! There are lots of recipes out there if you're willing to give homemade fruit snacks a try! Here are a few to check out:
Bulk Fruit Snacks
Homemade fruit snacks would be a great option if you're looking to make a large quantity. You can buy cute fruit-shaped molds if you want, or you could make a large pan and cut them out with small cutters. Or, make it even easier by just cutting them into small squares!
This would be fun for a party or gathering with kids.
---
Where to buy fruit snacks?
Fruit snacks are widely available but two of the stores I've been specifically asked about the best choices at are Costco and Walmart:
Costco Fruit Snacks
Here are a few choices available at Costco:
That's It Mini Fruit Bars
Pure Organic Layered Fruit Bars
Sunsweet Dried Plums
Made In Nature – figs, dried mangoes etc
Bear Fruit Rolls
Bare Apple Chips
Fruit snacks Walmart
A few options from Walmart:
Bear Fruit Rolls
Black Forest Stretch Island Fruit Strips
Raisels Golden Raisin Sours
Great Value Freeze Dried Fruit Crisps
Great Value prunes, raisins etc.
Natural Delights Dates
Oh Nuts and Sincerely Nuts Dried Fruit
Made in Nature
That's It Fruit Bars
Pure Organic Layered Bars
Larabars
---
Do you have a favorite to add to the list? Let me know!
Enjoy!
–Lindsay–