I challenged myself to 6 months of food prep. That means every weekend for six months straight, I spent at least some time prepping food for the week ahead. Here's what I learned and why I recommend it.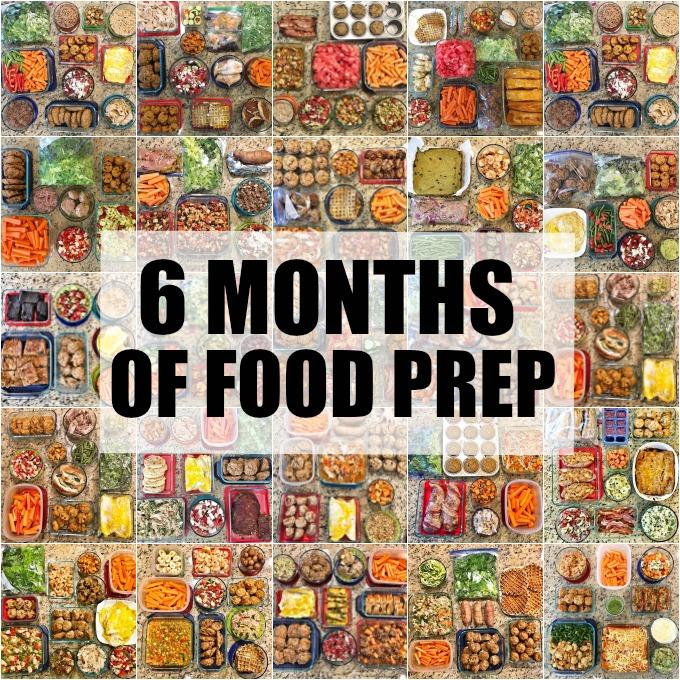 Hi friends!
Can you believe we're already halfway through 2017? I thought I would pop in today to tell you about a little goal I set for myself way back in January. You guys know I've been a huge fan of food prep forever right? I think that it's something almost everyone can benefit from and it's my number one tip when it comes to healthy eating.
When Little Miss was born in November of last year, I (not surprisingly) had several weeks where I didn't do any food prep. I had stocked the freezer in preparation, my parents were in town, my husband was off work, etc so it wasn't really a huge deal. However, as the new year approached, I knew I would need to get back on track at some point. I'm not a huge goal setter, but I challenged myself to do at least a little food prep every weekend for the first 6 months of the year to help make life a little easier.
In January, we had a 7-week old baby and a 2-year-old toddler. My husband and I were both working full-time, I was watching the kids full-time and we also owned a CrossFit gym. There's no question we were busy but there's also no doubt that food prep was a huge help.
Here's what so many weeks in a row taught me:
It really does become a habit. Sure there were weeks when I didn't want to do it, but for the most part, after a few weeks I just automatically started thinking of it as part of my Sunday schedule and making time to fit it into my day.
You just have to start. Some weeks were easy, some weeks were hard. There were weeks when I prepped food with a screaming baby in the Ergo and a screaming toddler at my feet. There were weeks when I had to prep on Monday morning because we were too busy or the kids skipped their naps. There were weeks when I was so tired that standing around in the kitchen was the absolute last thing wanted to do. But I did some. Every week. And most weeks I found that if I just committed to half an hour, it wasn't so bad and I usually got into a groove and ended up doing more. And I never regretted it.

We struggle without it.

There are a lot of different ways to food prep. You can prep whole meals, meal components, just one meal or snack, etc. I tend to focus a lot on snacks, breakfasts for Squish and dinner components. When I don't do food prep, there are a lot more toddler meltdowns because I can't get his meals and snacks ready as quickly. I find myself doing more mindless eating and grazing because I don't have healthy snacks easily accessible to keep me full. And we often end up eating out much more frequently because I'm too tired or too busy or too lazy to put together dinner if I don't have a food prep head start.
So, the bottom line is…anyone CAN do food prep. Even if you're busy or tired…you just have to make it a priority. But I promise it'll pay off.
Just to be clear, no I don't think you need to do it EVERY single weekend to be successful. Take a weekend off here or there if you need to, but I do encourage you to make it part of your regular routine! If you want more food prep tips, check out my ebook: The Ultimate Guide To Food Prep or any of the other food prep posts I've written. I also have a Freezer Magic ebook full of freezer-friendly recipes.

I rounded up all 26 of my food prep photos in case you want a closer look at what I typically prep or need some ideas! I also linked to the blog post I wrote for each week. Some have further details about our week including pictures of what I ended up making for meals with the food I prepped so feel free to check them out!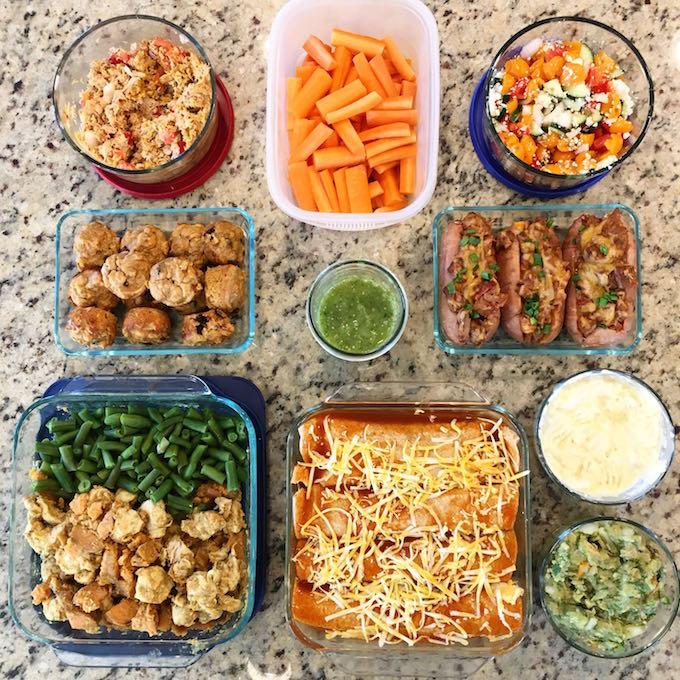 Instant Pot Almond Butter Chicken (was just ok. never ended up perfecting the recipe.
Carrots & Greek Hummus Topping for snacking
Salsa Verde – Just cut about 10 tomatillos in half and roasted them at 400 for 20 min, drained the liquid and put them in the blender with some chopped onion, garlic, jalapeno and cilantro.
Enchiladas – I mixed homemade salsa verde with pulled pork, black beans, red peppers, onions and cheese and used it as the filling for my enchiladas. Just portion it into a few tortillas, put some enchilada sauce in the bottom of the pan, add the rolled up tortillas, top with more sauce and cheese and bake covered with foil at 350 for about 25 min.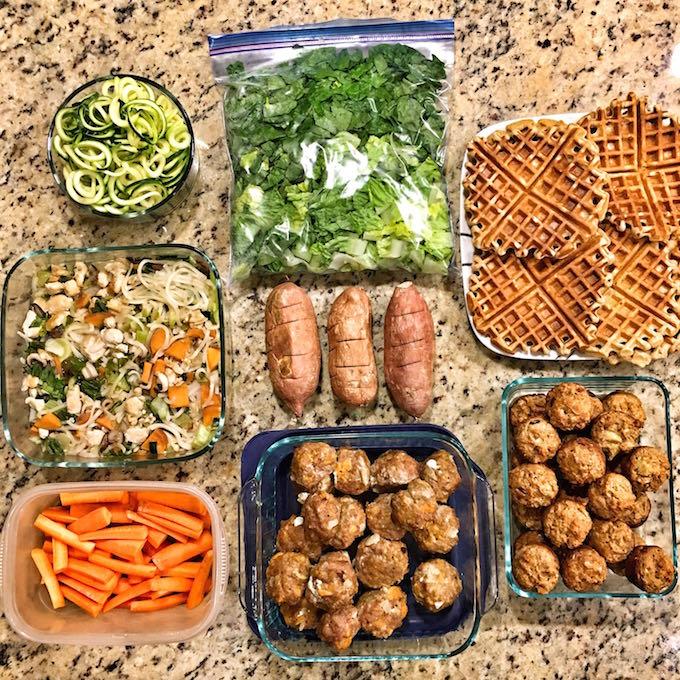 Carrots
Asian chicken noodle soup. (Another recipe that's still on my list to perfect enough to share – basically chicken noodle soup except with extra veggies, ginger, some soy sauce and rice noodles)
Zoodles for this Chicken Sausage Skillet
Lettuce for salads
Sweet potatoes – just slice a few slits and microwave 2 at a time for 6-7 minutes
Double batch of these Paleo Turkey Sweet Potato Meatballs – stuffed w/ mozzarella cheese
PB Banana Oat Muffins – in a mini muffin tin
Whole Wheat Yogurt Waffles – prepped for the freezer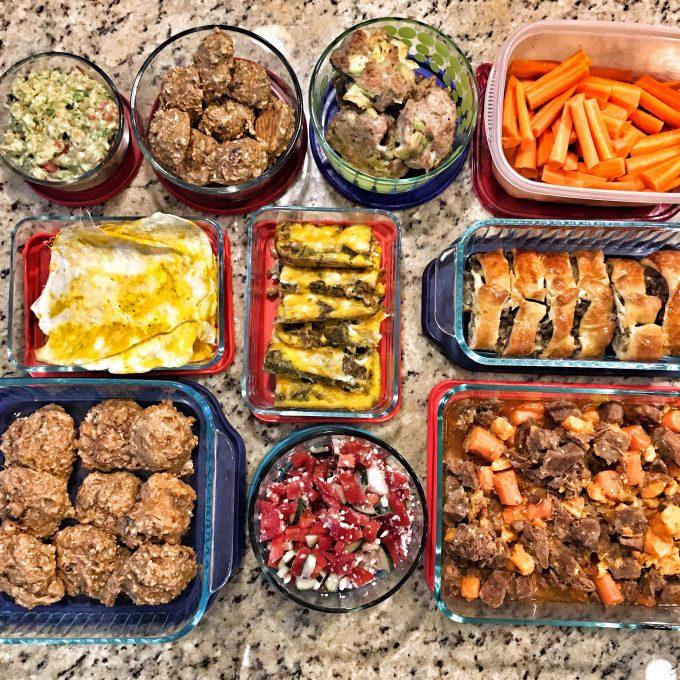 A double batch of Sweet Potato Protein Cookies (small ones for Squish to eat for snacks, big ones for me to eat for early breakfast when baby wakes up)
Guacamole
Chicken Avocado Burgers (except I used turkey)
Veggie burger and egg bake (just chopped up 2 veggie burgers, mixed and poured 6 eggs over and topped with cheese. Baked at 375 for 20 min).
Greek hummus topping and carrots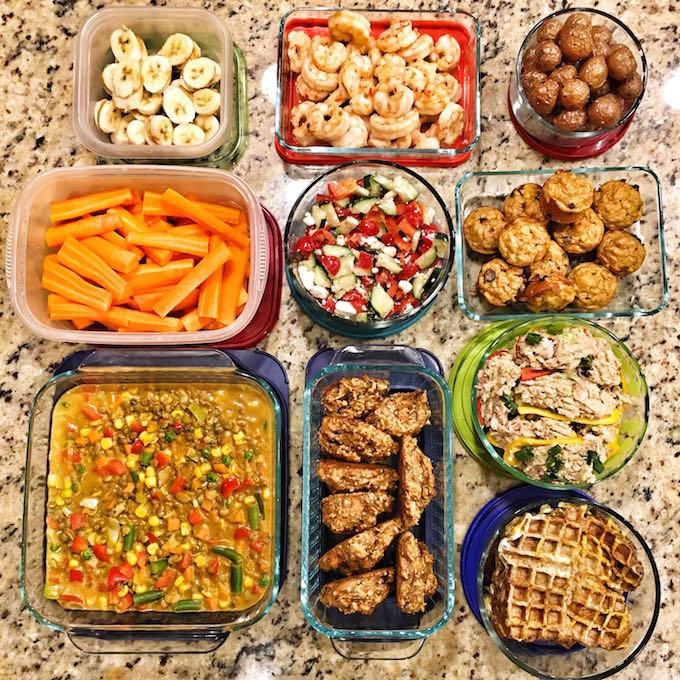 Carrots for snacking
Banana pb sandwiches – freeze for a quick snack
Shrimp sauteed with garlic and thai chili sauce
Waffle french toast – just dip bread in a mixture of eggs and milk and cook on a waffle iron.
Tuna mixed with hummus & avocado and stuffed in mini bell peppers
Roasted potatoes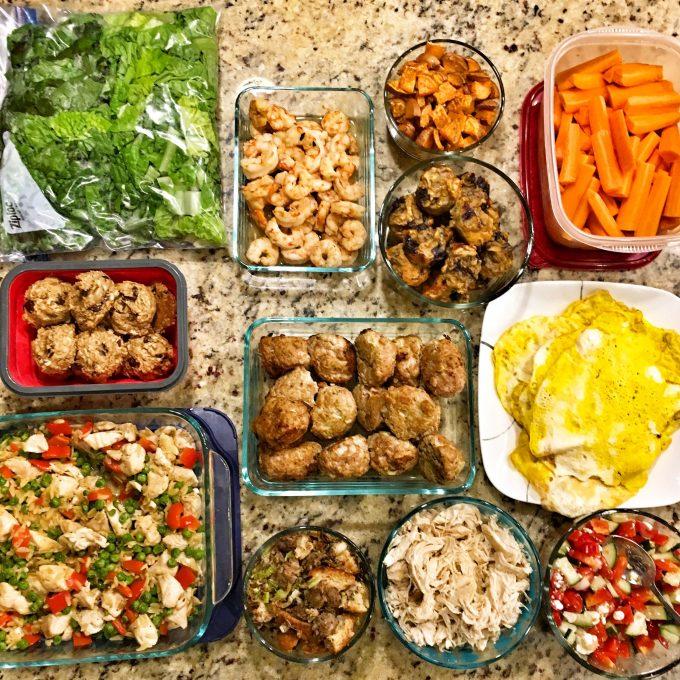 Chicken Orzotto (chicken, peppers, onions and peas with some orzo cooked right in the skillet)
Lettuce
Garlic shrimp (just sauteed with some garlic and paprika)
Meatballs (just baked them in the oven instead of crockpot)
Leftover Sausage and Wild Rice Stuffing from Thanksgiving (thawed from the freezer)
Instant Pot Shredded Chicken (chicken + broth for about 10 min)
Roasted sweet potatoes
Carrots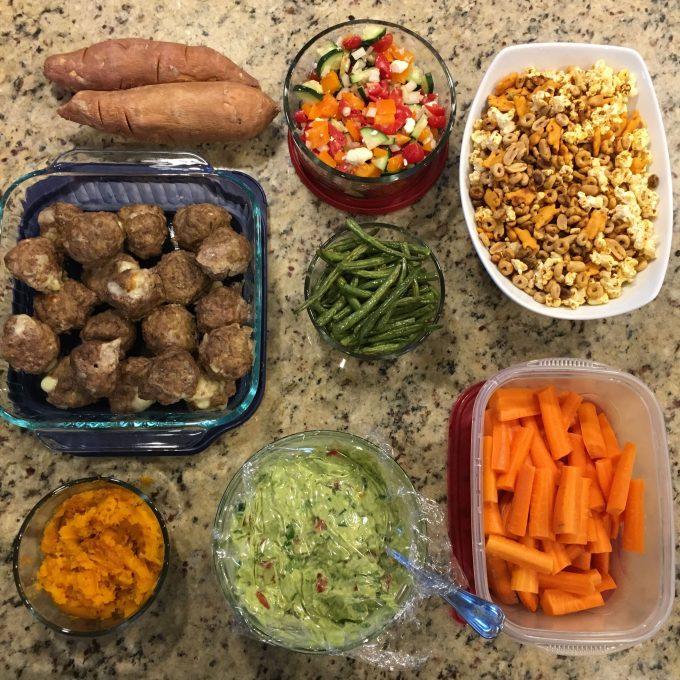 Roasted squash
Cheese stuffed meatballs – just basic meatballs with chunks of cut up string cheese in each one
Sweet Potatoes
Roasted green beans – tossed in Italian dressing and roasted at 425 for 10 minutes or so
Homemade guac
Carrots for snacking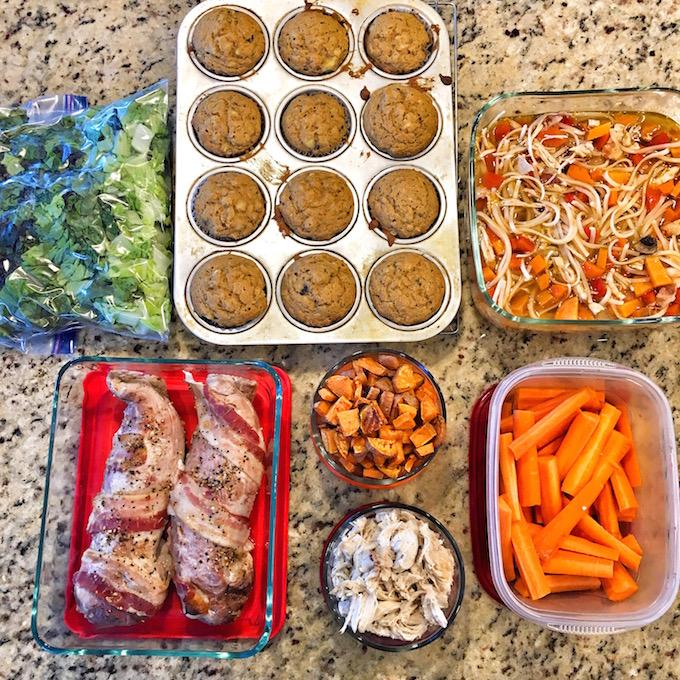 Bacon-wrapped pork tenderloin
Instant pot shredded chicken
Roasted sweet potatoes
Carrots
Lettuce for salad
Asian Chicken Noodle Soup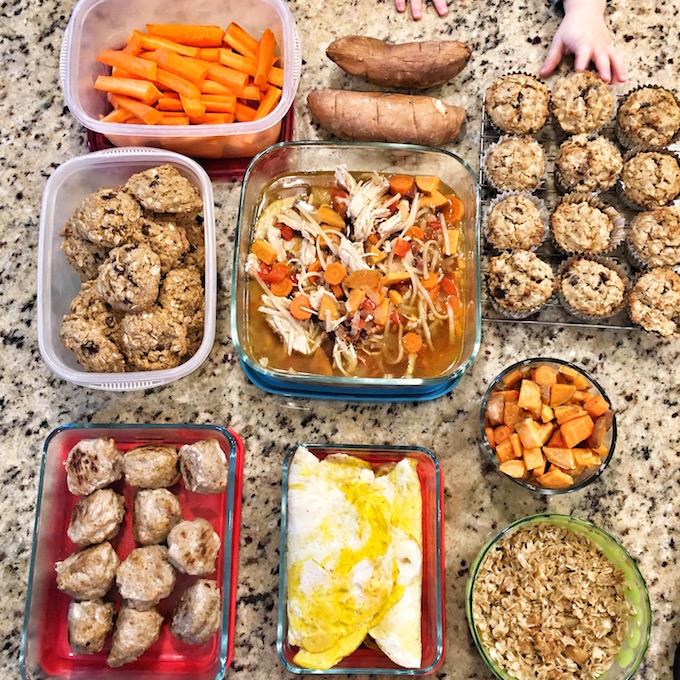 Carrots & Sweet Potatoes
Asian Chicken Noodle Soup
PB Apple Cinnamon Oatmeal for Squish
Roasted Sweet Potatoes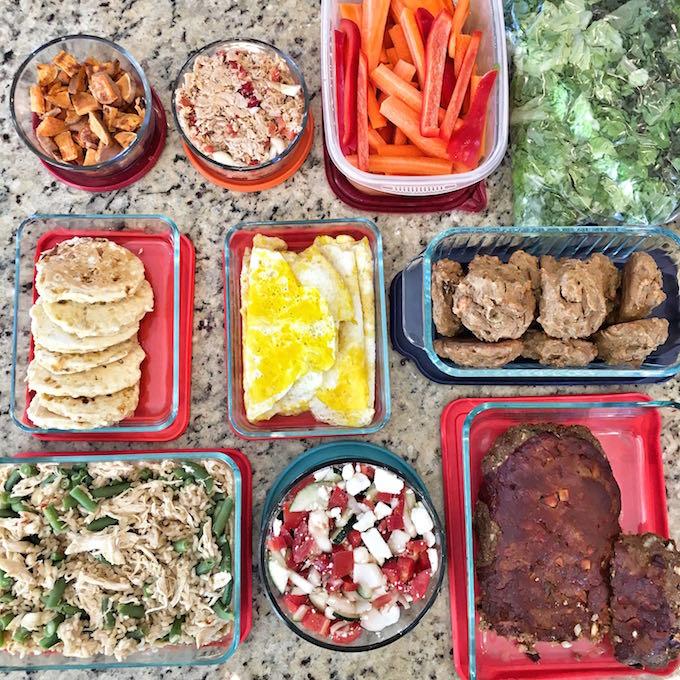 Cottage cheese bisquick pancakes- just replaced 3/4 cup of the milk with cottage cheese to make Bisquick pancakes as directed
Roasted sweet potatoes
Tuna salad
Hummus topping
Meatloaf- random recipe my sister chose to make while she was here
Chopped veggies and lettuce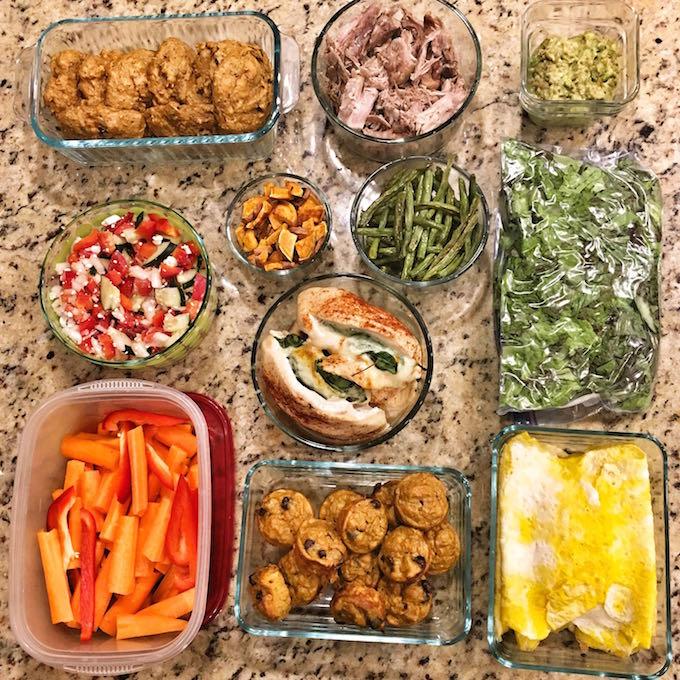 Carrots, peppers & hummus topping for snacking
Pulled pork in the Instant Pot
Roasted sweet potatoes & green beans
Chicken stuffed with fresh spinach & mozzarella cheese
Lettuce
Guacamole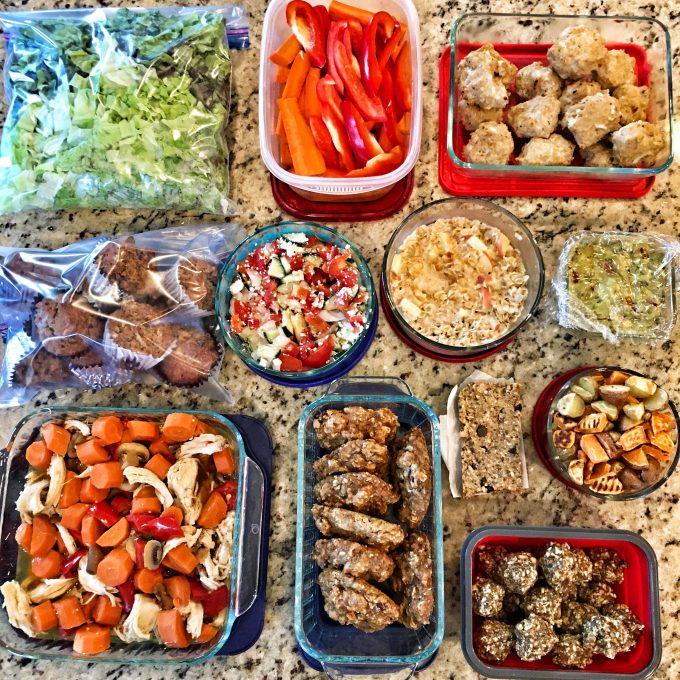 Lettuce, Peppers, Carrots & Hummus Topping
PB Apple Cinnamon Oatmeal
Guacamole
Roasted sweet potatoes and regular potatoes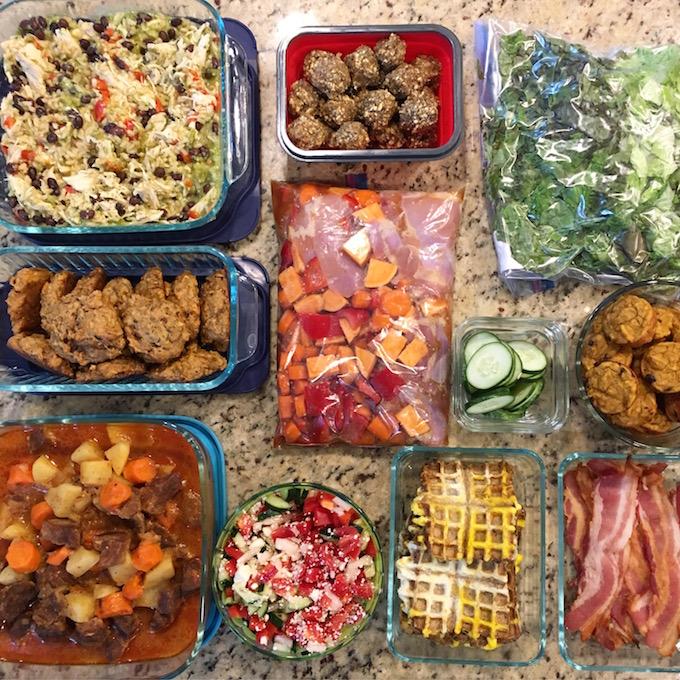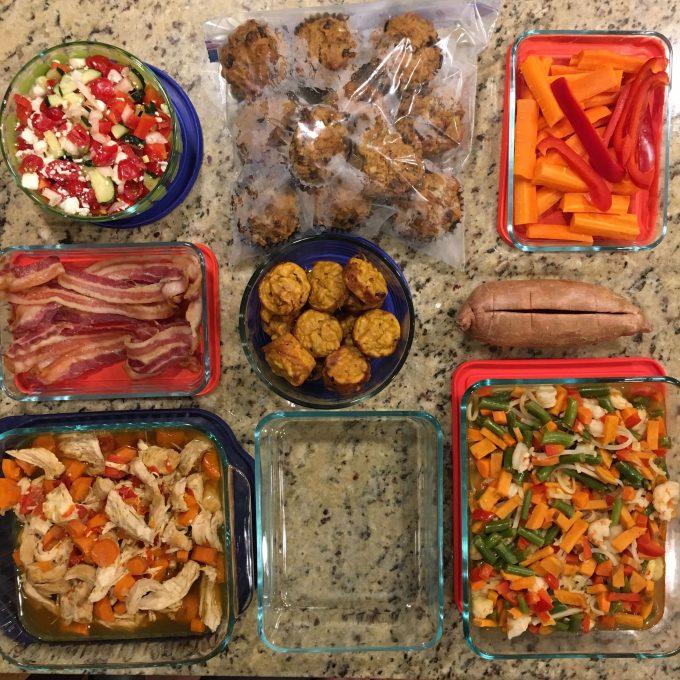 Bacon
Hummus Topping
Asian Shrimp Noodle Soup (no recipe)
Veggies
Pulled Pork (to go in that empty container. It was still cooking)'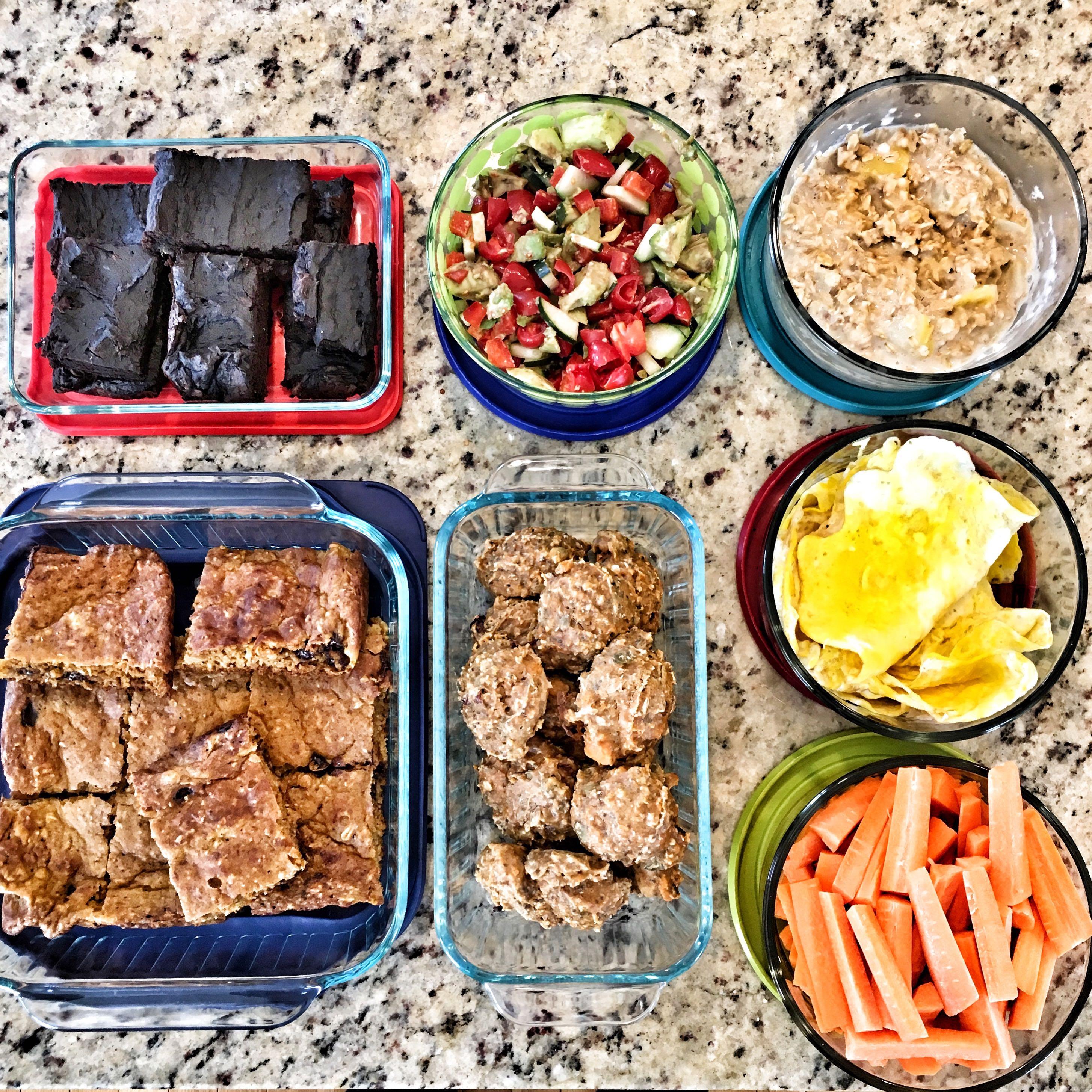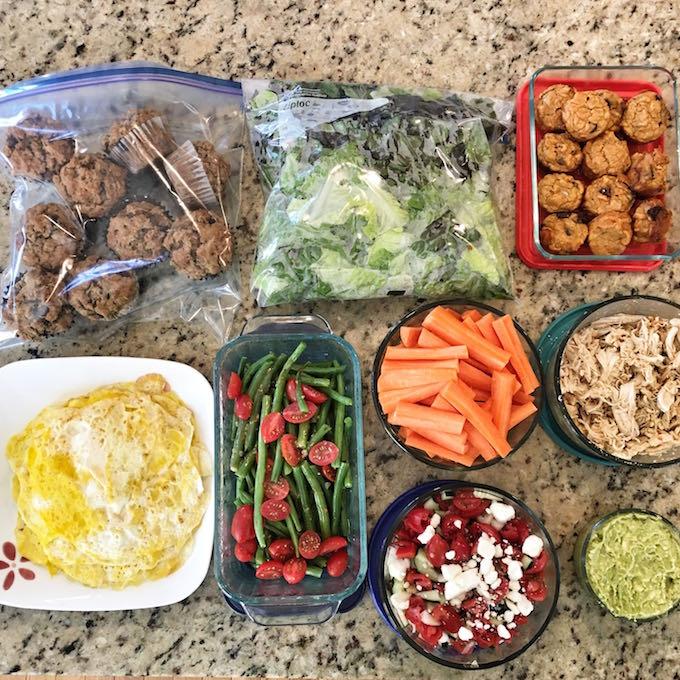 Veggies
Instant Pot Hummus Chicken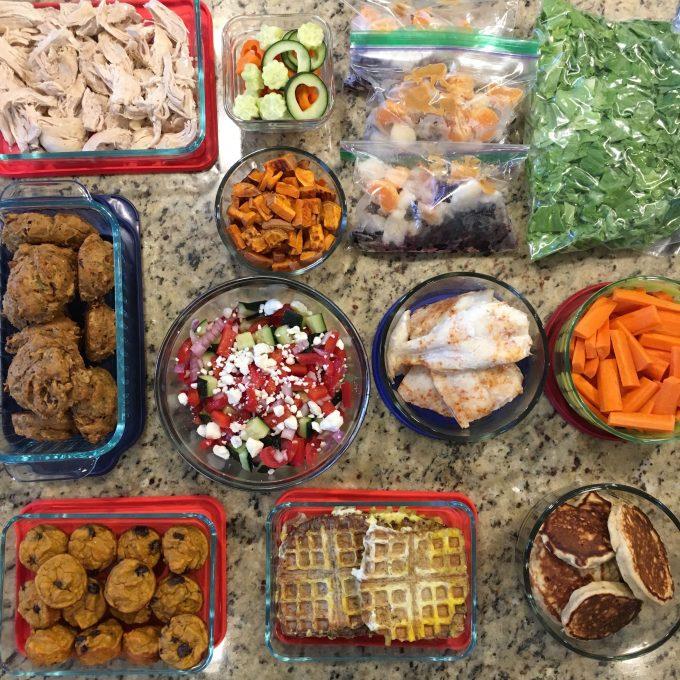 Instant Pot Shredded Chicken
Carrots and Cucumbers cut into fun shapes for Squish
Roasted Sweet Potatoes
French Toast Waffles
Baked Fish – to use for fish tacos
Veggies
Bisquick Banana Pancakes – mixed mashed bananas, some yogurt, some bisquick and a splash of milk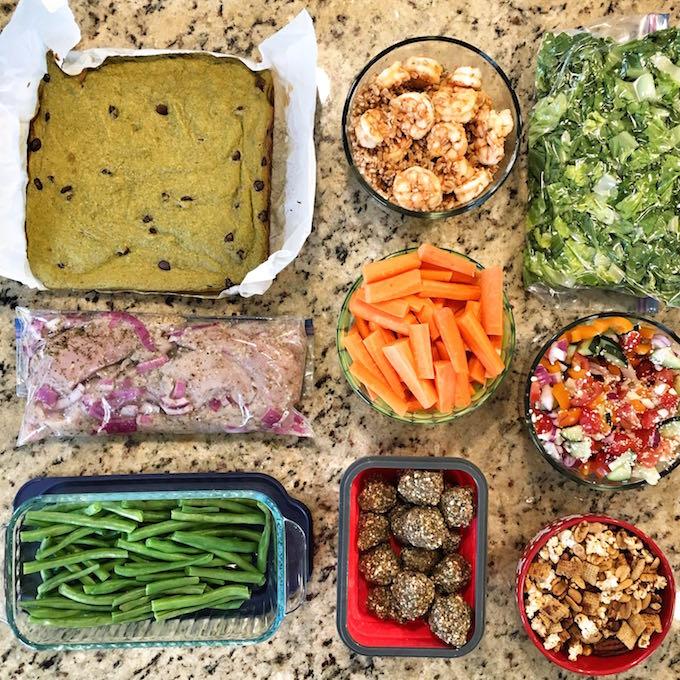 Green beans
Carrots
Hummus Topping
Lettuce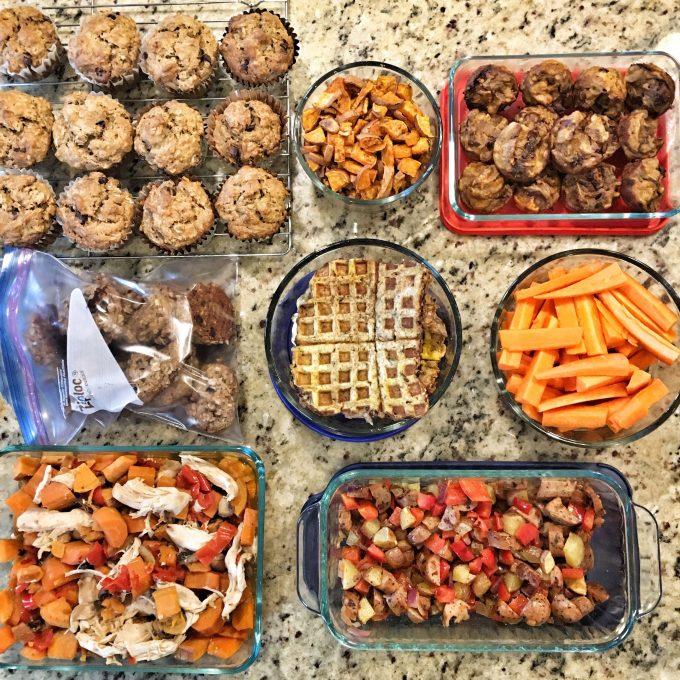 Roasted Sweet Potatoes
French Toast Waffles
Carrots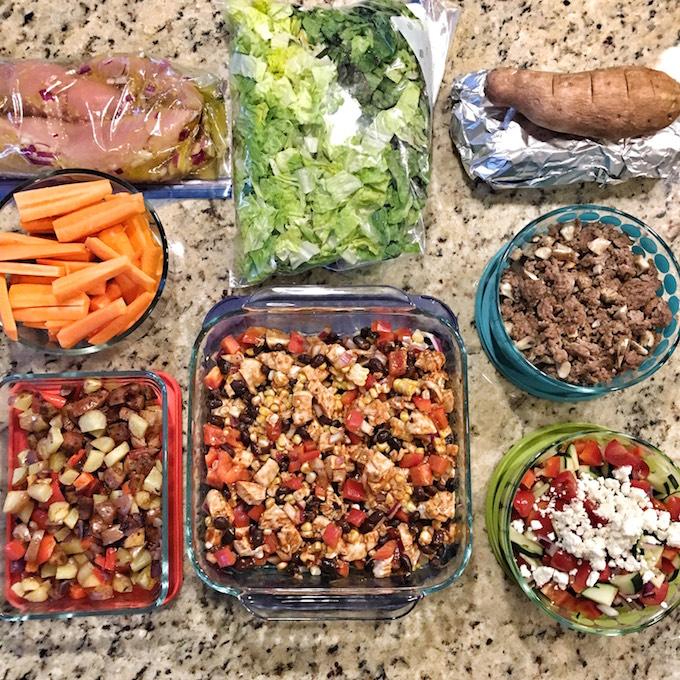 Carrots
Turkey Tenderloins in this marinade
Lettuce
BBQ Chicken for lettuce wraps – just baked chicken, peppers, onions, corn and black beans mixed with bbq sauce.
Ground beef & mushrooms for tacos
Corn on the cob and sweet potatoes for sides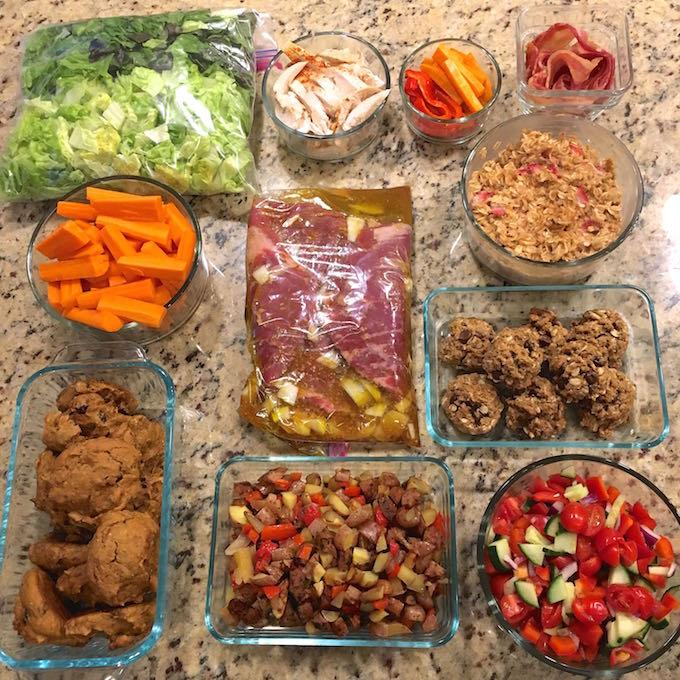 Carrots
Lettuce
Baked Chicken
Roasted veggies for the babe
Baked bacon
Strawberry oatmeal for Squish
Dairy-Free Lactation Cookies– this is actually the second half of a batch I made and frozen so I just pulled out the dough balls and baked them!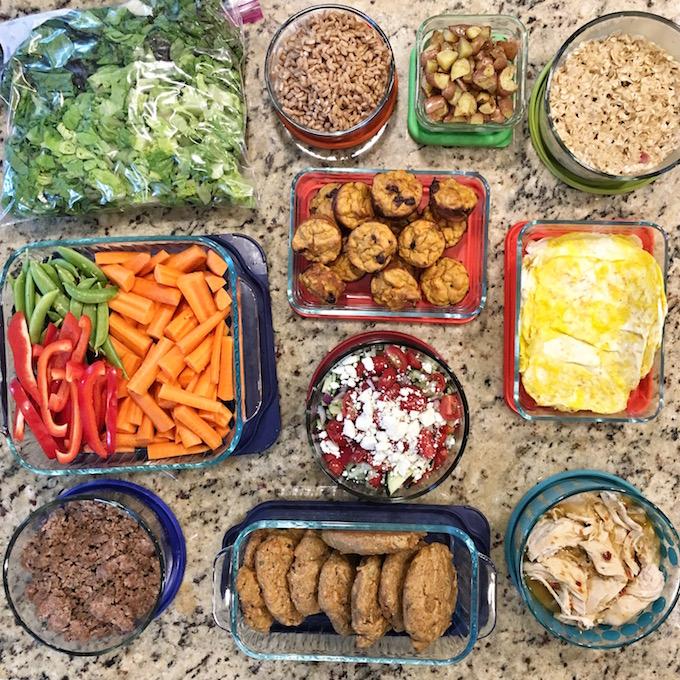 Ground Beef
Chopped veggies
Lettuce
Farro
Roasted Potatoes
Oatmeal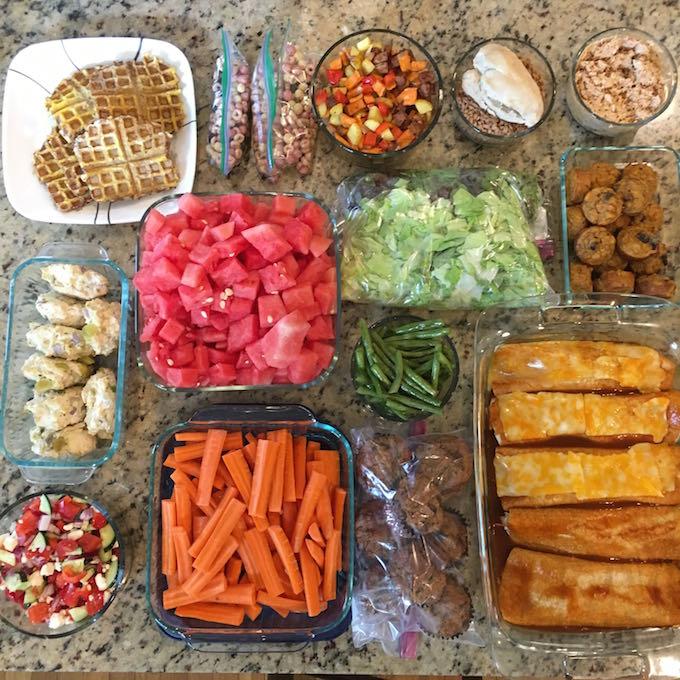 Hummus topper
French Toast Waffles
Lettuce, Watermelon, Roasted Green Beans and Carrots
Chicken and Black Bean Enchiladas
Farro
Tuna with Hummus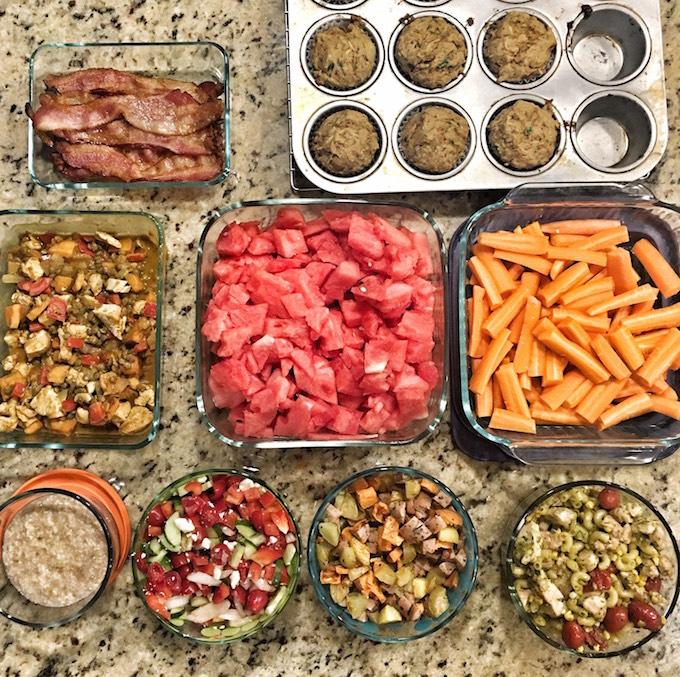 Homemade Oat Cereal for the baby
Chicken and Lentil Curry (similar to this except with chicken added
Bacon
Watermelon
Pesto Chicken Caprese Pasta (recipe coming soon!)
Carrots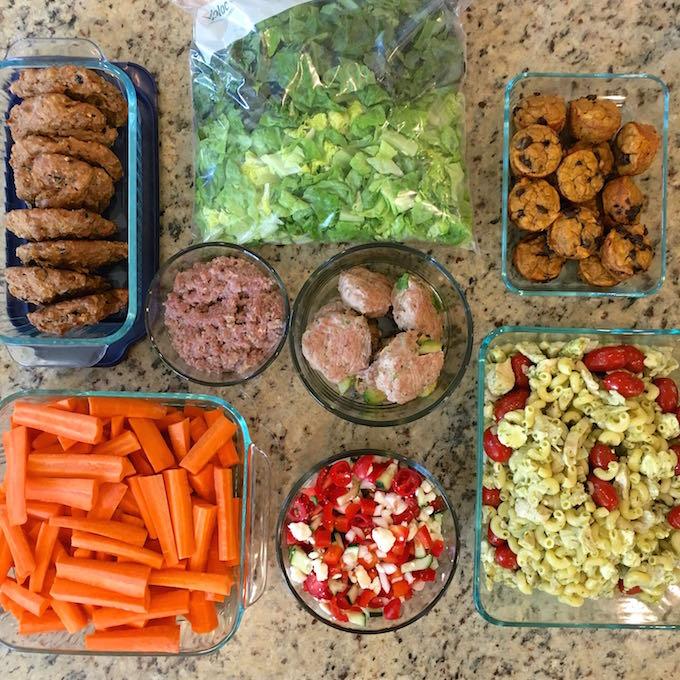 Carrots
Lettuce
Raspberry Cinnamon Oatmeal for baby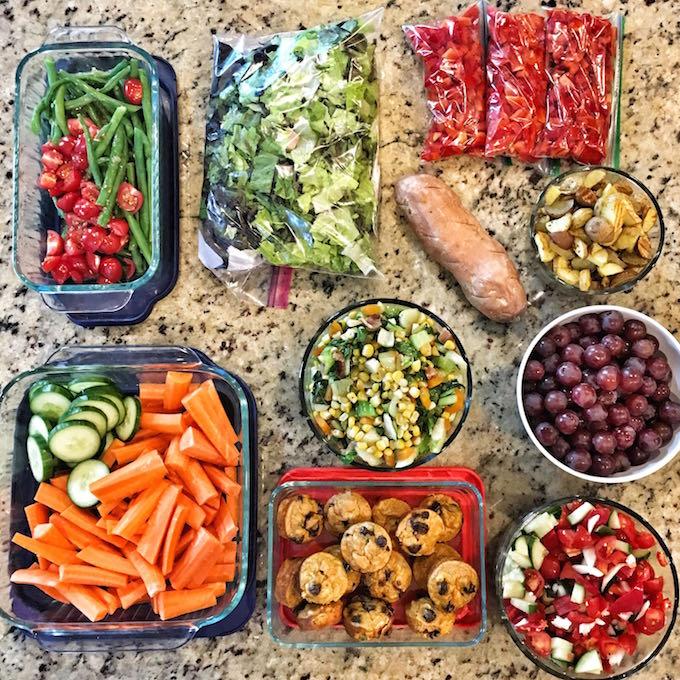 Carrots and cucumbers for snacking
Green beans with tomatoes and Italian dressing
Lettuce for salads
Baby bok choy sauteed with bacon, peppers and corn
Grapes
Microwaved sweet potato
Roasted potatoes
Extra bell peppers chopped and ready to be frozen for later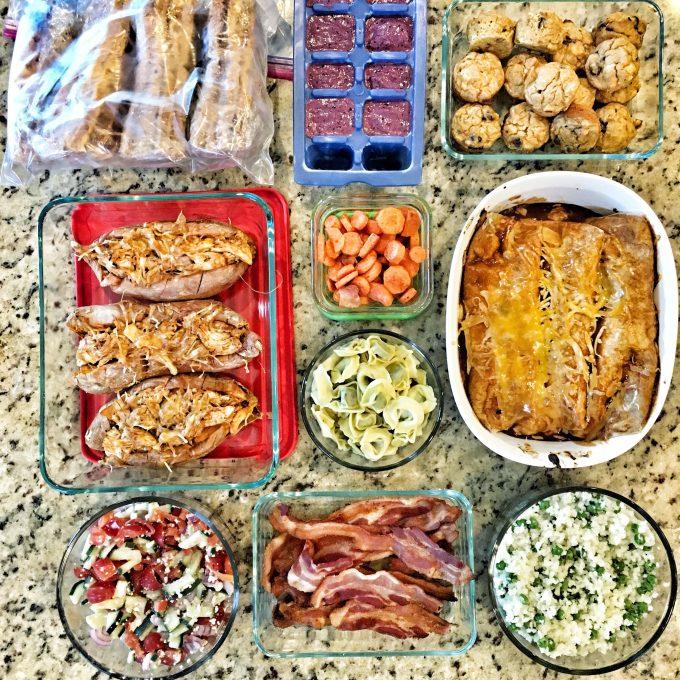 Week 26
Extra smoothie frozen into cubes
Roasted Carrots
Tortellini
Bacon
Cauliflower Rice with butter, garlic and peas
Enchiladas
Sweet Potato Bites
LEARN HOW FOOD AFFECTS YOUR BODY.
Get my free Table Talk email series where I share bite-sized nutrition information about carbs, protein, and fat, plus bonus information about snacks and sugar!