Hi Friends!
I took the day off yesterday for Mother's Day so I didn't get around to publishing last week's food prep. That's ok though! Here we are today! I actually did my prep on Monday last week since we were out of town until late Sunday night. I mentioned in Instagram that this was my 19th week of food prep in a row. In two hours (after getting home from the gym) I made meatballs for dinner, held a screaming baby, fed a screaming toddler and prepped all of this food. Make food prep a priority and you can always make time for it.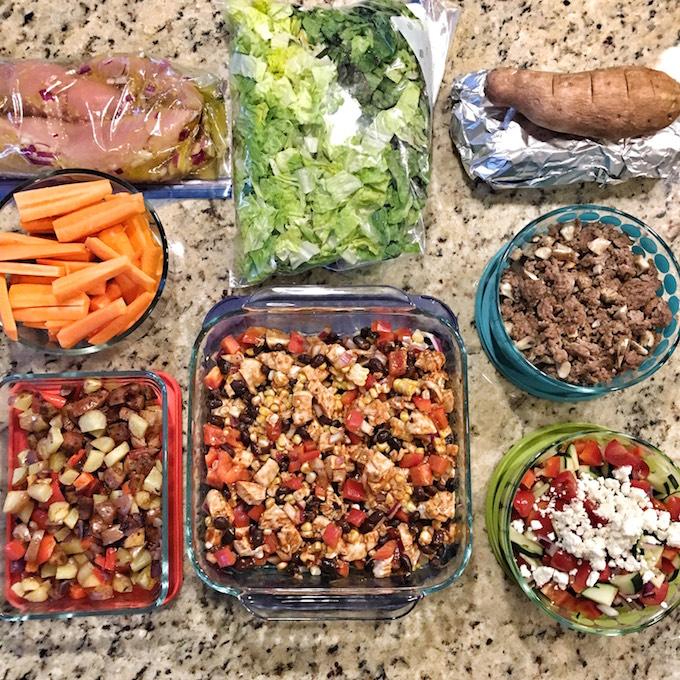 I made:
Carrots
Turkey Tenderloins in this marinade
Lettuce
BBQ Chicken for lettuce wraps – just baked chicken, peppers, onions, corn and black beans mixed with bbq sauce.
Ground beef & mushrooms for tacos
Corn on the cob and sweet potatoes for sides
Here are a couple meals we ate:
BBQ Chicken Lettuce wraps – Squish got chicken, corn, black beans and bbq separately
Meatballs with tortellini
Breakfast hash
Chicken Caprese with Orzo and Avocado – Just cooked some chicken, onions, cherry tomatoes, corn and garlic in a pan with balsamic vinegar. Added some cooked orzo, avocado and chopped fresh mozzarella at the end and served with roasted green beans. Squish got some of the chicken with ketchup and mozzarella. He's not a fan of tomatoes or corn so I gave him sweet potato and a pickle with his green beans.
Enjoy!
–Lindsay–