This healthy Instant Pot Beef Stew recipe is ready in under an hour and tastes like it has been simmering all day. It's paleo, gluten-free and the perfect dinner on a cold winter night.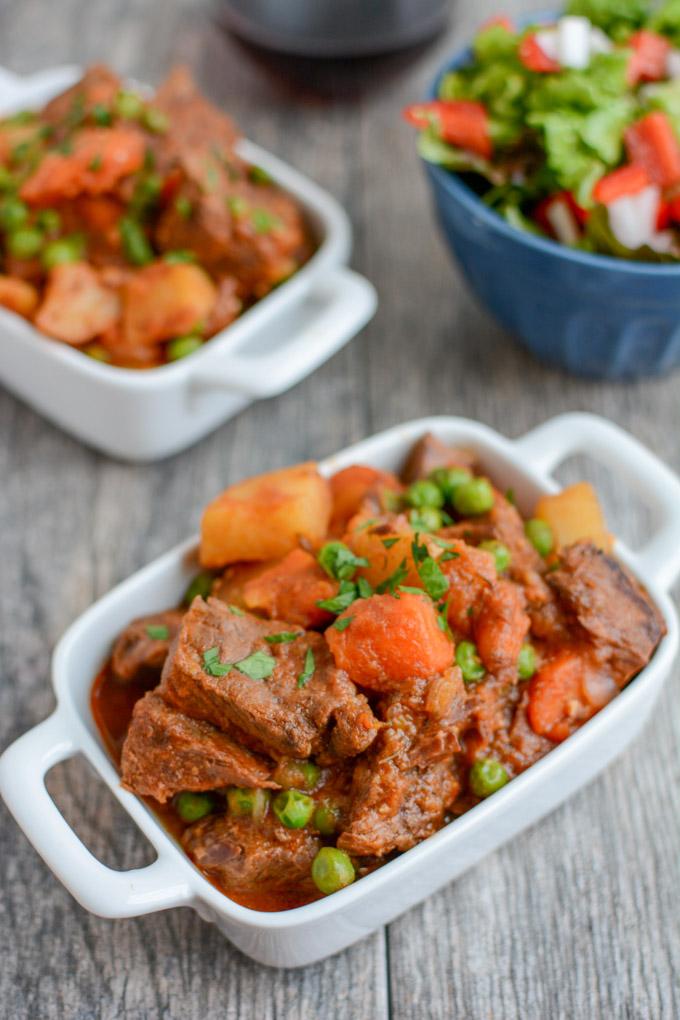 Hi friends!
Time for the first recipe of the new year! We're kicking things off with a recipe featuring my new favorite gadget. As you've probably heard by now, Amazon had the Instant Pot on sale for Black Friday. This is the one I bought! (affiliate link) Apparently, thousands of people had the same idea! But I gotta say, it's probably my best impulse buy to date.
If you're a longtime reader…and I mean long time…you may recall that 5 years ago I posted about why I love my pressure cooker after getting one for Christmas. I admittedly didn't use it to its full potential…but I have used it regularly to make hard boiled eggs and to quickly cook dried beans over the years. The Instant Pot has made me fall in love with pressure cooking all over again. So expect a lot of recipes coming up! In case you're unfamiliar, the Instant Pot is a pressure cooker, but it can also be used as a slow cooker, a rice cooker, a yogurt maker and more! My plan is to get rid of my pressure cooker and crockpot to free up some cabinet space, especially since my new gadget has had a permanent home on my counter since I got it!
The good news about pressure cooker recipes is that they can usually be made another way (crockpot, stovetop, oven, etc) so if you don't have an Instant Pot, you can still make this delicious beef stew…it'll just take longer!
Instant Pot Beef Stew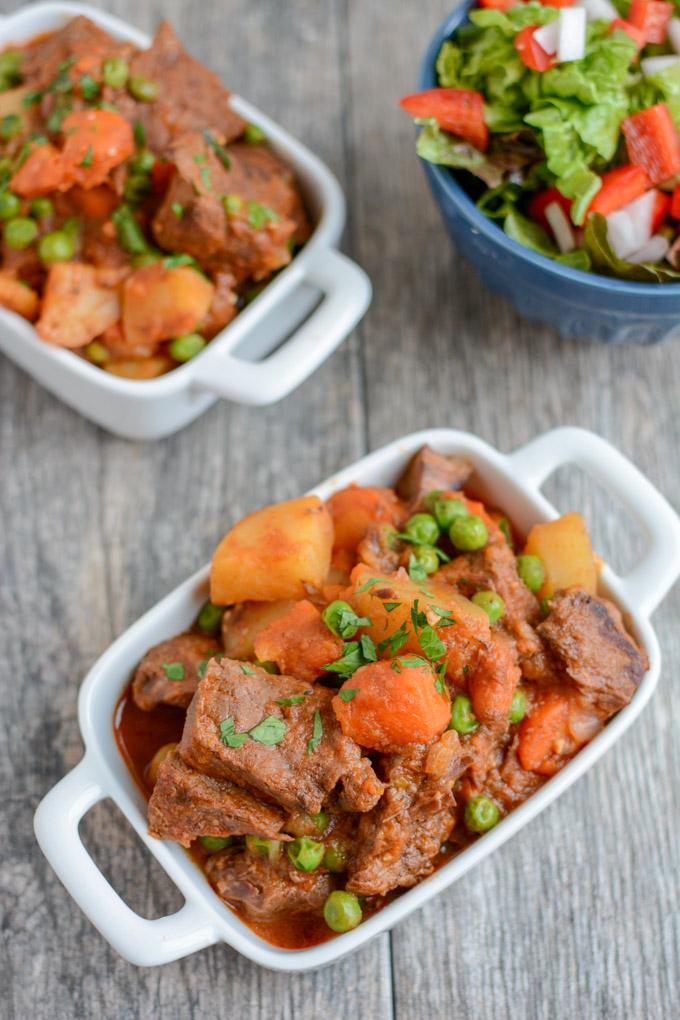 You guys know I'm not a huge fan of beef…but I really do love this stew. You could also make it with pork stew meat! But hubby loves beef so I make this pretty frequently for him. Before I got my Instant Pot, I made it in the crockpot and it worked just as well.
Here's how you make it:
Print
Instant Pot Beef Stew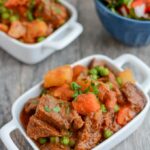 This healthy Instant Pot Beef Stew recipe is ready in under an hour and tastes like it has been simmering all day. The perfect dinner on a cold winter night.
Prep Time:

5 minutes

Cook Time:

35 minutes

Total Time:

40 minutes

Yield:

serves 6
Ingredients
1 Tbsp butter or oil
2 pounds beef stew meat
3 cloves garlic, minced
2/3 cup onion, chopped
2 medium russet potatoes, cubed
4 large carrots, peeled & sliced into 1 inch chunks
1 cup beef broth
1/4 cup tomato paste
1 tsp oregano
1.5 cups frozen peas (cooked)
Instructions
Turn the Instant Pot to the saute setting.
Add the butter/oil, garlic and meat and brown for 3-5 minutes.
Add onion, potato, carrots, broth, tomato paste and oregano and stir to combine.
Use the meat/stew button to cook. You can let the pressure release naturally or use the quick release.
Stir in the cooked peas just before serving.
Serve warm!
Guys, it's so easy. I love that you can brown the meat right in the pot. Three cheers for less dishes! If you're not worried about it being gluten-free or paleo, I usually sprinkle the meat with a tablespoon of flour when browning. It just helps thicken the stew a little bit! And you don't need to follow the recipe exactly…just chop up a few potatoes and carrots and you're pretty much good to go. If you're a fan of beef stew, you must try it! To make this in the crockpot, just brown the meat in a pan, put everything in a crockpot (except the peas) and cook on low for 8 hours.

Try this Instant Pot Beef Stew for a hearty dinner on a cold winter night.
Click To Tweet
Let's chat:
Are you a soup/stew lover? What's your favorite recipe?
Enjoy!
–Lindsay–
PS. This is not a sponsored post. I bought my Instant Pot with my own money and was not compensated for writing this post.