Hi Friends!
Hope you're enjoying your weekend. Just popping in to share what I prepped last weekend: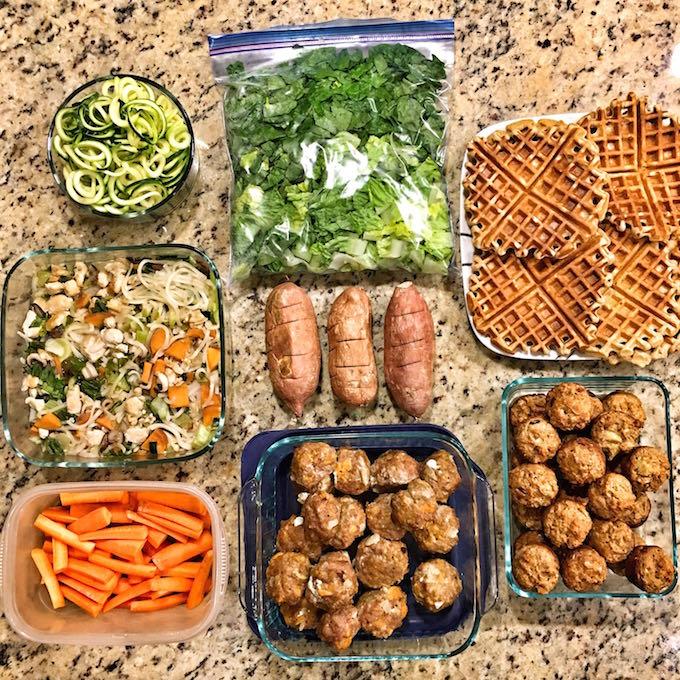 I prepped:
Carrots
Asian chicken noodle soup. We went out to lunch at a place the served salads and broth bowls. I got a salad but I really wanted a broth both so I came home and made this for dinner. It was a bit of a let down – not enough flavor…so I'll be making it again soon to improve it and then i'll share!
Zoodles – I knew I was going to make this Chicken Sausage Skillet with zoodles for dinner Monday so I prepped the zoodles ahead of time.
Lettuce for salads
Sweet potatoes – just slice a few slits and microwave 2 at a time for 6-7 minutes
Double batch of these Paleo Turkey Sweet Potato Meatballs – I had some fresh mozzarella leftover so I chopped it up and stuffed a little in each meatball.
A batch of these PB Banana Oat Muffins – I just made them in a mini muffin tin this time
Whole Wheat Yogurt Waffles – I break them in half and freeze in plastic wrap in a ziploc bag. Then I can just pop half in the toaster for Squish to eat for breakfast.
Here's what we ate for dinner this week: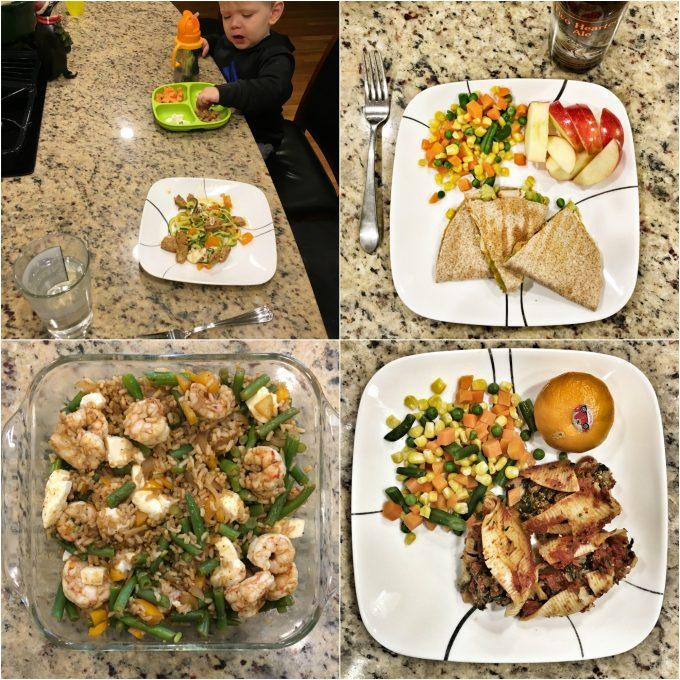 Monday – I made the chicken sausage skillet with zoodles mentioned above.
Tuesday – I baked a package of chicken while Squish was napping and then cut it up to make chicken and avocado quesadillas for dinner, served with apples and steamfresh veggies.
Wednesday – I made a quick variation of my One-Pot Shrimp & Orzo. I was out of orzo so I used 90 second rice. I added some bell peppers and fresh mozzarella since I was out of goat cheese.
Thursday – Last time my parents were here we had stuffed shells. My mom made a double batch and froze half so I popped a package of those in the oven for dinner along with leftover veggies and fruit.
Friday – dinner out with the fam! I had a chicken quesadilla
Saturday – Pizza party with friends!
Squish at half a waffle with peanut butter, plus plain full-fat yogurt and a clementine for breakfast every morning. I eat a bowl of Cheerios when he gets up and then a bowl of oatmeal later in the morning. We mostly ate the soup, meatballs, salads and sweet potatoes for lunches.
Let's chat:
What are you prepping this week? Remember you can find more post on food prep here.
Enjoy!
–Lindsay–