Want to make baby oatmeal? Made with just oats, water and a little cinnamon, this homemade oat cereal for babies is ready in 15 minutes and is cheaper than store-bought!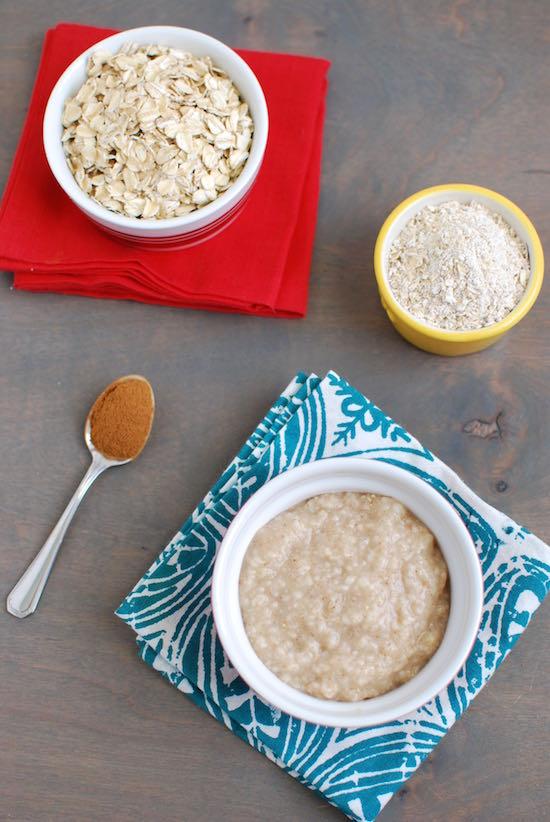 Hi Friends!
Today I wanted to share how to make baby oatmeal. When my oldest was little, we used a mixed approach that involves some baby-led weaning and some spoon fed things like oatmeal. Baby oat cereal was definitely one of his favorites but I got tired of paying so much for oat cereal marketed specifically at babies so I decided to figure out my own baby oatmeal recipe. It's not really a recipe since it's basically just oats…and water…and a little cinnamon but I think it's worth sharing because it's SO easy.
How To Make Baby Oatmeal

Since oat cereal is basically made out of just oats, I figured it would be easy enough to make my own. Since I food prep every weekend anyway, why not add this to the mix and save a little money by avoiding pre-packaged baby cereal. I calculated it out and if I buy a 10-pound box of oats at Costco and make this myself it costs something like $0.08/serving vs. $0.55/serving for a packaged brand!
A Note About Oatmeal For Babies
One thing that's important to remember is that a lot of parents use homemade baby oatmeal (or storebought) as a source of iron for babies. One of the best things you can do to help your babe absorb the iron in oats is pair their baby oat cereal with a source of vitamin C. This helps them absorb the iron, which is a critical nutrient. You can easily add vitamin C to baby oatmeal by topping it with fresh berries like berries like strawberries, mixing it with pureed or mashed sweet potatoes or serving with a side of kiwi!
Ready to make your own? Here's how you make it:
Homemade Oat Cereal For Babies
Print
Homemade Oat Cereal For Babies
A super simple recipe for homemade oat cereal for babies.
Author: Lindsay L
Prep Time:

5 minutes

Cook Time:

10 minutes

Total Time:

15 minutes
1/4 cup

ground oats (place rolled oats in food processor and process until finely ground, then measure)

1 cup

water
cinnamon, optional
Instructions
Bring water to a boil in a small saucepan.
Add ground oats.
Reduce heat to simmer and let cook, stirring frequently, for 10 minutes.
Stir in cinnamon
Store in the fridge.
*Note, mixture will thicken as it cools. Feel free to add formula or breast milk to thin it out before serving if desired
This recipe can easily be doubled or tripled to make a bigger batch.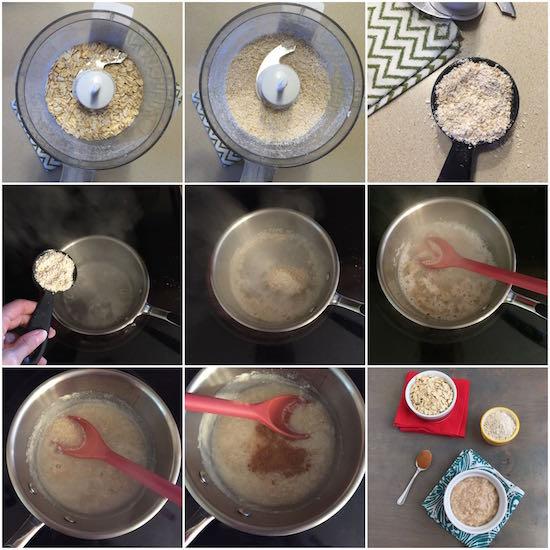 Like I mentioned in the recipe, this will firm up into a semi-gelatinous mass once it cools and is stored in the fridge. I serve them thick to my kiddos but if you want to thin them out, feel free to add a little formula or breast milk.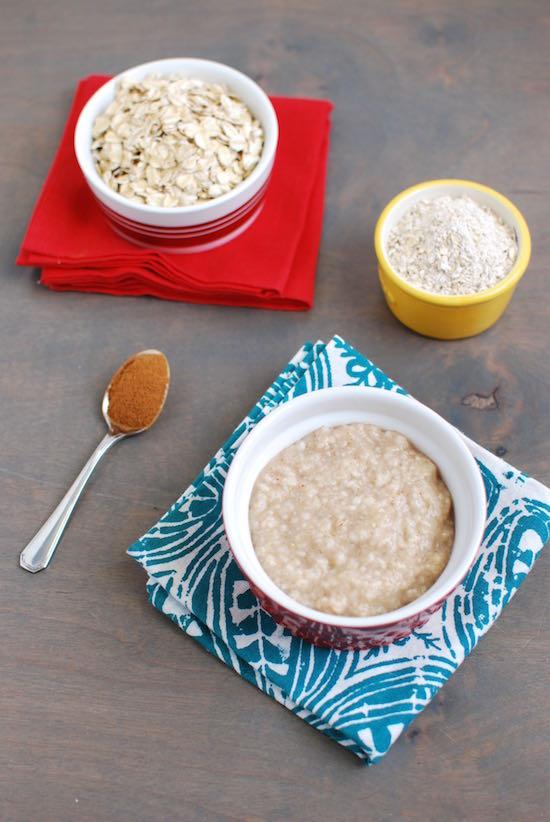 I love exposing him to spices at such a young age so I add cinnamon when I make them. I also often mix in some fruit or veggies before serving. He loves them mixed with pears, applesauce or avocado!
One nutritional note: Store-bought infant cereal is typically fortified with iron, which is an important part of a baby's diet. Formula is also typically fortified with iron and since my oldest was formula fed, I wasn't concerned that he would be missing out on iron in his cereal. However, if your baby is exclusively breastfed and is 6 months of age or older, it's important to make sure they are getting iron from other sources if you are giving them homemade cereal. The good news is there are plenty of other ways to add iron to your baby's diet as they delve into the world of solid foods! If you'd like to alternate between homemade oat cereal for babies and storebought, one brand I really like is the Happy Family Organic Oats and Quinoa Baby Cereal. It comes fortified with iron as well as vitamin C to help absorption!
Enjoy!
–Lindsay–
LEARN HOW FOOD AFFECTS YOUR BODY.
Get my free Table Talk email series where I share bite-sized nutrition information about carbs, protein, and fat, plus bonus information about snacks and sugar!