Hi Friends!
Welcome to the first food prep session of 2017. Here's what I prepped last weekend: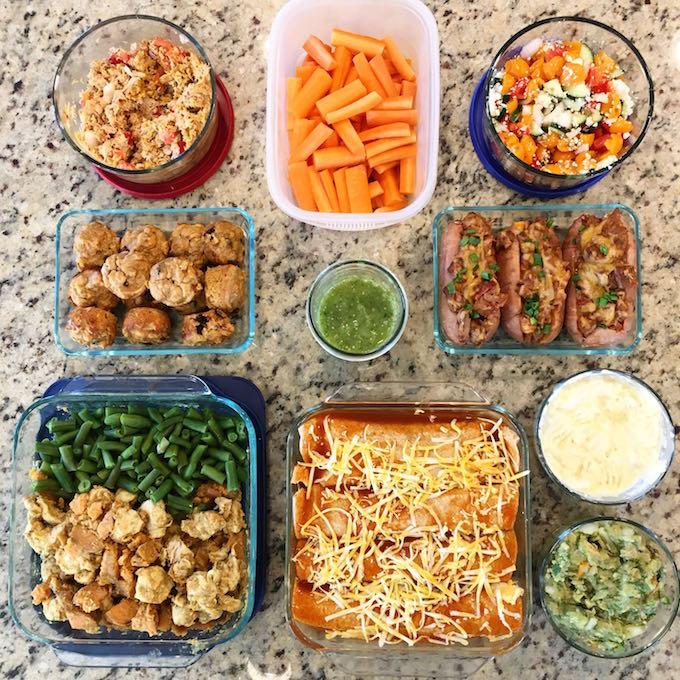 I made:
Tuna Salad (similar to this recipe) to eat with chips for lunch
Sweet Potato Bites for Squish to snack on
Instant Pot Almond Butter Chicken (still perfecting the recipe but will share soon)
Instant Pot Pulled Pork – which I used to make pulled pork enchiladas and BBQ Pulled Pork Stuffed Sweet Potatoes (Recipe tomorrow!)
Guacamole
Squash Yogurt Dip (similar recipe in this post)
Carrots & Greek Hummus Topping for snacking
Salsa Verde – Just cut about 10 tomatillos in half and roasted them at 400 for 20 min, drained the liquid and put them in the blender with some chopped onion, garlic, jalapeno and cilantro. I mixed about 1/2 of it with pulled pork, black beans, red peppers, onions and cheese and used it as the filling for my enchiladas. Just portion it into a few tortillas, put some enchilada sauce in the bottom of the pan, add the rolled up tortillas, top with more sauce and cheese and bake covered with foil at 350 for about 25 min.
Let's chat. Are you prepping food this weekend? Whatcha making?
Enjoy!
–Lindsay–
If you're looking for more food prep tips, be sure to check out my Food Prep Resources page!