Food Prep is a key tool for helping you and your family eat healthier during the week. Here are 10 foods that are great for prepping ahead of time.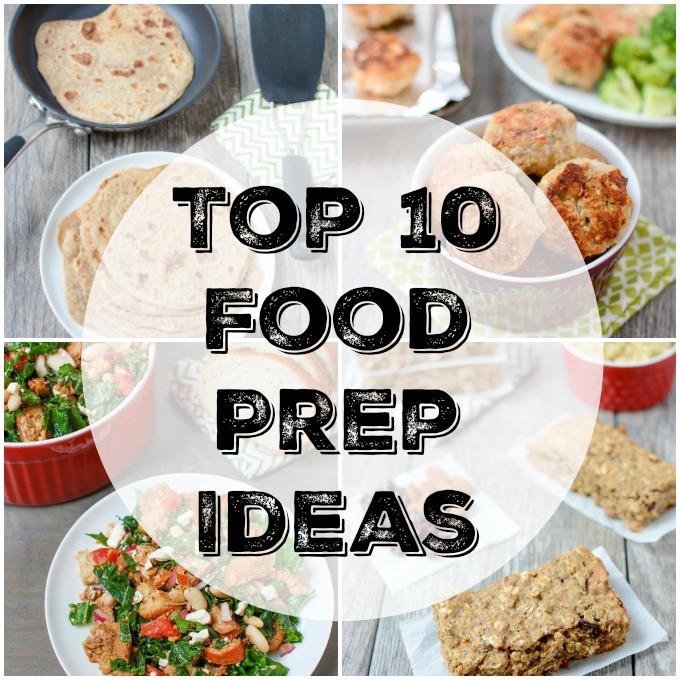 This post was originally published in Feb 2014.
Republishing now with updated linksto help you kick off the new year on the right foot!
Hi Friends!
You guys know I'm crazy about Sunday Food Prep, right? I've written several posts about how to prep food in the past, and every Sunday I post my prep from the week before, along with inspiration from some of my readers! It seems like more and more people are hopping on board the food prep train and I couldn't be more thrilled about it!
I thought it would be helpful to round up some of my favorite foods to prep all in one place! So here are my Top 10 Foods For Sunday Food Prep. These are things you'll notice over and over again if you look at my food prep pictures:
Top 10 Foods For Sunday Food Prep

1) Snacking veggies– Raw veggies make a great snack. They're easy to prep ahead of time and you can throw them in your lunch box, the kids from munch on them after school or you can enjoy some while making dinner!
Try carrots, broccolis, peppers, snap peas and cucumbers. They're great with hummus, yogurt ranch dip, etc
I peel and cut my carrots and store them in a Tupperware with some water. Every day I run cold water over the remaining carrots and change the water.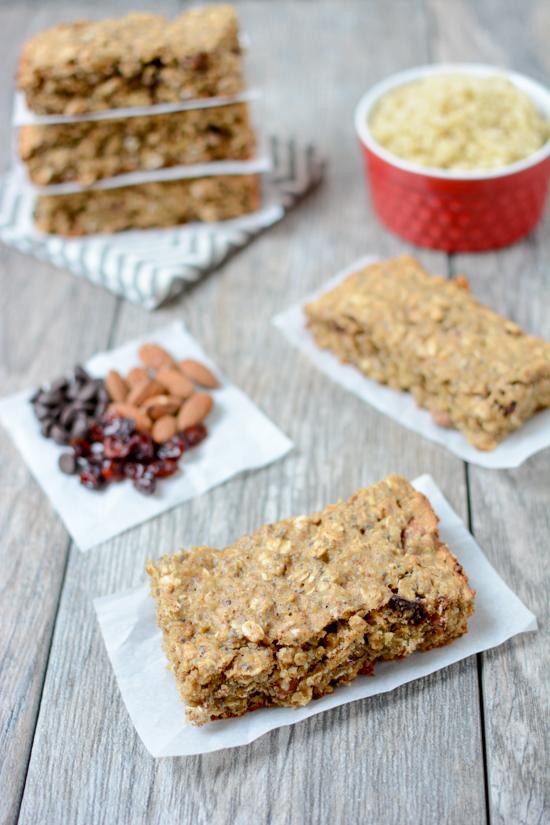 2) Breakfast Foods– There are tons of great breakfast options that you can make ahead of time so you don't have to spend time cooking in the morning. This also gives you no excuse to skip breakfast!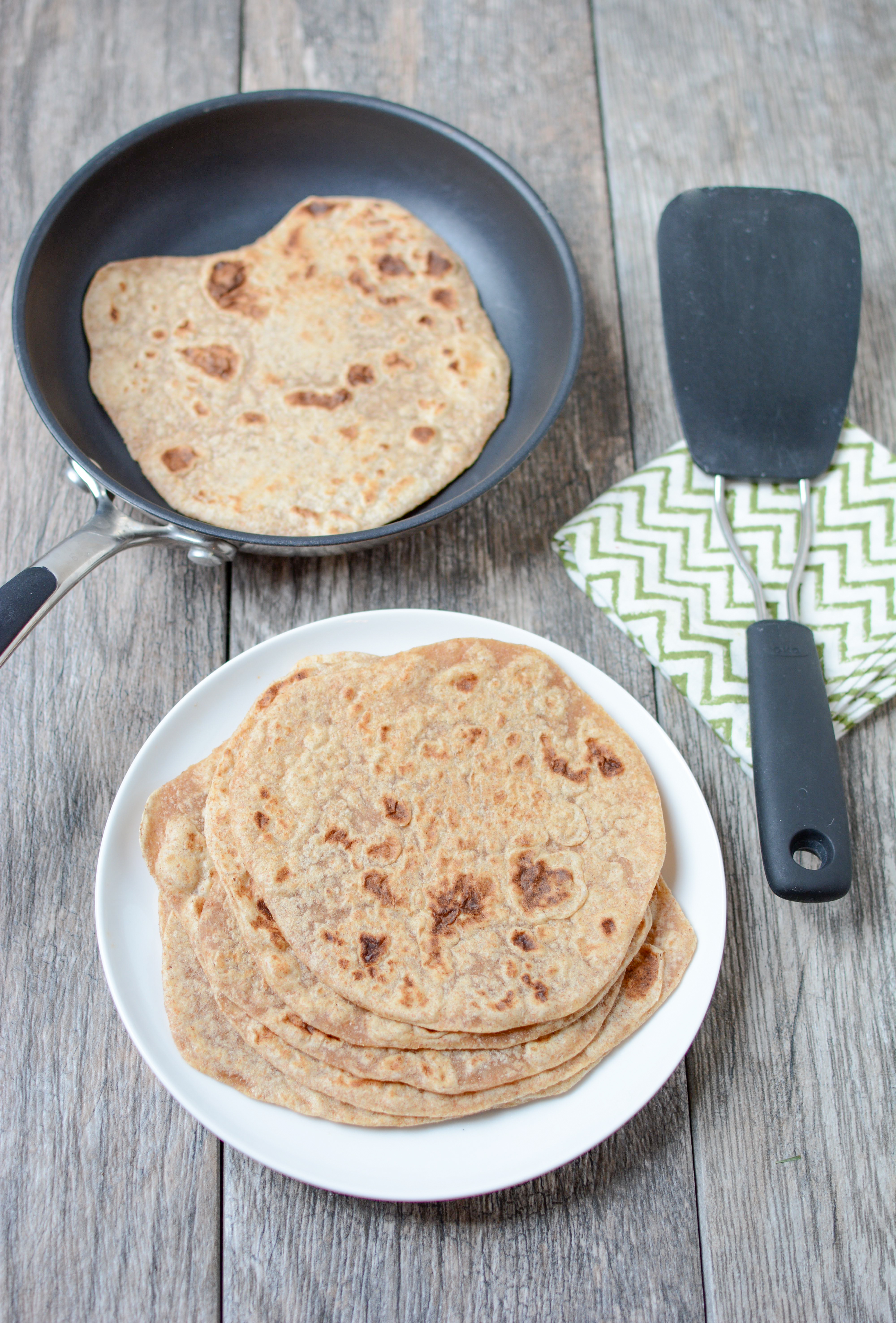 3) Whole Grains – It's easy to cook up a big batch of your favorite grain to have on hand. Cook it on Sunday and add to meals during the week.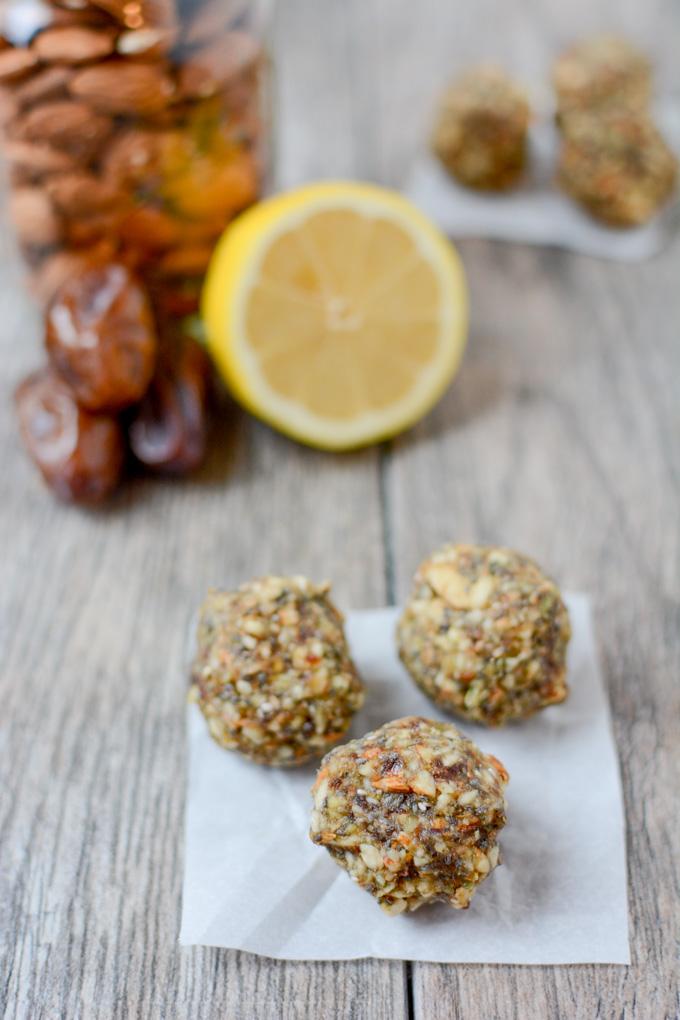 4) Snacks – It's important to have healthy snacks on hand that you can turn to during the week. There are tons of snacks that can be made ahead of time to help keep you from reaching for unhealthy choices.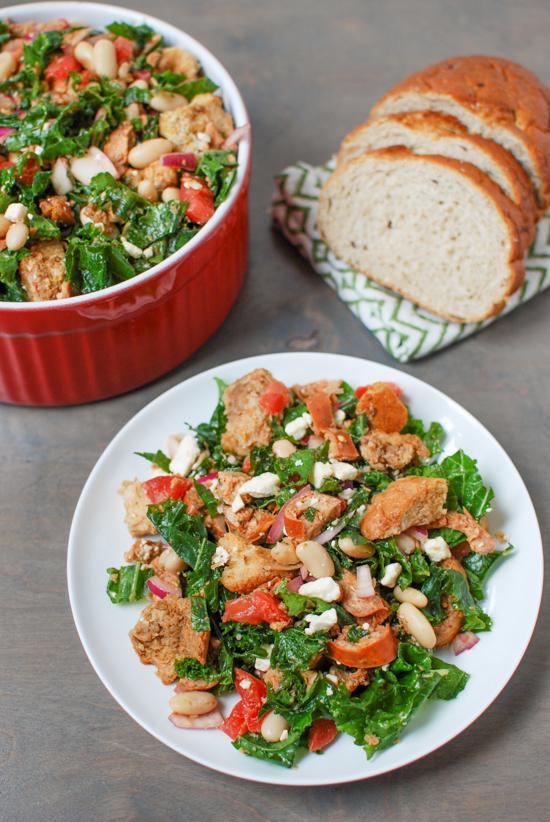 5) Greens for Salad– I've found that having salad greens washed and ready to go exponentially increases the chances that we'll eat a salad every night with dinner. You can use leaf lettuce, spinach, kale etc.
To prepare my greens, I cut them, wash them well, spin them dry and store in a Ziploc bag with a paper towel. Make sure to press out as much air as possible each time you open the bag.
If you're prepping kale, wash and dry it, then rub it with some lemon juice and olive oil and store in an airtight container, then you can quickly make this  Kale Panzanella Salad to enjoy for several days.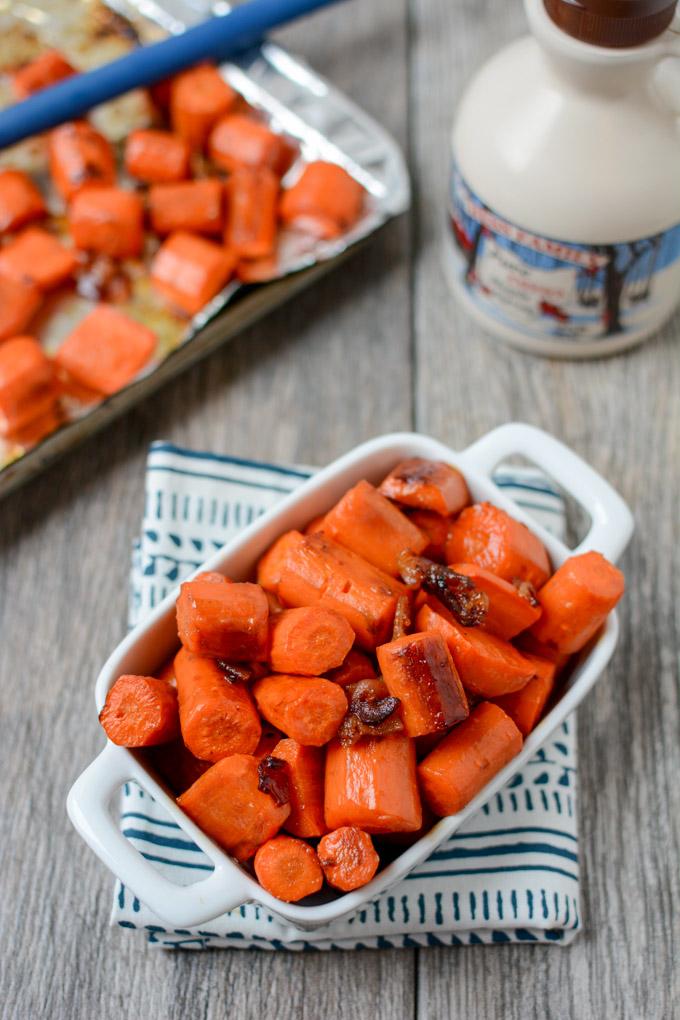 6) Baked/Roasted Veggies – If you're using the oven anyway during your food prep time, you might as well wrap a few potatoes in foil and throw them in the oven! If you're not a fan of potatoes, chop up some of your favorite veggies and roast up a big pan.
You can use the potatoes for side dishes or a quick dinner like these Mexican Loaded Sweet Potatoes.
Try roasting your veggies with a little bacon for extra flavor! Add them to main dishes, salads, etc during the week!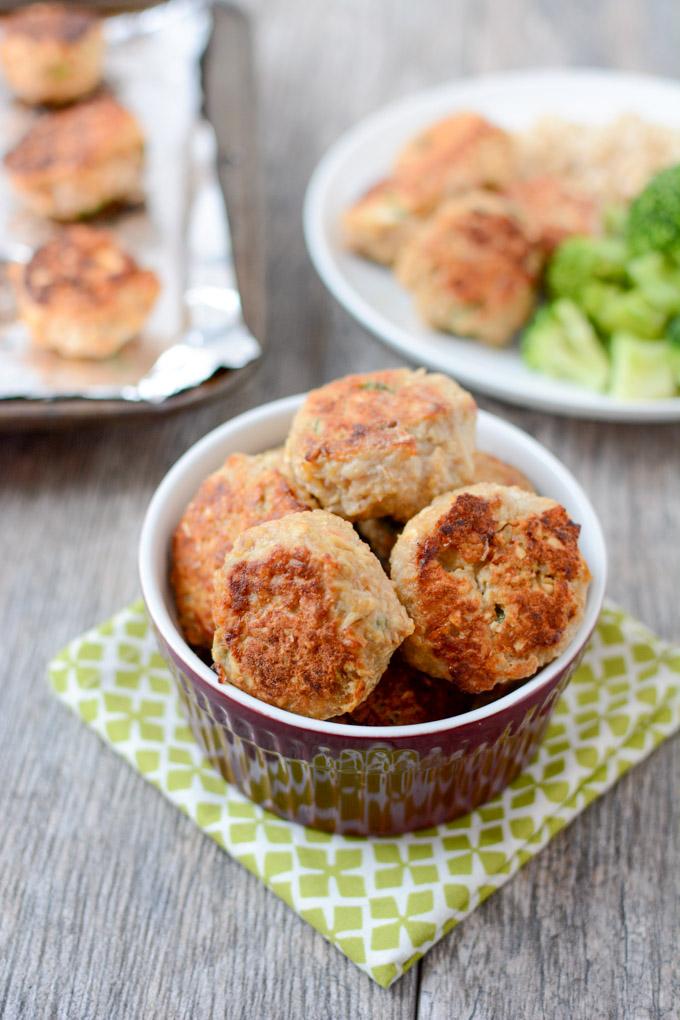 7) Lean Proteins – If you're a meat-eater, why not cook some of your meat head of time for less weeknight cooking.
8) Beans & Legumes – Even if you're not a completely plant-based eater, it's still a great idea to add some plant-based proteins to your diet. I buy dried beans, cook a whole bag at a time and freeze the extras. (Learn How To Cook & Freeze Beans here). You can do the same thing with lentils! Then just pull them out when you need them and add them to whatever you're cooking.
9) Soup – Soup is a great way to pack tons of nutrients into one easy meal.
Choose low-sodium broth, or better yet- make your own. You can always make extra and freeze. Just defrost when needed!
Add tons of veggies! Frozen veggies work great in soup and are packed with nutrients.
Add some protein- choose your favorite meat or opt for some high-fiber beans or lentils
Add some whole grains if you'd like!
This White Chicken Chili and Instant Pot Beef Stew are some of our favs!
10) Hard Boiled Eggs – These are great for almost any meal. Cook them on the stove or use this tip to cook them in the oven. I like to cook mine in my pressure cooker!
Eat them for breakfast with some peanut butter toast.
Grab a couple for an afternoon snack.
Slice them up and add to salads for lunch or dinner!
Start 2017 off right with these Top 10 Food Prep Ideas to help you eat healthier.
Click To Tweet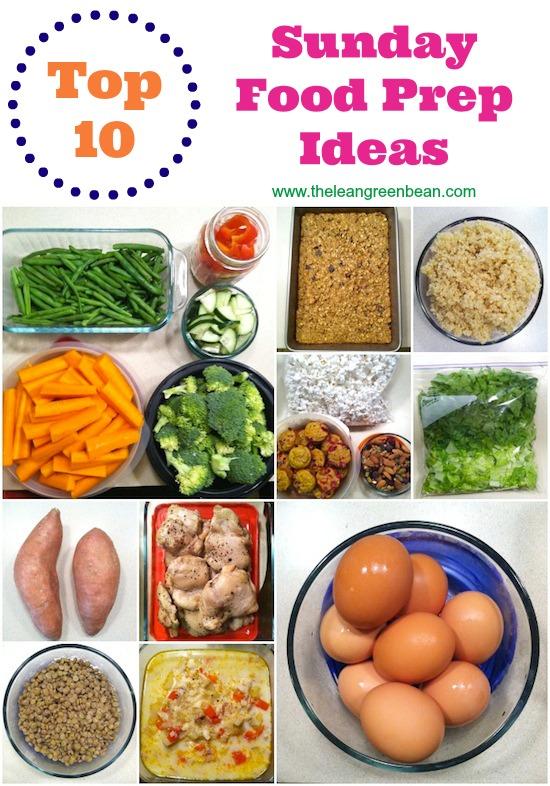 Of course, there are tons of other foods that can be prepped ahead of time for a healthy week…these are just some of my staples that I turn to week after week!
If you liked this post, you'll love my ebook – The Ultimate Guide To Food Prep. It dives into even more detail about how to food prep, troubleshoots common problems and provides tons of tips to make it easier! Click the image below for more details.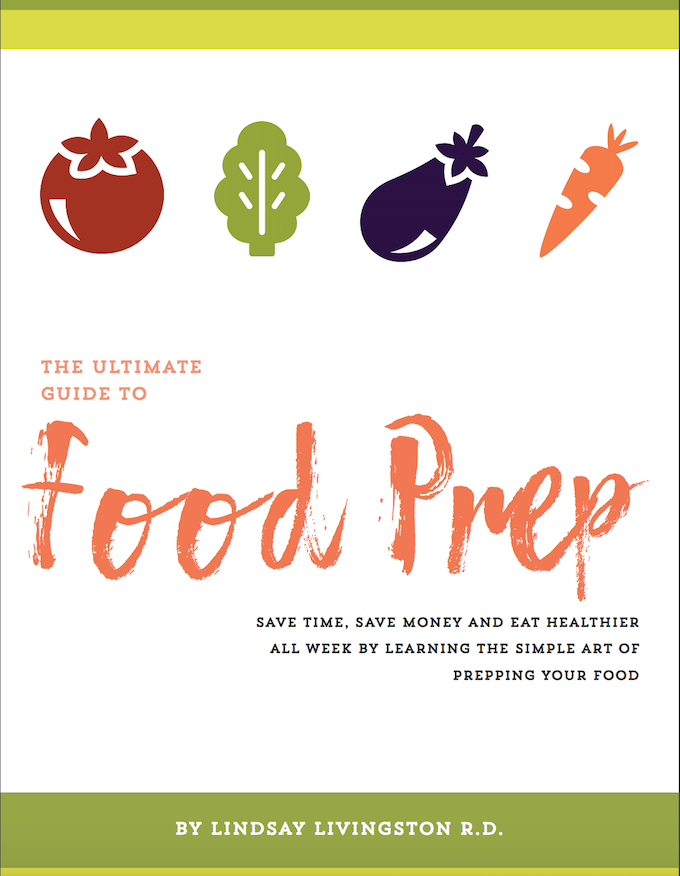 Looking for more food prep posts? Check out these as well:
How To Food Prep- 5 Tips For Beginners
12 Ways To Use Leftovers
How to Prep Food on the Weekend
Weekend Prep for Easy Weekday Meals
How to Eat Healthy in College
How to Eat Healthy During the Week
Let's chat: What are your favorite foods to prep?
Enjoy!
–Lindsay–