Did you know you can cook and freeze dried beans? Make a whole bag and stock your freezer so you have them on hand to add to meals!
Hi Friends!
It's no secret around here that I love beans. Especially green beans 🙂 But today we're going to focus on dried beans. More specifically, how to cook dried beans – and then how to freeze them.
Let me start by saying that I don't think there's anything wrong with eating canned beans occasionally. Canned beans are better than no beans! However, canned beans are often loaded with sodium. If you buy them, look for no-salt-added or low-sodium varieties, and be sure to rinse them well before using.
Dried beans are the best option, in my opinion, though. A lot of people tell me that they're unsure how to cook dried beans, so they avoid them. Well friends, I'm here to show you how easy it is! And as an added bonus, I'll show you how to freeze them. That way, you will always have them on hand when you need them. It's a great way to save time and money!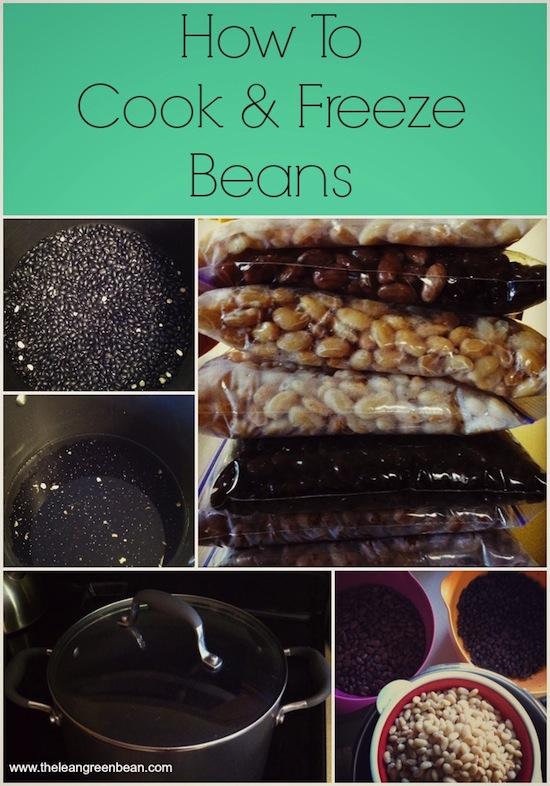 So, let's start with cooking methods. Here are three to choose from:
Stovetop
Pressure Cooker
Crockpot
The pressure cooker is my personal favorite way to cook beans because you can go from dried (unsoaked) beans to completely cooked beans in about 25 minutes. However, I realize that not everyone has a pressure cooker, so I'll explain the other methods as well.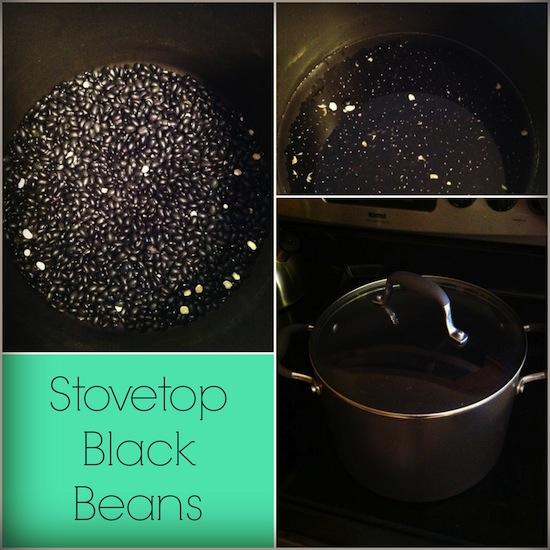 Stovetop
Black beans are the most commonly cooked beans in my house. I also cook great northern white beans and pinto beans on occasion. They all have slightly different cooking times, but if you're cooking them on the stove top, you need to soak them first! The very first step is to look through the beans and remove any small stones or other debris that may have made it into the bag. Then, move on to soaking.
Soaking methods: 
Long Soak: Put the beans in a bowl, cover with three times the amount of water, and let soak 6-8 hours or overnight.
Quick Soak: Put the beans in a pot, cover with three times the amount of water (so for a bag of beans you need 6-8 cups), bring the water to a boil, then remove from heat, cover and let sit for one hour.
Rinse #1:
After whichever soaking method you choose is complete, you need to rinse the beans. The beans will swell while soaking so make sure you use a large pot and enough water. The water will also turn black if you're using black beans! Totally normal. Set up a colander in the sink, dump the beans and water into the colander and run some water over the beans until the water runs clear into the sink.
Cook:
Return the beans to the pot after rinsing and cover with 3x the amount of water again. Bring the water to a boil, then reduce heat to a simmer, cover and let simmer for 45 min – 1 hour. I would start checking them around 40 minutes because every stove is different and cooking times can vary widely. Plus, some people like their beans extremely soft and others like them a little firmer. Depending on your "simmer" temperature, your beans could take anywhere from 40 minutes to 90 minutes. Every so often, just remove the lid, scoop out a bean and taste test. When they reach your desired doneness, remove the beans from heat.
Rinse #2:
Set the colander in the sink again and carefully drain the beans into the colander. Rinse with cold water to stop the cooking process.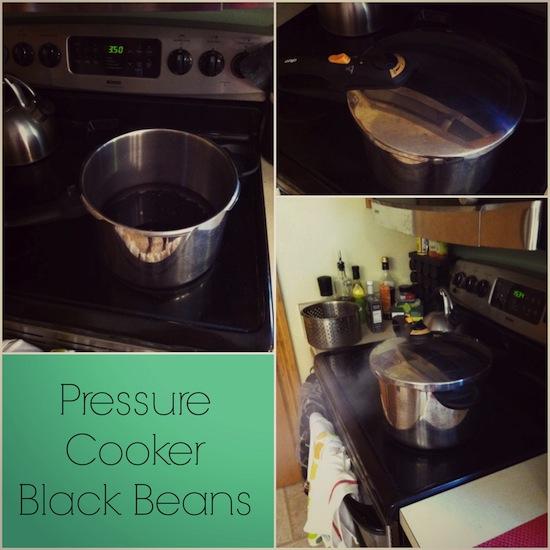 Pressure Cooker
This is by far the fastest way to cook dried beans. No soaking required! Just dump a bag of beans into the pressure cooker, cover with 3x the amount of water and cook on high for 15-20 minutes (will vary by cooker so you'll have to test it out with yours). Use the natural release method and transfer the beans to a strainer to rinse them.
Crockpot
If you're using a crockpot to cook your beans, you can fix it and forget it. I haven't actually tried this myself, but I've read several recipes from people who have. The consensus is that cooking times vary widely based on how fresh your beans are. They could be done after as little as 3 hours on high, but it looks like most take about 5-6 hours on high or 8-10 hours on low. It might be a good idea to make some while you're home to check on them until you get a feel for how long they'll take in your crockpot. You do not need to presoak them if you're using this method.
Notes:
A lot of people like to season their beans, especially if they're cooking them in the crockpot. You can add chopped onion, garlic and other spices for flavor and you could also use broth to replace half the liquid for some added flavor.
If you add salt to your beans (which is unnecessary in my opinion) don't add it until the very end. Salt can cause it to take much longer for the beans to cook.
Red kidney beans specifically contain a toxin that might not be destroyed by crockpot cooking alone. To be safe, they should be soaked overnight, rinsed and cooked in boiling water for 10 minutes before being cooked in a crockpot. Read more here.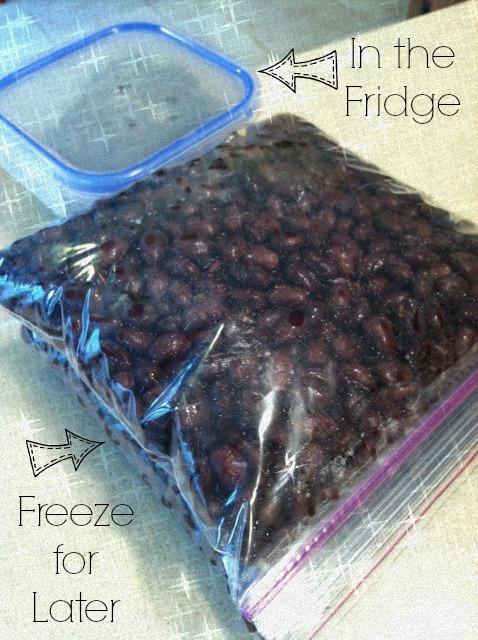 Storing Methods:
Refrigerator: Transfer to a tupperware container and store in the fridge for up to 5 days.
Freezer: Let the beans cool completely. Portion into ziploc bags. Lay bags flat on side and stack to store in the freezer. When you need to use them, just remove a bag, smack it against the counter to loosen up the beans and either pour directly into the pan of whatever you're cooking to let them thaw, or pour into a bowl and defrost in the microwave.
Edited to add: You can freeze lentils as well! They cook much faster on the stove top, but I freeze them in bags the same way!
[clickToTweet tweet="Ditch the can! Use these tips from @leangrnbeanblog to cook & freeze dried beans instead!" quote="Ditch the can! Use these tips from @leangrnbeanblog to cook & freeze dried beans instead!"]
So there ya go! Easy peasy and a great way to make sure you always have cooked beans on hand in the freezer!
Enjoy!
–Lindsay–
LEARN HOW FOOD AFFECTS YOUR BODY.
Get my free Table Talk email series where I share bite-sized nutrition information about carbs, protein, and fat, plus bonus information about snacks and sugar!