Hi friends!
I'm back with another one of my go-to meals to share with you guys! In case you missed last week, you can check out my Lentil & Veggie Curry by clicking HERE.
This week's meal is the one I probably make the most out of any other meal ever. It's so easy, so delicious and I can throw it together in about 15 minutes. Plus it's super healthy. An all-around win in my book 🙂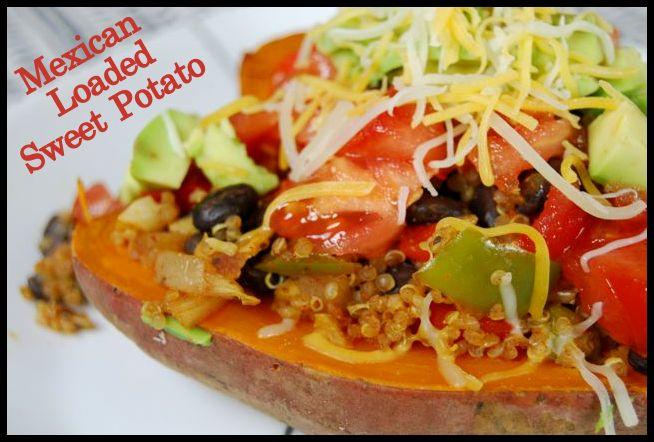 I usually make mine Mexican themed, but feel free to use whatever you have on had. Here's what you need:
Sweet potatoes
Veggies
Beans
A grain
Toppings
I almost always use black beans from the freezer. For the base I usually use red peppers and onion mixed with beans and whatever grain I happen to have leftover in my fridge. Brown rice works well…so does quinoa, farro, wheatberries…you get the idea. Saute the peppers and onions with some garlic. Add a little cayenne pepper and cumin….put the mixture on top of a microwaved sweet potato and top with tomato, avocado and cheese. That's it!
Mexican Loaded Sweet Potato
Prep Time: 15 min
Keywords: microwave saute entree healthy vegetarian low-sodium black beans sweet potato Mexican
Ingredients (serves 4)
4 small sweet potatoes (or 2 large)
1 red bell pepper
1/2 c onion, diced
2 cloves garlic, minced
2 c black beans
1 tsp cumin
1/2 tsp cayenne pepper
1 c cooked grain (rice, farro, quinoa)
1 medium avocado, diced
1 tomato, diced
mexican cheese
Instructions
1. Poke the sweet potatoes all over with a fork and microwave on high for 5-6 minutes or until soft.
2. Saute the garlic, onion, red pepper and black beans in a medium-sized pan.
3. Add spices and mix well.
4. Add the grain and stir until heated through.
5. Slice the sweet potatoes in half length-wise (cut in half if using 2 large).
6. Top with bean mixture.
7. Add the avocado, tomato and cheese and serve warm.
The most important thing to remember is that this recipe is not exact. I usually don't measure anything…just throw in what I have on hand. I always make extra toppings and we use that in tacos or burritos for lunch the rest of the week. If you eat meat, add some chicken or pork to the mix.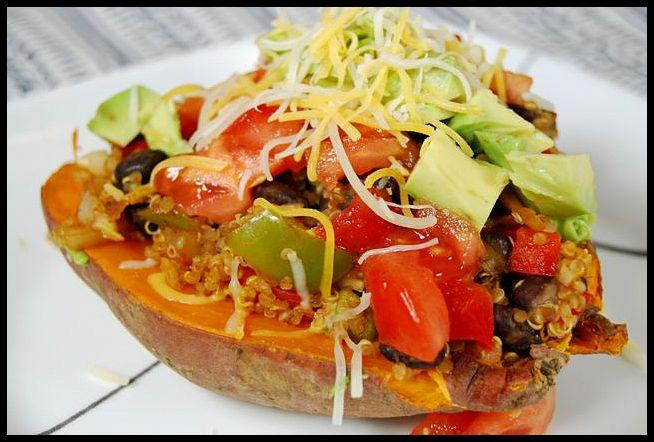 Enjoy!
–Lindsay–
LEARN HOW FOOD AFFECTS YOUR BODY.
Get my free Table Talk email series where I share bite-sized nutrition information about carbs, protein, and fat, plus bonus information about snacks and sugar!