This Slow Cooker Shredded Beef is easy to make and tastes better than the Barbacoa at Chipotle.
Hi Friends!
Time for another delicious guest post! Today, my lovely friend Marisa is here to share a fabulous slow cooker recipe with you guys! I've fallen in love with Marisa's blog Uproot From Oregon over the past year or so. She shares healthy, flavorful recipes and her pictures will leave you drooling. Case and point? Today's recipe. I know my hubby would LOVE this in his burrito bowl on our homemade Chipotle nights!
————-
Hi Lean Green Bean readers, Marisa from Uproot from Oregon here! I am happy to be guest posting while Lindsay is baby snuggling and enjoying her life with a newborn. Lindsay has always been a constant source of inspiration for weekly meal prep for me, and I wanted to share a new favorite of mine that can make a week of prepared eats even more exciting.
This Slow Cooker Shredded Beef (Barbacoa) is a riff off of her hubby's favorite Chipotle Barbacoa bowls – and while I can't deliver the goodness to her doorstep, I know this make-ahead recipe will be perfect for fall to winter meal prep in their household.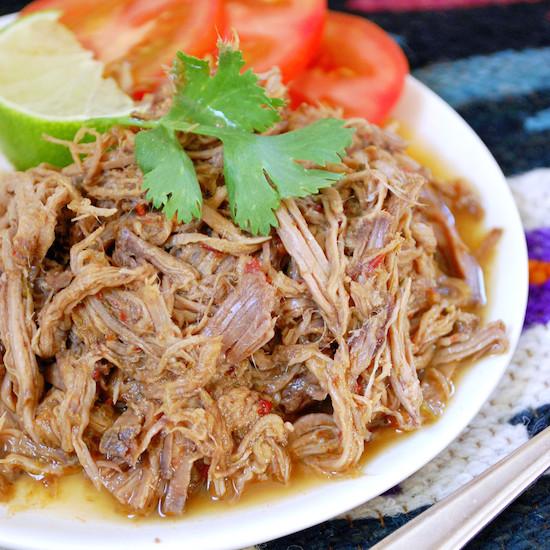 On days at home when I know that I am super busy and going to be out later than usual, I throw a top notch meal into my crockpot. I finally pushed myself to buy a piece of meat that wasn't chicken, and I am glad I took on the challenge.
I came home to a fantastic smelling apartment, and had leftovers for days that also froze perfectly for another crazy night. I recommend making the full recipe because you will want the leftovers (and you will snag bites of cold beef out of the fridge, which is totally not my character).
Instead of hitting up Chipotle, throw a roast in your slow cooker in the morning after blitzing the sauce together in the food processor or blender. I kill two birds with one stone and set my rice cooker to be done in the evening too, but frozen rice or rice that cooks in the microwave is a healthy quick option to make this a meal.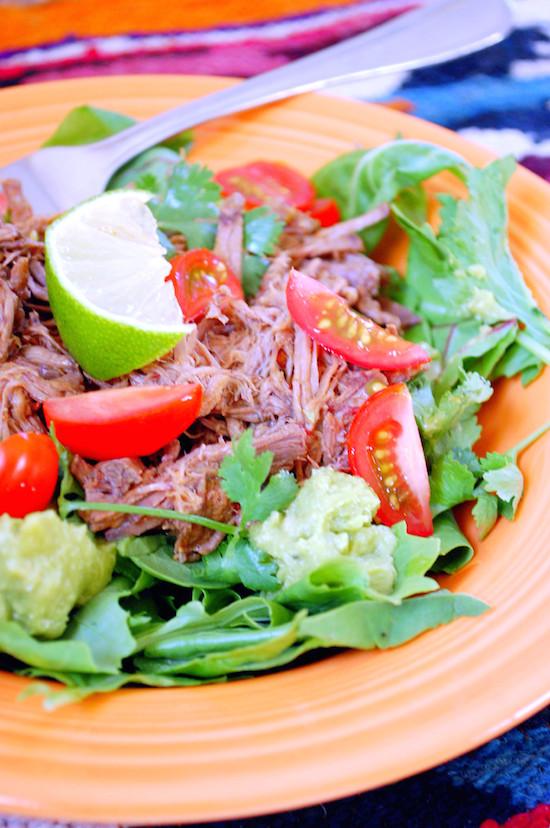 The zesty cooking sauce that juices out from the shredded beef is incredibly flavorful and a bit spicy, and I like to tame it with lots of sautéed veggies & rice mixed in for a great burrito bowl or on top of lettuce (my heaven in a sentence). The spice is customizable by decreasing or increasing the amount of chipotle peppers – I would say this is currently mild to medium depending on the size of your peppers. Don't forget cilantro, chopped tomato, and avocado for fresh and creamy notes and to dull the heat!

Slow Cooker Barbacoa (Shredded Beef)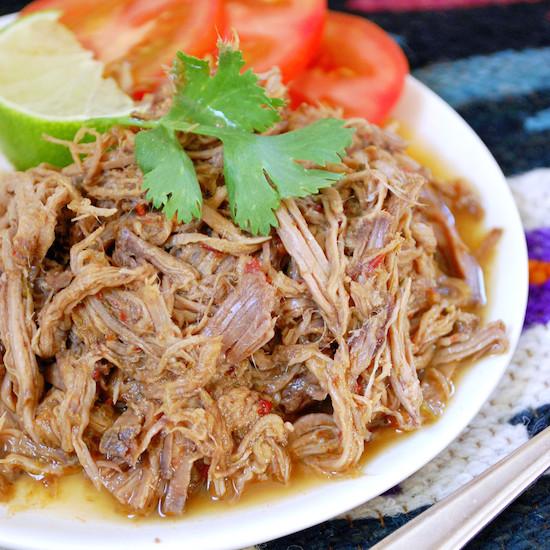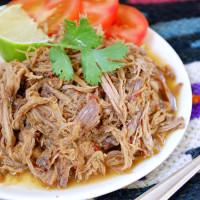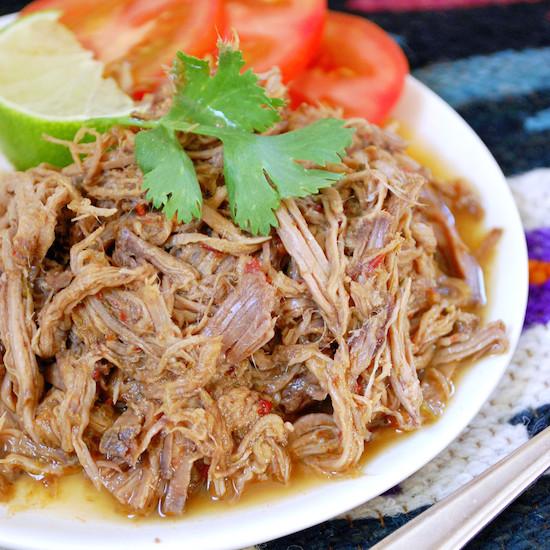 Ingredients
3

chipotle peppers in adobo sauce

1/2

bunch fresh cilantro

1/2

white onion

5

garlic cloves

2

teaspoons cumin

1

teaspoon oregano

2

teaspoons salt

1

lime, juiced

1/4

cup apple cider vinegar

3

pounds beef roast

2

cups water

3

dried bay leaves
Instructions
In a food processor or blender, combine the 3 chipotle peppers (removed from the can with some adobo sauce), cilantro, onion, garlic, cumin, oregano, salt, the juice of one lime, and the apple cider vinegar. Blend until almost smooth.
Trim the fat off of the piece of beef and cut it into pieces if necessary to fit it into the bottom of your crockpot.
Pour the homemade sauce on top and turn the meat once or twice so it is covered. Add 2 cups of water (it should cover the meat in liquid) and the bay leaves.
Cook on low for 8 to 10 hours. Mine was perfect at 9 hours but it depends on the heat of your crockpot. I recommend removing the meat from the crockpot a half hour to an hour before serving time to shred the meat and return it to the sauce to soak up more flavor.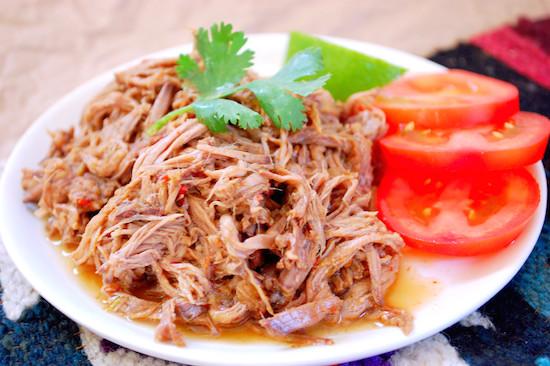 What do you like to make for dinner at the end of a long day? Does pasta sometimes feel like the only quick option?
————
Marisa Westbrook is a public health professional, nutrition enthusiast, and recipe blogger sharing healthy ideas for active lifestyles. Her blog Uproot from Oregon focuses on using wholesome ingredients, cooking from scratch and sharing her love of eating simpler, healthier foods. Visit her blog for healthy recipes, travel and restaurant recaps, and active lifestyle tips.
Enjoy!
–Lindsay–