Wondering how to eat healthy in college? Here are some tips, tricks and recipes for eating healthy in a college dorm.
*Note- This post was edited and updated 1/2015. Added information is in red.
Last week I had the opportunity to give a little presentation for the ladies of CHAARG, a group of amazing women at Ohio State. CHAARG stands for Changing Healthy, Attitudes & Actions to Recreate Girls that was founded at Ohio State by Elizabeth Tavierne and Emily Richard.
(CHAARG is now a nationwide movement with chapters on tons of college campuses across the US. Check out their website to learn more!)
I was so honored when they asked me to come speak to their group! They pretty much gave me free reign, so I spent some time really thinking about what I wanted to talk to them about. I settled on discussing how to eat healthy in college.

I decided to give a talk that I wish someone would have given me when I was in college. I wanted to cover the basics of healthy eating, give them lots of ideas and inspiration, and show them what a wide variety of food you can prepare, even if you're living in a dorm room. I figured this would appeal to the masses because if these things can be made in a dorm room, with minimal equipment and a mini-fridge, then they can definitely be made in homes and apartments with even more space and equipment.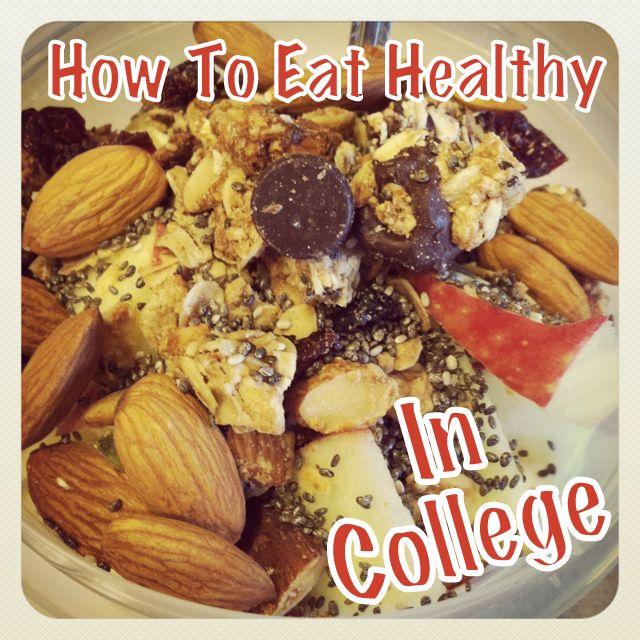 So, the evening went really well. The girls were so much fun! We rented a room in the union on campus and spent about an hour and a half chatting and whipping up some tasty snacks!
I thought it'd be fun to share my presentation with you guys!
Intro
I told them about myself and about how when I went to college the first time, we had to live on campus all 4 years. We only had apartments for our senior year. That means I spent 3 years living in the dorms. I just WISH I had thought about making some of these snacks when I lived on campus, instead of living on cereal and easy mac for 3 years, or that I had thought to stock my mini-fridge with something besides party supplies.
Equipment
Microwave – most dorms have one
Mini food processor – $20-30
Toaster – $20
Mini Blender – $30
Can opener
Mason jars/Tupperware
Knife & cutting board
Measuring cups
Dishes
Shape Your Plate
Grains
Hot oats – Microwave ½ c. oats, 2/3 c. water for 2 minutes. Top with 6 oz. plain greek yogurt, ¼ c. granola, 1 Tbsp chia seeds and 1 medium apple diced and you have a breakfast packed with 20 g. fiber, 26 g. protein.
Overnight oats – Mix oats, milk, fruit, chia seeds and nut butter. Let sit overnight. Grab & go in the morning.
No-bake granola bars – Combine oats, brown rice syrup or honey, cereal and your favorite mix-ins for a healthy snack.
Oats in a smoothie – Add cooked oatmeal or uncooked oats to your smoothies for some extra bulk and fiber.
Bread – Make sandwiches (like sliced turkey or tuna salad) or toast (try topped with peanut butter & banana).
Wraps/pitas – Use these to make hummus & veggie wraps, falafel, or burritos.
Cereal – Enjoy with milk for breakfast and snacks.
Protein
Hummus – Endless flavor combinations at your fingertips! Enjoy with veggies, crackers, or on sandwiches.
Dips – Try curried sweet potato & red pepper dip with crackers for an afternoon snack.
Nut butter – Can be made in a blender or food processor in minutes with minimal ingredients and you can customize it to your taste preferences with different nuts and mix-ins.
Tuna/chicken salad – Use low-sodium canned tuna or chicken packed in water. Mix in a small bowl with mashed avocado, hummus, or Greek yogurt instead of mayo. Add your favorite spices (try curry powder or cayenne pepper) and some chopped veggies, like onions and peppers, to bulk it up!
Deli meat/rotisserie chicken/pre-baked tofu – These are easy to add to wraps and sandwiches.
Hard boiled eggs – In the microwave, bring water to boil. Then, add eggs and cook on low power or ½ power for 8 minutes. Let stand a few minutes more.
Scrambled eggs – In the microwave, cook for 2 minutes, stir, and cook another 2 minutes.
Veggies

Salad in a jar – Portion out enough lettuce/spinach/mixed greens, complete with chopped veggies and a protein source, for the week and store them in mason jars or tupperware. Add the dressing to the bottom first to keep everything else from getting soggy. When you're ready to eat, just shake it up and dig in!
Microwave sweet potato – Poke a sweet potato with a fork or knife all over, microwave for 5-6 minutes, top with nut butter, or beans and veggies and enjoy for lunch.
Raw veggies – Try dipping in hummus or guacamole!
Fruit

Bananas – Buy in a variety of stages of ripeness to enjoy throughout the week.
Apples & oranges – These make easy grab & go snacks.
Berries – Top your oatmeal bowls with them or mix them into Greek yogurt for some natural sweetness.
Dairy

Milk – Choose dairy or non-dairy.
Greek yogurt – Enjoy with fruit & granola. Mix a spoonful or two of the flavored kinds into plain for just a touch of sweetness.
Cheese – Put on top of salads and sandwiches or eat plain with crackers or veggies.
Fats
Salad Dressing – Make your own dressings with oil, vinegar, and spices to add flavor and healthy fats.
Nuts – These are full of protein and healthy fats! Enjoy a handful each day at snack time.
Avocado – This makes a great topping for salads and sandwiches. Also, mix it into smoothies for added creaminess.
Snacks
Embrace the bulk bins! You can buy the quantities you need, often more cheaply than if you buy the pre-packaged versions of nuts, seeds, and grains on the shelf.
Nuts & seeds – Use these for added flavor, nutrition, and texture in granola bars and trail mix.
Flax seeds and chia seeds – Sprinkle these on oatmeal or yogurt for added omega 3's and protein.
Chia jam – Mix 2 Tbsp chia seeds, 1 c. berries, a dash of vanilla extract, and a pinch of sugar. Microwave for 2 minutes, stir, and let cool. Try spreading it on your toast!
Store bought bars – KIND bars, Luna bars, Larabars are some good options.
Homemade fruit & nut bars – Make your favorite Larabar flavors at home!
Protein powder

Add to your oats for an extra boost of protein
Mix into your smoothies post-workout
Mix with milk to make protein frosting
After I finished talking, we moved on to the fun part: making food. Earlier in the week, I sent over a list of some ingredients I would need them to pick up, and on the day of the presentation, I packed up a few of the ingredients I already had on hand (like tahini and brown rice syrup) and showed the girls how to make 4 easy snacks.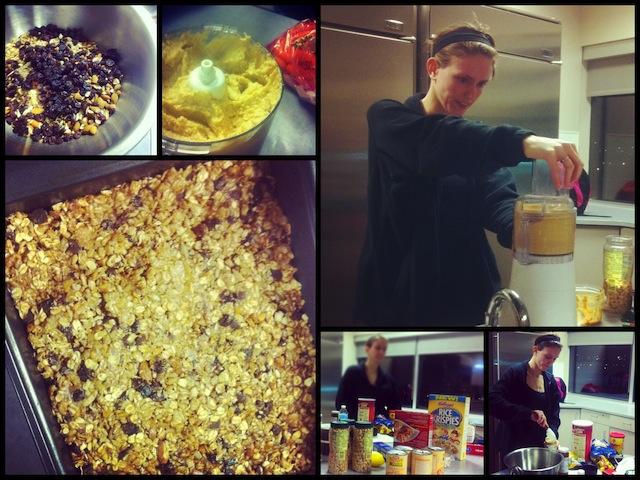 ———————————————
No-Bake Granola Bars
These are totally customizable! Choose your favorite mix-ins, slice into bars or squares, and store in an airtight container or individually wrap with plastic wrap and store in the fridge!
1 ½ c. brown rice cereal
2 c. oats
2 Tbsp flax seed
2/3 c. peanut butter
½ c. brown rice syrup
¼ c. chia seeds
¼ c. pumpkin seeds
¼ c. sunflower seeds
1 tsp vanilla
½ c. chopped almonds
¾ c. raisins and/or craisins
1/3 c. chocolate chips
Directions:
Mix all the dry ingredients in a bowl.
In a separate bowl, microwave the brown rice syrup and peanut butter until melted.
Add the liquid to the dry ingredients and mix well. Use your hands if you need to!
Press into a 9×13 pan and refrigerate until set.
——————————————–
Peanut Butter
Use your favorite nut and experiment with mix-ins like honey, cinnamon, raisins, cocoa powder, etc.
2 c. nuts
2 tsp honey, or to taste
1/2 tsp cinnamon, or to taste
1-2 tsp oil, if desired for smoothness
Directions:
Place the nuts in a food processor. Add the oil if you're using it
Process for about 5 minutes or until desired consistency is reached.
Add the honey and cinnamon and pulse a few times to combine.
————————————-
Sweet Potato Hummus
Start with a basic recipe and make it your own with mix-ins like roasted red peppers, cooked sweet potato, garlic, cayenne pepper, etc.
2 cans of chickpeas, rinsed with 1/4 c. liquid reserved
1 lemon
3 Tbsp tahini
1-2 cloves garlic
paprika, to taste
1 medium sweet potato
Directions:
Poke the sweet potato and microwave for 5 minutes to cook if using.
Add the chickpeas, reserved liquid, juice from the lemon, garlic and tahini to a food processor and process until smooth.
Add the sweet potato (skin removed) and pulse to combine.
Season as desired (try paprika or cayenne pepper for an kick!
——————————————
PB & J Larabars
Make your favorite flavor of store-bought bars at home with just a few ingredients.
2/3 c. chopped dates
½ c. raisins
½ c. dry roasted peanuts
Directions:
Place the dates and raisins in the food processor and process until they are well-combined and resemble a paste.
Remove and place in a small bowl.
Place the peanuts in the processor and pulse until chopped.
Add the peanuts to the date mixture and use your hands to combine.
Divide mixture into thirds, place one third on a piece of plastic wrap.
Use your hands to shape into desired bar shape. Repeat with remaining mixture.
Store in the fridge.
———————————————-
Here's a grocery list to get you started!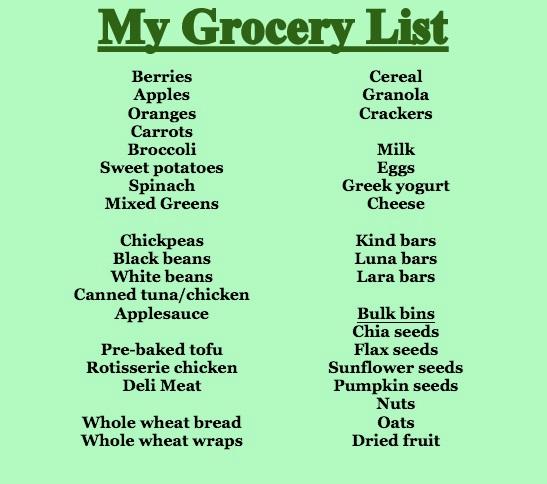 There you go! It IS possible to eat healthy in college, even when you're living in a dorm and have limited kitchen access/equipment. It may take a little extra effort/planning/mini-fridge organization skills… but MAN I wish I would have done it 🙂
Edited to add- Here are some other recipes to try that I've created since this post was originally published:
Peach Cobbler Smoothie
Microwave Sweet Potato Muffin
5 Quick, Healthy Breakfast Ideas
10 More Healthy Breakfast Ideas
90 Second Microwave Egg Sandwich
Curried Tuna Salad with Apples
Salmon Chop Salad
Tuna Salad with Avocado
50 Packable Lunch Ideas
Salad In A Jar – 3 Ways
Salad Topping Ideas
Mexican Loaded Sweet Potatoes
Pumpkin Energy Balls
Frozen Yogurt Pumpkin Pie Bites
Sweet Potato Energy Bites
Peanut Butter Cookie Dough Dip
No Bake Granola Bars
Gingerbread Protein Balls
Black Bean Guacamole
No Bake Protein Bars
Freezer Chocolate PB Cups
Smart Snack Ideas
Healthy Ice Cream Sandwiches
Healthy Microwave Popcorn
Frozen Yogurt Trailmix Bars
Chunky Greek Hummus Plate
So let's hear it. How was your diet in college?
[Tweet "It IS possible to eat healthy in college – and @leangrnbeanblog will show you how!"]
–Lindsay–
If you liked this post, you'll love my ebook – The Ultimate Guide To Food Prep. It dives into detail about how to food prep (yes you can do it in college), troubleshoots common problems and provides tons of tips to make it easier! Click the image below for more details!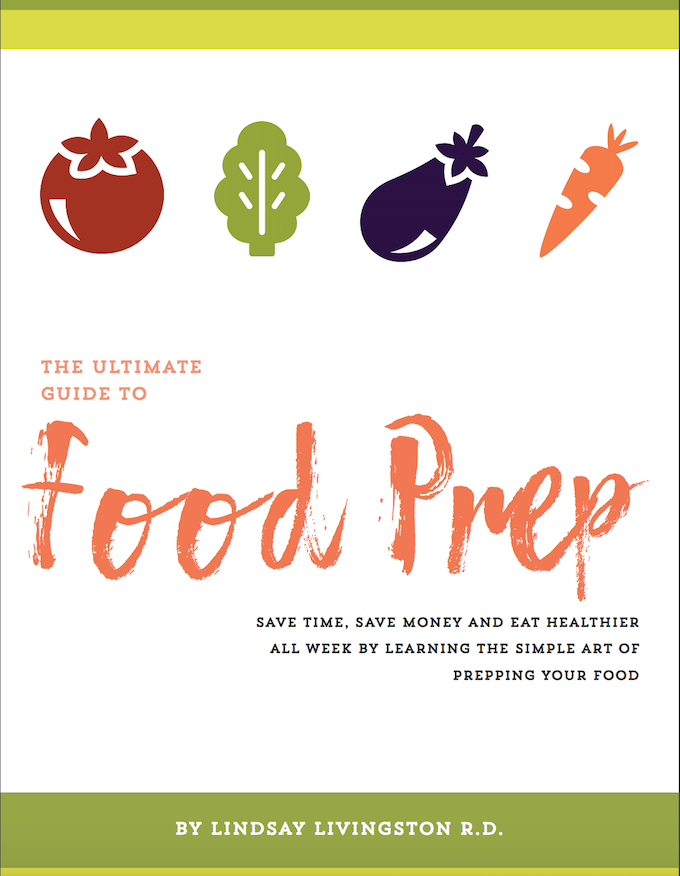 LEARN HOW FOOD AFFECTS YOUR BODY.
Get my free Table Talk email series where I share bite-sized nutrition information about carbs, protein, and fat, plus bonus information about snacks and sugar!