Hi Friends!
EDITED TO ADD: For an updated version of this recipe with better pictures and directions, please visit this post: Vegan Ice Cream Sandwiches.
————
I haven't been this excited to post a recipe in a long time. Healthy Ice Cream Sandwiches. Does it get any better than that?! I think not.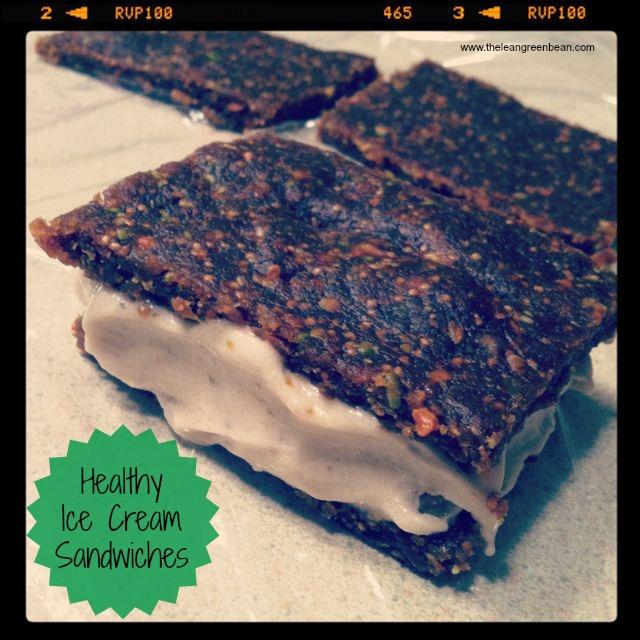 So, how did this all come about? Well…..earlier this week I did a little experiment in the kitchen. My last Foodie Penpal sent me some dried turkish figs and I was trying to figure out how to use them. After some research, it seemed to me that they were kinda like dates. So I thought I would blend them up with some nuts and make a larabar type thing…kinda like these LaraBites I made last year. However, in the spirit of trying new ingredients, I decided to use pistachios instead of the almonds I would normally use. We don't typically buy pistachios but we recently bought a giant bag at Costco so I had some to use up!
Then I started thinking about how it might be good to add some peanut butter in there.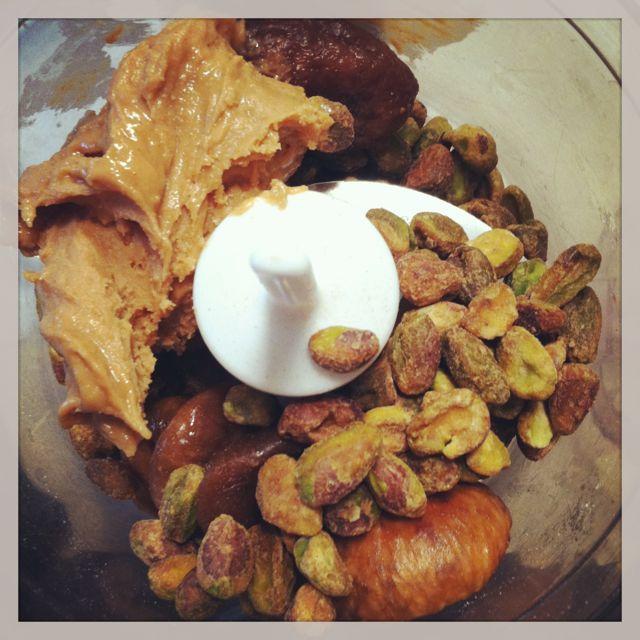 At this point I wasn't really sure what else to add…so I just turned on the food processor and hoped from the best. I ended up with a crumbly type mixture which, upon experimentation, appeared to stick together when pressed together firmly…and tasted good as well. I thought it might make a good crust, so I pressed it into a pan and stuck it in the fridge until I could come up with something tasty to use it for.
Later that night, I had an epiphany and decided to turn it into an ice cream sandwich of sorts. But instead of ice cream, I used banana fro yo.
That's right…a 4 ingredient dessert that tastes great!
Here's how you do it:
Print
Healthy Ice Cream Sandwiches
You read that right: nutrition in an ice cream sandwich. Can you hear the ice cream truck tunes playing now?
Author: Author: Lindsay L
Prep Time:

30 minutes

Cook Time:

2 hours

Total Time:

2 hours 30 minutes
1 cup

dried figs, roughly chopped (or dates)

1/2

c pistachios, without the shells (or almonds)

1/3

c peanut butter

2

–

3

medium bananas, cut into chunks & frozen
unsweetened cocoa powder, optional
Instructions
In a food processor, combine the figs, pistachios, peanut butter and cocoa powder (if using. I used about 1/4 cup. Start with a couple tablespoons, taste and add more if desired).
Pulse until well combined into a crumbly dough.
Transfer contents from food processor to a piece of saran wrap. Gather the edges of the saran wrap and squeeze dough into a ball.
Wrap and place ball on a jelly roll pan. Use the saran wrap to press the dough flat on the pan, trying to make it an equal thickness all the way around.
Cover with saran wrap and place in the fridge for 1-2 hours until chilled.
Remove from fridge and cut into sandwich sized pieces of desired size. Make sure you have pieces are the same size so the tops and bottoms will be even.
Place the dough pieces back in the fridge.
Clean out the food processor, then add the frozen banana chunks to it. Process until a smooth ice cream/fro-yo consistency is reached.
Get your sandwich pieces out, scoop some banana ice cream onto one sandwich piece. Top with another and press gently to flatten.
Wrap each sandwich individually in saran wrap and place in the freezer until desired firmness is reached.
*Side note, you can easily double this recipe! If things aren't coming together in the food processor, add a couple tablespoons of water*
Making these is a little bit time intensive…but it's totally worth it!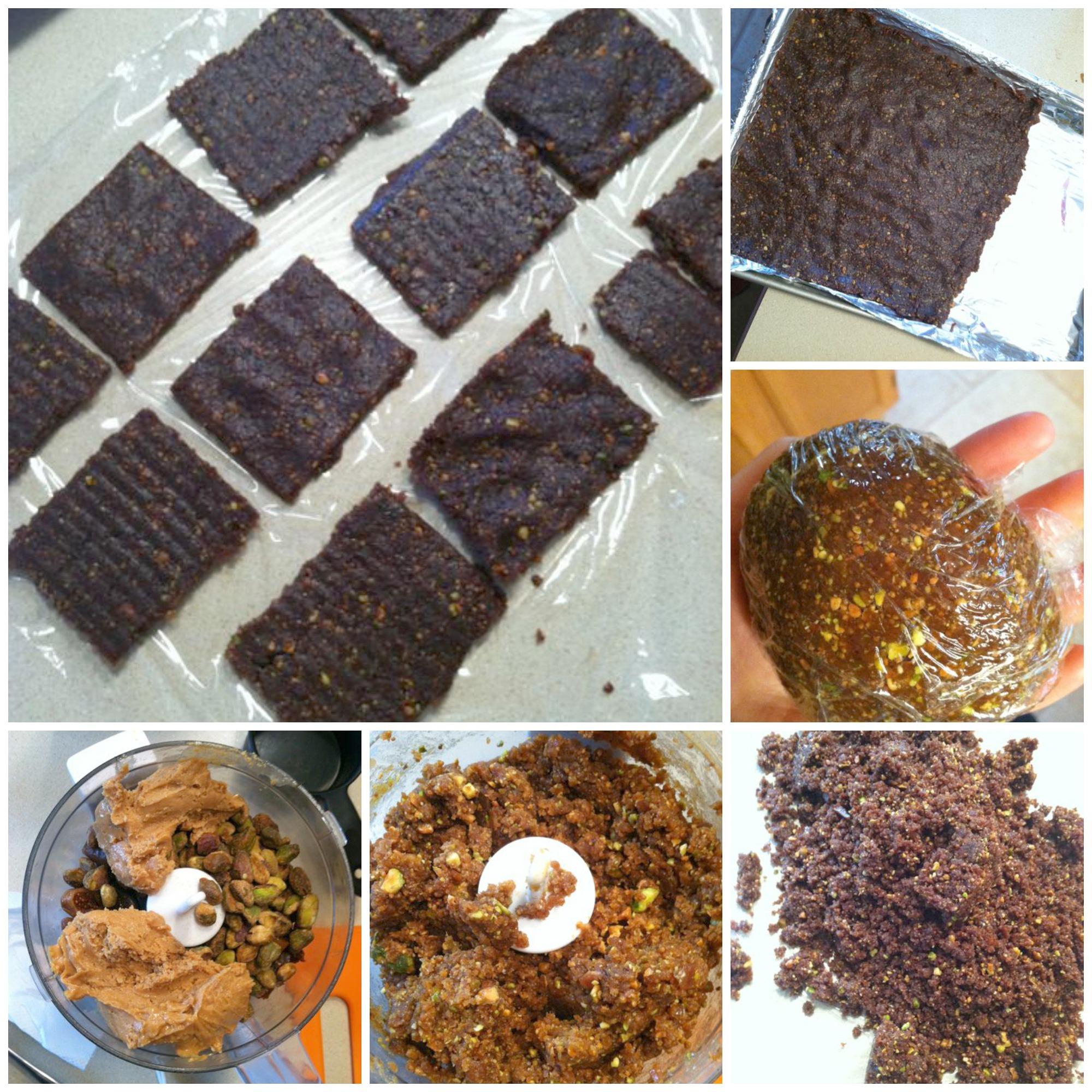 I've made two batches of these. One with cocoa powder and one without. They both taste great. My best advice is handle the "dough" as little as possible. Cut it into sandwich size pieces so you have tops and bottoms that are the same size, then stick them back in the fridge while you make the fro yo. Then make quick work of scooping some fro you onto one side of the sandwich, topping with the other half, pressing down gently and wrapping in saran wrap. Stick them in the freezer as you finish each one!
A few other things to note:
Don't make the dough too thin when you press it into the pan, otherwise it will crumble when you try to cut it into squares and remove it.
You may need to trim off the very edges before cutting your sandwich sides as they tend to crumble.
The dough is very oily. I'm not sure if it's from the figs or the pistachios…but using a piece of saran wrap to press it flat into the pan helps a lot!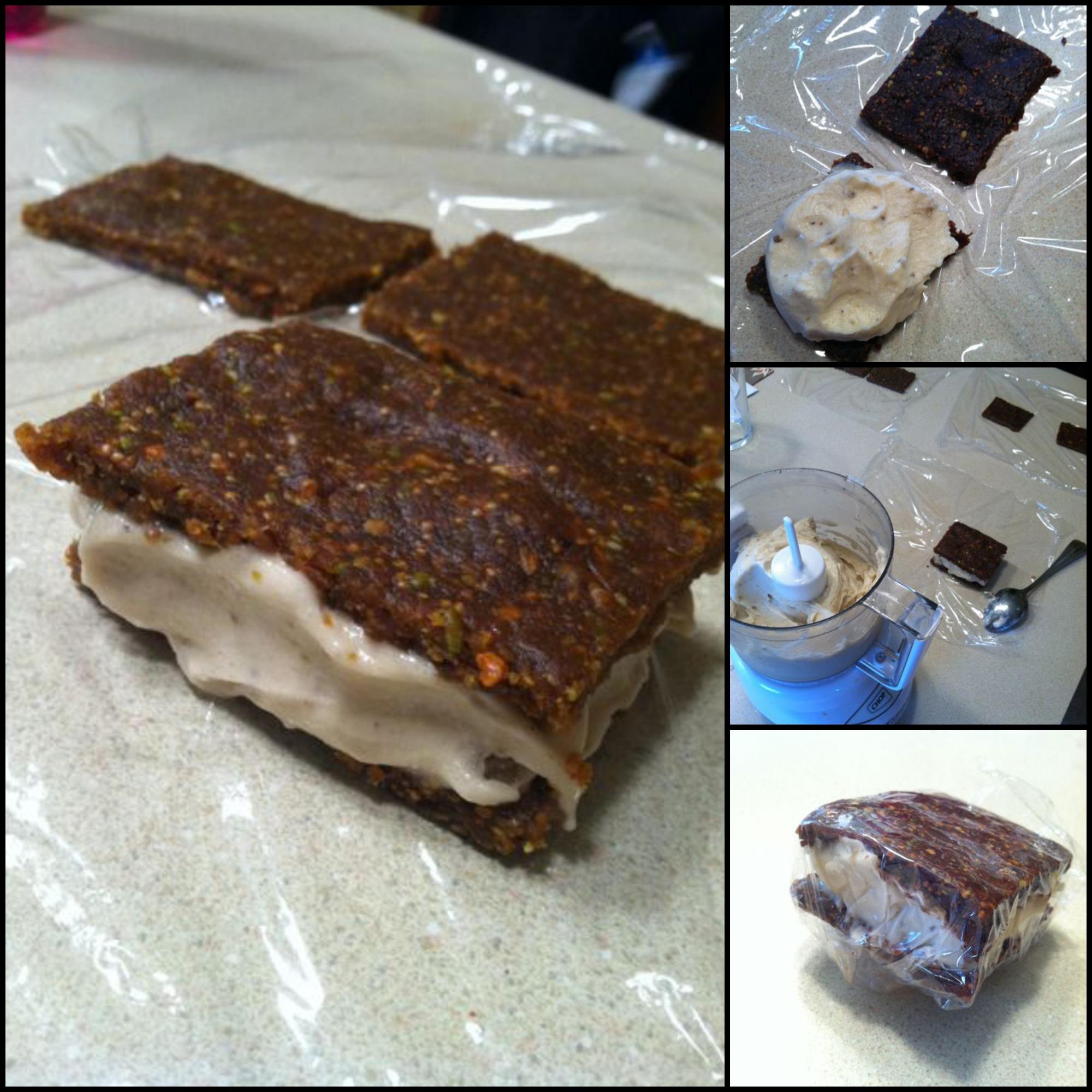 Since I know some of you will ask…here are my thoughts on substitutions:
I think you could substitute dates for figs if you wanted to
I also think another kind of nut besides pistachios would work equally well.
I THINK the two statements above. I don't know. I haven't tried it. No promises.
Have fun with it. Play around. Try some different combinations. Feel free to make a mess!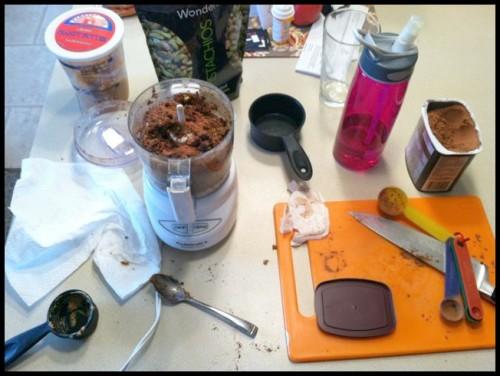 And if you don't want to go through all the trouble of making ice cream sandwiches, just roll the dough into little balls and eat it that way: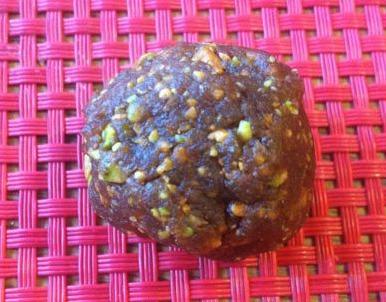 But trust me, the ice cream sandwiches are worth the work: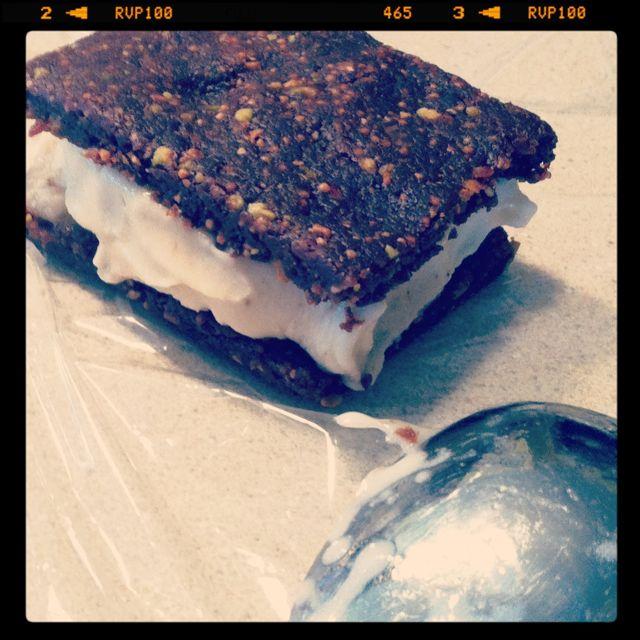 In my opinion at least…some people seem to disagree: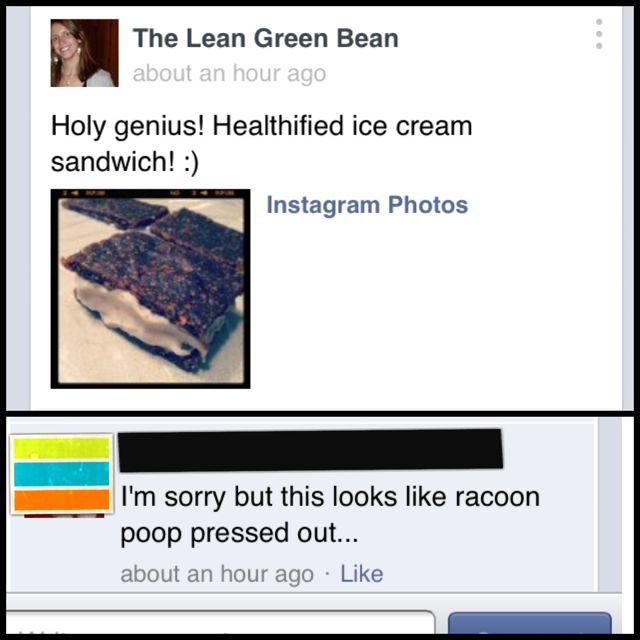 But hey, you can't please everyone!
Enjoy!
–Lindsay–
LEARN HOW FOOD AFFECTS YOUR BODY.
Get my free Table Talk email series where I share bite-sized nutrition information about carbs, protein, and fat, plus bonus information about snacks and sugar!