This Salmon Chop Salad is a protein packed salad full of veggies, without the need for leafy lettuce.
Hi Friends!
So remember last week when I was talking about non-traditional salads, and I was saying that hubby can be totally happy eating just a giant bowl of lettuce with a few broccoli stems on top and calling it a salad? Well, in that post I also mentioned that I'm not actually the biggest fan of lettuce. Give me ALL THE TOPPINGS though! Who's with me?
Well, if you are with me…then you'll probably like this Salmon Chop Salad. It's basically lots of goodies that I would top a traditional salad with….sans lettuce.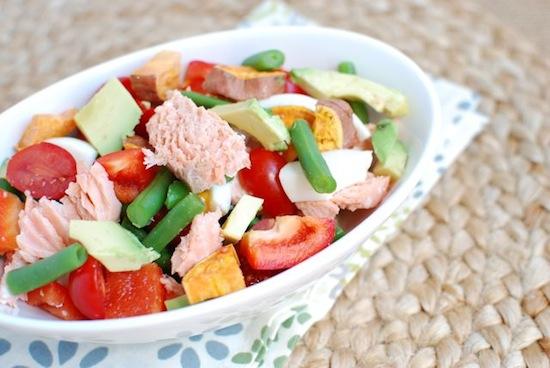 Here's my recipe. Lucky for you, this "recipe" is about as lax as it gets. So if you see something you don't like (including the salmon), feel free to swap it out for one of your favs!
Print
Salmon Chop Salad
A salad with all the delicious toppings and none of the boring lettuce!
6 oz

salmon, cooked and flaked

1 cup

green beans, cut and cooked

1 cup

red peppers

2

eggs, hard boiled & chopped

1 cup

sweet potatoes, diced and cooked

1/2

medium avocado, diced

1/2 cup

cherry tomatoes, halved
Feta cheese, crumbled (optional)
Instructions
Split ingredients equally into two bowls.
Top with dressing of your choice.
Feel free to prepare the veggies however you want. I microwaved my green beans and sweet potatoes but next time I'll definitely grill or roast them! If I could eat feta right now, I definitely would have included it…but if you don't like it, leave it out or add your personal favorite cheese. Cubes of fresh mozzarella would be great!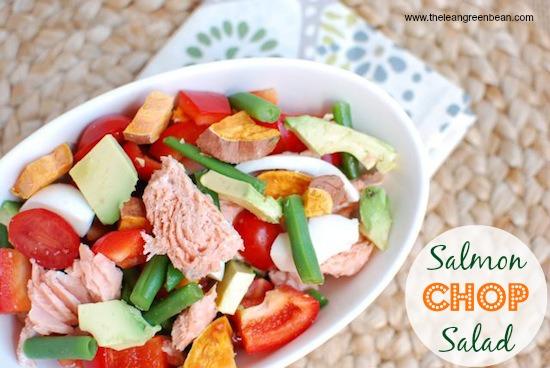 Another good thing about this salad – you can pretty much top it with any dressing and it will be delicious. So I'm leaving that up to you. HOWEVER, I have a recipe brewing in my head for a new salad dressing I want to try…and I think it'd go particularly well with this salad…so later this week I'm going to remake this and try out my idea. If it turns out, I'll share it with you guys!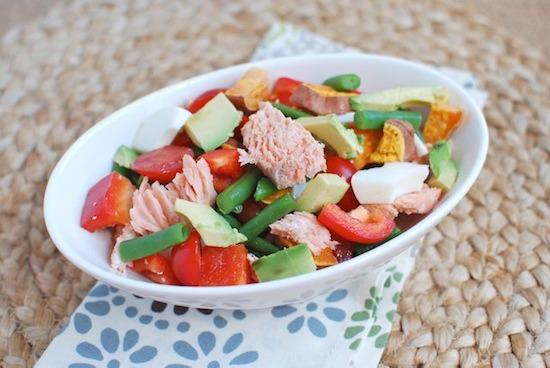 Enjoy!
–Lindsay–
LEARN HOW FOOD AFFECTS YOUR BODY.
Get my free Table Talk email series where I share bite-sized nutrition information about carbs, protein, and fat, plus bonus information about snacks and sugar!