Looking for a quick lunch option? Spend 20 minutes prepping and you can have lunches ready and waiting in the fridge all week long. Try these 3 flavor combos or create your own!
Hi Friends!
It's Monday and even though I'm still on vacation, I know most of you are kicking off another work week. Sorry about that 🙂 To try to ease your pain, I have my friend Lauren here today to share a fun lunch idea with you guys!
A few things about Lauren:
She's now a super busy lawyer. Despite being intimidated by the gym and workout classes, she started to really make an effort to make time in her schedule to work out while she was a law student. I'm SO proud of her and love reading about her workouts on her blog.
I'm not sure when she finds the time, but she also whips up delicious eats in the kitchen. I want her to cook me dinner.
Her photography skills are amazing!
She's excellent at remaining positive, even in stressful and difficult situations.
She has a beautiful smile 🙂

Hey there green beans! I'm so happy to have the privilege of writing a post on Lindsay's wonderful blog! Hers is one of my favorites and so I was thrilled that she asked me to guest post. My name is Lauren and I blog over at A Dash of Soul.
I'm a lawyer who loves my family and loves my food. My husband Jason was in law school with me, and he's my permanent life partner, study buddy, and taste tester.
Between his already high cholesterol and some health problems I've been having, it's become increasingly important to me that we both eat the foods to nourish our bodies the right way so that we can spend many more silly, happy years together.
Today I want to share with you my latest healthy food obsession!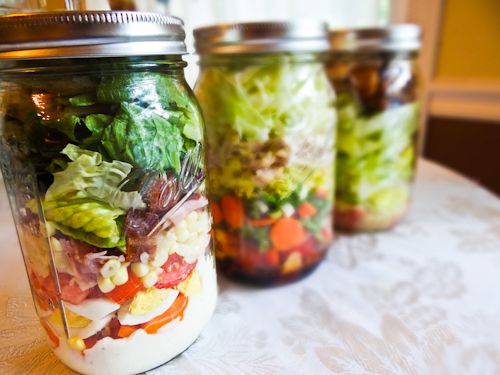 Salad. In a jar! It's super convenient, especially if you're packing a lunch to take with you to work or school. With this method, you get your greens, your delicious toppings, and your dressing all in ONE easy container. I recently put my three favorite salads into jar form and couldn't be more thrilled with how they came out. First up (and my very favorite) is Cobb salad.
The layers in this one are (from bottom to top): blue cheese dressing, carrots, hard-boiled egg, tomato, corn, ham, bacon, and a romaine lettuce blend. A bit indulgent for a salad but SO delicious! I made the blue cheese dressing myself by combining 2 T. greek yogurt, 2 T. olive oil mayo, 2 t. apple cider vinegar, 1 1/2 T. crumbled blue cheese, a splash of olive oil, and a little garlic salt and pepper. So tasty and way better for you than the stuff in the bottle. Remember to load those veggies in!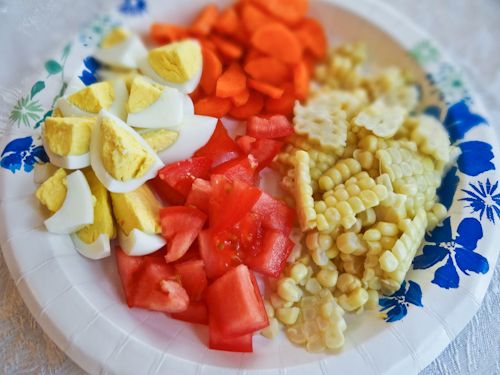 Next up is an Asian chicken salad!
The layers in this one are sesame vinaigrette, red bell pepper, snow peas, carrots, green onions, shredded Napa cabbage, roasted chicken, and shredded green cabbage. I made this dressing by combining about 2 t. sesame oil, T t. olive oil, 1 T. rice wine vinegar, 2 t. soy sauce, and a nice big squirt of honey. Again, squeeze as many veggies in as you can!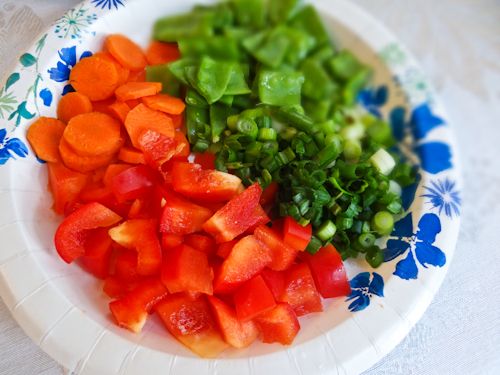 And last but not least… chicken Caesar salad. This one has a Caesar vinaigrette, tomatoes (I know that's not traditional in Caesar but I love them), parmesan cheese, hearts of romaine, whole wheat croutons, and roasted chicken.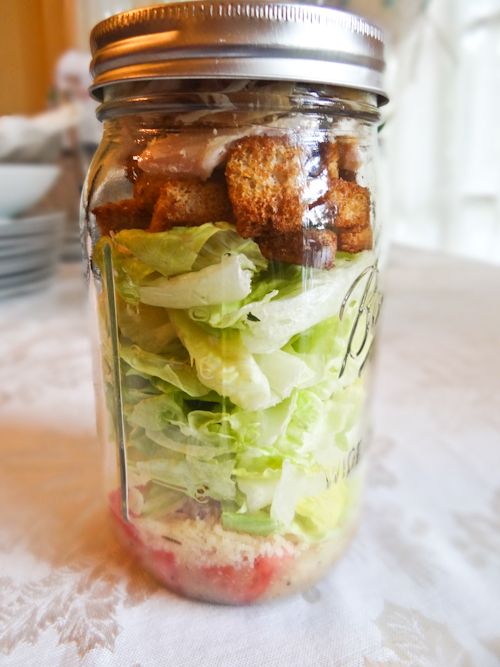 I didn't make this dressing myself but I did make the croutons! Just cut a piece of whole wheat bread into chunks, tossed it in olive oil, sprinkled with garlic salt…
…and then put them right into a 375 degree oven for a few minutes (they burn easily so you have to watch them closely!). It's a quick and easy way to up the nutrition by using these instead of white croutons. And they're just as tasty.
When you're ready to enjoy your salad, just give the jar a good shake and dump it out into a bowl. You could eat it straight out of the jar, but I am not coordinated enough for that. Into the bowl it goes.
The possibilities with jarred salads are endless. Use whatever greens, toppings, and dressing you like. As long as the dressing is at the bottom and not touching your greens, the jar will stay fresh in the fridge for several days. For a nice, big serving I recommend these quart jars, which can fit enough salad for a whole meal.
Some of you have probably already been using this idea in your own kitchens, but for those of you who don't already, I hope you give it a try!
Thanks so much for reading and thank you Lindsay for having such an awesome blog and for letting me chat with your readers!
-Lauren, from A Dash of Soul
---
[clickToTweet tweet="Need a quick lunch option? Try these salads in a jar from @leangrnbeanblog & @adashofsoul!" quote="Need a quick lunch option? Try these salads in a jar from @leangrnbeanblog & @adashofsoul!"]
I've been reading about salads in a jar forever but have never actually made one myself. This was just the motivation I needed to try it out when I get home! Plus, who doesn't love mason jars?!
Enjoy!
–Lindsay
These salads would make a great addition to your food prep session. Great to have on hand for quick lunches! If you liked this post, you'll love my ebook – The Ultimate Guide To Food Prep. It dives into even more detail about how to food prep, troubleshoots common problems and provides tons of tips to make it easier! Click the image below for more details!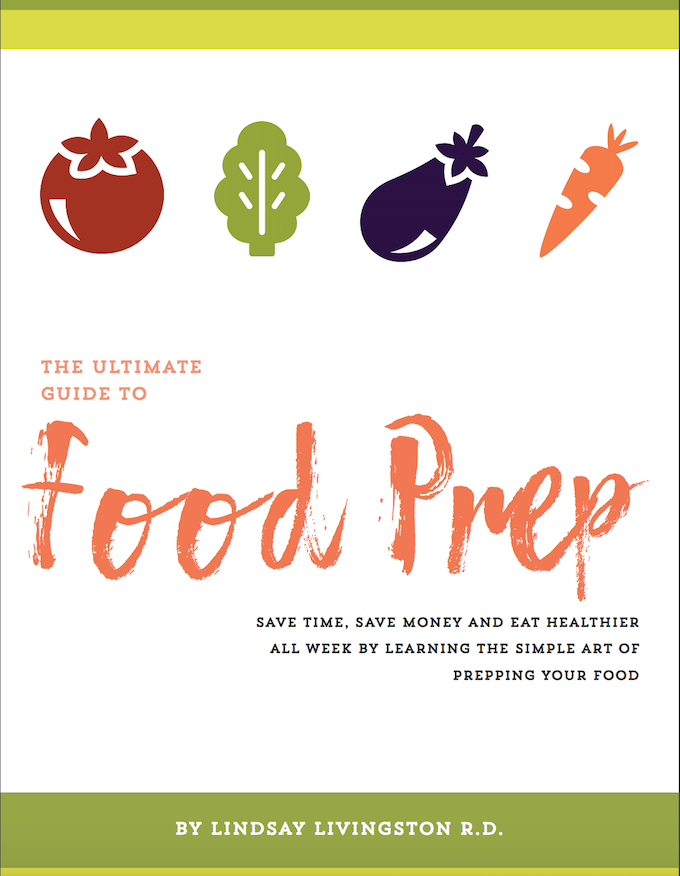 LEARN HOW FOOD AFFECTS YOUR BODY.
Get my free Table Talk email series where I share bite-sized nutrition information about carbs, protein, and fat, plus bonus information about snacks and sugar!