This Peach Cobbler Smoothie is packed with protein thanks to the cottage cheese. It's sweet enough for dessert and healthy enough for breakfast or a snack!
Hi Friends!
Just popping in with a quick, simple recipe for you guys. As you may recall, I'm not much of a cottage cheese eater. It's a texture thing…like I'm sure it is for a lot of people. However, when I made my Sweet Potato Protein Pancakes last month, I couldn't help but notice how nicely all the little chunks disappear when you put it it in a blender! Since then I've been meaning to try it in a smoothie for a protein boost, but just haven't gotten around to it.
Yesterday I needed a quick snack. I've been thinking about peaches pretty much non-stop ever since Kylie posted this recipe and I got my first peaches of the season at the store the other day, so I decided to put a dessert spin on my smoothie.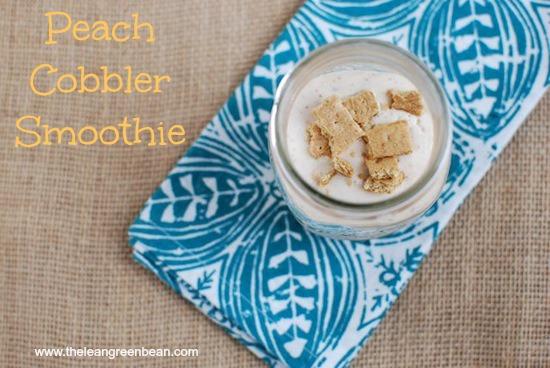 And just like that, the Peach Cobbler Smoothie was born.
Here's what you do:
Print
Peach Cobbler Smoothie
A drinkable dessert that's healthy enough for breakfast or a snack!
1/2 cup

cottage cheese

1

peach, fresh or frozen

2

graham crackers
Ice
Instructions
Put the ingredients in a blender and run until smoothie. You'll need more ice if you're using fresh peaches.
It's up to you whether to put both graham crackers in the smoothie or save one to crumble on top.
I like to eat my smoothies with a spoon, so I put one graham cracker in the blender and crumbled the other into the smoothie so I could scoop up smoothie and crumbles in every bite.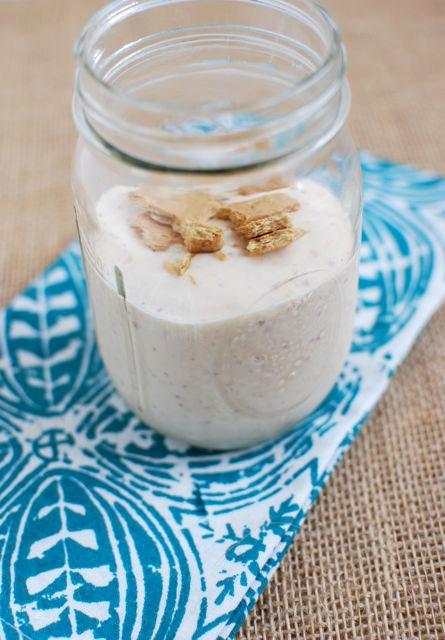 If you're just not a cottage cheese fan, try this with Greek yogurt! I had this for an afternoon snack, but you could also add it to your breakfast menu or whip one up for dessert!
Enjoy!
–Lindsay–
LEARN HOW FOOD AFFECTS YOUR BODY.
Get my free Table Talk email series where I share bite-sized nutrition information about carbs, protein, and fat, plus bonus information about snacks and sugar!