Sweetened with honey and packed with nuts and seeds, these granola bars are sweet enough for dessert but also make a fairly healthy afternoon snack!
Hi Friends!
Just popping in to share a quick snack recipe with you guys. I mentioned these no-bake granola bars in my Favorite Ways To Eat Almonds post last week, but I made another batch yesterday so I thought I'd officially share them as their own post since I made a few tweaks to the recipe.
The main problem I have with most granola bar recipes is that they don't stick together very well unless you use a ton of sweetener (like honey). I do like bars made with dates but honestly, sometimes I just don't feel like getting out an appliance to blend them up. So I usually use honey, and I try to add just enough for them to stick together…but if I'm being honest, there are usually still a few crumbles. But hey, that's fine in my book! I like to sprinkle them on yogurt, kinda like granola.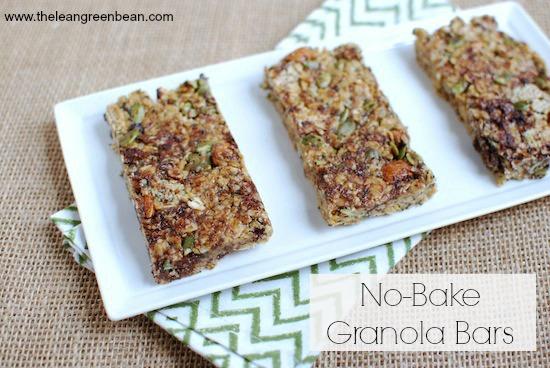 Here's my latest recipe. These stick together pretty well as long as you store them in the fridge and eat them quickly. In my book, they're sweet enough for dessert….but they're full of nuts and seeds making them a good little afternoon snack as well!

No Bake Granola Bars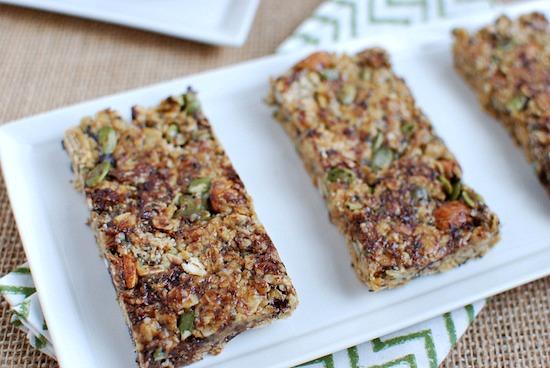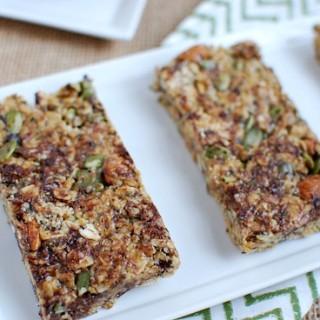 An easy snack packed with healthy ingredients that's also sweet enough for dessert!
Ingredients
1

cup rolled oats

1

cup Rice Chex (or other cereal)

2

Tablespoons chia seeds

2

Tablespoons hemp hearts

1/4

cup pumpkin seeds

1/4

cup chopped almonds (or your fav nut)

1/2

cup nut butter

1/3

cup honey

2

Tbsp chocolate chips, optional
Instructions
Combine dry ingredients in a bowl.
Microwave honey and nut butter in a separate bowl for 45 seconds and stir to combine.
Add wet ingredients to dry and mix until well coated.
Press into an 8x8 or 9x9 pan (line with parchment paper for easy removal) and freeze for 30 minutes.
Cut into 8 bars and store in the fridge.
Trust me when I say it's much easier to eat these than it is to photograph them! Feel free to customize using your favorite nuts and seeds.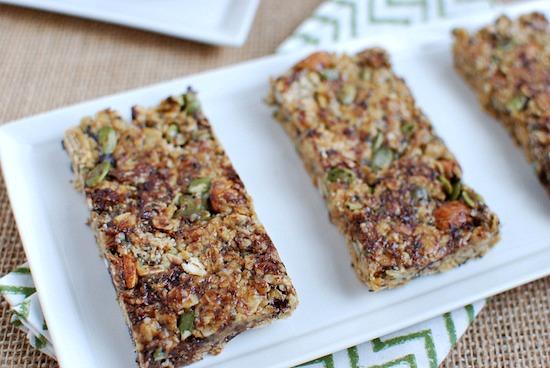 Just look at all the goodies packed in there!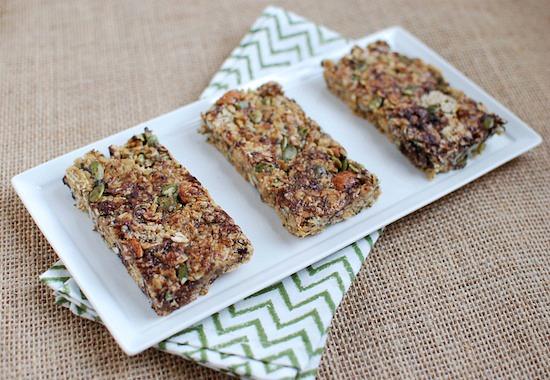 Like I mentioned in the recipe, store these in the fridge and enjoy them cold! OR crumble one up on some vanilla ice cream for dessert!
Enjoy!
–Lindsay–