These Frozen Yogurt Pumpkin Pie Bites are a healthy pumpkin dessert made with yogurt, pumpkin, almonds and dates. Tastes like pumpkin pie!
Hi Friends!
How's that for a title? These were not what I intended to post today, but this week I was bitten by the pumpkin bug. I know some of you still think it's too early for pumpkin, but at least I made it to September. I found a can of pumpkin in my pantry and I just couldn't get over the need to make something with it. I thought about making one of my pumpkin recipes from last year, but I decided I wanted my first pumpkin recipe of this fall to be a new one.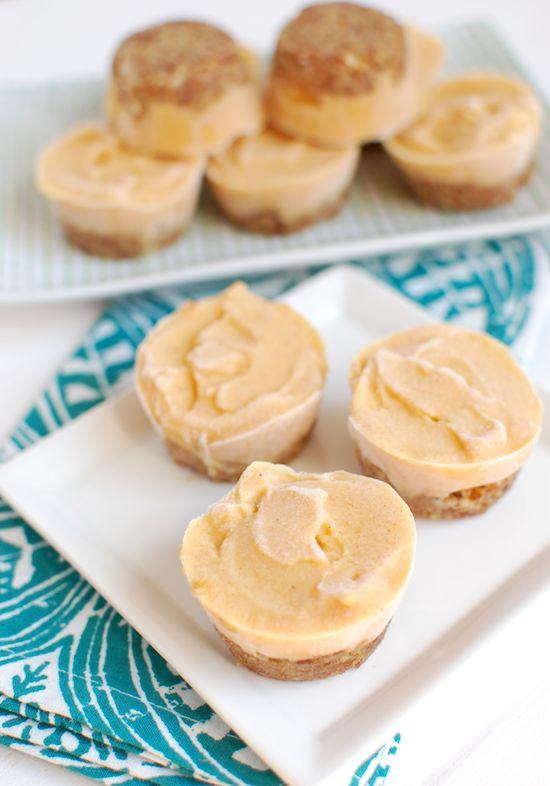 So I put on my thinking cap and here's what I came up with. Honestly, I wasn't sure what to call these. They involve homemade frozen yogurt. They also have a crust. They're like a mini pumpkin pie…but frozen…and made with yogurt and nuts.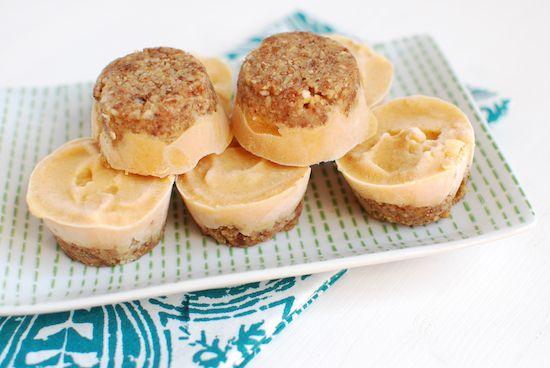 Call them what you wish. I call them delicious.
Here's how you make them:
Print
Frozen Yogurt Pumpkin Pie Bites
A bite-sized frozen treat that tastes like pumpkin pie!
2/3 cup

raw almonds

2/3 cup

dates, chopped and pitted

2/3 cup

Honeynut Cheerios*

2

–

4

Tbsp milk

1 cup

full fat plain yogurt

1/2

–

3/4

cup pumpkin puree

1/2 tsp

cinnamon

1/2 tsp

vanilla

2

–

4

Tbsp maple syrup
Instructions
In a food processor, combine the almonds, dates and cheerios and process until well ground.
Add just enough milk for the mixture to come together into a ball (i'd start with 2 Tbsp and add more if it's still too dry).
Press mixture into 12 mini muffin tins.
In a small bowl, combine the yogurt, pumpkin (start with 1/2 cup and add more for stronger pumpkin flavor), cinnamon and vanilla and mix well.
Add maple syrup until desired sweetness is reached (start with 2 Tbsp and add more if needed, keeping in mind the crust will be sweet).
Spoon mixture into muffin tins on top of crust.
Freeze for at least 4 hours, then use a knife to remove from muffin tins. Store in a container in the freezer.
When I made these, I poured the yogurt mixture into an ice cream maker first and let it thicken, and then pressed into the muffin tins…but now that I'm looking back on it, I don't really think it's necessary to use the ice cream maker. You could probably just spoon the yogurt mixture into the muffin tins on top of the crust and freezer. Since I was kinda working on a whim while making these, I used mine…but when I make my froyo bites I just freeze yogurt in ice cube trays so I'm sure it will work just fine.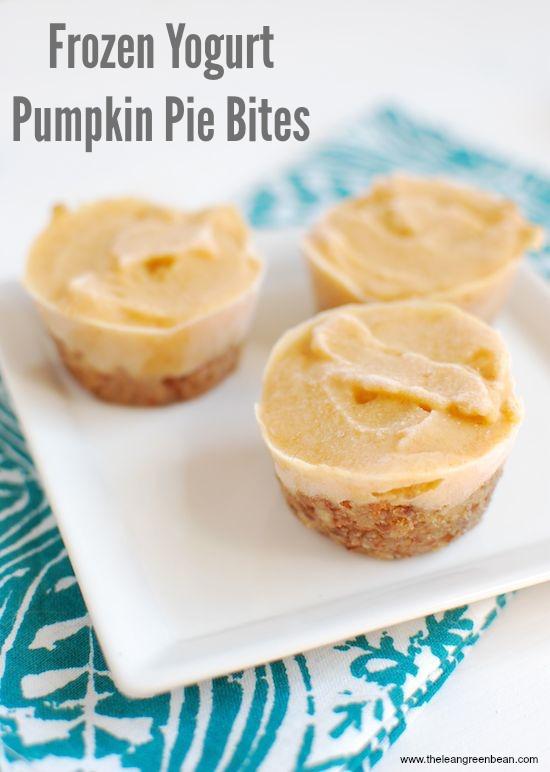 Like I mentioned above, this is a taste as you go recipe. I gave some of the quantities in ranges because they will depend on other factors. For example, if your dates are nice and sticky, you may need less milk than if they're a bit dried out. If you don't want the frozen yogurt part to be super sweet, you'll need less maple syrup. Just remember that the crust part is quite sweet, so you might not need to make the frozen yogurt part as sweet as you would if you were eating it on your own.
As I said in the notes, I used Honeynut Cheerios, mainly because I was out of graham crackers and I had a box I'm trying to use up. You could try subbing a couple of graham crackers for the Cheerios, or using oats instead. Just remember if you use oats that the crust will be a bit less sweet.
These are a bit tricky to get out of the muffin tins, but let them sit a few minutes and then if you can get a knife down the side, they should pop right out!
Let's chat:
What's your favorite pumpkin recipe?
Enjoy!
–Lindsay–
LEARN HOW FOOD AFFECTS YOUR BODY.
Get my free Table Talk email series where I share bite-sized nutrition information about carbs, protein, and fat, plus bonus information about snacks and sugar!