Use these Quick Toddler Meal Ideas to inspire some easy, healthy new breakfasts, lunches and dinners for your kids!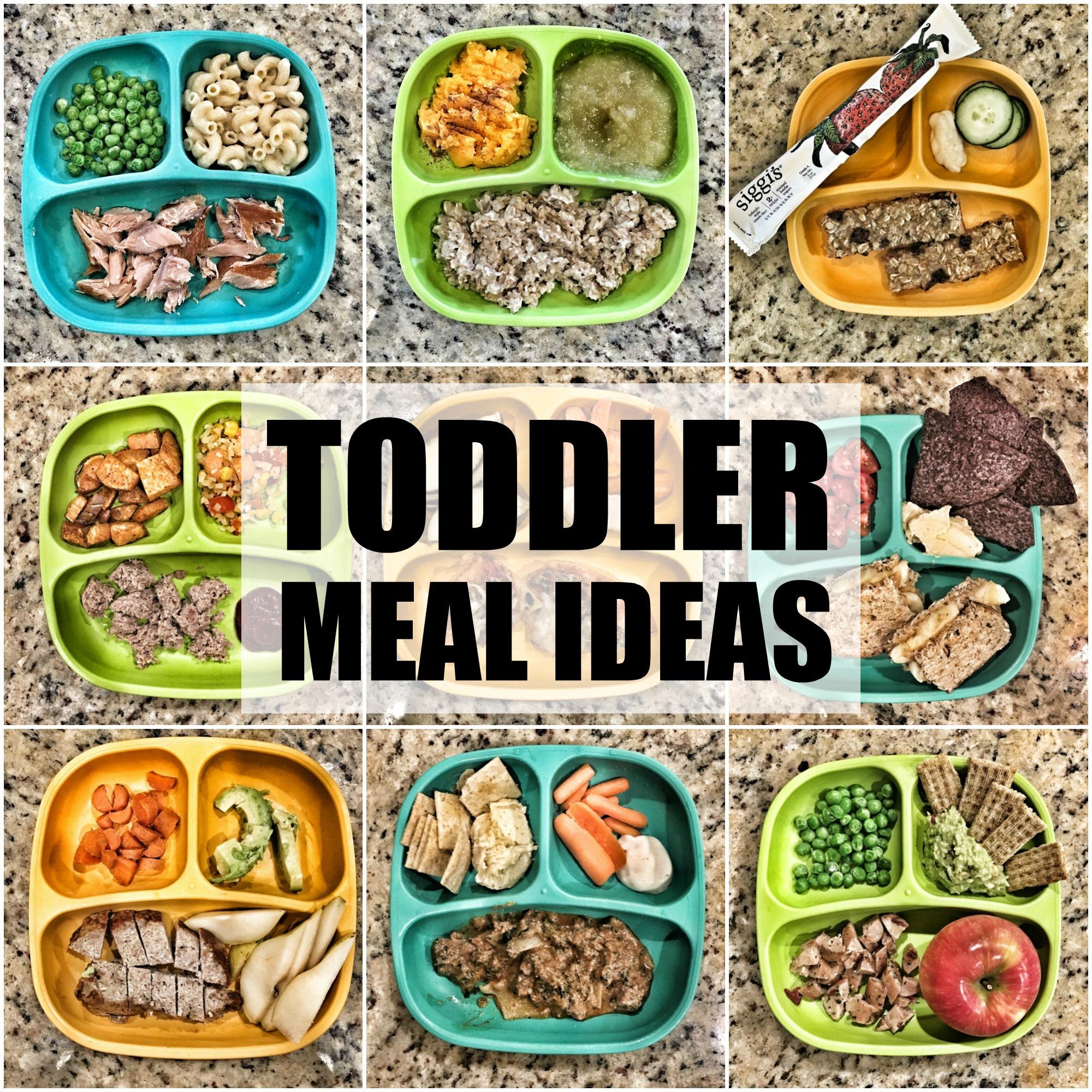 Hi friends!
Last year I shared several large roundups of toddler meal ideas and they were quite popular. I strongly believe that their popularity is not based on the fact that the meals I feed my kids are crazy unique or exceptional….it's simply because as a parent, coming up with stuff to feed your kid every day can get overwhelming. It's easy to find a few things they like and serve them over and over again instead of trying new things and battling with them to try to get them to eat.
I share these roundups not because I think you should be giving your kids these exact meals…but because I hope that perhaps they'll give you some inspiration or spark some new ideas! Maybe you'll just see a few components of a few meals and think "hey! I've never tried serving that to my kid". I consider that a win.
Important note- the plates are from Re-Play Recycled. (affiliate link) They're our favorite.
A few things to remember:
When I think about how I feed my kids, I try to look at the whole week nutritionally, not a single day. So yes, not all of these meals have vegetables or are perfectly balanced.
There are food item repeats because he's 3 and definitely has his favorites (and a couple photos I put in the collages twice on accident)
These are all from the span of a month or two. Certain things, like pears, are in season so we eat them a lot. You could easily sub other fruits or veggies for the ones I have shown.
This is just meant to give ideas. All kids eat different amounts and varieties.
This is mostly lunch and dinner. He eats pretty much the same thing for breakfast every day, but there are a few breakfasts pictured.
I labeled brands the first time the product appeared but not each time throughout the post
No, he does not always eat everything I serve him.
So here are some ideas!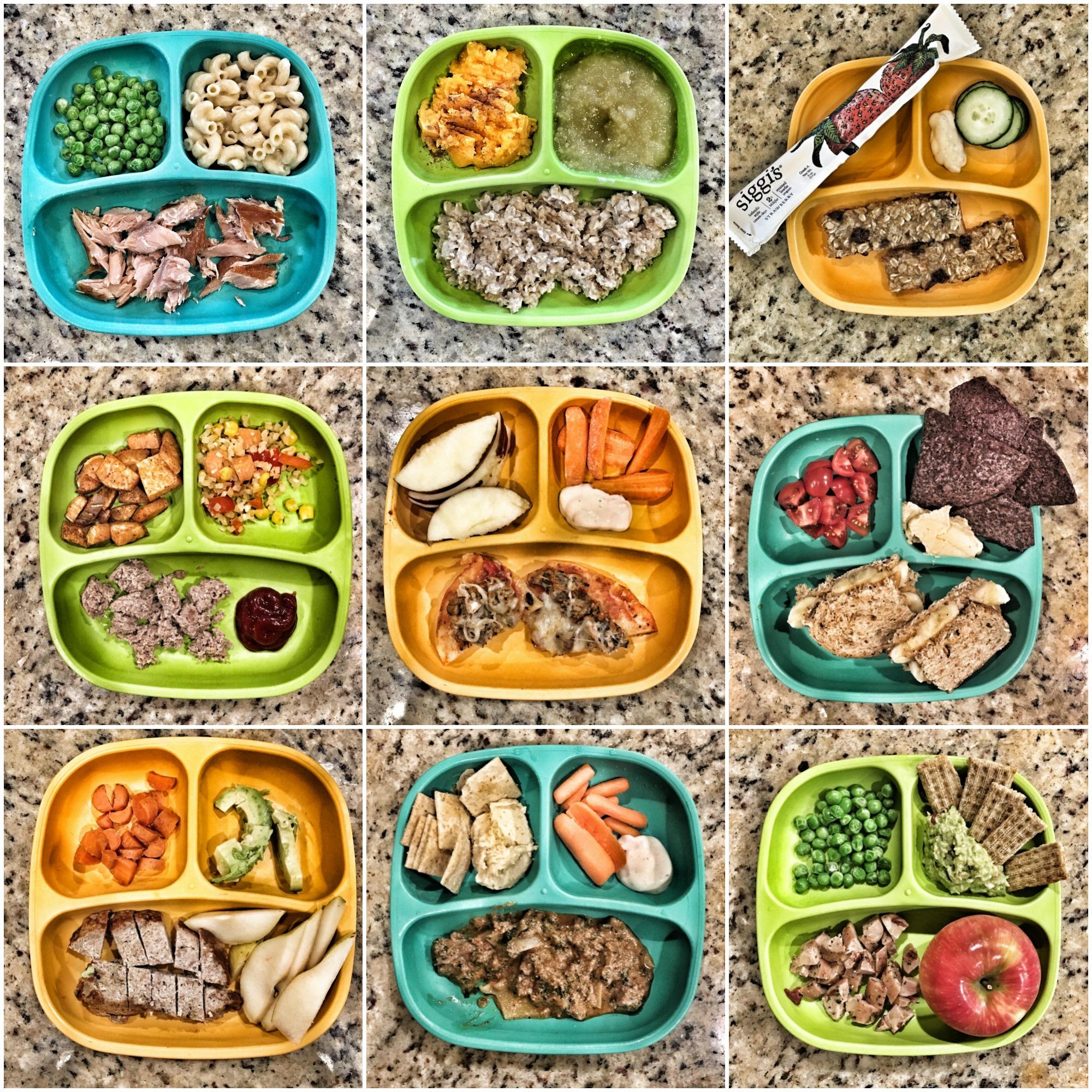 Peas, buttered noodles and smoked salmon
Mashed squash, cinnamon applesauce, oatmeal with Crazy Richard's peanut butter
Siggi's yogurt, cucumbers with Sabra hummus & baked oatmeal french toast sticks
Roasted sweet potatoes, confetti cauliflower rice, hamburger with Annie's ketchup
Apple slices, carrots with ranch, naan pizza with mushrooms and meatballs
Cherry tomatoes, Garden of Eatin chips with hummus, peanut butter & banana sandwich (Dave's Killer Bread)
Maple bacon roasted carrots, avocado, Cajun meatloaf and pears
Simple Mills crackers with hummus, carrots with ranch, Lasagna soup
Steamed peas, Triscuits with guac, chicken sausage and an apple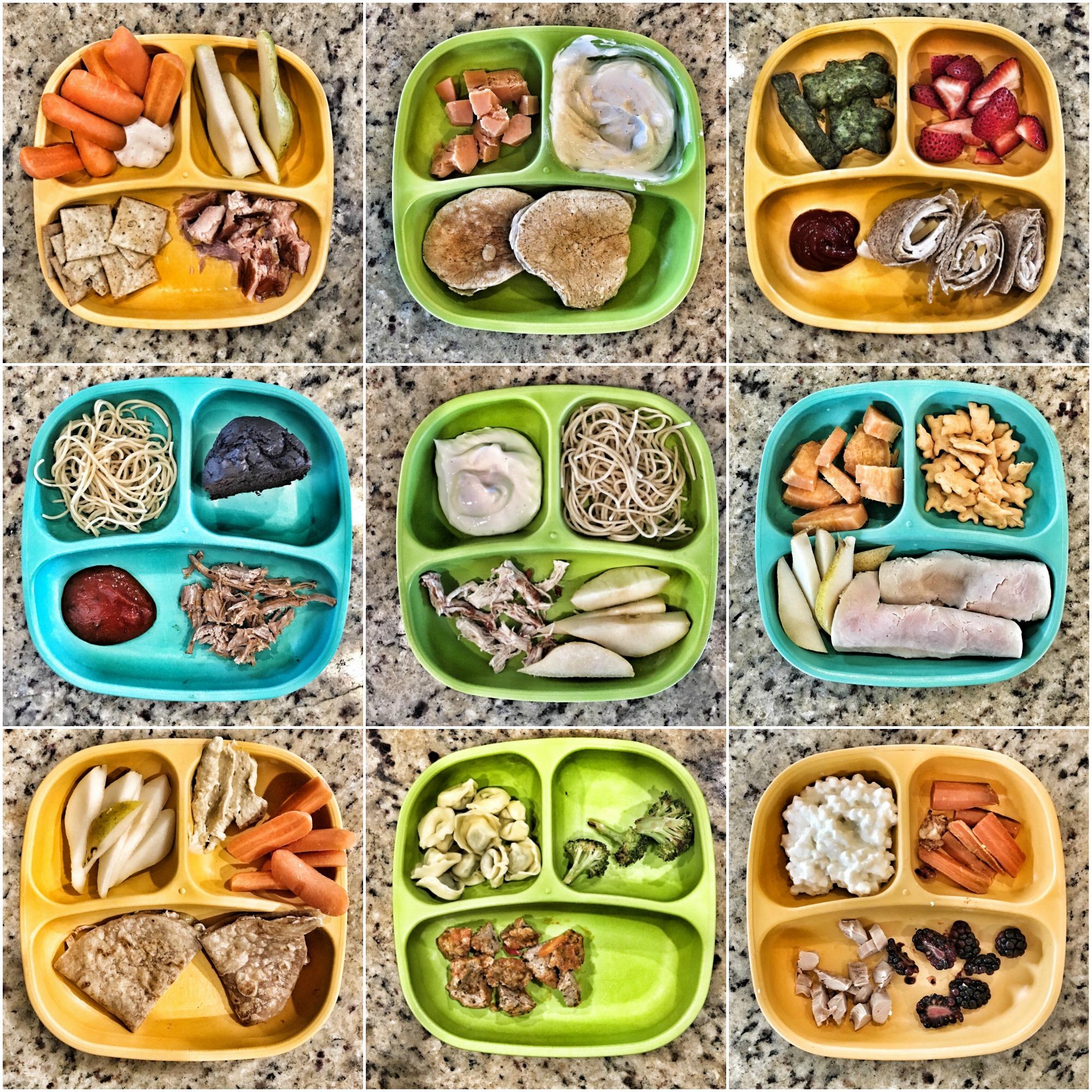 Carrots & ranch, pears, crackers and smoked salmon
Steamed sweet potatoes, yogurt, Kodiak cakes
Broccoli tots, strawberries, turkey, hummus & cheese roll-up
Spaghetti, Chocolate Butternut Squash Muffin, pulled pork with bbq sauce
Yogurt, noodles, Instant Pot Hummus Chicken, pears
Roasted sweet potato, Annie's Cheddar Bunnies, Plainville Organic Turkey, pears
Pears, Carrots & Hummus, Quesadilla with hummus, chicken and cheese
Spinach and cheese tortellini, roasted broccoli, crockpot meatball
Cottage cheese, carrots, blackberries, sweet & spicy bacon wrapped chicken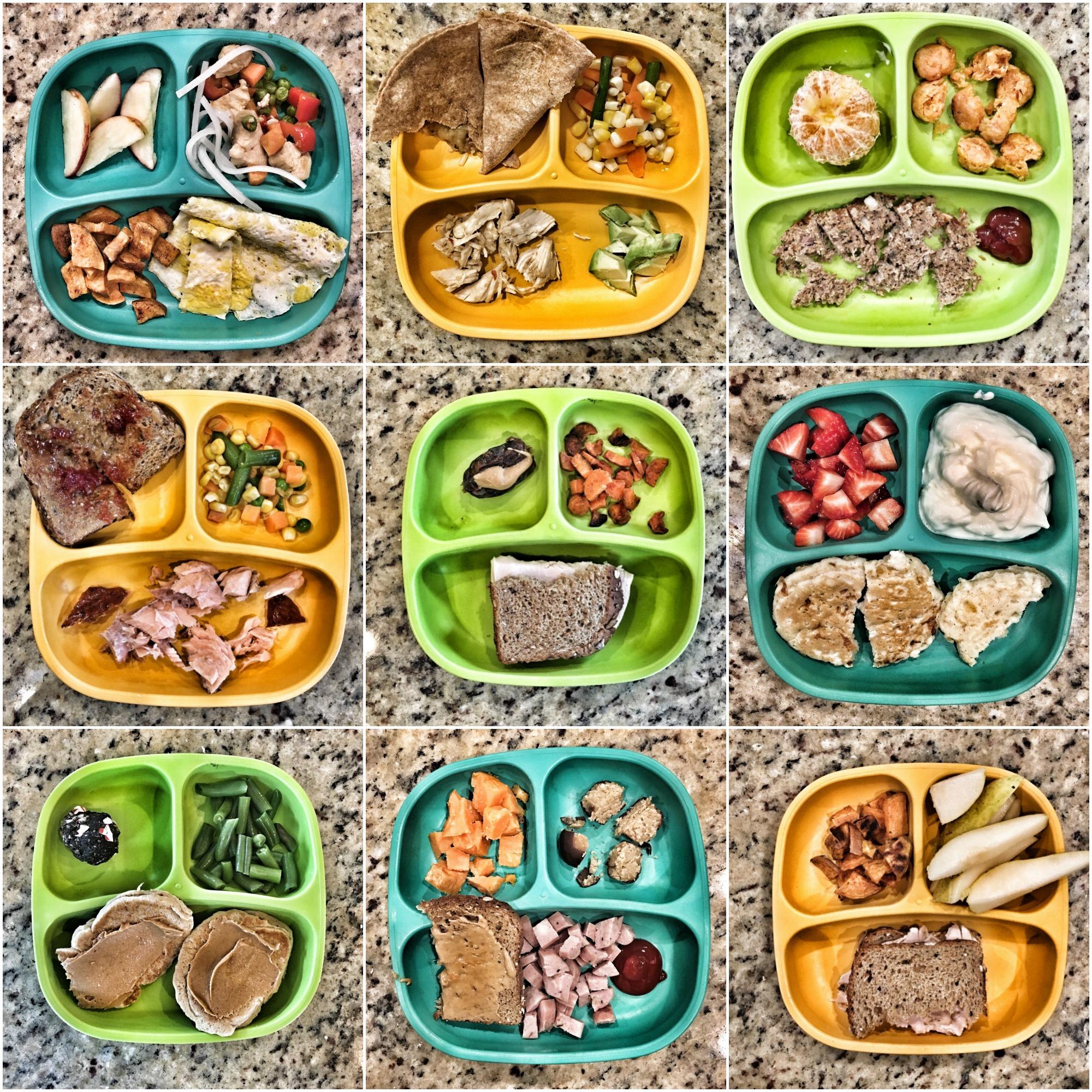 Pears, chicken pad thai, roasted sweet potatoes, egg wrap
Cheese + ground beef quesadilla, steamed mixed veggies, pulled chicken and avocado
Clementine, Alexia Sweet Potato Puffs, meatloaf
Peanut Butter & Jelly, cold mixed veggies, smoked salmon
Date with peanut butter, paprika roasted carrots, turkey and hummus sandwich
Strawberries, yogurt, Bisquick + cottage cheese pancakes
No Bake Chocolate Peppermint Bite, steamed green beans, Kodiak cakes with peanut butter
Steamed sweet potatoes, Chickpea buckeye, peanut butter toast, chicken sausage
Sweet potatoes, pears and turkey sandwich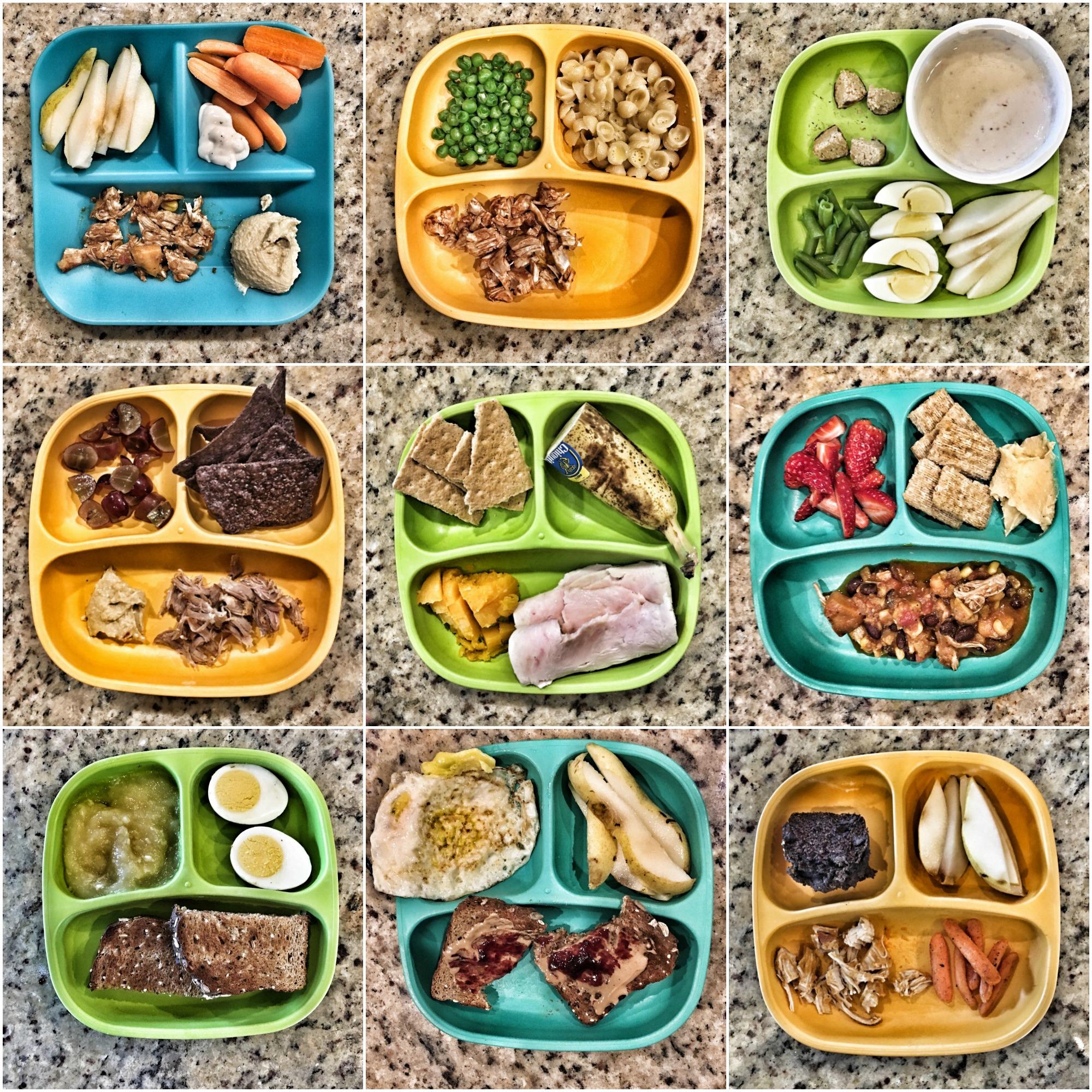 Pears, carrots with ranch, chicken & sweet potato chili
Peas, mac and cheese, bbq pulled pork
Chickpea buckeye, yogurt, cold green beans, hard boiled egg, pears
Grapes, chips, hummus, pulled pork
Graham crackers, banana, roasted squash and turkey
Strawberries, Triscuits with hummus, chicken and sweet potato chili
Applesauce (plus probiotic), hb egg, ham sandwich
Fried egg, pears, pb&j toast
Chocolate squash muffin, pears, Asian chicken and carrots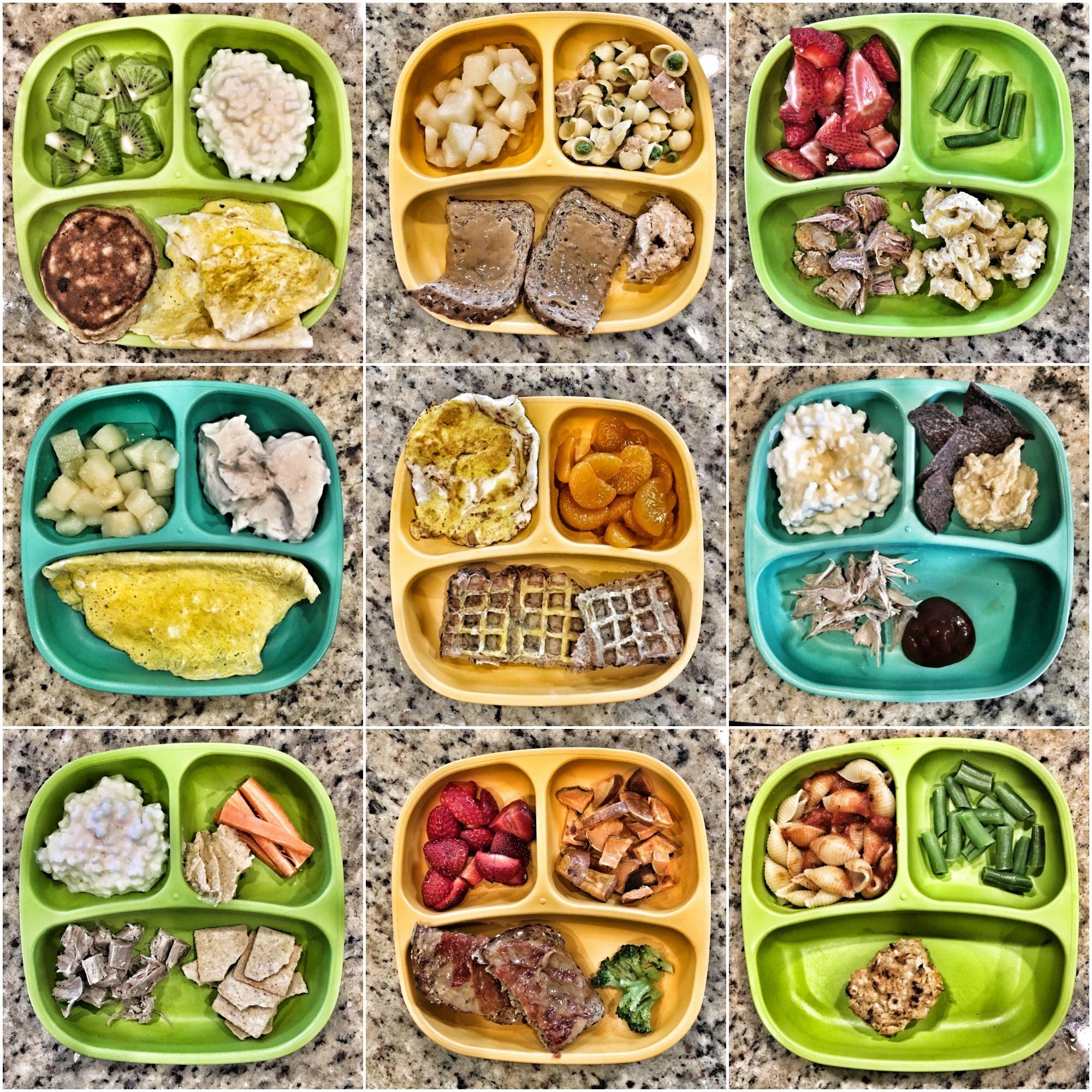 Kiwi, cottage cheese, chocolate chip pancake, fried egg
Pears, mac and cheese with sausage and peas, pb toast, tuna quinoa cake
Strawberries, beans, pork and mac and cheese
Pears, yogurt, egg wrap
Fried egg, mandarin oranges, waffled french toast
Cottage cheese, chips and hummus, bbq pulled pork
Cottage cheese, carrots and hummus, beer braised pulled pork, crackers
Strawberries, curry roasted sweet potatoes, pb&J and lemon broccoli
Shells with marinara, green beans, tuna quinoa cake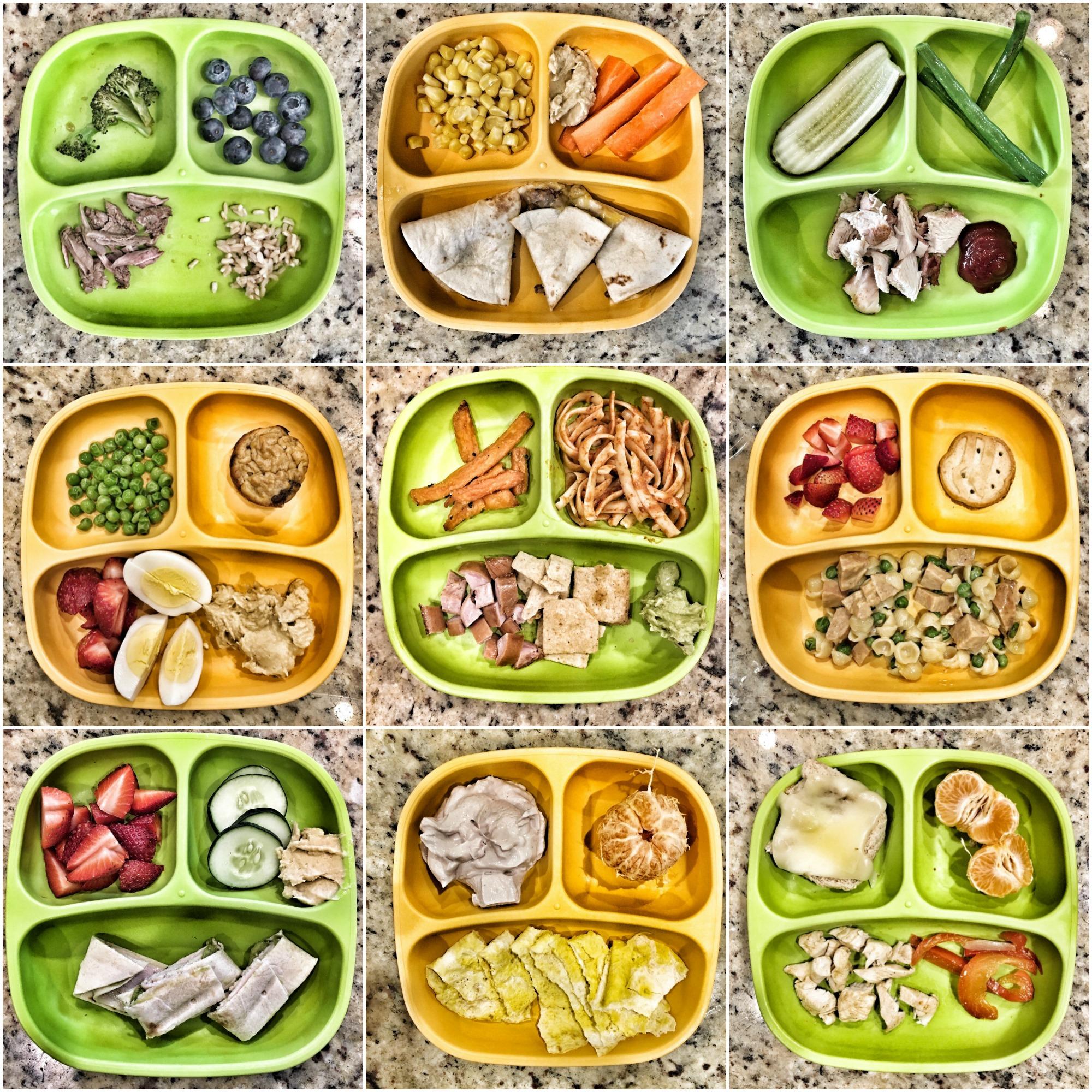 Roasted broccoli, blueberries, pulled pork, brown rice
Corn, carrots and hummus, black bean quesadilla
Pickle, roasted green beans, baked chicken
Peas, sweet potato banana bite, hummus, hard boiled egg, strawberries
Sweet potato fries, noodles with marinara, guacamole, crackers, chicken sausage
Strawberries, girl scout cookie, mac and cheese with sausage and peas
Strawberries, cucumbers with hummus, turkey club wrap
Yogurt, clementine, egg wrap
Clementine, deconstructed chicken philly sandwich
**You can find the plates I use from Re-Play Recycled (affiliate link)**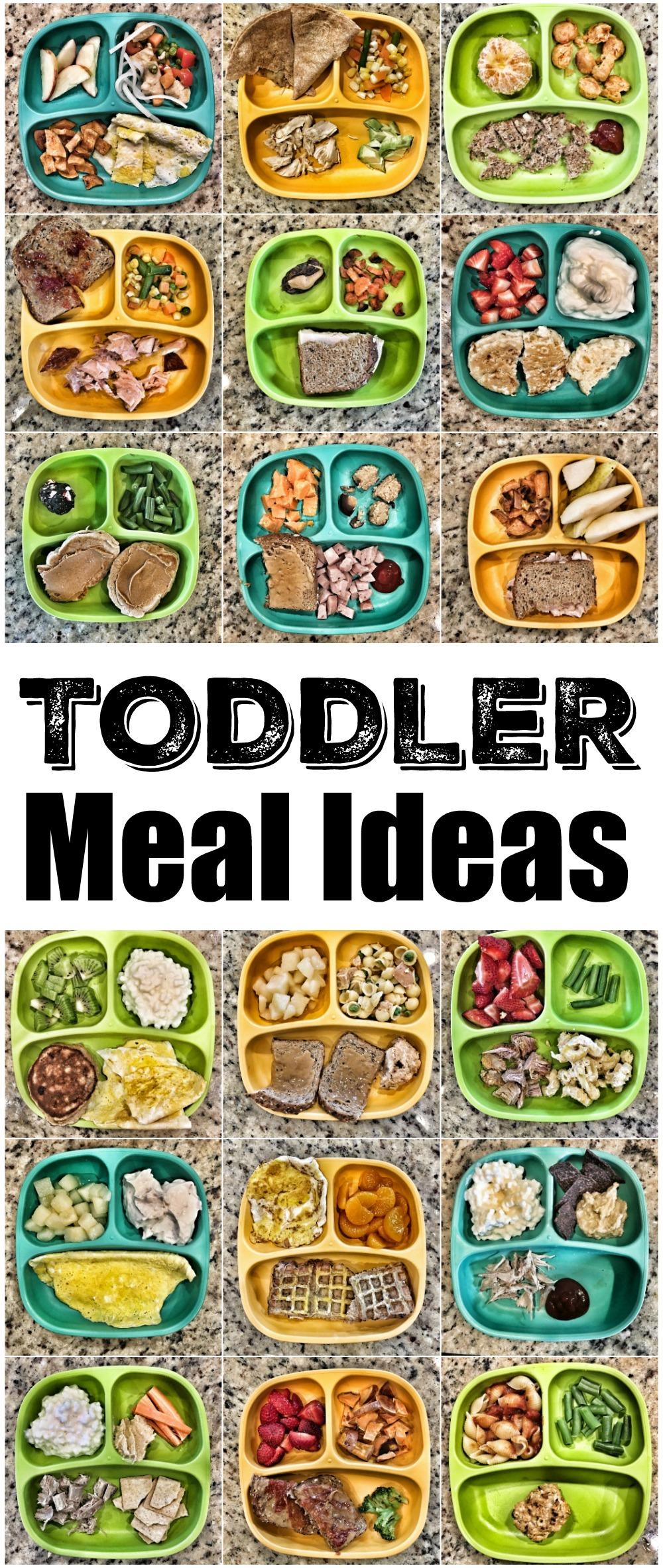 That's it for this round. If you're looking for more ideas, you can check out:
If you're interested in seeing exactly what my kids choose to eat vs what I serve them, be sure to follow me on Instagram. Most days I share shots  of what I serve them for lunch and dinner, plus after shots to show what they actually ate. You can also check out this post on What My Toddler Chose to Eat. And if you want more tips and tricks for feeding young kids, check out my Table Talk ebook!
And if you're interested in my feeding philosophy check out this post on Why My Toddler Doesn't Always Eat What I Eat.
Enjoy!
–Lindsay–
LEARN HOW FOOD AFFECTS YOUR BODY.
Get my free Table Talk email series where I share bite-sized nutrition information about carbs, protein, and fat, plus bonus information about snacks and sugar!