This recipe for Zoodles with Chicken and Spicy Almond Butter Sauce is low-carb, high in protein and makes veggies flavorful and fun to eat!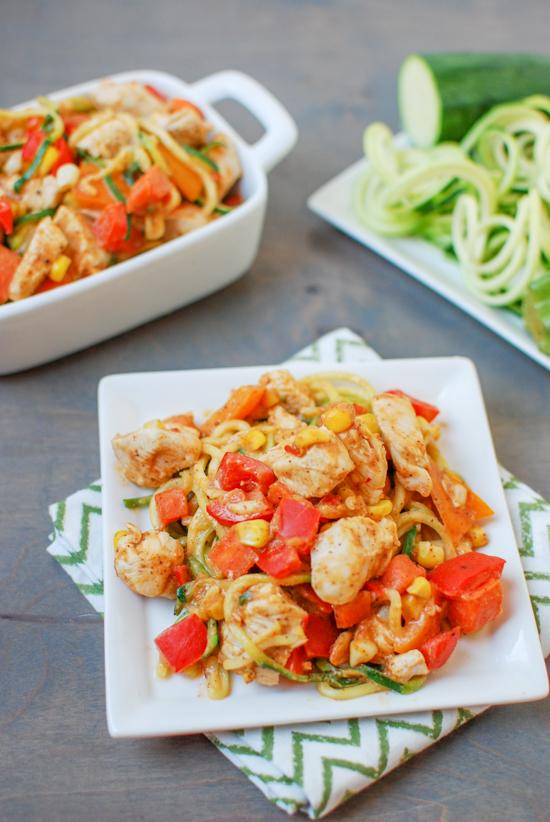 Hi Friends!
The day is finally here. I'm publishing my first zoodles recipe on the blog. The truth is I used a giftcard to buy my spiralizer a couple years ago.
I made a few half-hearted attempts to use it when I first got it…they didn't go over too well with the hubby…and then I promptly forgot about it. I pulled it out again recently after we had our friends Jackie & Pat over a couple times for dinner. They were already on board the zoodles train so I decided they were worth another shot.

Here's what happened:
Two weeks ago:
Night one: Jackie & I made them with coconut oil. Hubby spit them out and said they tasted like sunscreen.
Night two: Jackie & I  made them with olive oil and some seasonings. Hubby acknowledged they were good but said I went a little overboard on the cayenne pepper.
Last week:
We're grocery shopping and hubby requested we get some zucchini.
Night three: I made them with this almond butter sauce for dinner and hubby said "yeah this is going to go on the blog."
Next day: I went to the store, bought more zucchini and made the same thing so I could take photos.
Night four: We ate them again and they were still just as good.
So now it's time to share the recipe with all of you!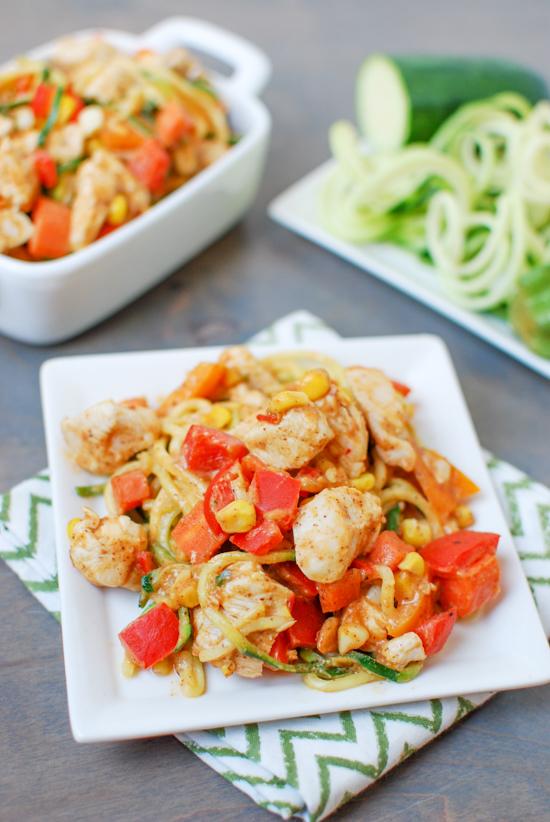 Here's the recipe:

Zoodles with Chicken and Spicy Almond Butter Sauce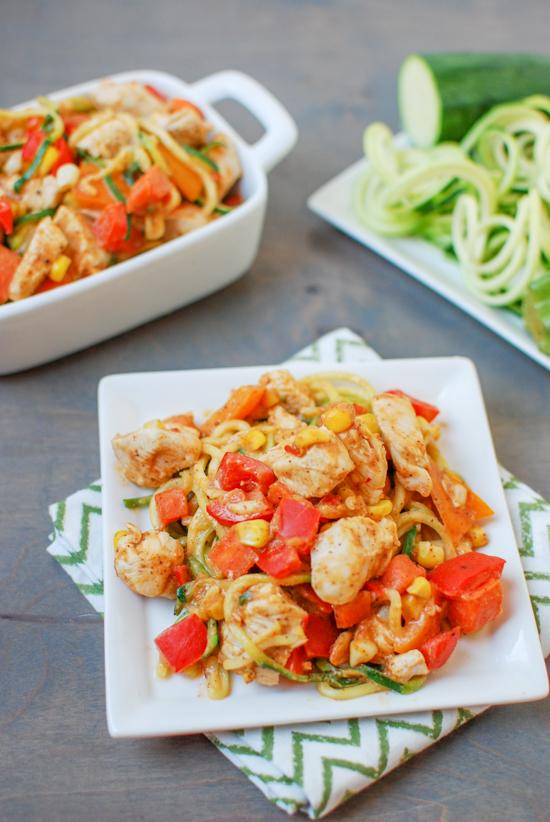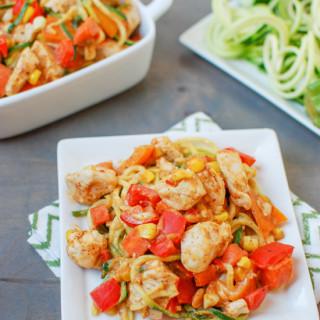 Light and flavorful, this is the perfect summer dish!
Ingredients
1

pound chicken, chopped

2

cloves garlic, minced

2

medium zucchini (about 1 pound)

2

cups mixed vegetables (peppers, corn, carrots, broccoli, etc)

1/4

cup almond butter (or other nut butter)

2

Tbsp orange juice (or water for a less sweet sauce)

2

Tbsp sweet thai chili sauce

2

tsp sriracha
Instructions
Spiralize zucchini and place in a colander. Sprinkle with salt and let sit.
Saute chicken, garlic and vegetables over medium heat until chicken is cooked.
Wrap zoodles in paper towels and squeeze to remove some of the excess moisture.
Add to pan and heat through.
Combine last 4 ingredients in a small bowl. Pour sauce into pan and mix well.
Serve warm
YUM, right?! Remember that if you don't have a spiralizer you can make veggie ribbons
with a veggie peeler like this
! If you're looking for a paleo option, try making your own condiments –
Paleo Sriracha
&
Paleo Thai Chili Sauce
.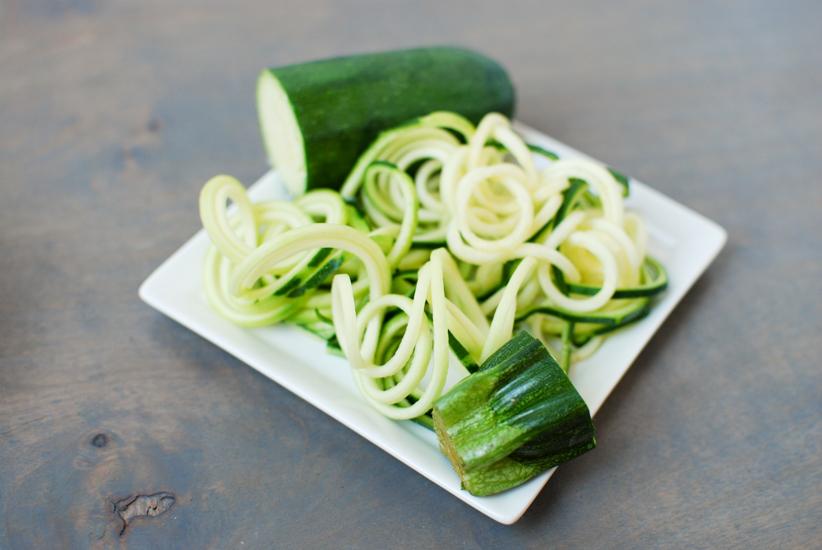 Going crazy for veggie noodles and want more ways to use them? Try my Sweet & Spicy Shrimp with Soba Noodles, but swap in some veggie noodles like zucchini or sweet potato!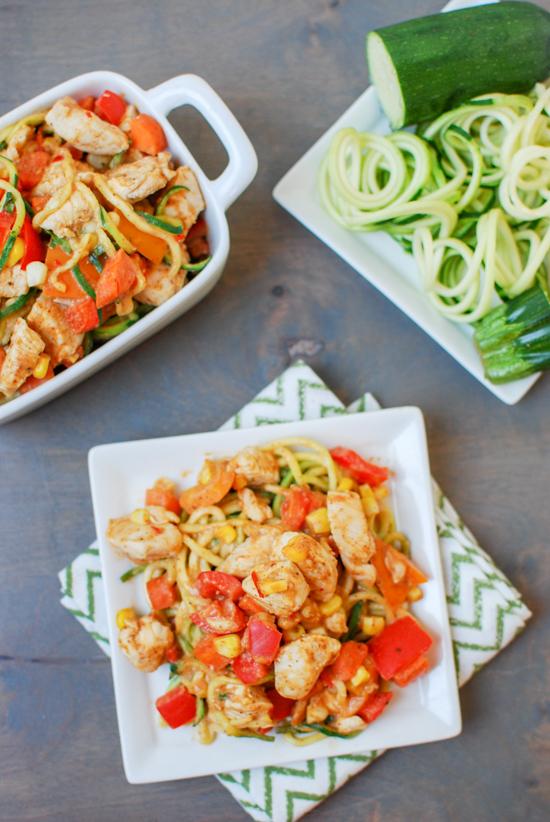 Let's chat:
What's your fav veggie noodle recipe?! Leave me a link!
Enjoy!
–Lindsay-