Tired of serving the same meals to your kids every day? Here are 50+ Toddler Meal Ideas from real moms to give you some inspiration for breakfast, lunch and dinner!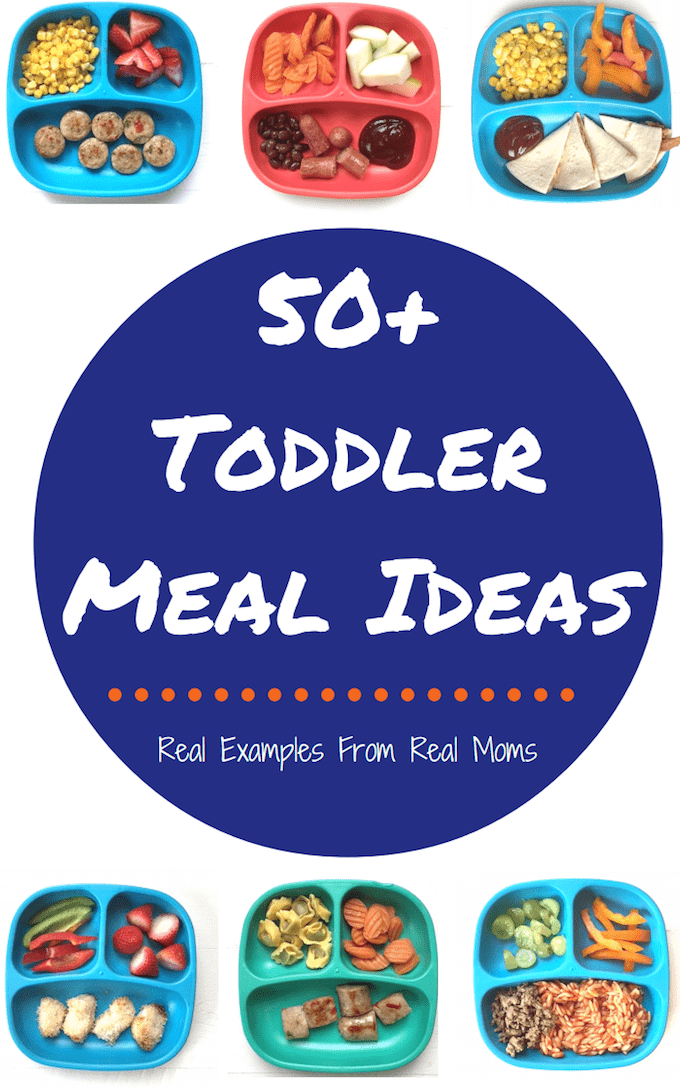 Hi friends!
Today we're talking kid food. If you've been lucky enough to parent or spend an extended amount of time with a toddler or two, you'll quickly realize their day revolves around food. While it's easy to stick with a simple mealtime routine of favorites, it's not always the best for their palates in the long-run. I mean, if you were given the option of grilled cheese every day would you even consider eating broccoli? Probably not! Having an arsenal of healthy meal ideas on hand is an easy way to expose toddlers to new foods, flavors, and textures.
While there's nothing wrong with the occasional grilled cheese, there are so many more meal options out there! I've teamed up with my friend and fellow toddler-mom, Katie at Mom To Mom Nutrition, to bring you 50+ Toddler Meal Ideas to help all of us think beyond traditional kid-food options when it comes to mealtime with your toddler. When we realized we were both regularly sharing our kid meals on Snapchat and Instagram, we decided it might be helpful to put them all together in one place. Our hope is that this FREE PDF will not only inspire you in the kitchen, but help make your toddler into a little sous chef!
And just because there's always "more where that came from" when it comes to feeding kids, we also launched an ebook, "Table Talk: Tips and Tricks for Feeding Your Toddlers" that again is geared towards feeding your little one! From meal planning basics to picky eating strategies, we cover a variety of topics meant to make mealtime easier and less stressful for YOU!
And if you love the plates you see pictured, you're not alone! We do too! They're from Re-Play Recycled. (affiliate link)
Sign up below for your free copy of the 50+ Toddler Meal ideas.
---
---
Enjoy!
–Lindsay–
PS…if you're looking for more ideas, be sure to check out these posts:
If you're interested in seeing exactly what my kids choose to eat vs what I serve them, be sure to follow me on Instagram. Most days I share shots  of what I serve them for lunch and dinner, plus after shots to show what they actually ate. You can also check out this post on What My Toddler Chose to Eat and also Why My Toddler Doesn't Always Eat What I Eat.
LEARN HOW FOOD AFFECTS YOUR BODY.
Get my free Table Talk email series where I share bite-sized nutrition information about carbs, protein, and fat, plus bonus information about snacks and sugar!