These Chocolate Squash Muffins can be eaten on the run for a grab and go breakfast and also make an easy, kid-friendly snack!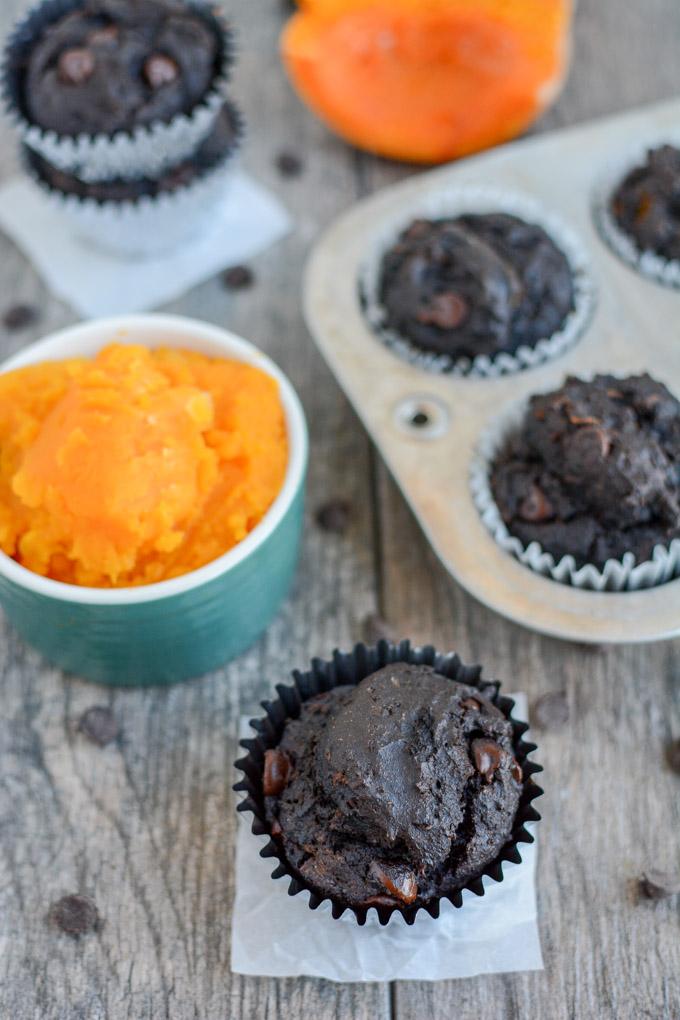 Hi friends!
Allow me to introduce you to the newest muffin recipe obsession in our house. These Chocolate Squash Muffins have been a big hit lately, both with the kiddos and with the husband. We'd gotten into the habit of buying a box of chocolate muffin mix every time we were at the store over the past month, so that Squish and I could "make muffins for daddy". But honestly, they were pretty high in sugar and really more like a cupcake in my opinion.
So I took it upon myself to give homemade chocolate muffins a try. And they turned out great! This was also part of a quest to 1) get my kids to eat more veggies and 2) create a recipe that included squash that my husband approved of.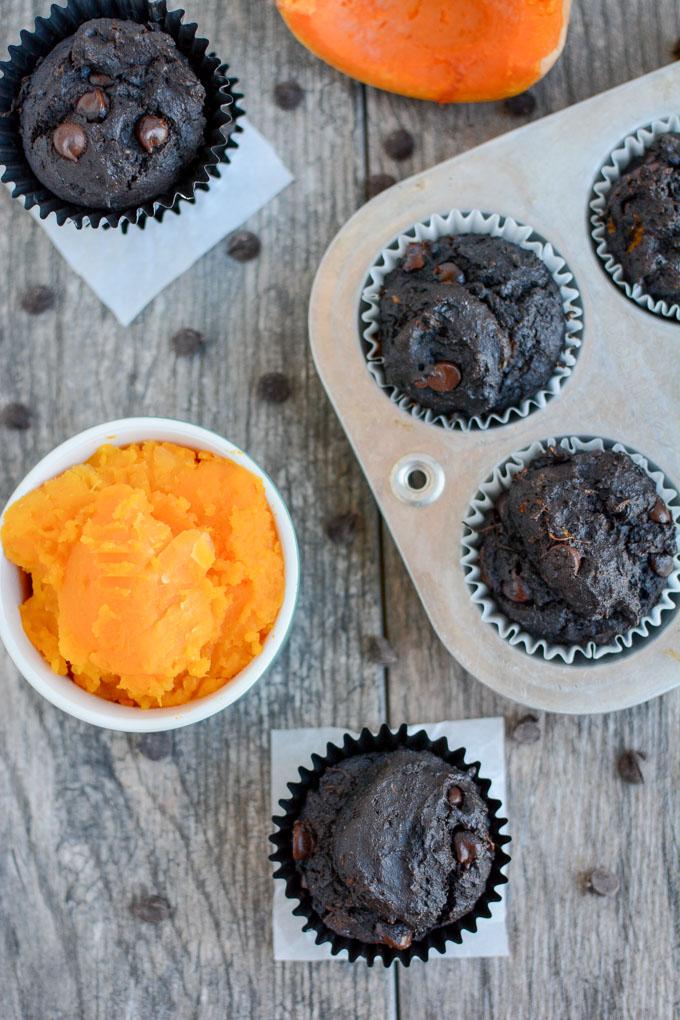 These muffins have just a few ingredients and are so easy. They do require a little planning since you need to roast the squash…but that's super hands-off and can really be done any time. I use butternut squash and just slice it in half, scoop the seeds and roast it cut side down on a foil-lined baking sheet at 400 degrees F for 25-30 minutes or until it's super soft and easy to pierce with a fork or knife. You could probably steam the squash if you were in a hurry!
I think these work best with squash. Sweet potato would probably also work well. I also tried with pumpkin. They're slightly more crumbly but still worked fine!
These muffins are not overly sweet. If you want them extra sweet, increase the amount of sugar. I also tried these with both vegetable oil and melted butter and both worked fine.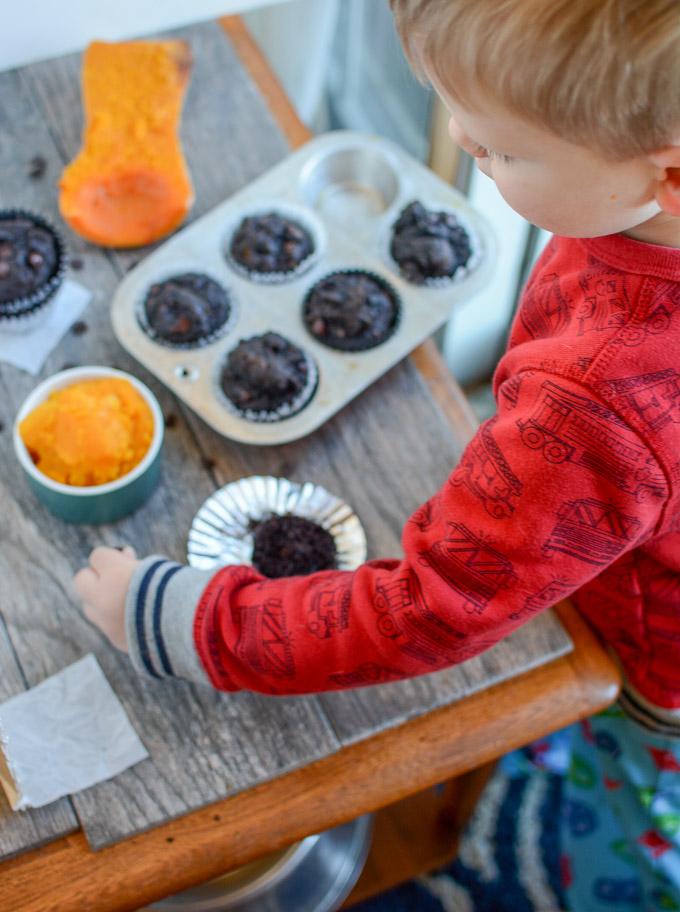 I make these in a bowl and just mash the squash really well with a fork…but you may still have a few small chunks of squash in your muffins. If you want them totally smooth, you can mix the ingredients up in a blender.
Here's how you make them:
Print
Chocolate Squash Muffins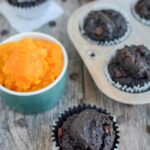 These Chocolate Squash Muffins can be eaten on the run for a grab and go breakfast and also make an easy, kid-friendly snack!
Author:
Prep Time:

5 min

Cook Time:

20 min

Total Time:

25 minutes

Yield:

Makes approx 10 muffins
Ingredients
1 cup mashed roasted squash (I use butternut)
1 egg
1/3 cup oil (i use vegetable oil, or you can use 6 Tbsp melted butter)
1/3 cup sugar
1/4 cup cocoa powder
1 tsp baking soda
1 cup white whole wheat flour
2/3 cup chocolate chips
Instructions
Combine squash, egg, oil and sugar in a bowl and mix well.
Add cocoa powder, baking soda and flour and stir until just combined.
Mix in chocolate chips.
Spoon into greased or lined muffin tins and bake at 375 degrees F for 20-22 minutes.
Pretty easy right? Hope you guys enjoy these!
Squish had a great time helping me with my photo shoot for these. And I promise you'd never know there's squash in these!

Pack some extra veggies into snack time with these kid-approved Chocolate Squash Muffins!
Click To Tweet
Let's chat:
Have you ever baked with squash?
Enjoy!
–Lindsay–